Kale and Chicken Egg Rolls
Our kale chicken egg rolls recipe is from our Bountiful cookbook. These egg rolls are crispy, flavorful and loaded with greens!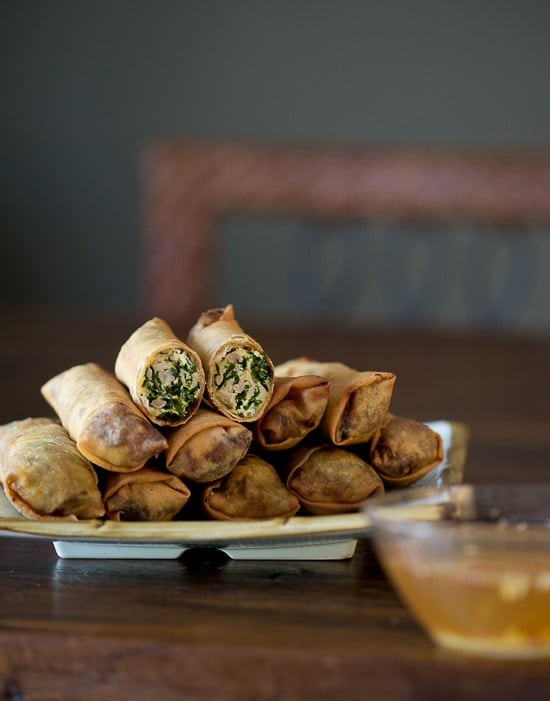 Let's be honest, there can never be too many kale recipes. No matter how much chatter there is online about there being too many kale recipes, we'll just add another recipe to the mountain of greens. Just because everyone loves and shares kale chips, it doesn't mean that there are too many kale recipes. Besides, it was kale chips that was one of the first dishes to get us hooked on this amazing green.
This post is a testament to our unwavering love of kale and our new cookbook has three kale recipes in there, which means that we should have actually added seven more kale recipes to make it an even ten. Darn it, we should have had a chapter dedicated to kale. But at least we were able to share our favorite crispy spring rolls recipe in the book.
Now the cool folks over at Food & Wine support our kale-eating-chipping-chopping habits and featured Bountiful's recipe as part of their book club recipe. So if you're a lover and not a hater, go make a batch of these kale chicken egg rolls, you will love them, promise! Hope you enjoy these kale chicken egg rolls as much as we do! You can read our rebellious story about our kale and chicken egg roll recipe over here at Food & Wine.
Happy Weekend to you all,
diane and todd
Here's our previous tutorial on How To Roll Spring rolls and All Our Great Spring Rolls Recipes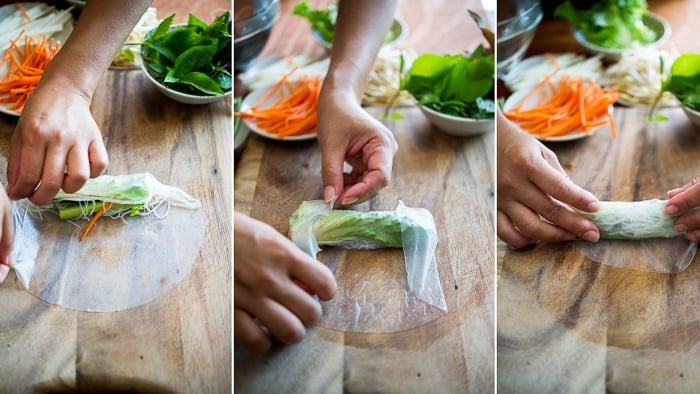 Here's my personal recipe for Vietnamese Fish Sauce Dip and click here for all our popular Vietnamese Recipes that are sometimes traditional and definitely sometimes not.
Asparagus Bacon Spring Rolls Recipe Here.
Garlic Chicken Spring Rolls Recipe Here.
Bacon Lettuce Tomato Spring Rolls Recipe Here.
Turkey Avocado Spring Rolls Recipe Here.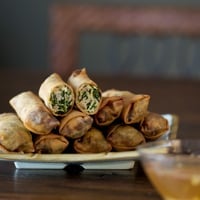 Kale & Chicken Egg Rolls w/ Ginger Soy Dip
From our cookbook, Bountiful. You can also read our rebellious story behind this recipe at Food & Wine.
Ingredients
1 1/2 pounds (680 g) ground chicken
1/2 pound (227 g) kale , ribs and tough stems removed, leaves chopped into 1/2-inch (12-mm) pieces
1 (1 ) egg
1/2 teaspoon (2.5 ml) sugar
2 teaspoons (10 ml) fish sauce or soy sauce
2 cloves (2 cloves) garlic , finely minced
24 (24 ) 7-8 inch (17.5-20 cm) egg roll wrappers (approximately)
Egg white , for sealing wrappers
Vegetable oil , for frying
Soy Ginger Dip
1/2 cup (120 ml) soy sauce
2 teaspoons (10 ml) grated fresh ginger root
Instructions
In a medium bowl, combine the chicken, kale, egg, sugar, soy sauce, and garlic. Mix well. Set aside to marinate for 20 to 30 minutes.

To roll the egg rolls, place one wrapper at a time on your work surface and spoon about 1 tablespoon of the filling onto the lower one-third of the wrapper. Begin rolling from the bottom, tucking the filling under and folding in the sides as you roll. Brush the edges of the wrapper with egg white to seal them. Set the finished rolls aside on a sheet pan as you finish them.

In a large frying pan, heat approximately 3/4 inch (2 cm) oil over medium heat. Test the heat of the oil by adding a small piece of egg roll wrapper to the pan. If it sizzles and browns too quickly, then your heat is too high.

Gently place the egg rolls in the heated oil and fry for 5 to 10 minutes, or until they are golden on the bottom. Turn the egg rolls over and cook until they are golden on the other side and the filling is cooked through.
Make the dip and serve:
In a small bowl, combine the soy sauce and ginger and stir well.

Serve the egg rolls warm, with the dip on the side.
Nutrition Information
Calories: 89kcal, Carbohydrates: 9g, Protein: 7g, Fat: 3g, Saturated Fat: 1g, Trans Fat: 1g, Cholesterol: 32mg, Sodium: 407mg, Potassium: 220mg, Fiber: 1g, Sugar: 1g, Vitamin A: 956IU, Vitamin C: 11mg, Calcium: 25mg, Iron: 1mg
[ad]
We are a participant in the Amazon Services LLC Associates Program, an affiliate advertising program designed to provide a means for us to earn fees by linking to Amazon.com and affiliated sites.