Even when it's hot outside we're craving a dinner with something roasted in the oven. This just might be one of the last dishes that we roast in the oven for the next few months. Why? Because our traditional wood-fired oven is almost complete. Whew. It's an epic project that includes lots of planning, prepping and patience. As of today, we're 94.9382734% finished. All three brown coats are complete and dried in-between the layers. Now we're just waiting for the final layer of stucco. We can't even tell you how exciting it is to finally cook a complete feast from this wood-fired beast.
We've finished up the curing fires and have started cooking some dishes from the wood fire to slowly get the oven up to higher temperatures. Slowly but surely, we're getting used to understanding the oven temperatures, how to keep it consistent and how to control the heat to cook various dishes.
It's like cave-man cooking, or maybe more like cooking back in the days before electricity was invented. We've living and eating backwards, we tell ya!
In the meantime, to satisfy our craving for roasted foods, we're eating from the electric wall oven. The shiny, modern, dependable appliance that we're slowly but surely going give a rest during this busy Summer of outdoor cooking.
So with the season's new, small, sweet and tender fingerling potatoes, we roasted up a quick batch in our favorite chili garlic marinade. This is one of the no-brainer dishes we whip up when we're brain fried from a long week of studio shooting because quite frankly, cooking up potatoes is one of the easiest dishes to make.
A few splashes of fish sauce and a health amount of chili garlic sauce makes this quick marinade flavorful and super-satisfying. Topping it off with our favorite handful of chopped fresh herbs is how we add that extra explosion of fresh flavor. This is how our simple, yet satisfying dinners work. Fish sauce, chili heat, top it with herbs and it's a voila dinner for two.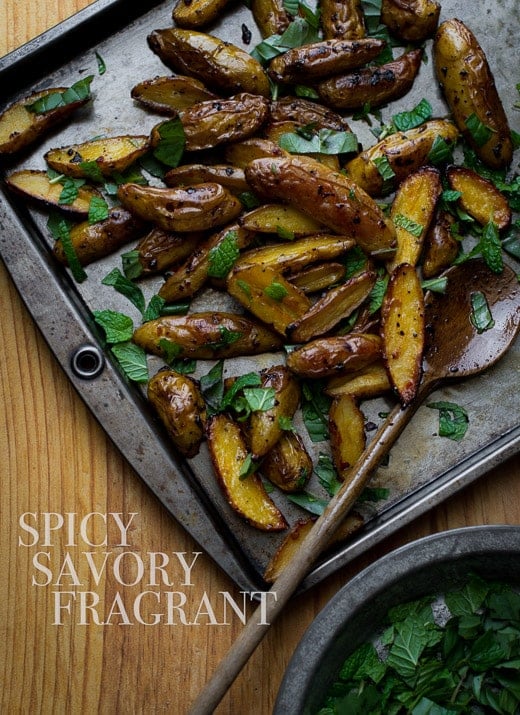 If you're not too lazy like us in the kitchen today, you can make these wonderful roasted potatoes as a side dish and you're halfway finished to a simple weeknight dinner.
One final thought comes to mind, which is essentially a potential problem. If we share recipes from the wood fired oven, how are folks going to make the recipes at home? The answer must be to build a wood fired oven in your backyard too. Ok, let's do this Team Wood-Fired Oven!
Enjoy,
diane and todd
BTW- We're teaching a free, 3-day online Food Photography & Food Styling Workshop on Creativelive! Even if you can only watch for one day, go ahead and register to you can watch what you can! Register here for the free class on CreativeLive 
Chili Garlic Roasted Fingerling Potatoes with Fresh Herbs
Yield: Serves 2-4
Total Time: 1 hour
Toss in what ever mix of fresh herbs that you like. The fresh flavor of chopped herbs really balance and bring out the flavor of the spicy potatoes.  Also, if your chili garlic marinade dried up a bit during roasting, then add more chili garlic sauce before serving!
Ingredients:
1 to 1.5 pounds (455g-680g) fingerling potatoes or regular potatoes cut into large bite sized pieces
1/4 cup (60ml) vegetable oil
2 cloves garlic, minced or crushed
2 Tablespoons (30ml) chili garlic sauce
1 Tablespoon (15ml) fish sauce (or soy sauce) For Gluten Free use Tamari Fish Sauce or Tamari Soy Sauce
2 teaspoons (10ml) apple cider vinegar
1 teaspoon brown sugar
1/2 teaspoon fresh cracked black pepper, or to taste
1/2 cup chopped fresh herbs such as mint, basil, cilantro
Directions:
Pre-heat oven to 400 degrees F. Line a sheet pan with parchment paper.
Make the marinade: In a large bowl combine vegetable oil, minced garlic, chili garlic sauce, fish sauce, apple cider vinegar, brown sugar, and black pepper.
Add the cut potatoes into marinade and combine to coat all the potatoes with the marinade.
Spread potatoes evenly on the prepared sheet pan in a single layer.
Roast the potatoes for about 45 minutes, or until potatoes are tender. Cooking time will vary depending on the cut size of the potatoes. Halfway through roasting, toss the potatoes at least once so that potatoes cook evenly.
When potatoes are cooked, add more chili garlic sauce if desired.
Toss with fresh chopped herbs and serve warm or at room temperature.
Hello! All images & content are copyright protected. Please do not use our images without prior permission and do not re-publish this recipe. Simply link back to this post for the recipe. Thank you.
Recipe Note for Salt: All recipes containing salt are based on kosher or sea salt amounts, not table salt. If using table salt, reduce the amount used to taste.
[ad]