Creamy Potatoes Au Gratin Recipe & Video
Since 2009, this potatoes au gratin recipe has been a holiday favorite for so many of you. We're sharing it again with you all along with a brand new video. Enjoy!
With Thanksgiving just a drop of a leaf away, it's time to start planning the feasting menu. Since Diane and I are always working the day before and the day after, we stay local and spend Thanksgiving with Diane's family.
The menu is a classic ethnic Thanksgiving, where traditional dishes are entwined with cultural ones. Turkey, stuffing, potatoes, cha gio (eggrolls), nuoc cham for everything, bun bo hue. Diane's mom takes care of the Vietnamese dishes & we'll do the American (although sometimes we'll help a bit with the Viet, too). There is no way that we would get to do everything ourselves. Stampeding horses couldn't keep Diane's mom from cooking. Us either.
Video showing us making the Potatoes Au Gratin Recipe:
One "everyone-will-boycott-if-it-isn't-there" dish that is demanded are these legendary Potatoes Au Gratin. I don't say this lightly. These Potatoes Au Gratin are amazing, creamy, tender and addicting. All they need is some time in the oven.
Simplicity can be heavenly, especially when you use good technique, and that completely surmises this Potatoes Au Gratin recipe (when they are this good, they should always be capitalized.) It is just a handful of ingredients, the prep is simple and as long as you remember to tend to your taters a couple times as they cook, they are utterly phenomenal.
Because of the simplicity of the ingredients, the little details make all of the difference in the final outcome. Skip the garlic rub on the baking dish & the flavors won't be complete. If you use pre-ground pepper and nutmeg instead of the fresh cracked and grated stuff, it won't taste the same. Same if you use regular table salt instead of sea salt or even Kosher salt. Not quite as tasty.
If you are using the pre-ground stuff (please try not to, but sometimes circumstances will dictate that you have to) cut back on the measurements because each of the ingredients in this recipe have more fluff then their commonplace counterparts.
For the potatoes, good Russets are the best economical choice but if you want to go high-end, grab some Yukon Golds or something similar (75% of the time we use Russets.) Get the best cream you can (all creams are not equal), then remember to tend to the potatoes as they cook. A few times while they bake, with the back of a large spoon you'll break the crust the cream is starting to form.
This will allow the cream to slowly cook into the potatoes without burning on top and it helps keep the top layer of potatoes from drying out as everything bakes. For the last 20-30 min. you'll leave everything untouched so it will develop a final finishing crust. The final Potatoes Au Gratin will have a heavenly texture of softened, creamy layered potatoes topped with a golden slightly firmer crust.
-Todd
Step-by-Step Pictorial for Potatoes Au Gratin Recipe

slice the potatoes nice & thin

use fresh nutmeg, fresh cracked black pepper & sea salt for best taste

layer in all the potatoes @ 1 1/2″ high (doesn't have to be too precise) & pour in cream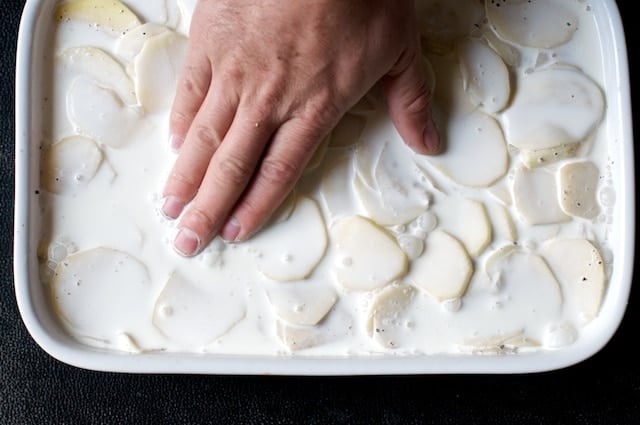 check the cream level by pressing on the potatoes
How to "Break The Crust" – keeping potatoes moist & creamy

(above)- 1st crust break (about 20-25 min cook time) ~ the cream is just starting to form a crust

(above) 2nd crust break (about 40-50 min cook time)
the cream crust is starting to show some color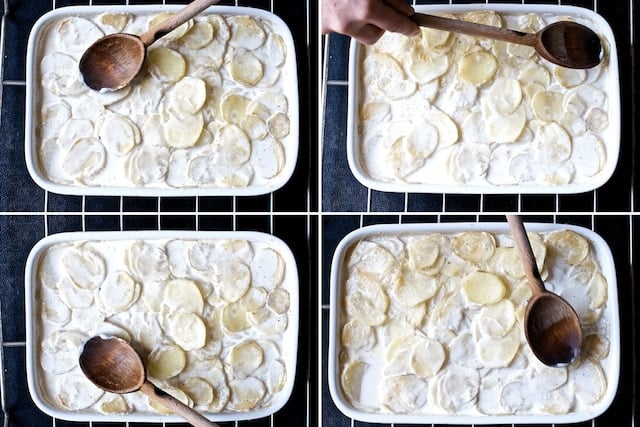 (above) 2nd crust break -gently swirl & break up crust on sides & center to moisten all the top potatoes

(above) 3rd crust break (over 1 hour cook time) – the crust is starting to brown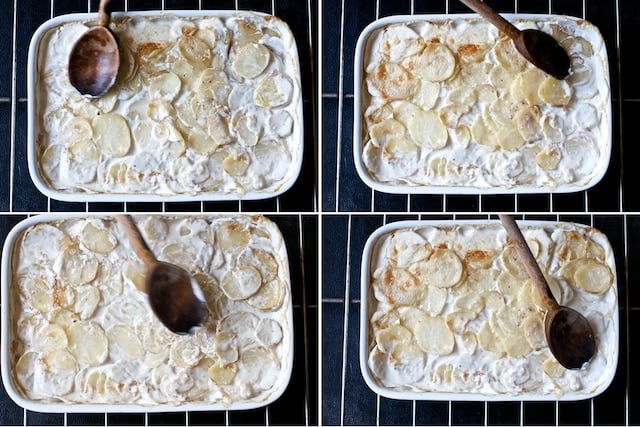 (above) 3rd crust break – last crust break, same 2nd break, swirl & re-moisten top. Now time to bake for final crust.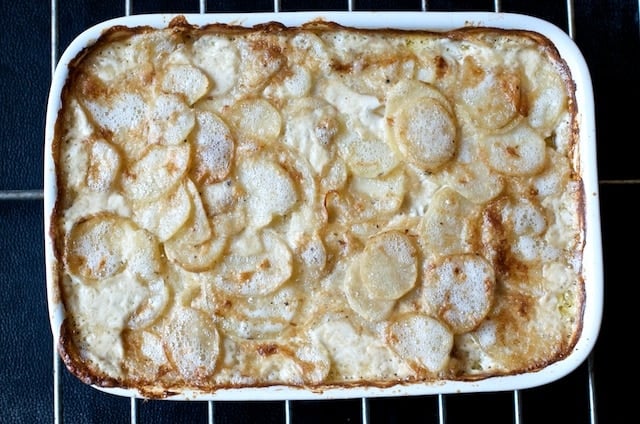 above (about 1 1/2 hr cook time) – Finale!! Perfect crust & oh so creamy good inside
Check out our Sausage Potatoes au Gratin Recipe if you love sausage!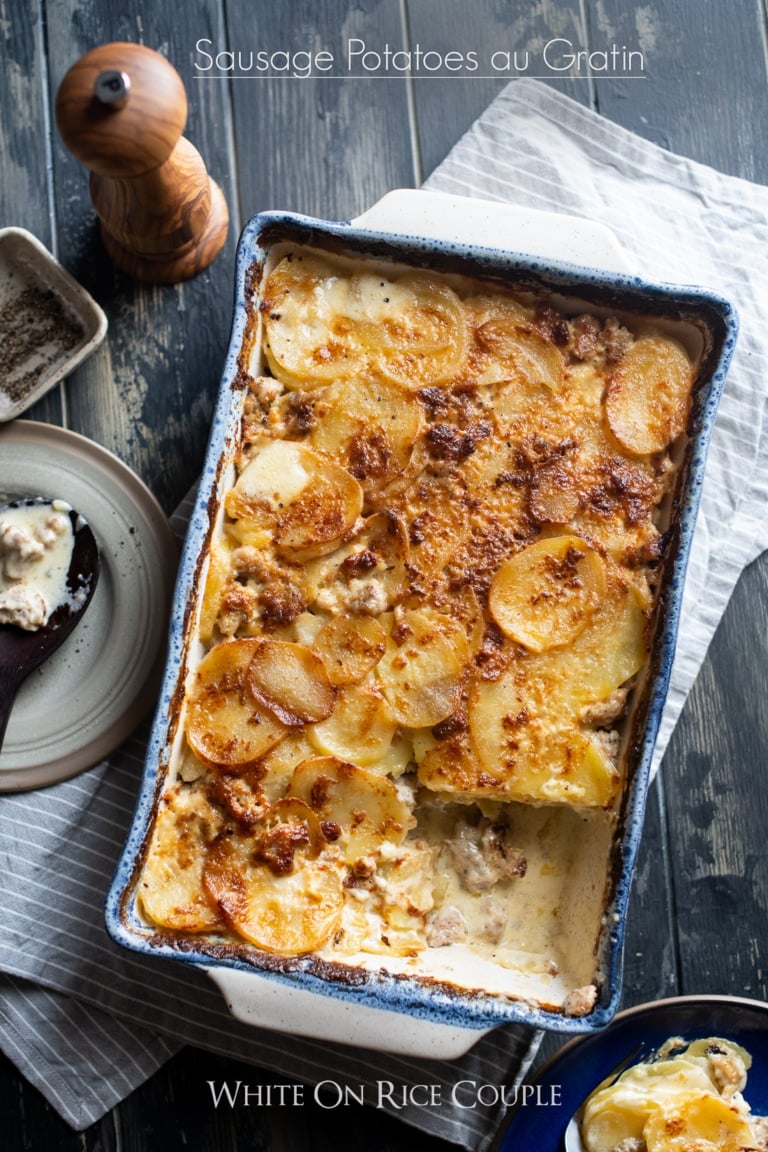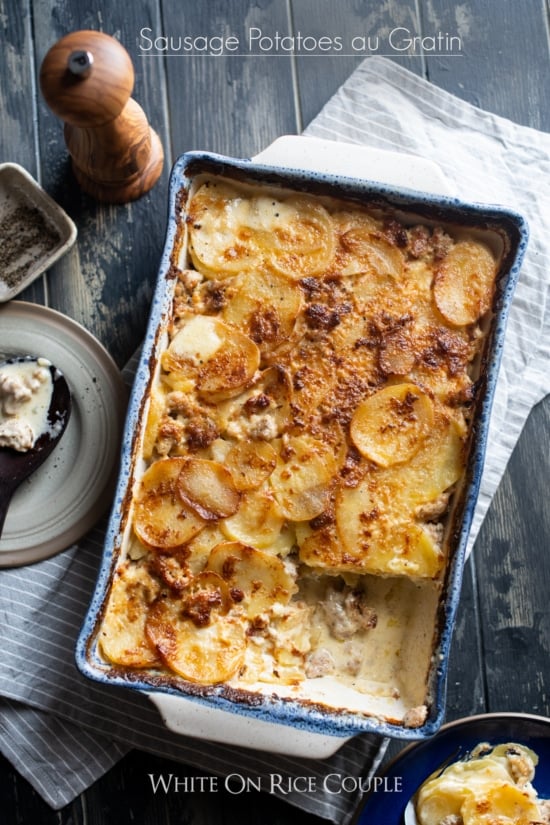 Here's more great holiday potato recipes.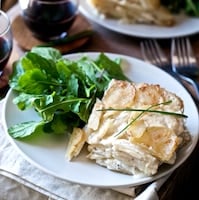 Potatoes Au Gratin Recipe
All ingredients are approximations. If you learn to cook this recipe by feel and it becomes very easy to make smaller or larger dishes to suit the occasion.
Ingredients
4 pounds (1800g) Potatoes , scrubbed clean (preferrably gold potatoes)
2 cloves Garlic
1 to 1 1/2 Tablespoons Kosher Salt , or to taste
2 teaspoons fresh cracked Black Pepper , or to taste
1/2 teaspoon freshly grated Nutmeg , or to taste
2 1/2 cups (600ml) Heavy Cream
Instructions
Preheat oven to 350°F.

Crack the garlic cloves break them up slightly then rub the insides of a 9"x11" baking dish. Set aside.

Peel and thinly slice the potatoes - about 1/8" thick. Put the sliced potatoes into a large bowl.Season potatoes with salt, black pepper, and nutmeg. Get your hands in there and toss the slices to coat evenly. Slap a potato slice against your tongue to test for seasoning. It should be noticeably seasoned but not overpoweringly so.

Layer potatoes into the prepared baking dish, smoothing the top so everything is fairly level. Pour cream over potatoes just to the point where you can press down on the top layer and the potato slices disappear under the cream. Give a couple presses down on the potatoes then taste cream for seasoning again. You should just marginally taste the salt. Add a sprinkle more if needed.

Bake for a total of about 1 1/2 hours (larger batches will take longer). Every 20-30 minutes or so, open the oven and with the back of a large spoon, break the crust the cream is starting to form. On the final "crusting breaking" the consistency of the cream should noticeably thicker and have absorbed into the potatoes a decent amount. For the final 20-30 minutes, leave everything untouched to form a golden top. Cream should be nearly all broke down and absorbed with just a bit of creamy, buttery-ness between the potato slices.

Remove from oven allow to cool a bit before serving. It will retain an intense heat for at least 10-15 minutes.
Nutrition Information
Calories: 290kcal, Carbohydrates: 28g, Protein: 4g, Fat: 19g, Saturated Fat: 11g, Cholesterol: 68mg, Sodium: 900mg, Potassium: 681mg, Fiber: 3g, Sugar: 1g, Vitamin A: 734IU, Vitamin C: 30mg, Calcium: 53mg, Iron: 1mg
We are a participant in the Amazon Services LLC Associates Program, an affiliate advertising program designed to provide a means for us to earn fees by linking to Amazon.com and affiliated sites.