Smashed Potatoes with Thai Curry Sauce
Smashed potatoes are a great side dish or snack. Baby or fingerling smashed Potatoes, cooked whole, smashed to flatten and crack, then seared on a pan to crisp up. It is one of our favorite ways to have a good potato.
Smashed Potatoes Recipe
Smashed potatoes have been around for quite a while, but for us our exposure and love of smashed potatoes comes Cristiana Ferrare. She cooked us up a bath when we were photographing her cookbook, A Big Bowl of Love. The next smashed potato adoration source was from LA's restaurant maven, Nancy Silverton. Every restaurant Nancy throws her heart into is nothing short of amazing. Previous of Campanile and LA Brea Bakery fame, and currently mastering Mozza, there isn't a restauranteur who impresses us more than Nancy. Her smashed fingerling potatoes served up at Mozza are nothing short of divine.
Video: Easy Smashed Potatoes Recipe with Curry Thai Curry Sauce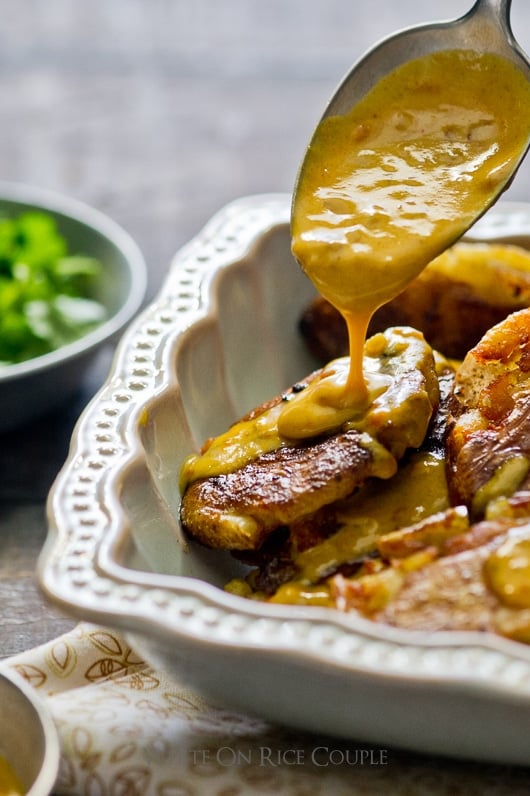 We were playing around with recipes to serve up for Thanksgiving and thought of these two ladies and their smashed potatoes. We decided to do our own twist on it and make a curried smashed potato. Highly addicting, we may have to break tradition and not make our Potatoes Au Gratin this year and make these instead. Or maybe just make both. 😉 The curry sauce on top adds a wonderfully savory, saucy and delicious addition to each potato bite. It's become a favorite in our household when we're craving potatoes in a different way. If you're still craving saucy potatoes, these scalloped potatoes are divine.
Enjoy! -diane and todd
Cooking Method: slowly cook baby potatoes until they're tender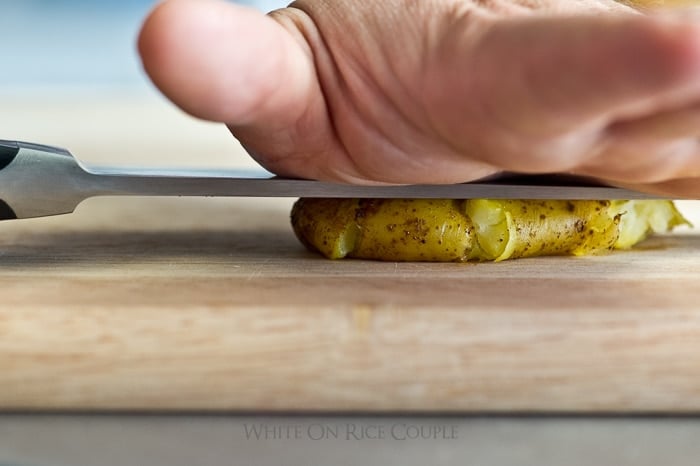 smash the potatoes gently then crisp up both sides of potato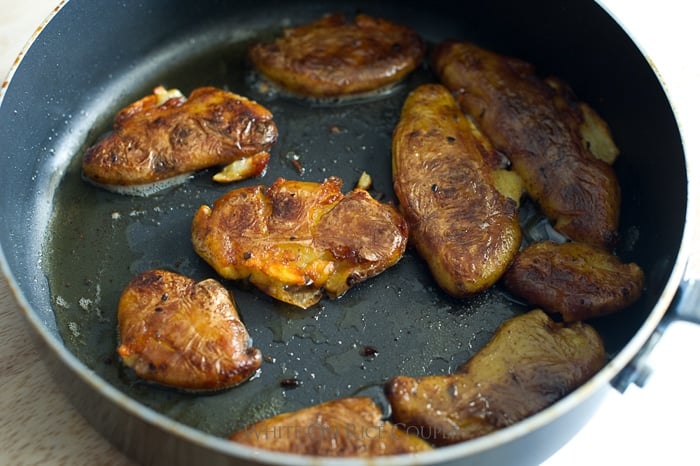 Serve with thai curry sauce and enjoy!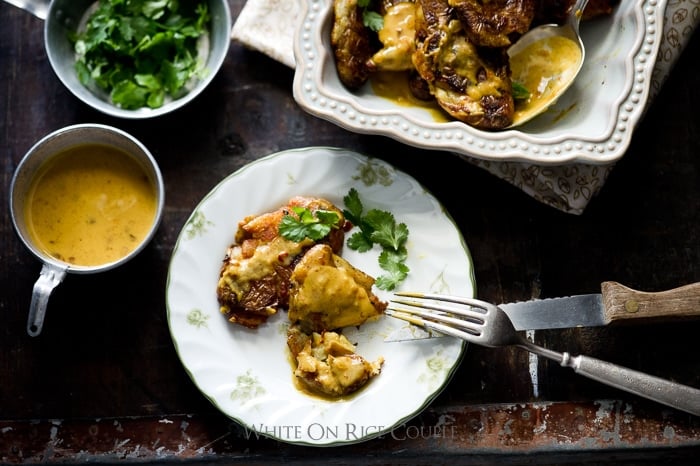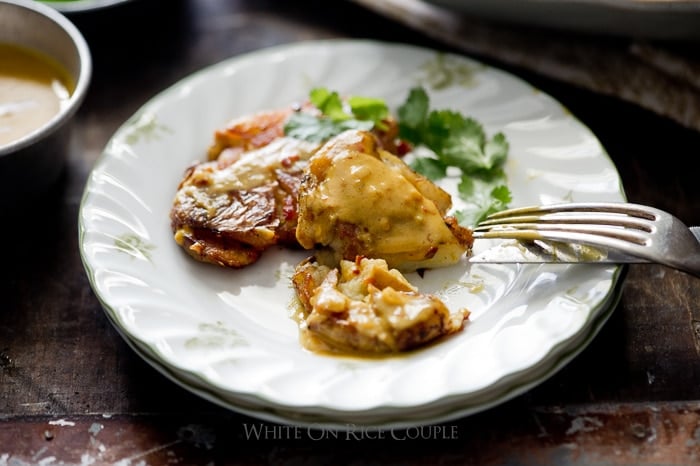 This post was originally published in 2011 and re-published in 2018 with a new video and recipe format.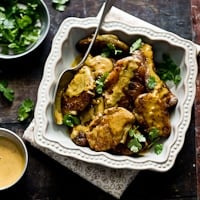 Curried Smashed Potatoes
We like using fingerling potatoes because they're tender and perfect small bites, but any small potato will work nicely (Baby Reds, Baby Yukons, etc.)Some coconut milks are thicker than others. If you prefer a thinner curry, add some water or chicken stock to thin to your desired consistency.
Ingredients
For the Potatoes:
2 pounds (907 g) Fingerling Potatoes , scrubbed and dried
2 Tablespoons (30 ml) Olive Oil
For the Curry:
1 Tablespoon (15 ml) Olive Oil
3 cloves (3 cloves) Garlic
1 -inch (2.5 -cm) knob Ginger , minced
1 Tablespoon (15 ml) Curry Powder
14 ounces (397 g) Coconut Milk
1-2 Tablespoons (15 ml) Fish Sauce , or to taste
2 teaspoons (10 ml) Chili Garlic Sauce , or to taste
zest 1 (1) Lime
1 Tablespoon (15 ml) Lime Juice , or to taste
Kosher Salt , to taste
1/2 cup (8 g) chopped Cilantro (optional)
Instructions
Boil potatoes in salted water until they're tender when pierced with a fork. Drain them and allow to cool to the touch. Gently press down on each potato to "smash" it and flatten a bit. Be careful to not flatten too much to where it breaks apart losing its shape and becoming too hard to handle.

Heat large skillet and add oil. Fry both sides of the potato until golden brown. Set aside.

Make the curry sauce: Heat a large oven-proof skillet on medium-high heat and then add oil. Add garlic & ginger and cook until fragrant, about 30 seconds. Stir in curry powder, coconut milk, fish sauce, chili garlic sauce and lime zest. Stir until combined (whisking the curry if needed to break up any clumps of curry powder).

Bring to a simmer, and gently simmer for about 3 minutes for all the flavors to combine. Add the lime juice then then taste the curry for flavor and add any salt or other seasonings if desired to adjust the final flavor.

Pour sauce over the potatoes. If desired, squeeze extra lime juice, top with chopped cilantro and enjoy!
Nutrition Information per Serving
Calories: 318kcal, Carbohydrates: 30g, Protein: 4g, Fat: 21g, Saturated Fat: 13g, Sodium: 336mg, Potassium: 819mg, Fiber: 3g, Sugar: 1g, Vitamin A: 100IU, Vitamin C: 32mg, Calcium: 38mg, Iron: 3.7mg
We are a participant in the Amazon Services LLC Associates Program, an affiliate advertising program designed to provide a means for us to earn fees by linking to Amazon.com and affiliated sites.