Leftover Thanksgiving Galette
This leftover Thanksgiving galette is the answer to all our post-holiday leftover problems. We all have leftovers after Thanksgiving feast and at some point, we might all be tired of sandwiches. That's why we're making a galette with all the leftover turkey and trimmings. And gosh, it's so easy to make. It would be silly to have 3 days of sandwiches for lunch when we can have everything dolled up into a sexy galette.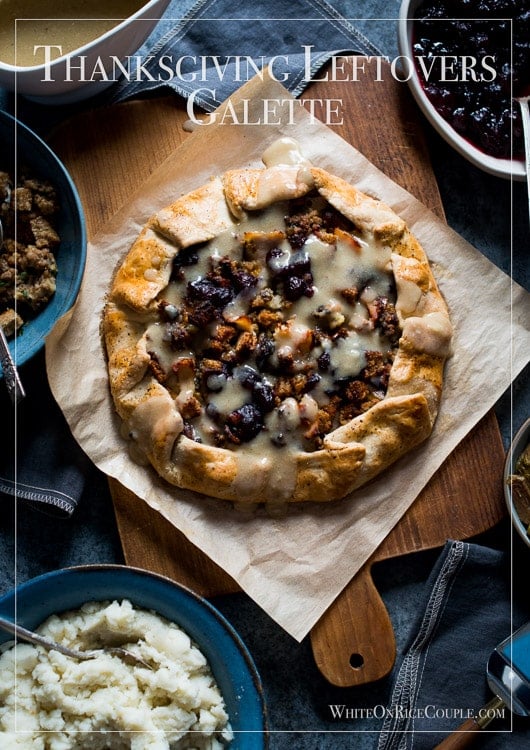 Thanksgiving Leftovers in a Savory Galette
All it takes is a great homemade pie dough recipe and some patience to make it from scratch. If you plan far enough ahead of time it becomes even easier. If you are making pies for Thanksgiving, just make some extra dough, wrap it in plastic and save it in the fridge to use later when you make your Thanksgiving Leftover Galette. All you'll have to do it roll out the dough, fill it with the leftovers and bake. Easy peasy.
Behold, the leftover Thanksgiving galette that will wow everyone for a second round of fixings.
Video: Leftover Thanksgiving Galette Recipe . It's quite simple: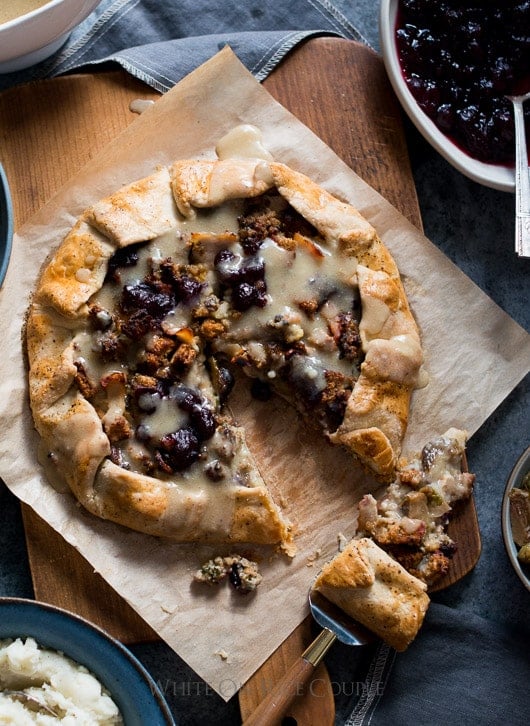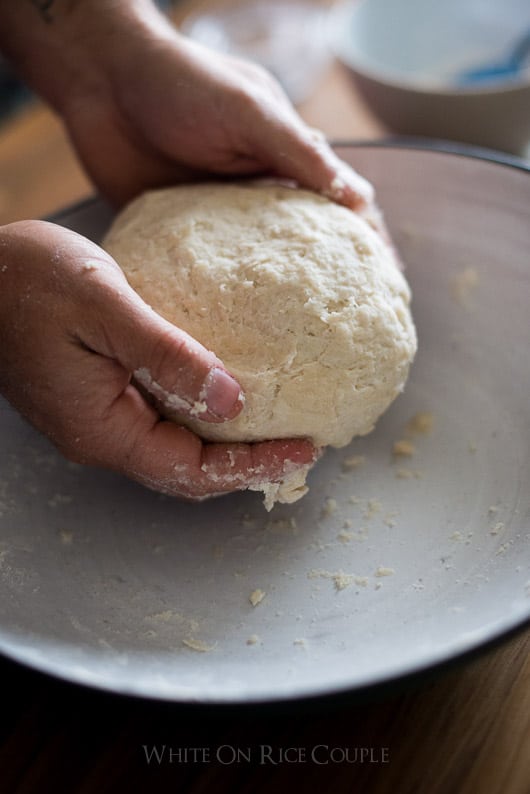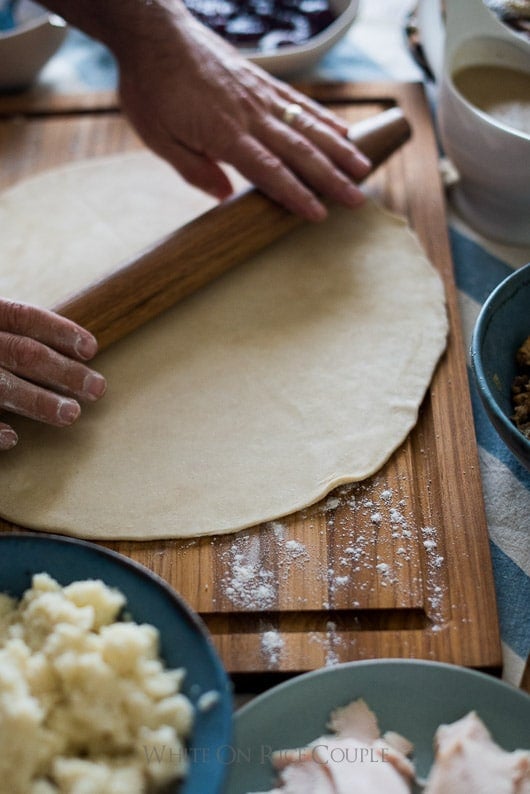 Then gather all your leftover Thanksgiving trimmings that would make savory sense in the galette. Want to put the pumpkin pie in there too? Go for it. And if you do add the pie to the leftover galette, let us know how it turns out!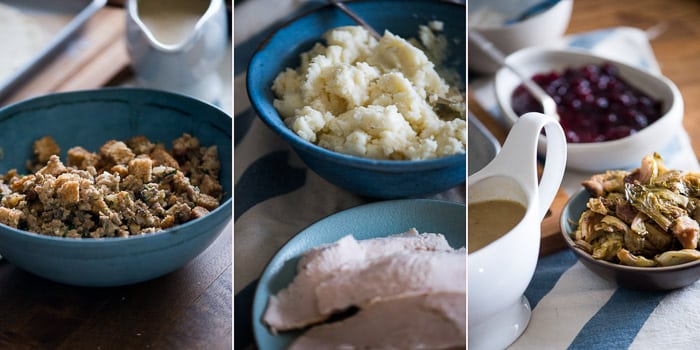 Leftover mashed potatoes, turkey, stuffing, brussels sprouts, gravy, cranberry sauce. Yup, it's all in.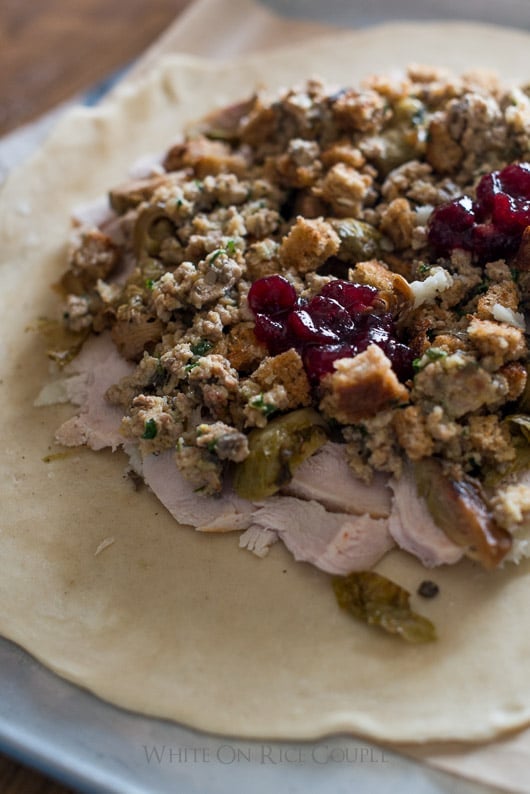 Leftover Thanksgiving Galette Ready for the oven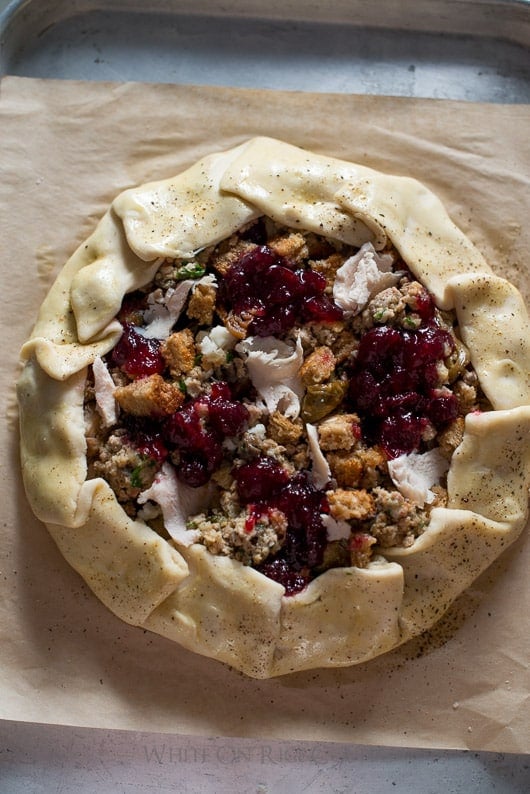 You bake it in the oven and what comes out is a magical, fragrant and delicious leftover Thanksgiving galette.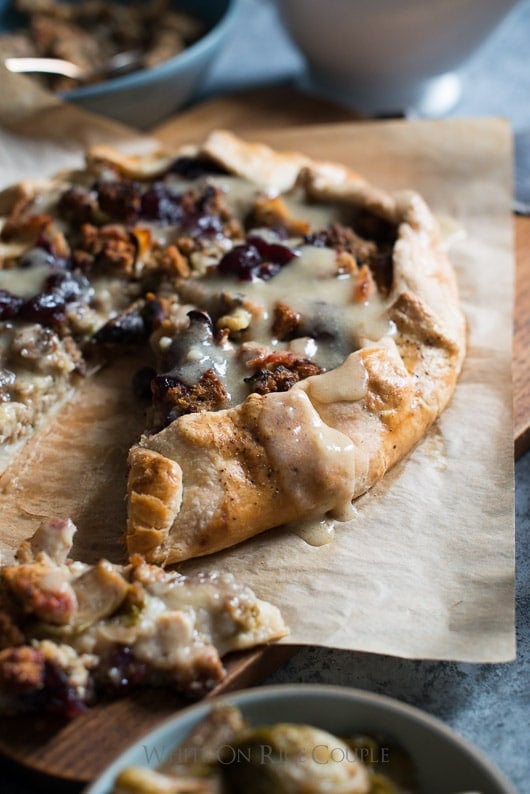 And oh, don't forget to add more gravy. Why? Because it's part of the Holiday joy and that's what makes this leftover Thanksgiving galette over-the-top yummy.
Have a wonderful Thanksgiving dear friends. We're so grateful for your readership, friendship and communal love of food and sharing. We'll raise our wine glasses to all of you for a fantastic year thus far.
Cheers and Love!
-diane and todd
Here's more great Thanksgiving Recipes for your festive menu.
This Thanksgiving galette recipe was originally published in 2015 and re-published in 2018 with an updated video.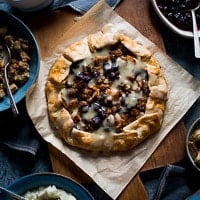 Thanksgiving Leftovers Galette
Watch the video on the recipe post to see how we made this! Feel free to use what ever leftovers you want. But if you decide to put in the pumpkin pie too, then let us know how it turned out. If you plan ahead and are making pies for Thanksgiving, then just make extra pie dough for the galette! Just refrigerate the dough and use it later for the galette.Makes one 9-inch Galette
Ingredients
Galette dough ingredients
1 1/4 cups (155g) all-purpose Flour
1/2 cup cold unsalted Butter (1 stick or 113g), cut into 1/2-inch (12mm) pieces
1 teaspoon Sugar
1/2 teaspoon kosher salt
1/4 cup (60ml) cold Water (you may not end up using the full amount)
Egg wash (one egg mixed with 2 tablespoons of water) or Heavy Cream, for brushing the crust
Filling ingredients
1 cup leftover Mashed Potatoes (about)
1/2 cup leftover Gravy (or as much as you want)
1 cup leftover Turkey (about) shredded
1/2 cup leftover Brussels Sprouts (about)
1/2 cup leftover Stuffing (about)
1/4 cup leftover Cranberry Sauce (or as much as you want)
fresh cracked Black Pepper , to taste
Instructions
Preheat the oven to 375°F (190°C). Line a baking sheet pan with parchment paper.

Make the crust: In a bowl, pinch together the flour, butter, sugar, and salt with your fingertips until most of the big chunks of butter are flattened or broken up and there is no remaining dry flour sections.

Incorporate the enough of the cold water into the flour until the mixture binds together and forms a rough ball. Knead the ball just until the dough begins to become smooth. Don't overwork the dough or else it will become tough.

Roll the dough into a ball, and then flatten into a disk. Wrap in plastic wrap and chill for at least 30 minutes (can be chilled overnight or frozen for future use).

On a floured surface, roll the disk out to a circle about 12 inches (30-cm) in diameter. Gently transfer the dough onto the prepared sheet pan.

Layer the fillings out evenly to within about 2 inches (5 cm) of the outside edge. Fold the edge of the dough over the filling, creasing and folding until completing the circle. Brush the crust with the egg wash or heavy cream. Sprinkle fresh cracked black pepper over the galette, if desired.

Bake for 50 to 60 minutes, or until the crust is golden. Serve warm or at room temperature.
Nutrition Information per Serving
Calories: 371kcal, Carbohydrates: 38g, Protein: 11g, Fat: 19g, Saturated Fat: 11g, Trans Fat: 1g, Cholesterol: 66mg, Sodium: 406mg, Potassium: 242mg, Fiber: 2g, Sugar: 6g, Vitamin A: 595IU, Vitamin C: 15mg, Calcium: 24mg, Iron: 2mg
We are a participant in the Amazon Services LLC Associates Program, an affiliate advertising program designed to provide a means for us to earn fees by linking to Amazon.com and affiliated sites.