Crispy Sweet Potato Croquettes with Bacon
Crispy and flavorful, these sweet potato croquettes are a great way to enjoy this popular tuber. Kids love snacking on these! Think of them as a sweet potato hash brown.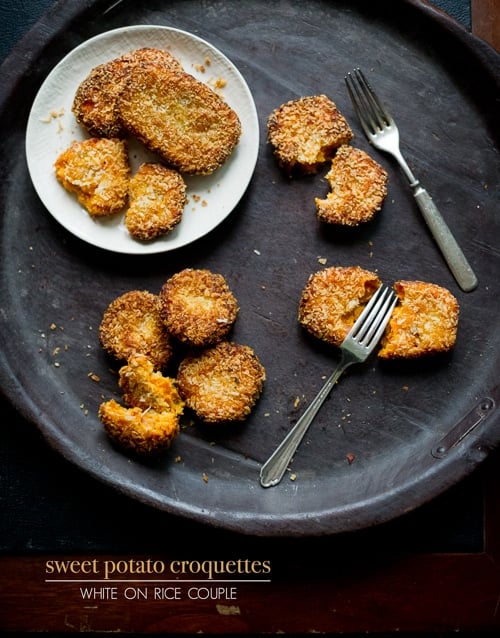 It's during this time of year that we all start to get a little high on the blood pressure when it comes to planning the Holiday feasts or Thanksgiving meal. I know of friends that plan weeks ahead of time and channel their inner Martha Stewart for hosting inspiration. Others will make things on-the-fly and decide the day before what the menu will be (yes, the day before!). And of course, some of those last-minute folks will present a show-stopping meal that puts those Martha Stewart groupies to shame. Where do you lie on the scale of planning & hosting? We're somewhere in the middle, with plenty of risk taking sprinkled on top.
Video Sweet Potato Croquettes Recipe
Yes, we'll have our stand-by favorites of potatoes-au-gratin, rib-eye steaks and roast turkey. Toss in the Vietnamese side of the family's noodles with fish sauce with grilled pork and what you have is an un-conventional yet somewhat traditional Turkey day. It's a feast for the open-minded and food loving eaters.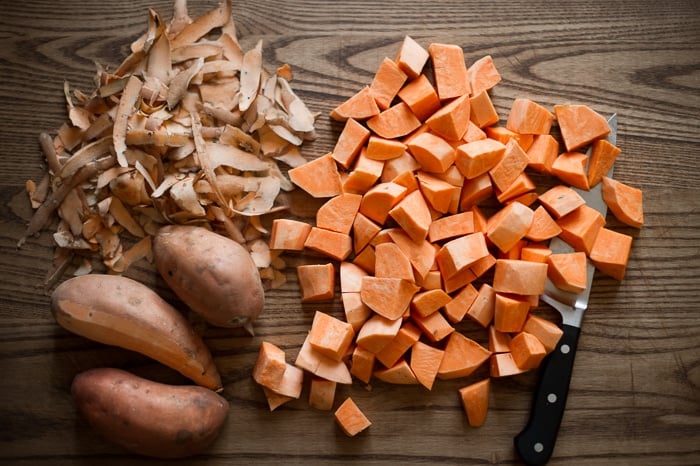 But it's not to say that our menu is always filled with the same cast of characters. Every year we like to take some risks for the food show and throw in a few dishes that we'll decide on-the-fly or something that is completely new and out of the ordinary. Thanksgiving is so much more fun when you take risks in the kitchen.
This year is going to be the year of the sweet potato. We rarely add a sweet potato dish to the spread because Todd's creamy potatoes-au-gratin is such a hit, no one dares to take him on with a competing root dish. Besides, I don't think anyone wants to eat any other potato than "Todd's potatoes". Or in my Mother's way of saying it, "Tott's dewicious potato". She still can't pronounce his name right after 17 years!
I'm taking a risk this year and throwing in a new potato to the ring. There won't be a battle because my potato dish will be of sweet potatoes and it'll be different. Yup, what ever it is, it'll be different and "dewicious".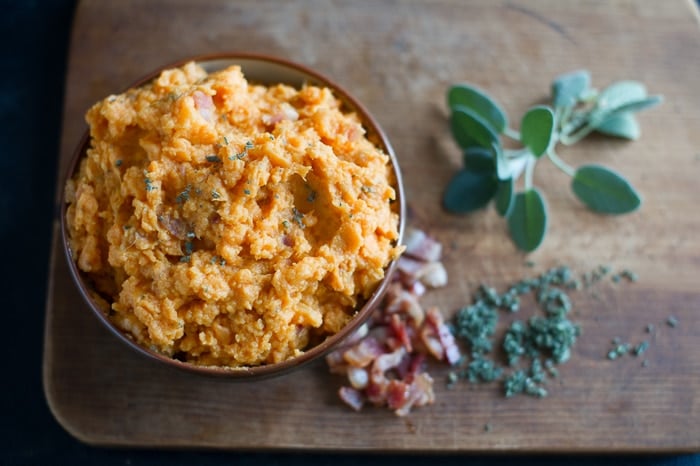 Now that I know I want to have a sweet potato dish, what recipe is it going to be?My inspiration and perfectly timed answer came from a lovely new cookbook from author Lorna Yee, The Everyday Wok Cookbook.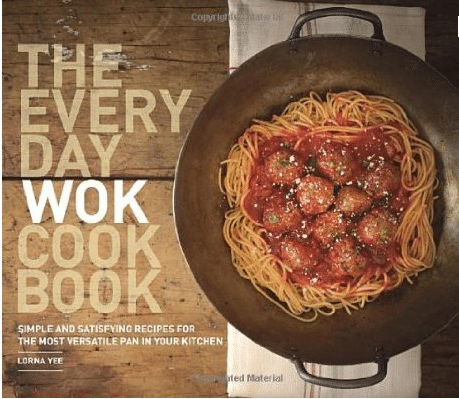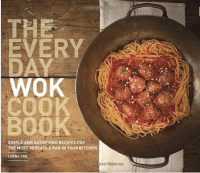 Now wait, I wasn't expecting to find Thanksgiving inspiration in a wok cookbook. Not at all. What I was expecting was to find were some great tips on how to cook with a wok and to find some classic Asian dishes that often are made better in a wok. This book certainly taught me so much about how to choose and how to season a wok. Done.
But beyond the traditional Chinese recipes, Lorna teaches you how to make some popular American dishes such as buttermilk fried chicken, mac-and-cheese and messy po' boy sandwiches. Again, all made in a wok. Wow. She makes cooking with the wok so much fun and even if you don't have a wok, the recipes are easy to make in a skillet and are all are so useful throughout the year.
As I started flipping the pages, I found some incredible Thanksgiving and Holiday-perfect recipes such as creamed spinach with parmesan, marsala glazed mushrooms, roasted fingerling potatoes with bacon and greens, and slow cooked collard greens. I was not expecting all these recipes in the least bit. What a pleasant surprise.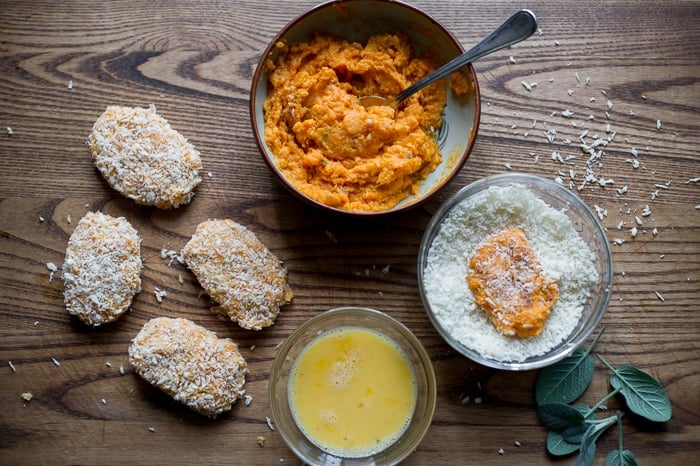 Sweet Potato Croquettes for Side Dish
And best of all, I found my prize dish to take my Thanksgiving-risk to the table—sweet potato croquettes! These are perfect for my turkey day contribution. It's made from mashed sweet potato, salty pancetta, hints of fresh sage and then coated in panko bread crumbs and fried to a crisp. Say that ten times fast.
How can anyone NOT want to eat one of these sweet potato croquettes? I'm certain Todd will have to take me seriously now when it comes to contributing a dish to rival his potatoes-au-gratin. It's all friendly, uh….. competition here.
Move over potatoes-au-gratin and make room for these perfectly crispy, slightly-savory, sweet potato croquettes. No fear here for Thanksgiving. So, take that.
I'm feeling a little dangerous and so should you.
hugs,
diane
More Recipes to Enjoy: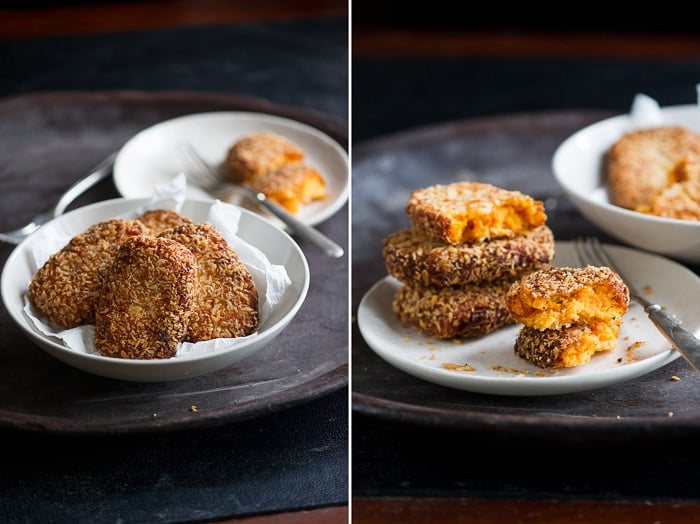 This recipe was originally published in 2012 and re-published in 2018 with a new video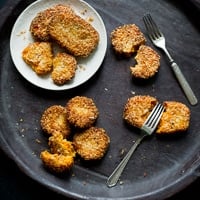 Pancetta & Sweet Potato Croquettes
Recipe from The Everyday Wok Cookbook by Lorna Yee and shared with permission from Sasquatch Books. They can easily be made in your favorite pans. Don't skip the chilling part after mixing the ingredients or else they will be difficult to handle. If you have to speed things up, use an ice cream scoop, and scoop out balls onto a plate and place in freezer for about 30 minutes or until firmer and easier to handle.
Ingredients
4 oz. (114g) Pancetta or Bacon , cut into 1/4" pieces
3 cups (600g) cooked & mashed Yam or Sweet Potato
2 Tablespoons (30ml) Brown Sugar
2 teaspoons (10ml) finely chopped fresh Sage
Kosher Salt , to taste
fresh ground Black Pepper , to taste
1 Egg
For the Breading
2 Eggs
2 1/2 cups (160g) Panko
Vegetable Oil for deep frying
Instructions
Fry the pancetta/bacon in a wok or skillet over medium heat until crisp and golden. Remove cooked pancetta/bacon from heat. Reserve 2 Tablespoons of the drippings and discard the rest.

To the drippings, add the yam, pancetta, brown sugar, sage, and salt and pepper to taste. Stir in the egg. Refrigerate the mixture for at least 4 hours before proceeding.

After the mixture has chilled, scoop out heaping tablespoonfuls and roll them between your hands to form 1-inch balls. Gently flatten the balls to become a patty. Place the balls on a lined baking sheet.

To make the breading, in a shallow dish, beat the eggs until thoroughly liquid. Place the panko in a separate dish.

Roll each ball first in the panko, then in the egg wash, then again in the panko, shaking off the excess panko and letting the excess egg wash drip off. Repeat until all the croquettes are coated.

In a wok or skillet, heat 2 inches of oil over medium high heat. Once the oil is hot, lower the heat to medium, or until the oil just maintains a simmer. Fry the croquettes in batches until golden brown, 1 or 2 minutes per side. Remove the croquettes with a slotted spoon and drain on paper towels. Serve warm.
Nutrition Information per Serving
Calories: 272kcal, Carbohydrates: 36g, Protein: 9g, Fat: 10g, Saturated Fat: 3g, Trans Fat: 1g, Cholesterol: 67mg, Sodium: 367mg, Potassium: 339mg, Fiber: 3g, Sugar: 8g, Vitamin A: 9521IU, Vitamin C: 2mg, Calcium: 83mg, Iron: 2mg
We are a participant in the Amazon Services LLC Associates Program, an affiliate advertising program designed to provide a means for us to earn fees by linking to Amazon.com and affiliated sites.