Grandma's Fudge – A Tradition Revived
This recipe story was originally published in 2009, it's an oldie but goodie but does require quite a few steps. We have our new version that's a little easier to make than Grandma's version, but equally delicious. Here's our new "modern fudge" recipe.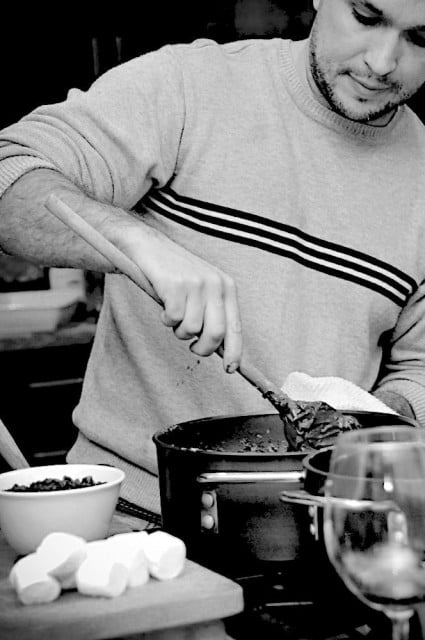 Grandma's Fudge Recipe
"Bah humbug" was Grandma's take on Christmas. Every December we would receive a letter with that declaration, however those letters would also have a companion. A simple tin filled with individually wrapped pieces of homemade fudge. A fudge that was smooth and tasty, and has forever left me unsatisfied with any that I've purchased. Years back I found a typed 3×5 card with Grandma's fudge recipe on it. "Oh, the joy!" I thought. "Now I can make Grandma's fudge for myself." But the cooking Gods deemed me undeserving and I was never able to successfully recreate Grandma's fudge.
Years passed, and Diane and I tried to create our own culinary gift traditions. Peppermint bark, rum balls, and other holiday sweets. But nothing ever stuck. We would fall back to the ordinary, mundane, and commercial habits of searching for gifts the recipients may not really want, or going even more generic with the gift of gift-cards or cash. However this year, change is wafting over the land and we are starting to perceive many things around us differently. All but one of Diane's siblings wanted no part of gift giving. "Just gifts for the young ones and the one sibling who wants to give everyone else a gift. Nothing for me thanks." We no longer felt the urge to get something for everyone from our trash guy, to the mailman, to the neighbors' kids, or even for our friends.
It isn't that we aren't grateful for all of the ways these people enrich our lives, but all of this intent on showing gratitude on one day has the feeling of going on a diet. It helps appease the short term guilt, but it really does nothing for life in the long term. We feel we should always we aware of being compassionate and giving, not just during the holiday season. Plus, the aroma of commercialism taints the beauty of giving this time of year.
Gradually, Grandma's "Bah humbugs" began to make more sense. She was a kind and considerate soul, and there was always a bit of a glimmer in her eyes when she would voice her disregard of the Christmas holiday. However, there was also a seriousness behind her statements. She wanted to distance herself from the commercialism and "obligations" to be nice and giving during the "Holiday Season." By "bah humbugging" she was freeing her friends and family from the obligation of getting her anything as well as letting those around her know that she wouldn't be participating in any needless gratuity.
Maybe it is because we have come to this full realization, or maybe we have just progressed as cooks, but when we attempted Grandma's fudge recipe on Christmas day this year, the first attempt was good, and the second was prefect. We nailed the "Bah Humbug Fudge." As soon as I tasted the second batch, a spark ignited within me and I knew that Grandma's tradition of only giving fudge for Christmas was reborn. Nothing monetary based shall be dished out again, we are now in the "Bah Humbug Club."
We have no wants other than friendship and love, and that will also be the only thing we will be giving. Love in the form of fudge. Bah humbug, everyone.
-Todd.
Step by Step Recipe Gallery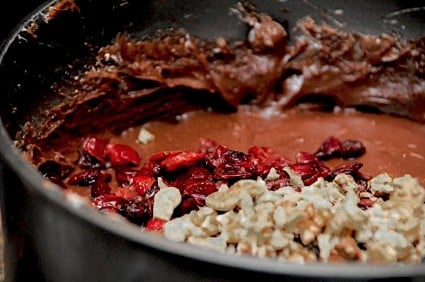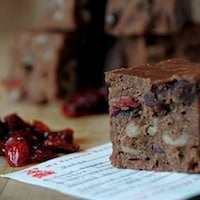 Grandma's Fudge Recipe
Grandma's fudge was always one of the best fudges I'd ever tasted. After many failed attempts over the years, I've finally deciphered Grandma's bare-bones written recipe. This fudge recipe comes out smooth, not overly sweet, and luscious. It was her offering in lieu of presents during the holiday season, a tradition which is now being reborn with us. I've written out the instructions the same as Grandma had, then in italics have given a more detailed breakdown. A little twist we always do is to soak the dried fruit in a favorite spirit - dark rum, Kahlua, brandy, bourbon... We'll begin soaking before starting to cook the fudge, then drain it just before stirring in. Enjoy.
Ingredients
3 cups (600g) Sugar
12 oz (354 ml) can Evaporated Milk
1/2 cup (one stick or 113g) unsalted Butter
12 oz (340g) Dark Chocolate bits
1/2 pound (225g) Marshmallow (@32 regular size)
4-6 oz (about 1 cup or 115-170 g) walnut halves
(Optional) 6 oz (about 1 cup or 170 g) Raisins, dried cranberries, dried cherries, or whatever dried fruit you like
(Optional) @ 1/2 cup (120 ml) Dark Rum, Kahlua, Brandy, or whatever alcohol pairs well with your dried fruit
Instructions
Combine sugar, milk, and butter. Cook to soft ball stage stirring constantly. (Bring everything to a simmer then lower the heat to medium or on med-low. It should bubble well without getting crazy. Stir regularly, and especially more frequently as the mix thickens. After each stir session, wipe the sides of the pan with a brush and water so it stays clean and prevents big sugar crystals (source of grainy fudge.) It usually takes about 30 minutes to reach the soft ball stage or 235° F, depending on how strong you cook the sugar mixture. Soft ball stage is where if you drop some of the mix into a bowl of cold water, you are able to make a "soft ball" when it cools a bit and you take it out of the water. If you like your fudge softer, take it off the heat a bit earlier.

(Optional) While candy cooks, combine dried fruit and alcohol in a bowl and macerate for at least 30 min.

Line an 8"x11" (or 9"x9") baking dish with aluminum foil or wax paper. Set aside.

Remove from heat, and then stir in marshmallows (it is usually easier to add the marshmallows in to batches, stirring until the first set is melted then stir in the second set). After the marshmallows are fully melted, stir in the chocolate. Stir until blended.

Add walnuts. (Optional - Drain macerated fruit and add.) Stir until combined.

Pour into prepared dish. Allow to cool for about 5 minutes, or until you can touch the fudge without it sticking to your hand, then pat down the fudge into an even layer. Leave untouched until completely cool (about 2 hours) then cut into bit sized pieces. Keep chunks of fudge airtight or wrap with plastic wrap and give to friends, loved ones, and save a secret stash for yourself to eat.
Nutrition Information per Serving
Calories: 345kcal, Carbohydrates: 51g, Protein: 4g, Fat: 15g, Saturated Fat: 9g, Trans Fat: 1g, Cholesterol: 17mg, Sodium: 46mg, Potassium: 187mg, Fiber: 1g, Sugar: 44g, Vitamin A: 185IU, Vitamin C: 1mg, Calcium: 103mg, Iron: 1mg
We are a participant in the Amazon Services LLC Associates Program, an affiliate advertising program designed to provide a means for us to earn fees by linking to Amazon.com and affiliated sites.