Crispy Potato Pancakes
There are some dishes that resonate with such deep memories that they will be forever associated with someone or something. Oftentimes they will be simple dishes made by someone close to your heart. For me one of those dishes would be this potato pancakes recipe.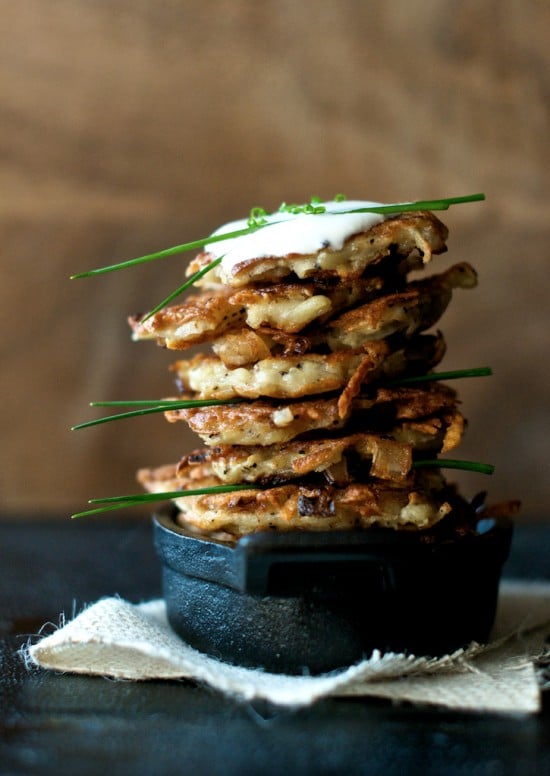 Potato Pancakes Recipe
Potato pancakes were of my favorite sides that Grandma occasionally served with her dinners. She'd have a small gathering of friends over and they'd all start with Scotch on the rocks, wine or other beverage of choice; some appetizers, maybe a crudites platter with a blue cheese dip and everyone would relax in the living room filling the air with beautiful conversations.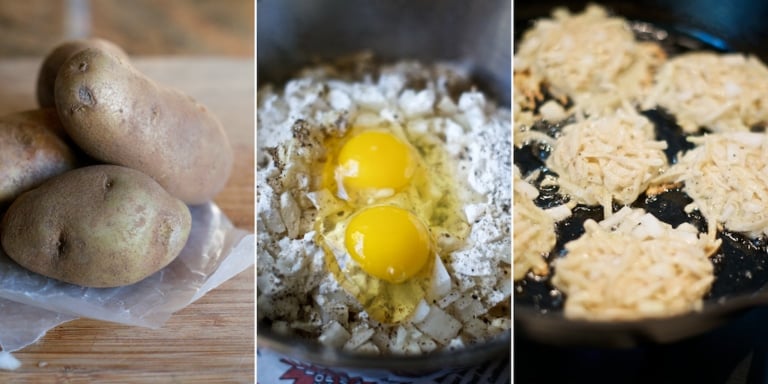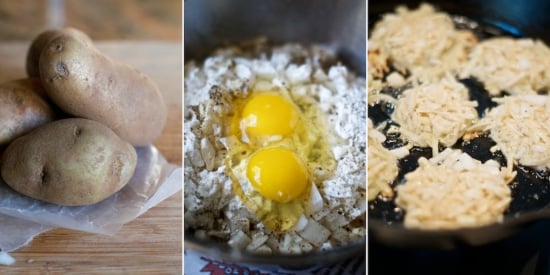 Memories of Grandma
Eventually the gathering would migrate to the dinner table were Grandma's cooking would fill our tastes and bellies as much as the camaraderie would fill our hearts. The meals were nearly always an enticing mix of familiar and new culinary explorations for me. I was served octopus for the first time at Grandma's table and as a kid discovered that cooked carrots can actually be quite tasty.
Grandma's dinner table changed my mindset forever on how I approached food. Anything from the simple to the exotic can be enrapturing, depending on how it is done. Today, whenever I prepare some of those dishes that I was first introduced to by Grandma, all of those memories and emotions fill my soul.
Can there be any doubt that I love this potato pancakes recipe?
By themselves,without the recollection of dear memories, the potato pancakes are damn tasty. The crisp outside, with a soft savory center have a play in textures that potatoes are so incredibly adept at forming. The potato pancakes latkes are by themselves a nourishing comfort food, then add in a love for an inspiring force in my life and my love for thus dish becomes nearly reverence.
-Todd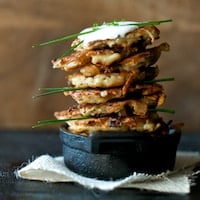 Potato Pancake Recipe
Potato pancakes or latkes have such a great balance between crispy & tender. Squeeze as much water out of the grated potatoes to help with getting a great crispy texture.
Ingredients
4 medium Potatoes , peeled
1/2 large Sweet Onion , diced into 1/4" pieces
3 cloves Garlic , crushed or finely minced
1/3 cup Flour
1 Tablespoon Sea Salt
fresh cracked Black Pepper , to taste
2 large Eggs , beaten
1/4 cup + Oil , preferably peanut oil, grape seed oil, or other high flash point oil
Instructions
Line a bowl with several paper towels, then grate potatoes into bowl. Using more paper towels, squeeze out as much water from the potatoes as you can. After potatoes are as dry as you can get them, discard paper towels.

Add the onion, garlic, flour, salt, pepper, and eggs then stir to combine.

Heat a saute pan over medium to med.-high heat, add oil, then when oil is hot place large spoonfuls of potato mix into the pan. Flatten each pancake to approx. 1/2" thick. Cook to a golden brown on one side (approx. 2-3 min.) then brown the other side. Remove and pat dry with paper towels. May be kept warm covered in a 300° oven.

As you cook each batch, stir the potato mix before spooning into pan and add more oil to pan if needed. Serve warm.Serve plain or dress up with some sour cream & chives, honey, a sprinkling of cheese, or whatever creative accompaniment you can think of.
Nutrition Information per Serving
Calories: 115kcal, Carbohydrates: 14g, Protein: 3g, Fat: 6g, Saturated Fat: 1g, Trans Fat: 1g, Cholesterol: 31mg, Sodium: 598mg, Potassium: 273mg, Fiber: 1g, Sugar: 1g, Vitamin A: 46IU, Vitamin C: 12mg, Calcium: 16mg, Iron: 1mg
>Here's a traditional potato latkes recipe and check out our chai zucchini pancakes.
We are a participant in the Amazon Services LLC Associates Program, an affiliate advertising program designed to provide a means for us to earn fees by linking to Amazon.com and affiliated sites.