Meyer Lemon Roasted Chicken with Rosemary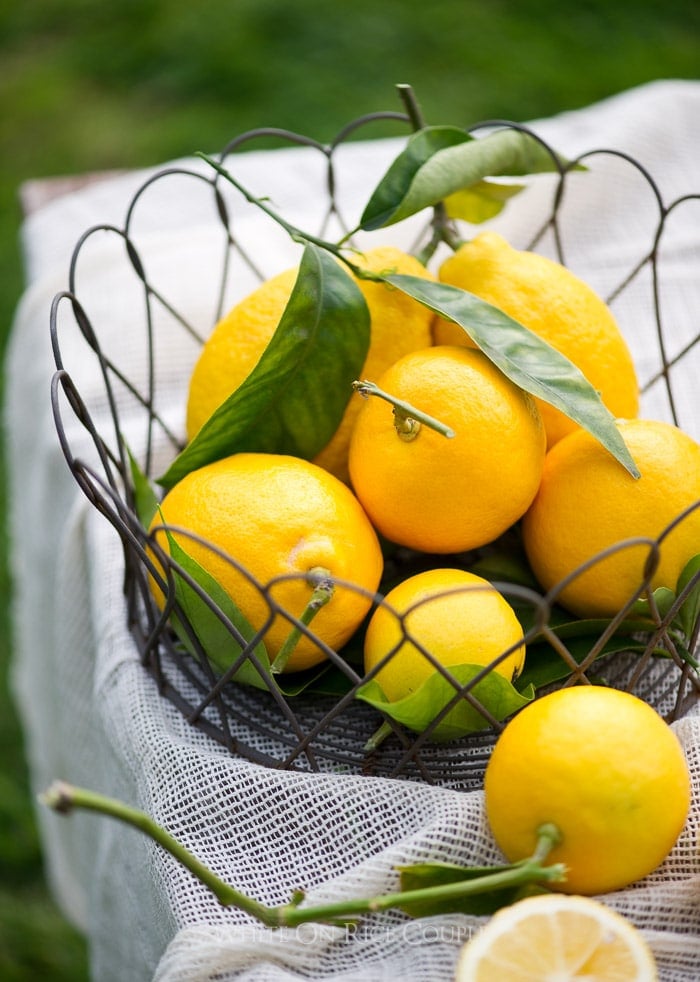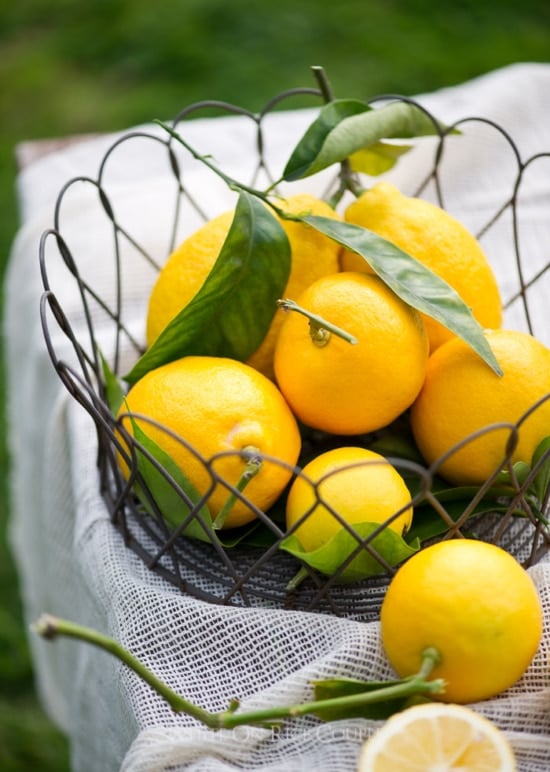 Simple Lemon Roast Chicken Recipe
At least once a month we have a roast chicken night. It never gets old and everyone in the family benefits from leftovers, even the pups. It's a dinner that feeds us for days. From leftover chicken sandwiches and chicken noodle soup, every bite tastes like a new meal. Roast chicken is a weeknight celebration of food and yummy aromas that fills the house. Sierra has been especially tired lately and lost much of her appetite. She's going on 15 years old this year and her body isn't like it used to be. But a smells of roast chicken gives her an appetite and she loves her share of warm cooked chicken. So that's the extra added bonus of happiness of us all and roast chicken dinners more often!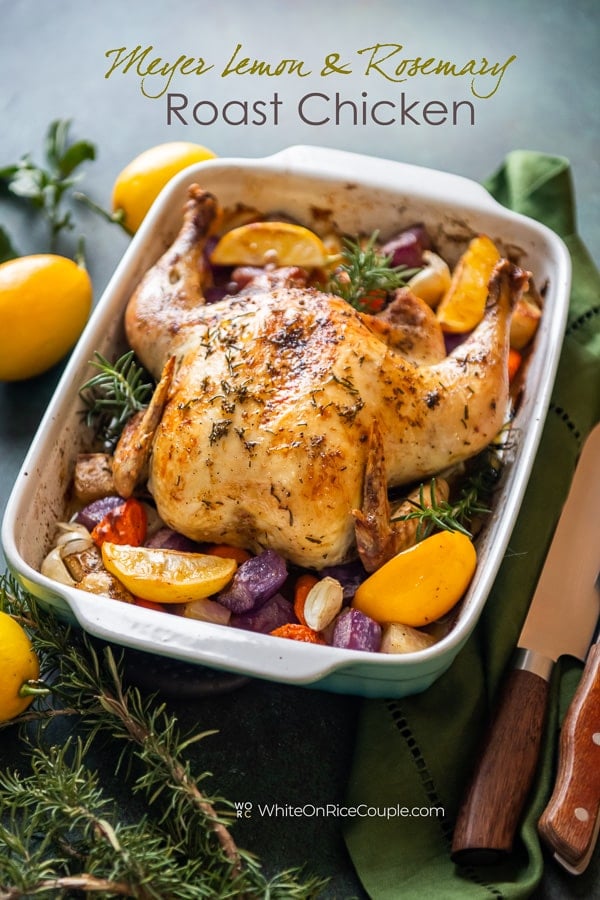 Video: Recipe for Lemon Rosemary Roasted Chicken & Garden Scenes
During this cooler winter-ish time of year we're overloaded with fresh lemons. As you already know, we're pretty obsessed with citrus with two meyer lemon trees. The sweet, floral and beautiful aromas of meyer lemons are fantastic. The recipe inspirations with meyer lemons this time of year get overloaded too. It's hard to catch up to so many fantastic things to do with meyer lemons. But the most basic and favorite recipe is our meyer lemon roasted chicken. Add some rosemary and it's a weeknight favorite lemon herb chicken dinner.
How to Cook Lemon Rosemary Roast Chicken Recipe
This isn't a seasonal recipe, though meyer lemons are very seasonal. You can use any type of lemon that you crave. From bright eureka lemons to sweet Persian lemons, let the lemons be your guide. You can also use any herbs that you want. This time of year, the only herb that grows well in Southern California is rosemary. But if you have dried herbs, then your possibilities are even more endless and delicious!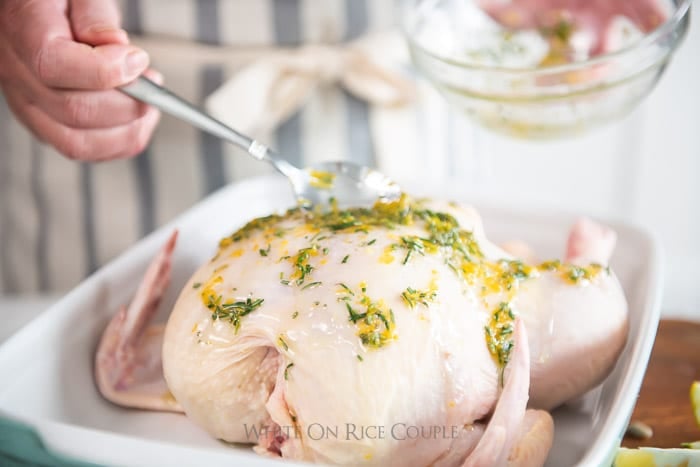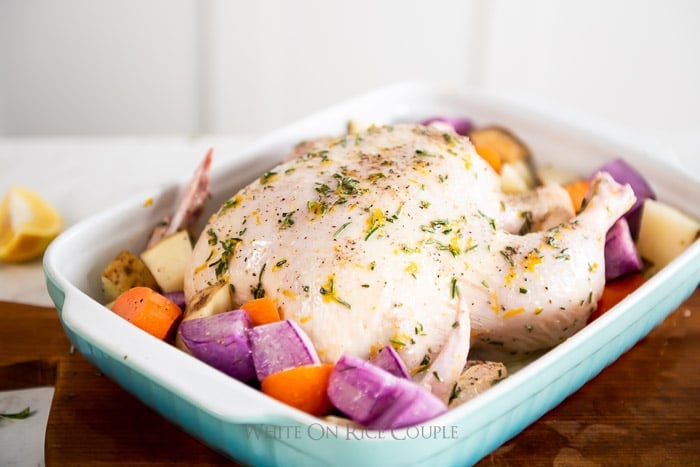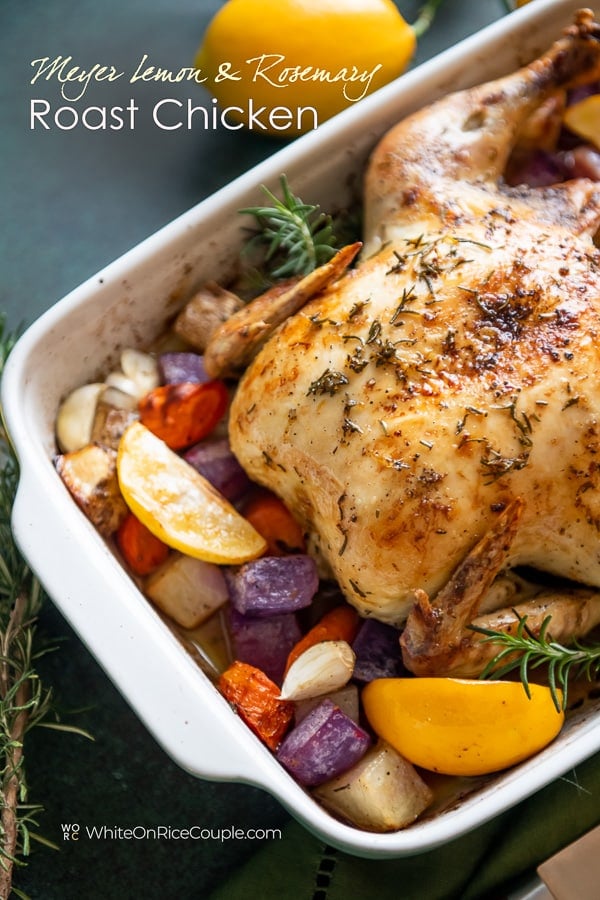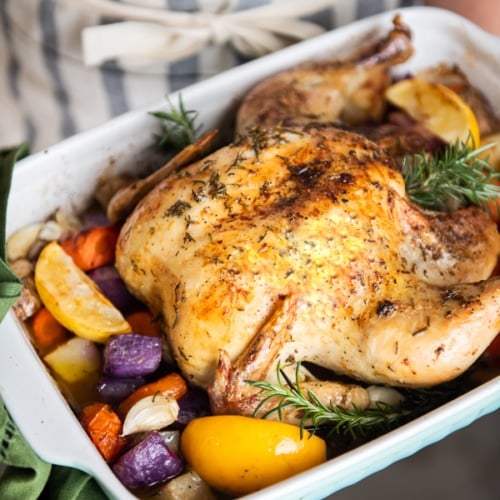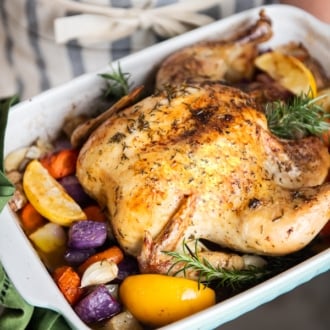 Meyer Lemon & Rosemary Roast Chicken
If you don't have meyer lemons, regular lemons will work just fine. The meyer lemons do add a nice mellow brightness which is perfect to not overpower the rosemary. We prefer how the fresh rosemary cooks and tastes vs using dried rosemary, but use what you have and personally prefer. Please read post for more recipe details.
Ingredients
1 (1 ) whole Chicken (about 4 lbs./1.75kg)
2 Tablespoons (30 ml) Olive Oil
2 Tablespoons (30 ml) fresh chopped Rosemary
zest from 1 Meyer Lemon
1 (1 ) Meyer Lemon , plus 1 additional Meyer Lemon cut into quarters for serving
4 garlic cloves , peeled & slighly smashed
fresh cracked Black Pepper
Optional:
2 (2 ) medium potatoes , cut into 1-inch/2.5cm pieces
2 (2 ) carrots , cut into 1-inch /2.5cm pieces
3-4 turnips or radishes , cut into 1-inch /2.5cm pieces
Instructions
Preheat oven to 425°F/220°C. Pat dry the chicken. For the crispiest skin - proceed to step 2. For quickest preparation- proceed to step 3.

Generously sprinkle salt all over the chicken. Set on a plate, place in fridge and allow to air dry for at least 2 hours and up to overnight. Remove from fridge and pat dry water that had come to skin surface.

Place the chicken in a baking dish or large cast iron skillet. Combine the olive oil, meyer lemon zest, and rosemary and rub over the chicken. Squeeze the juice from the zested meyer lemon over and inside the chicken then place the squeezed pieces in the roasting pan with the chicken. Place the garlic inside the chicken or under the skin and season the chicken with salt and black pepper.

If cooking with the vegetables, lightly oil the vegetables and season with salt & pepper. Place them around the chicken in the baking dish.

Roast for about 1 hour 20 minutes to 1 hour 35 minutes or until juices run clear when you cut between the leg and the thigh or the temperature in the thickest part of the thigh reads 165°F/74°C when probed with an instant read thermometer. If cooking with the potatoes and carrots: after the chicken & veggies have cooked for about 50 minutes, check the vegetables to see how tender they are. If they are perfect, remove them and set aside until the chicken is done. If you'd like the more tender, return the chicken and veggies to the oven and finish cooking, if needed removing the potatoes and carrots early.

Remove from oven and allow to rest for about 10 minutes. Carve and serve with the remaining meyer lemon quarters to squeeze as desired.
Nutrition Information
Calories: 473kcal, Carbohydrates: 1g, Protein: 35g, Fat: 36g, Saturated Fat: 9g, Cholesterol: 143mg, Sodium: 134mg, Potassium: 360mg, Fiber: 1g, Sugar: 1g, Vitamin A: 296IU, Vitamin C: 3mg, Calcium: 24mg, Iron: 2mg
Enjoy more of our everyday recipes:
We are a participant in the Amazon Services LLC Associates Program, an affiliate advertising program designed to provide a means for us to earn fees by linking to Amazon.com and affiliated sites.