Roast Chicken Pho Zucchini Noodle Soup
Enjoy this light Zucchini noodle chicken pho soup on a cold day. It's low carb, soothing and loaded with delicious chicken pho soup flavor.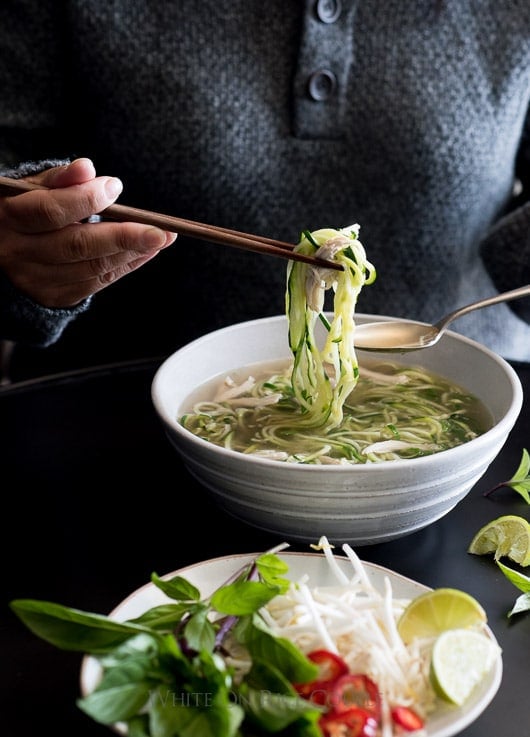 Vietnamese Chicken Pho Zucchini Noodle Soup
Vietnamese pho noodle soup runs in our kitchen like an overflowing spring river after a snow melt. Rarely do we ever go a whole week without pho and when my Mom is making her usual huge pot of simmering beef pho broth, we might have it twice a day. There's just something wonderfully healing, soothing and comforting in a bowl of pho. Each bowl is different. No two bowls are ever the same because everyone customizes their bowl with condiments and herbs to make it their own.
Zucchini Noodle Pho Soup with Roast Chicken
To change things up during our cold weather daily pho cravings, we have different variations of Pho including one made from roast chicken and zucchini noodles. Why? Because it's quick to make, light on the stomach and absolutely satisfying on a cold day. Think awesome chicken soup, Pho flavors, low-carb zucchini noodles and what you have is perfection in a steaming hot bowl. It's the ultimate zucchini noodle chicken pho soup to keep your belly warm and satisfies.
Video: Vietnamese Zucchini Noodle Chicken Pho Soup: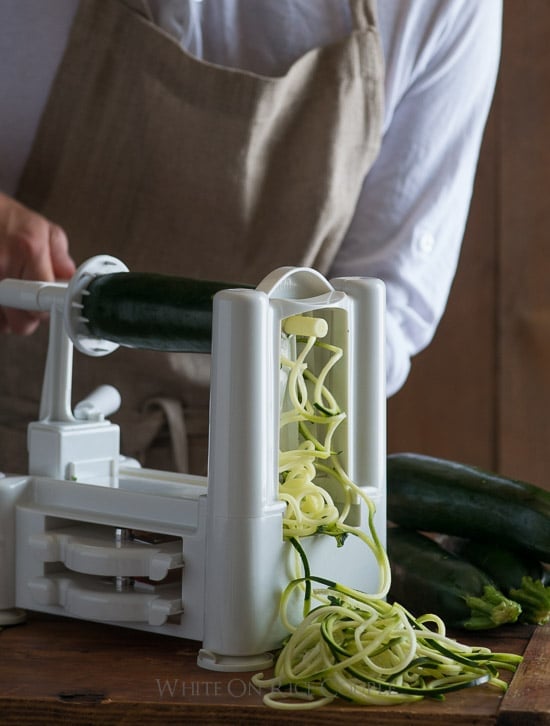 Best Vegetable Spiralizers:
Paderno Spiralizer –
The Classic! We've lost track of how many meals this one has made for us. Fantastic spiralizer.
KitchenAid Spiralizer Attachment –
Spiralize, peel, core, slice. All from the power of the KitchenAid stand mixer.
OXO Julienne Peeler –
For those who love it simple. This great julienne peeler has seen a lot of mileage in our kitchen.

The flavors are wonderful and it doesn't get much easier than this to make. We love eating roast chicken and with leftovers, we use the bones to make the rich broth. It's one of those meals that we can made ahead of time and heat up in portions for lunch or dinner.
Even the zucchini noodles are spiralized ahead of time and all we need to do is to add the zucchini noodles in the broth and we have an instant, homemade chicken zucchini noodle soup with all the Vietnamese spices, flavors and comfort.
Light and Healthy Zucchini Noodle Pho Soup
Yes, it's really not true "Vietnamese Beef Pho" and it's clear. You don't need to remind of that. But I've been known to break some culinary rules, apologized to Mom for my BLT Spring rolls and Hard Core Bang-Banh Mi with Egg recipe. I'm a proponent of eating what you like and being creative. Every family has their own food traditions, recipes and adaptions. This is my adaption to having a clean, light and satisfying soup to warm me up. And best of all, my Vietnamese family has tasted it, were impressed by it and love it.
This recipe made with fresh ingredients and most importantly, it's made with love. Let's just celebrate good food together.
-Diane
Here's several ways to cut zucchini into noodles:
We used this awesome Paderno vegetable spiral slicer to make the curly zucchini noodles or pasta: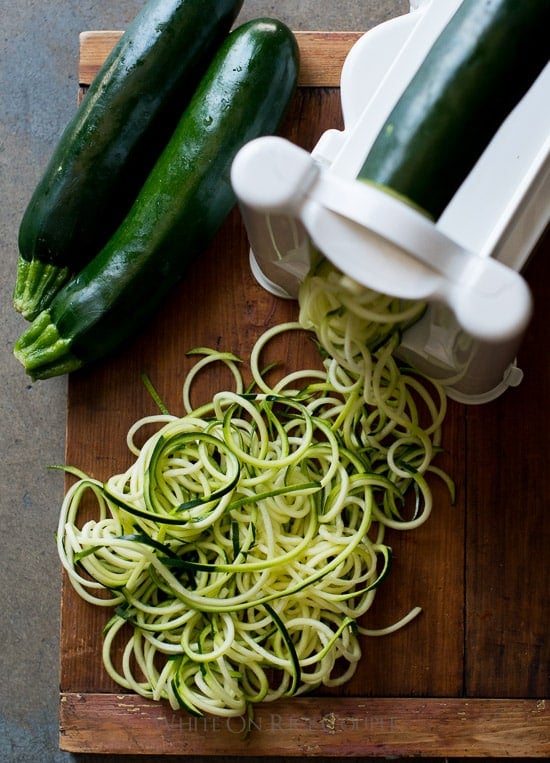 Our OXO vegetable peeler was equally awesome at making the noodles, without the curly look.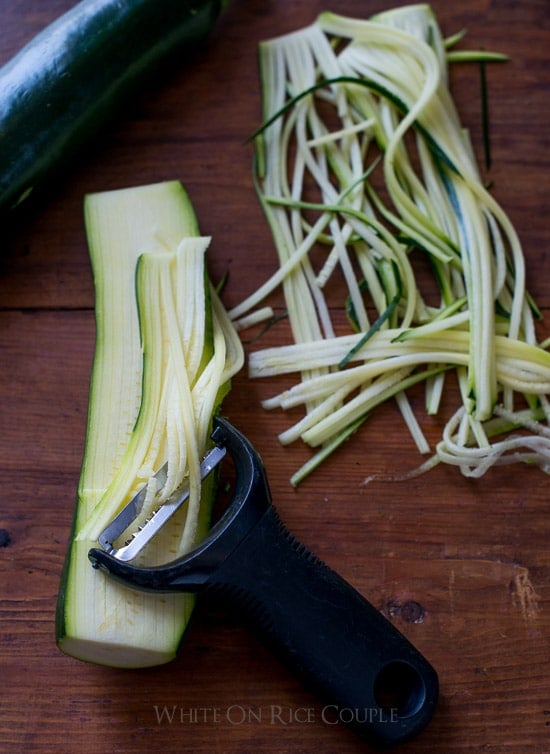 A Mandolin works great as well, but be safe. We used our safety gloves.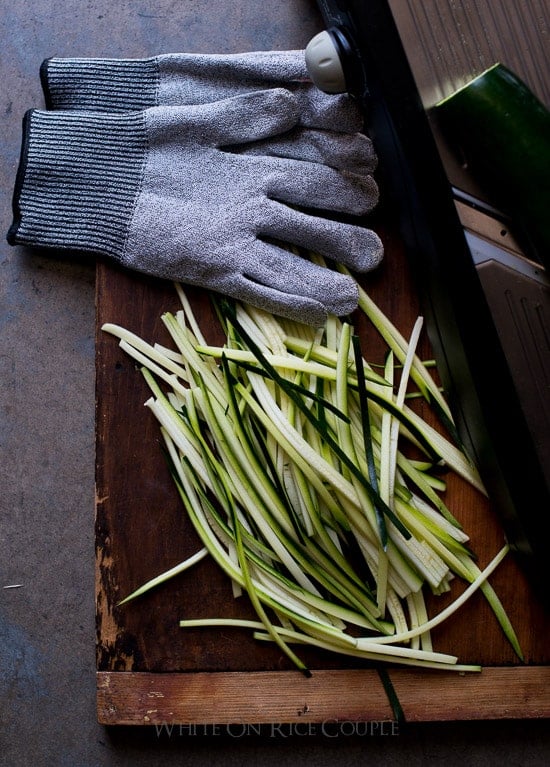 though a mandolin doesn't have the curls either, the zucchini cooks up great.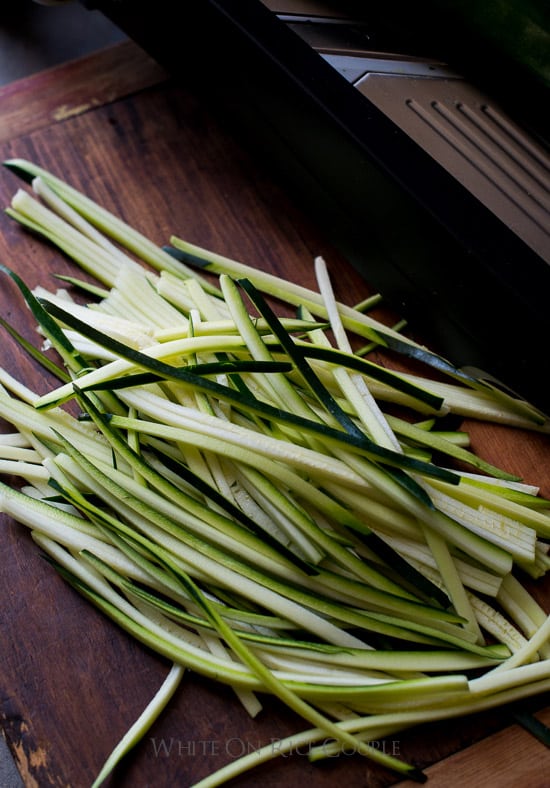 More Zucchini Noodle recipe inspiration:
Our Zucchini Noodle Pad Thai Recipe is flavorful and satisfying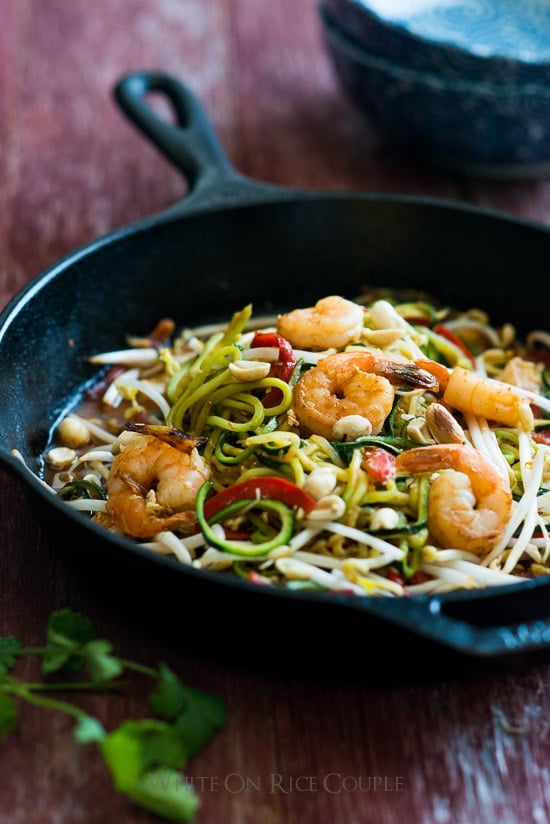 Craving Chinese without the calories? Make Zucchini Noodle Chow Mein with Pork Recipe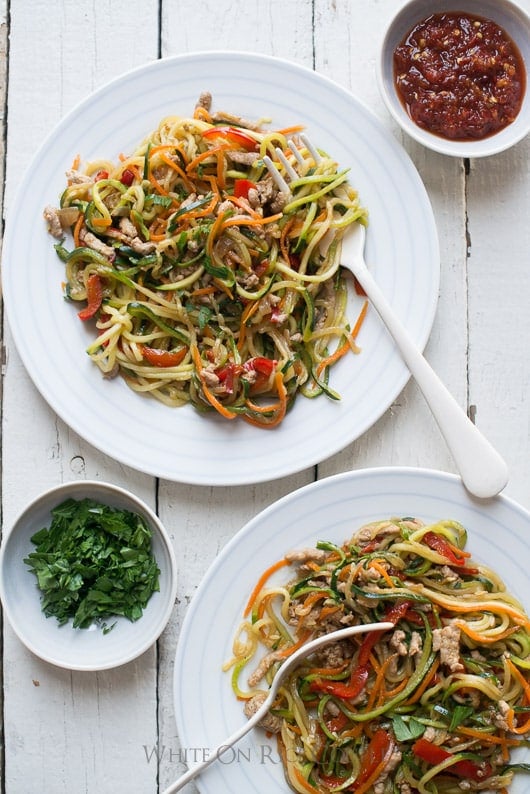 Turkey marinara with zucchini noodles hits the spot. Here's the recipe.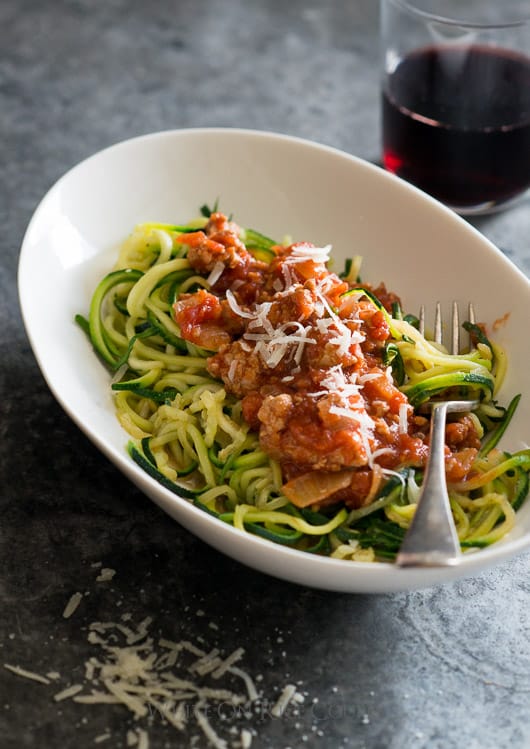 This recipe was originally published in 2016 and was updated with a new video & info in 2019.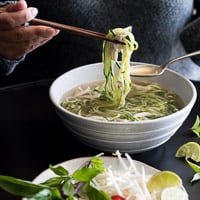 Roast Chicken Pho Zucchini Noodle Soup
Roast chicken is one of our our go-to dinners and we never get bored with roast chicken. So when we're craving a quick but still fresh and delicious chicken soup, we'll use roast chicken. If you want to skip the roast chicken step, local deli's and markets sell excellent pre-cooked roasted chicken for another option. Instead of a roast chicken you can boil about 1.5 to 2 pounds of chicken thighs or drumsticks for the broth. You'll have to simmer the broth for twice as long so the raw meat can cook through to tenderness and to richen the broth. If using raw chicken, make sure to skim the broth as it cooks. We pre-blanch the zucchini noodles just enough to make them wilted but not too soft or overcooked. We don't like mushy zucchini noodles pho. They'll continue softening when you add the hot broth. The pre-blanch stage of this recipe allows the zucchini noodles to release excess moisture so it doesn't water down the flavor and concentration of the chicken Pho broth. If you want to cook the zucchini noodles in the pho broth, then season the broth extra to compensate for the extra zucchini water.
Ingredients
For the roast chicken broth:
1 cooked roast chicken , from about a 4 pound chicken (or 1.5 to 2 pounds of raw chicken legs/thighs. Read headnote for instruction)
12 cups (2.75 liter) water
2 medium carrots , cut into quarters
½ onion , peeled and charred over open flame if possible for optimal flavor
2 inch knob of ginger , peeled and charred over open flame for optimal flavor
4 star anise
2 tablespoons (30ml) fish sauce
1 cinnamon stick (about 3-inches)
1/2 teaspoon peppercorns
1/4 teaspoon whole cloves (optional)
salt , to taste
For the zucchini noodle soup:
1 pound (455g) zucchini , cut into noodle strands
shredded roast chicken
garnishes: green onions, cilantro
sides/condiments - choose as many or few as you prefer: fresh thai basil , fresh mint, bean sprouts, lime wedges, hoisin, Sriracha hot sauce or fresh chiles
Instructions
Remove meat from roast chicken, set aside meat and place chicken bones in large stock pot.

In stock pot with chicken bones, add water, carrots, onion, ginger, anise stars, fish sauce, cinnamon and peppercorns.

Bring water to a boil, then reduce heat to low simmer. Cook on low simmer for about 1.5 hours. Stir occasionally and skim to remove fat deposits floating to the top of the broth. *For best flavor, make the pho broth a day ahead. *If using raw chicken, simmer the broth for 3 hours.

Season broth with additional salt or fish sauce to taste. Allow the broth to cool. Then strain the broth (it is easiest to remove large solids first and then strain) and return the broth to stock pot. Add the shredded chicken. Bring the broth to low simmer before serving.

While pho broth is initially cooking, fill another large pot with hot water. Bring to a boil and add the zucchini noodles. Quickly blanche the zucchini noodles for about 1-2 minutes, or until the noodles are nearly tender (they will cook a bit more when you serve them with the hot broth). Drain the zucchini noodles.

Fill bowls with zucchini noodles, top with shredded chicken, green onion and cilantro. Top with hot chicken broth and serve with sides and condiments.
Nutrition Information per Serving
Calories: 301kcal, Carbohydrates: 7g, Protein: 42g, Fat: 11g, Saturated Fat: 3g, Cholesterol: 120mg, Sodium: 637mg, Potassium: 679mg, Fiber: 2g, Sugar: 4g, Vitamin A: 3614IU, Vitamin C: 16mg, Calcium: 68mg, Iron: 3mg
We are a participant in the Amazon Services LLC Associates Program, an affiliate advertising program designed to provide a means for us to earn fees by linking to Amazon.com and affiliated sites.