Living with Sierra and Tips on Caring for Senior Dogs
Update: 3/21/2020: Our dear Sierra left this world at the age of 14. Her months of pain and suffering finally came to an end and we're now all at peace. She had a wonderful life and brought us so much joy and love. xo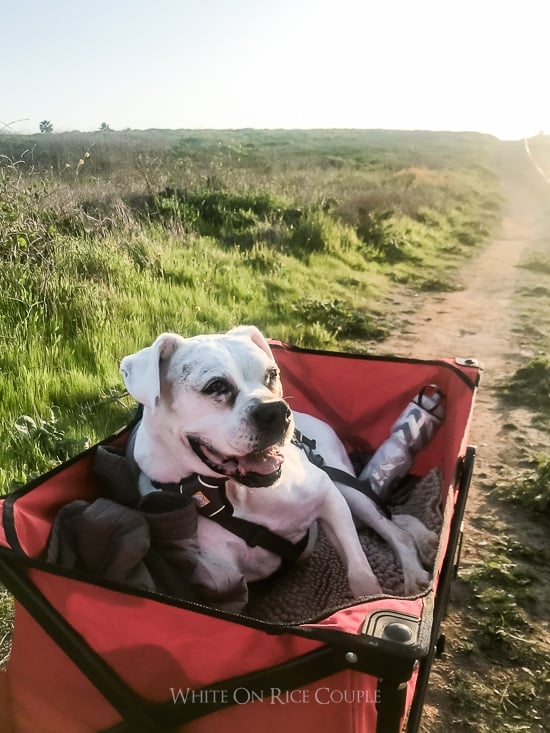 How To Care for Old Dogs
It's been a rough New Year for our little family, especially for Sierra. The last two weeks have been especially challenging but yesterday was the first full day day that we didn't cry. She started walking on her own and eat again. It's tough to watch your fur baby slowly deteriorate for almost 2 months, stop eating and lose over 10 pounds. Sure, she's 14 and a half years old and has led an amazing life. But none of those years of joy and love prepares you for the heartache that comes when they're suffering.
We were crying for days. On Saturday we brought her into the vet, believing that we had no other choice but to have her put down. Her brain and spirit wasn't broken, it was just her body. She didn't eat, couldn't walk, had diarrhea and had all the symptoms of a dying dog. Luckily, our vet said there is one last option that could give her back legs a little more mobility and possibly stimulate her appetite. She could have a little more quality time because he knew what a fighter she was and how alert her mind was, with the exception of her dying body. That option was a steroid injection, followed by a few weeks of taking oral steroid pills. Our tears stopped and said yes to it all. Hell, yes.
Yesterday was a good day. She had a little dinner, we took her on a little walk and she enjoyed every minute of it. When she looked tired we carried her back in her little wagon and off we went to continue the walk in the fresh air. We're an adventure family, always exploring and it's always together. Sierra will never be left behind because her spirit of wanting to be with us is what keeps us together.
We often get asked about our kids. We're assuming they're referring to the two legged kind that eventually will require a mobile phone and a college fund. We tell everyone it hasn't happened yet and until then, our kids are the four-legged kind. Our fur babies complete us and teach us about love, loyalty and what it takes to be a kind loving parent. The reality is that we outlive our fur-kids and as we nurture them though their older years, our daily lives adapt to them.
Dante was our first dog, a handsome Rhodesian ridgeback that brought us so much joy during his 11 years of life. We wrote about him and his cancer here. As Sierra, our white boxer, ages we often get asked about the type of food we feed her and the things we do to keep her going for almost 15 years. So we want to share our thoughts in caring for senior dogs and what we do to keep them happy and healthy. We've lived through the process of caring for an old dog before and have learned a lot about how to manage all the changes that come with being dog parents.
She'll be 15 years old in August 2020, which in human years equates to being well over 90 years old. We brought her home when she was 8 weeks old and she still has the same energy and excitement for cuddles and walks almost 15 years later. She's significantly slower now, often falling and tripping because her lower back and two back legs are giving out. Her left front paw is weak too so she has what we call: 2 and a half flat tires. As long as she has 1 and a half good tired left she's happy to still be able to get around the house. We've figure out ways to have her always travel with us because we'll never ever leave her behind.
Here's our way to caring for her in her senior years:
Lots of cuddles and affection. No matter how tired she is, she'll never pass up love and affection. We always make time to give her head rubs, hugs and love. We're all happy when we have our cuddle moments.
Short walks, more often. Her brain says she wants to go everywhere, but her body says it's tired. We always make sure she still get out to walk, hike and adventure. But the trips are short if she's walking her own because back legs are giving out on her and she doesn't have her younger stamina. So we have back-up plans to still get her outdoors and mentally stimulated. Gentle exercise is important when you're caring for old dogs.
Doggie Stroller or wagon. We call these her "adventure-mobiles". We still have her walk alongside her stroller or wagon because it's important for her to still move. But as soon as we think she's getting tired, she gets carried in her stroller or wagon and she's a happy camper traveling in first class. We love this stroller and though it wasn't meant to be off trail, we've used it and abused it in the outdoors. It's held up well, considering how many dirt puddles and small rocks it's gone over. We've nicknamed it the "Groot-mobile", which is weird but somehow fits. We've added on a good bicycle headlight for getting back to the car easier at the end of the day. The wagon (one kind of like this which we got at Costco) is just a utility wagon, not meant for dogs. But again, we're all about comfort for Sierra and it's worked for us on city trails.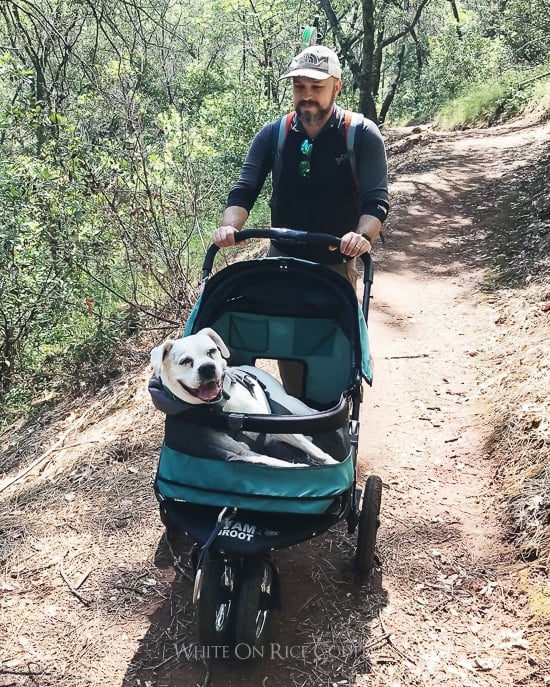 She love her adventure harness. We call it an adventure harness because she get lifted over areas where she can't get her back legs over anymore. Now that she's lost even more mobility in her back legs, we're thinking of getting her this better harness which a couple vets have suggested. They approved of her current harness, but the back lift helper on the other harness is a bit of an improvement over ours.
Rescue harness for emergencies. We have this with us for emergencies because it's small and easily packs in a small bag. We have bigger dogs, so in emergencies this harness is a quick and safer way of transporting them and if we are in an emergency situation, this harness is meant to secure and lift them out. This is something we are always going to have on hand when adventuring outdoors, no matter the age and mobility of our pups.
They're more sensitive to temperatures. During cooler weather – don't let them get too cold but at the same time, don't suffocate them with blankets or jackets if they are panting. Every dog's coat has a different warmth factor and some benefit from a jacket in 60°F temps while others are overheating at much cooler temperatures. So monitor their breathing and comfort patterns. If they're panting and you have jackets or too many blankets on them, take them off. If they look like they're curling up under things to stay warm, then a light blanket can help make them more comfortable. For warmer weather – cooling scarfs & towels have been great in the hot Summer. Soak 'em in cold water and then put them on the pups and the panting will quickly mellow out. We'll usually chill them before hand too for a little extra coolness when it's extra hot outside. We feel it is also super important to have a lot of water for them to drink when out in the heat. You can never bring too much.
Elevate their food and water. As her back legs were giving out, we noticed that she couldn't bend down to eat and her body would fall forward. That was one reason why she couldn't eat. Her back legs weren't strong enough to support the weight of her lowered head. We had an awesome folding step stool that fit her height perfectly. So find something that works for the height of your dog and the water or food bowl.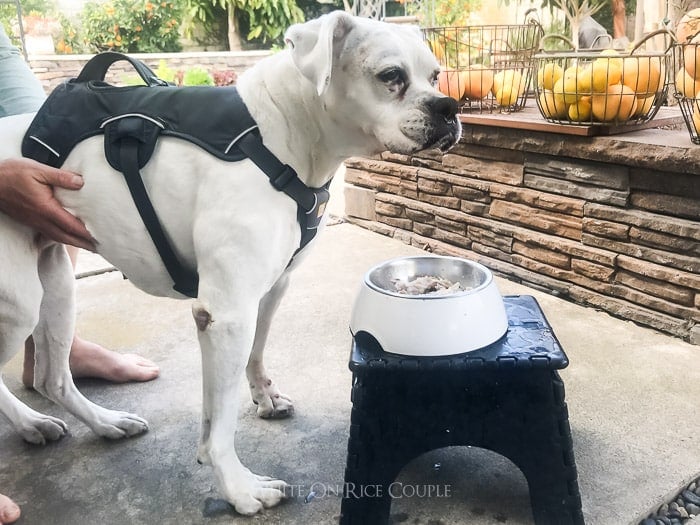 Good dog food, probiotic or fresh homemade food. There's so many great types of dog food out there and the options are amazing. But if you want the really freshly frozen dog foods, especially for larger dogs, it can get costly. We like to take a day to cook some fresh chicken, sweet potatoes, squash, carrots and brown rice mix. It's a delicious add-on to a high quality kibble and gives them a well balanced meal. Our dogs respond really well to plain non-fat yogurt. They love this yogurt and it's a good source of probiotics that promotes positive gut health.
Joint juice or homemade bone broth. Our larger breed dogs (Rhodesian Ridgeback and Boxer) are prone to hip and joint issues. So we'll add a splash of liquid glucosamine that was recommended by our vet. We call that "joint juice". We'll also make a batch of homemade chicken broth made from drumsticks. This bone broth with no salt is a pup favorite and adds great calcium and flavor to their meals too.
Don't over feed your dog. Manage their weight to be healthy. We feed them two main meals a day, but smaller meals. And throughout the day give them healthy treats to keep them stimulated and happy. We care for our old dogs deeply, but overfeeding them can be harmful.
Good bed and Washable Pee Pads. As our dogs get older, a quality memory foam bed is priceless. The pups love the beds with side bolsters which allows them to rest their necks on. This bed is our current house favorite. Sierra starts to "leak" more often, so we lay washable pee pads on the beds, which saves us washing the beds every day. These pee pads are small and easy to wash and manage.
Ramps around the house. We've built ramps all around the house to help Sierra move around the house without falling. We'll top all of the ramps with an outdoor carpet or similar rug to give her grip while using the ramps. Our house is all wood or tile flooring, which causes Sierra to slip more often, so we've also added area rugs in areas where she's more prone to slip. The rugs have been super helpful for her weak back legs to grip the floor easier, without slipping.
Mental and physical stimulation: Don't let them sleep all day! They need mental stimulation and physical stimulation. Lexi, the little sister Rhodesian Ridgeback helps the mental because she harasses and annoys Sierra to get out and play. This mental stimulation is healthy and often makes Sierra more alert and active.
CBD oil for dogs? We tried it and it didn't help immediately. She was literally dying, so the the CBD wasn't going to save her life. But we do believe if we started earlier, it could have helped more as a preventative. We still give her CBD oil now and will continue after she is through with the steroid pills.
Acupuncture for dogs? Yeah, we tried that too but only once when she was literally dying. So it's hard to say that it was even valuable. We believe it's not something that's going to save your dog's life, but do believe it could have helped Sierra if we did it a year earlier and more frequently. Pursue acupuncture earlier-on when you know your dog shows weakness. For Sierra, her back feet have had poor circulation for the last few years and are always cool, but nearly immediately after her acupuncture session, they were warm, a great sign! For rehab and preventative measures, we feel it would be beneficial.
Give them more hugs, belly rubs, head rubs and cuddle time. There's no such thing as loving them too much and showering them with affecting.
Lastly, research online like we did and find out how other folks care for old dogs. There's tons of new and helpful products to learn how to care for old dogs and give our fur babies a comfortable and happy life.
hugs,
diane, todd, sierra and lexi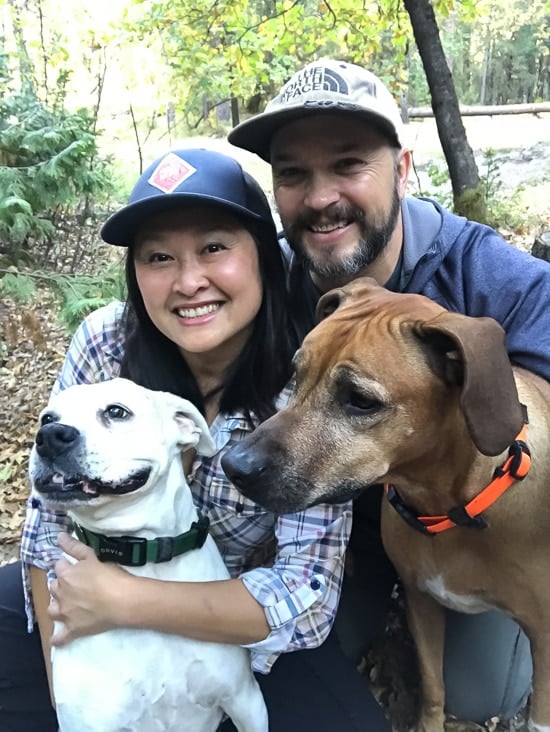 Hope you found our tips for how to care for old dogs helpful. Please share your tips or experiences. We're always learning how to be better dog parents.
We are a participant in the Amazon Services LLC Associates Program, an affiliate advertising program designed to provide a means for us to earn fees by linking to Amazon.com and affiliated sites.