Manhattan Clam Chowder

Easy Manhattan clam chowder recipe 
You might be familiar with the classic creamy style of clam chowder, but did you even know there is such a thing as Manhattan clam chowder? We're always indulging with warm bowls of the classic New England style clam chowder that's cream based and oh so good. Our recipe for New England clam chowder has always been popular. It's creamy, satisfying and perfect in a sour dough bread bowl. But when we tried Manhattan clam chowder a few years ago we were surprised and hooked on this different style of clam soup. It's definitely not creamy and folks will often ask why there's all the tomatoes and vegetable in it.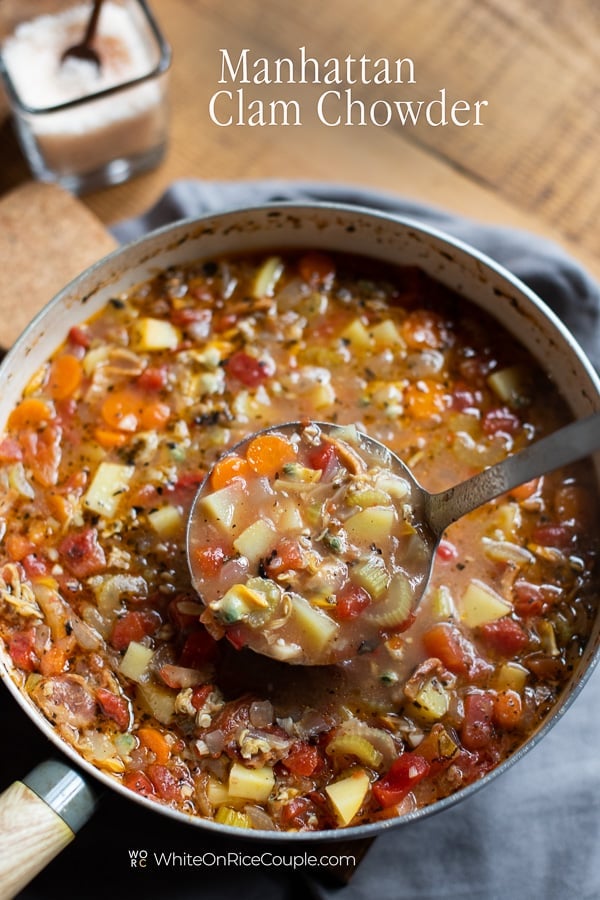 Video: Recipe for Manhattan clam chowder 
What is Manhattan clam chowder? 
This Manhattan version isn't necessarily a chowder that we often associate chowders as being cream based soups. The Manhattan clam style is tomato based, which has basically all the same elements as the creamy style but without cream. Manhattan clam chowder is more of a soup and think of it as a clam tomato soup. It's lighter, brother and equally delicious. Here's the controversial history behind this tomato based soup that's a fun read. What are your opinions on this tomato style of "clam chowder"? We have a family who went to college in Boston and are obsessed with the creamy New England Style. When we brought this tomato based style of soup in conversation, they were quite leary about calling it a "chowder". It was quite a lively discussion! lol.
Creamy vs Tomato based? 
If you're already a fan of the classic creamy chowder give the tomato based version a try. But if your averse to anything tomato then just stick to the traditional cream version. If you're open to trying a "clam soup with tomato" than this is definitely something new you should explore. Who knows, it could be a new favorite for ya! 
Process of making this recipe: It really is quite simple and everything happens in one pot. You can add extra bacon if you like but we found that too much makes the soup too greasy. We like the clean flavors of the tomato broth, veggies and clams to shine.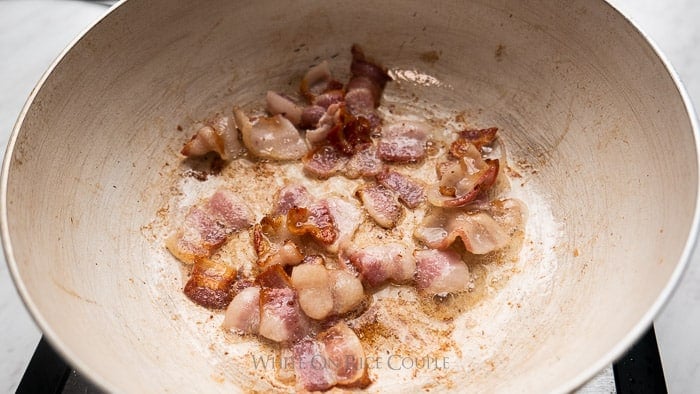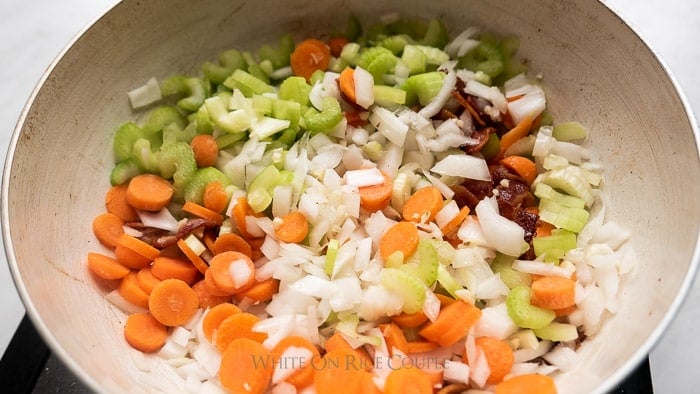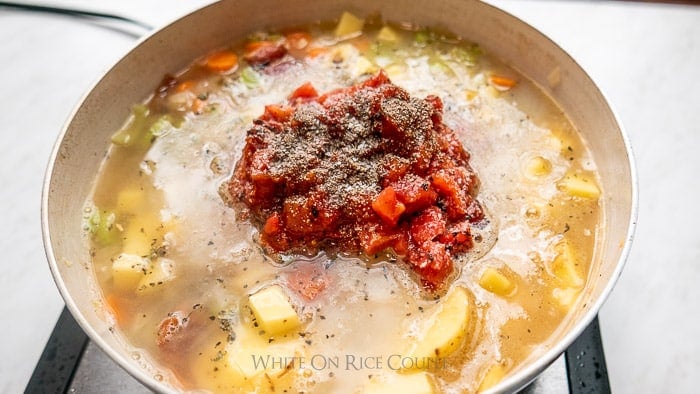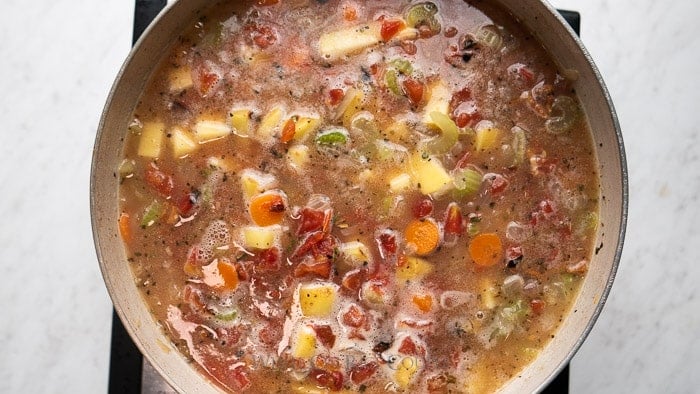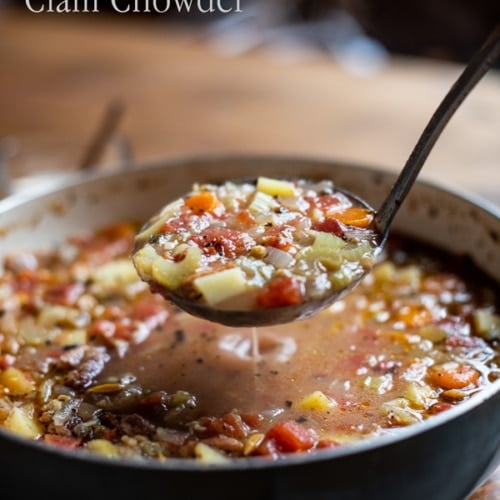 Manhattan Clam Chowder
We prefer to use whole clams that we find in our market in the 10 oz cans. But many markets only carry the 6.5 oz minced clams, so the feel free to substitute a couple of the 6.5 oz. minced clams in the recipe. Or if you want to minimize the clam factor, just use one 6.5 oz can.
Ingredients
4 slices bacon , cut into 1/4-inch pieces
1 medium onion , minced
3 cloves garlic , minced
2 stalks celery , diced
1 large carrot , diced
1 teaspoon Old Bay seasoning
2 teaspoons Worcestershire sauce
1/2 teaspoon dried oregano leaves or thyme
2 medium potatoes , peeled and diced
1/2 cup water
1/2 cup dry white wine
8 ounces bottled clam juice
10 oz canned whole clams , drained but save the juices
14.5 ounces diced tomatoes (about 2 cups)
1/4 teaspoon fresh cracked black pepper
1 teaspoon Kosher salt , or to taste
Minced parsley for garnish (optional)
Directions
Heat a saucepan over medium-high heat. Once hot, cook the bacon until the fat releases and the bacon becomes crisp. Stir in the onions, garlic, celery and carrot and cook for 2-3 minutes, or until the onion becomes soft and garlic becomes fragrant, but not burnt.

Stir in the Old Bay Seasoning, Worcestershire sauce, oregano, potatoes, water, white wine, bottle of clam juice, juice from the can of clams (but not the clams yet), diced tomatoes, salt and pepper.

Bring the chowder to a boil, then immediately reduce heat to low. Simmer chowder on low heat for about 15-20 minutes, or until the potatoes are tender.

Now add the clams to the chowder. Carefully mash a few of the potatoes in the pot to create a slightly thicker, chowder consistency to the soup.

Simmer for about 10 more minutes. If needed, skim off any excess oil on top of soup that was released from the bacon.

Serve with your favorite bread or for gluten free, serve with gluten free crackers/bread.
Did you make this recipe?
Let us know what you think!
Leave a Comment or share a photo on Instagram with the hashtag #whiteonricecouple.
Here's our Recipe for Cream Based Clam Chowder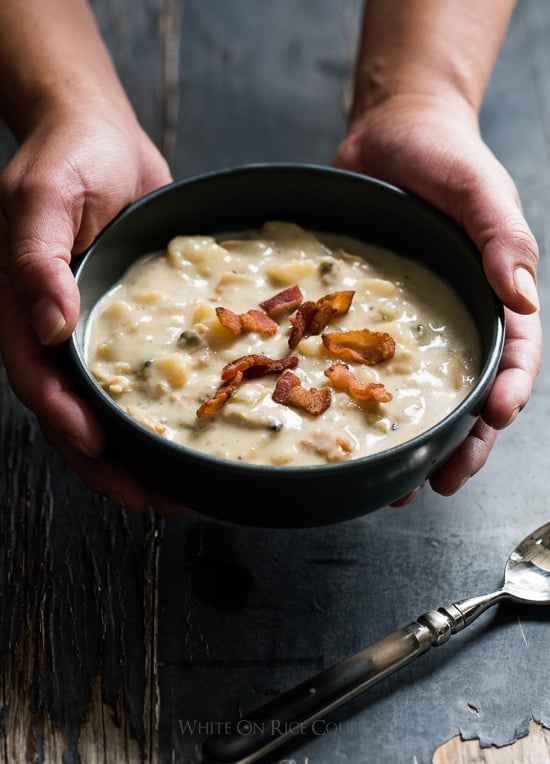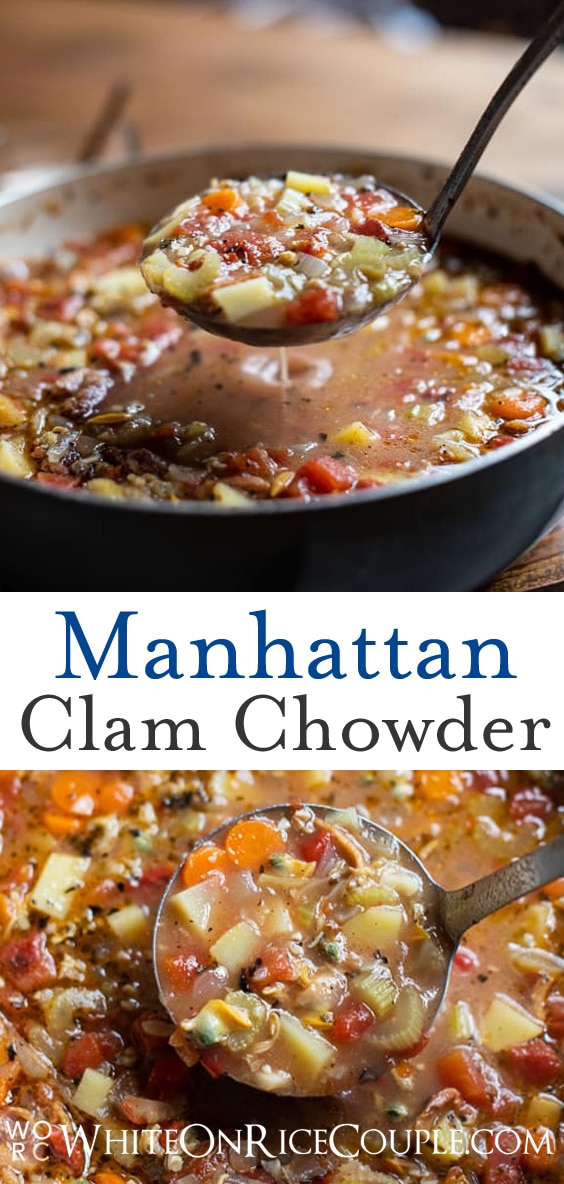 We are a participant in the Amazon Services LLC Associates Program, an affiliate advertising program designed to provide a means for us to earn fees by linking to Amazon.com and affiliated sites.