Savory Kale, Corn & Feta Cheese Galette
Summer is alive and well. This kale, corn and feta galette recipe is perfect for the season. We're enjoying as much time outdoors as well can while the weather is amazing and it's not too hot yet.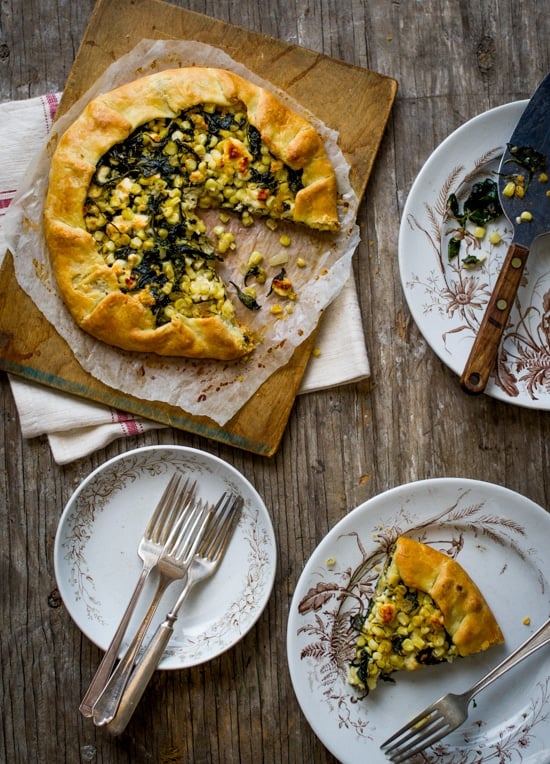 Vegetables have been on our rotation lately along with heirloom tomatoes and ripe stone fruits. It's hard to not inundate every meal with some sort of Summer vegetable and fruit. They're everywhere and the flavors are outstanding this time of year. After a long day photographing we've been craving a cold juicy plum or peach to refresh and rehydrate. That's the best part of Summer and all the wonderful produce gets us through big studio production days!
Video Kale, Corn and Feta Galette Recipe
We've been working heavily on Thanksgiving and Christmas photo shoots. How ironic that in our personal lives we don't want to have anything to do with a pumpkin, yet our studio was filled with turkeys, pumpkin pies, pecan pies and all the cranberry/stuffing/gravy you can eat. Seriously, we had enough Thanksgiving food to feed a block party in September. Today we made a big batch of gingerbread men cookies for a photo and we heated up the studio in the middle of Summer. Now you can see why we're still clinging on to Summer produce, especially corn, kale, watermelon and heirloom tomatoes.
To fulfill our continuous Summer cravings, we gathered some of the many leftover vegetables and ingredients in the fridge. The nice thing about our shoots is that we have leftovers to cook and share with so we're never without a home cooked meal, post-shoot. Four leftover ears of corn, check. Is there kale in the fridge? yes! and how about cheese? Feta came to the rescue. Between those three ingredients, some fresh dill and the wonderful combo of butter, flour and eggs we made a satisfying lunch of kale, corn and feta galette.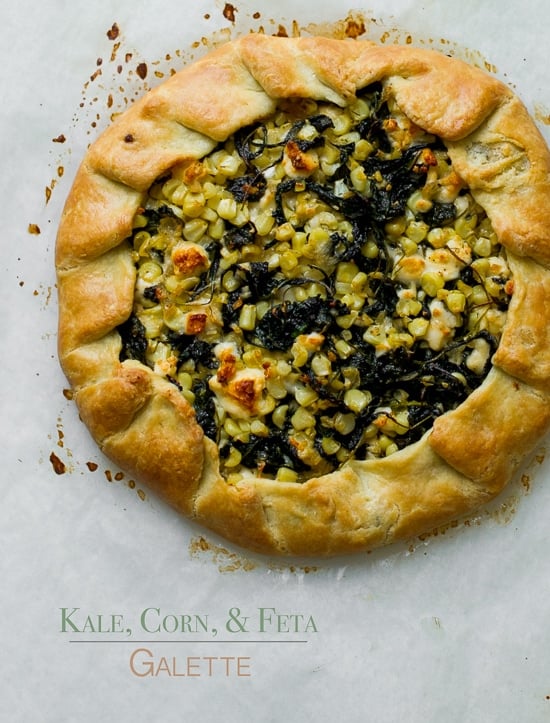 Savory Vegetarian Galette
The inspiration for this savory galette came from sifting through our Bountiful cookbook. In our cookbook we have another savory galette (buy the book and you'll find out 😉 ) and as we were perusing through the recipe, a craving creeps on us for a savory galette again. So thanks to that trio of leftover ingredients in the fridge, lunch was served.
Sweet galettes are always a treasure during Summer. I mean, it's hard to not resist all the stone fruits and berries that scream out to us from the farmers market bins. We answer their call and everyone seems to be sharing a sweet gallette. But we're all for savory concoctions too and today, it was to satisfy the need for something full of vegetables and salty cheese. Here it is, for you to make and hold on to Summer for a bit while longer. Besides, it's another example of why we can never have too many kale recipes! #GoKale
hugs,
diane and todd
How to Make Savory Corn and Kale Galette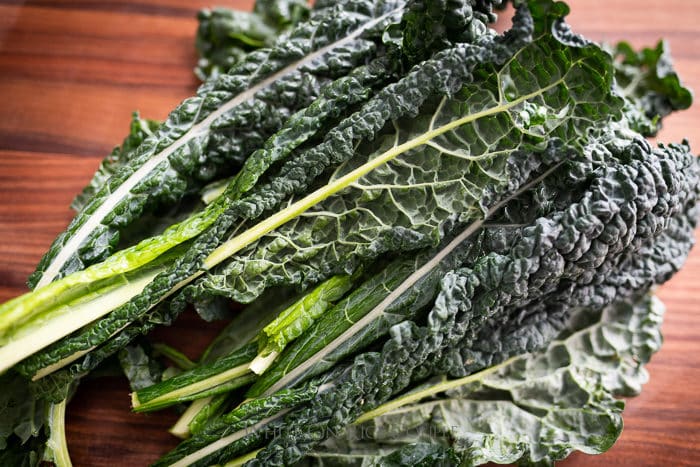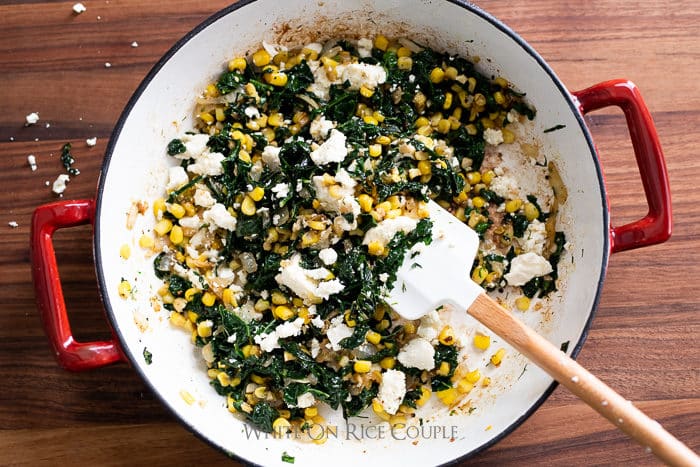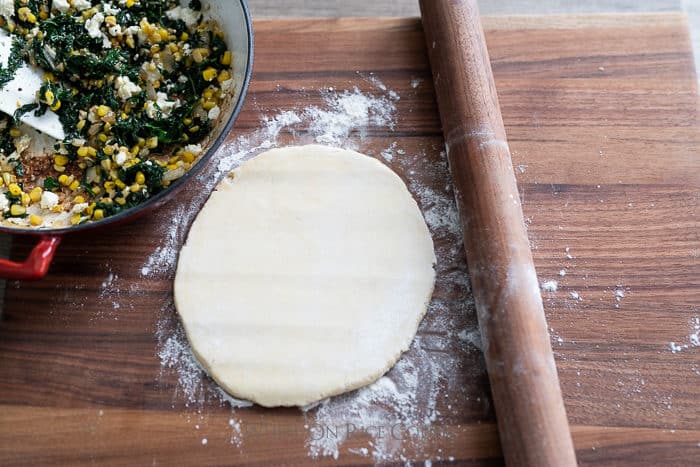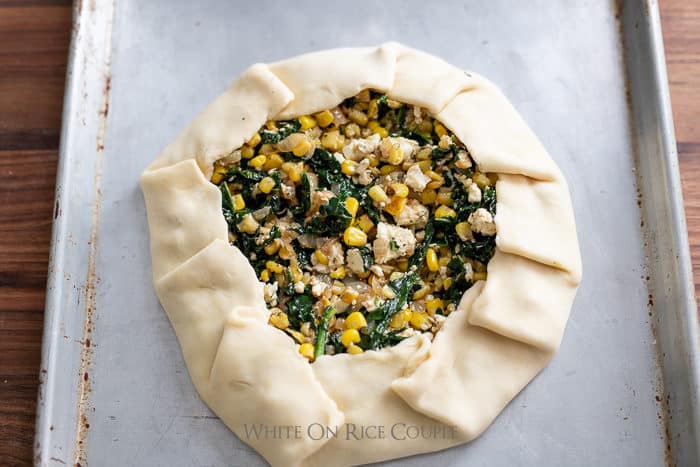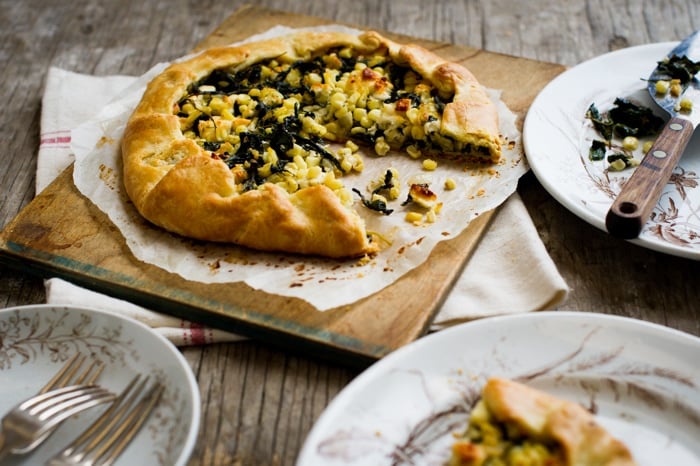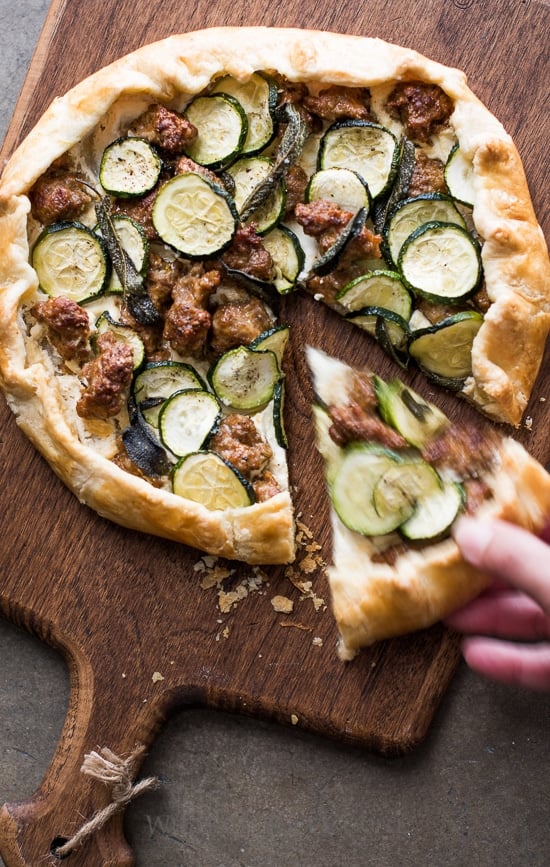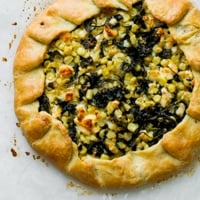 Savory Kale, Corn, & Feta Galette
We give instructions for making the dough by hand, but if you prefer, it comes together nicely in the food processor also. Pulse the flour, butter pieces, and salt a few times until it is crumbly. Then add the water and pulse until the dough comes together. That's it. Divide, make into disks, and chill.Makes one 9-inch galette
Ingredients
Dough Ingredients
1 1/4 cups (155g) flour
1/2 cup (1 stick / 113g) cold unsalted butter , cut into ½-inch (12-mm) pieces
1/2 teaspoon salt
¼ cup (60ml) cold water
heavy cream or egg wash (1 egg beaten with 1 tablespoon water), for brushing crust
Filling Ingredients
2 tablespoons olive oil
1/2 medium onion , chopped
3 cloves garlic , minced
1 large bunch kale , de-stemmed and chopped
1 cup fresh corn kernels , 1 ear of corn worth
1 teaspoon minced fresh herbs (dill, basil, thyme, etc...) or to taste
1/2 teaspoon Kosher salt or sea salt, or to taste
fresh cracked black pepper , to taste
4 ounces (113g) feta cheese crumbled
Instructions
Make the crust dough: In a bowl, pinch together the flour, butter, and salt with your fingertips until most of the big chunks of butter are flattened or broken up.

Incorporate the water into the flour until the mixture binds together and forms a rough ball (you may need to gently knead the ball to incorporate the last of the flour).

Form the dough into a ball, and then flatten into a disk. Wrap in plastic wrap and chill for 30 minutes.

Preheat the oven to 375°F (190°C). Line a baking sheet pan with parchment paper.

Make the filling: Heat a large skillet over medium heat. Add oil, onions, and garlic and cook until light brown and soft, about 2 minutes.

Stir in the kale and corn, and then cook until the kale is softened and wilted, about 3 minutes. Season with the chopped herbs, salt, and pepper. Allow kale/corn mixture to cool for 10 minutes. Stir in the feta cheese.

Make the galette: On a floured surface, roll the dough disk out to a circle about 12 inches (30-cm) in diameter. Place on a lined sheet pan.

Starting in center and spreading outwards, spread out the filling, leaving about 2 inches (5cm) of the outer rim of dough uncovered. Fold the edges of the dough over the filling. Brush the crust with heavy cream or egg wash.

Bake for about 50-60 minutes, or until the crust is golden. Serve warm or at room temperature.
Nutrition Information per Serving
Calories: 360kcal, Carbohydrates: 29g, Protein: 7g, Fat: 25g, Saturated Fat: 13g, Trans Fat: 1g, Cholesterol: 57mg, Sodium: 614mg, Potassium: 239mg, Fiber: 1g, Sugar: 3g, Vitamin A: 2767IU, Vitamin C: 29mg, Calcium: 140mg, Iron: 2mg
We are a participant in the Amazon Services LLC Associates Program, an affiliate advertising program designed to provide a means for us to earn fees by linking to Amazon.com and affiliated sites.