Grilled Tomato "Lollipop" Toasts & Favorite Cherry Tomato Varieties
This grilled cherry tomato skewers recipe is updated with a new video. Enjoy! This is the first in a series we're sharing for Summer on our favorite heirloom tomatoes that we're growing. And we'll have a delicious recipe included too! You can visit all our tomato recipes on our tomato page.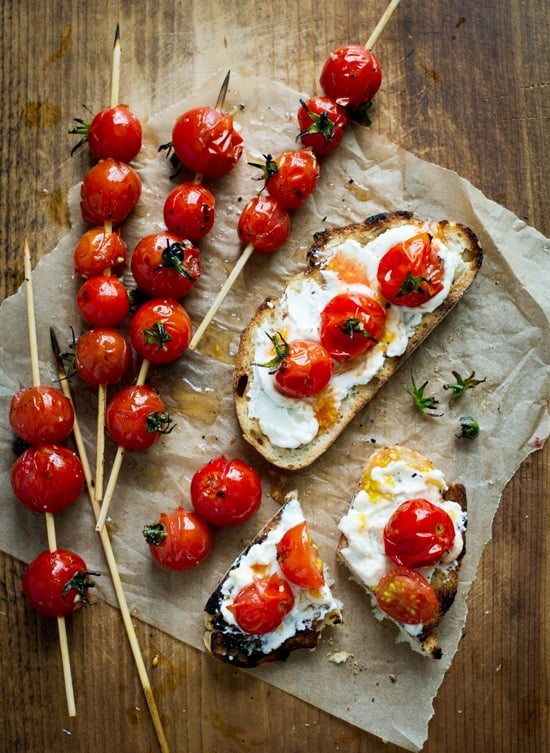 Grilled Cherry Tomato Skewers Recipe
Oh we know they're not really lollipops. They're simple and delicious grilled cherry tomato skewers. But when we were grilling these little red jewels the term "tomato skewers" sounded so mundane. After plucking these super sweet cherry tomatoes from their vines, they were so cute and plump, it sounded more appropriate (and fun) to call them lollipops. Because they're so sweet like candy during this time of year, it only made sense to call them lollipops if we jabbed them on a stick.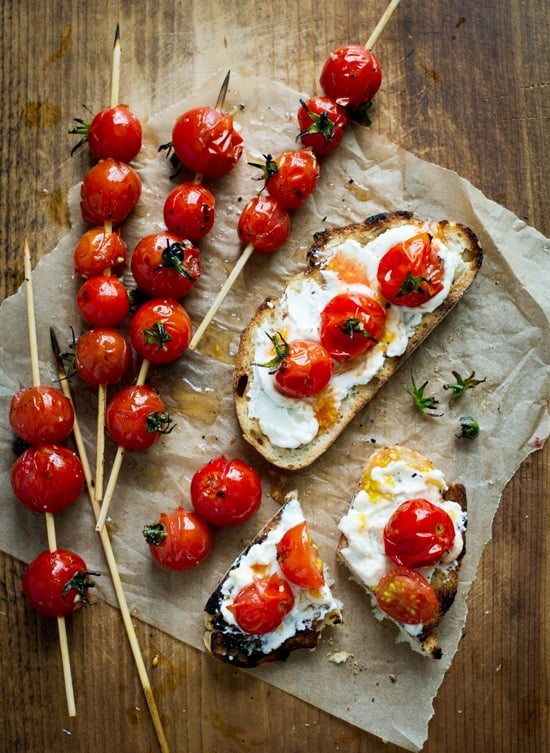 Summer screams of bbq and we're constantly heating up our grill to cook up what ever flavors epitomize the season. Our five varieties of cherry tomatoes are peaking out as they normally do this time of year. They're always the first to explode when the first hear wave arrives and this year, a week long of heat and humidity accelerated their growth and ripeness quicker than ever before. Yay!
Watch Video of these Delish Grilled Cherry Tomato Skewers on Toast:
Our cherry tomato plants are going bonkers, meaning they just don't know when to stop producing fruit. We're not asking them to stop either. Luckily, we've had family and friends visit so much for the last 4 weeks that all the cherry tomatoes are going to good homes and bellies. Nothing is better than sending home a basket full of vine ripened cherry tomatoes.
We've always grown Sweet One Hundred cherry tomatoes and enjoyed their wonderful bounty. But last year we found a variety called Sweet Million and have been hooked ever since. The difference between the two is that we find the Sweet Million to produce much more cherry tomatoes on longer branches and they're sweeter. We always wait till they turn a deep red on the vine to where they want to just fall off the vine at the slightest touch. This is when the cherry tomato is at it's sweetest and like candy. Last Summer we were making tomato bacon pizza's like mad and never got tired of eating them.
Sugar cherry tomatoes are new to our garden this year and they're mind blowing amazing. Even when they're in their orange/red color stage, they're still super sweet. And if you wait till they fall off the vine, they're just like their name– Sugar sweet!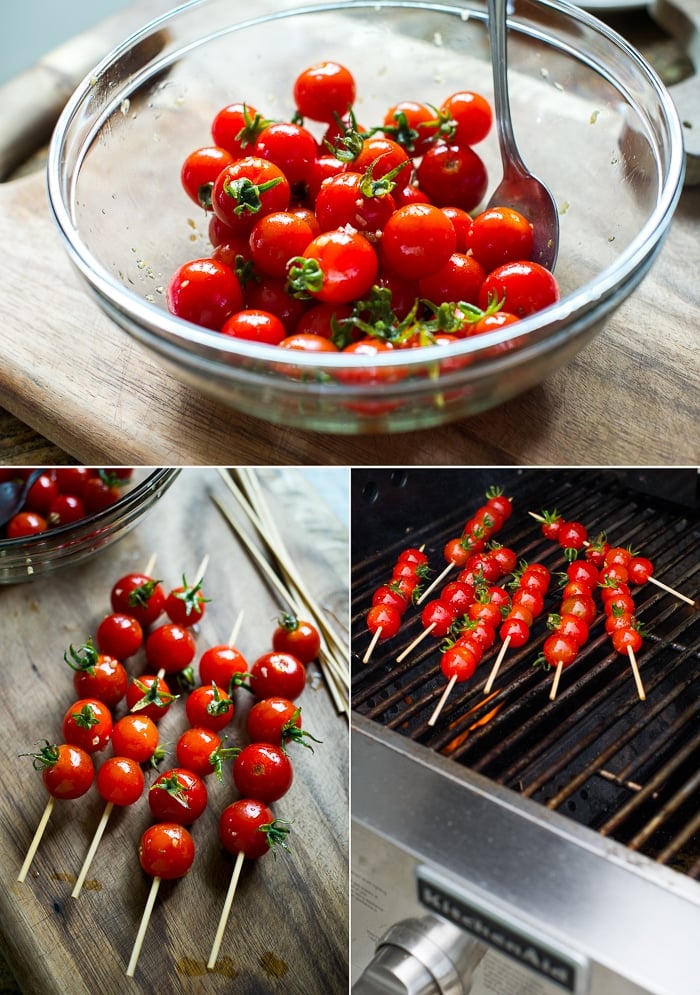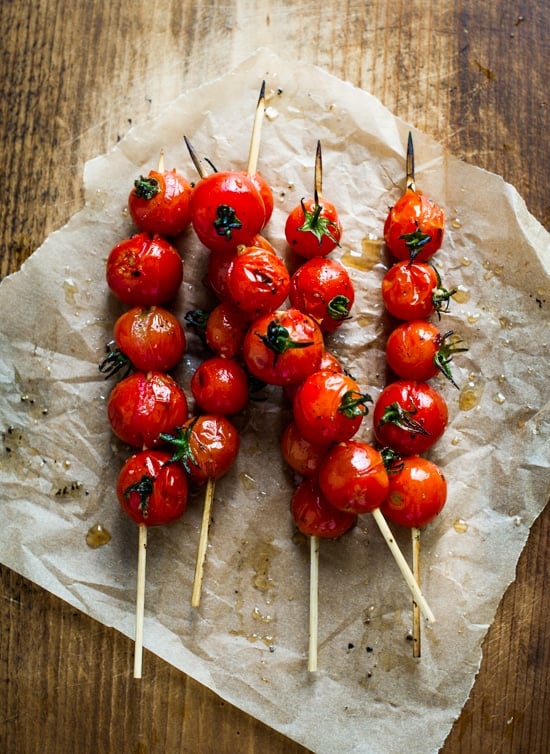 Yellow pear and as always, sun gold cherry tomatoes are in the garden again and we couldn't be happier. Their color and beauty is always a treat to have in the garden. Our friends and family love plucking these varieties and adding it to their to-go basket of red cherries. It's like a rainbow in a basket.So what do we do with all these cherry tomatoes? This weekend we grilled them on the bbq and call them our tomato "lollipops"! Have you ever grilled your cherry tomatoes? They're super amazing and the texture is like roasted tomatoes, but you don't have to turn on your hot oven in the Summer. And best of all, they have the wonderful bbq flavor to them.
A simple way to enjoy these grilled cherry tomato skewers "lollipops" is on grilled bread and swiped with a nice layer of ricotta cheese. Summer can't get any better than this. Make sure to make a big platter of these little skewer lollipops for your gathering because they're sure to be a hit. They're so good, your guests will probably just eat them off the skewers like candy too!
Happy Summer,
diane and todd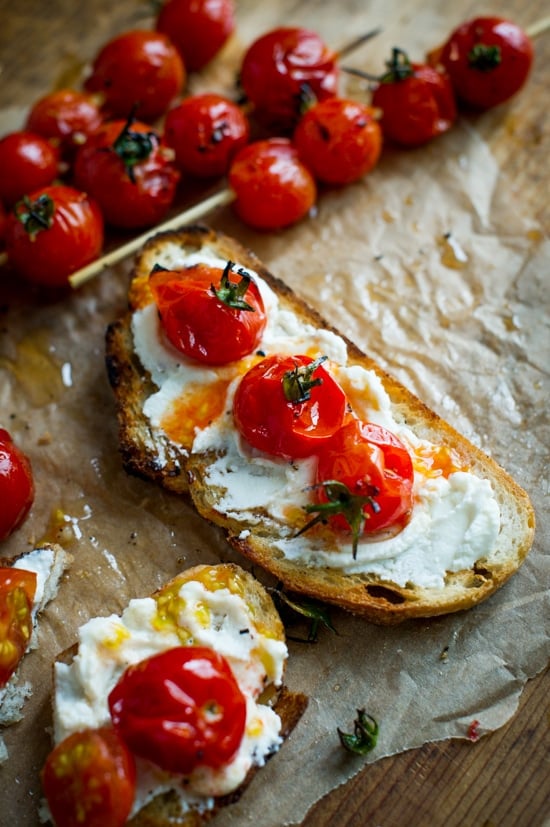 Check out a Few of our Favorite BBQs & Tools:
Some tools, grills, and smokers make BBQ and grilling all the more enjoyable. Here's some of the favorites: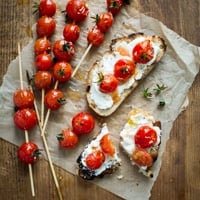 Grilled Tomato Skewers on Toast Recipe
There are a number of ways to enjoy these bbq tomato skewers. Serve them as a side dish, as a snack or on anything you want. They're so good, they might not make it past the bbq! Watch the video on the written blog post.
Ingredients
1 pound (454 g) cherry tomatoes
3 Tablespoons (45 ml) olive oil or grape seed oil
1 teaspoon (5 ml) Worcestershire sauce
2 cloves (2 cloves) garlic , finely minced
salt ,to taste
pepper , to taste
about 10-12 , 8" bamboo skewers
Sliced crusty bread
1 cup (246 g) ricotta cheese , softened goat cheese or your favorite cheese. Or even pesto is great!
Instructions
Soak and fully immerse bamboo skewers in water for about 30 minutes

Wash and dry cherry tomatoes. Remove the stems if you want. Keeping them on just makes them prettier, then you can pull them off before serving.

In large bowl, combine oil, Worcestershire and garlic. Add cherry tomatoes to marinade bowl and toss to combine and coat tomatoes.

Skewer about 4-5 tomatoes on each bamboo skewer. Sprinkle salt and pepper to taste on each tomato skewer.

Heat Grill to medium/high heat.

Reserve the leftover marinade and brush them on the sliced crusty bread. If you need more marinade, just add a little more oil to the bowl.

Grill tomato skewers on each side for about 3-4 minutes, or until they are cooked. Cooking time will vary depending on the heat of your grill and size of your cherry tomatoes.

After tomatoes are cooked, grill both sides of the bread until crispy.

Spread cheese on slices of bread and top with tomatoes. Remove stems if you want before serving.
Nutrition Information
Calories: 149kcal, Carbohydrates: 4g, Protein: 5g, Fat: 12g, Saturated Fat: 4g, Cholesterol: 20mg, Sodium: 52mg, Potassium: 215mg, Sugar: 2g, Vitamin A: 550IU, Vitamin C: 17.6mg, Calcium: 95mg, Iron: 0.8mg
More Easy Recipes:
We are a participant in the Amazon Services LLC Associates Program, an affiliate advertising program designed to provide a means for us to earn fees by linking to Amazon.com and affiliated sites.