Love for Conservas or Tinned Fish & Seafood
Conservas or tinned fish and seafood is a pantry staple for us. We love having a selection of specialty canned seafood from all over the world. Once you explore all the flavorful options you might become obsessive like we are!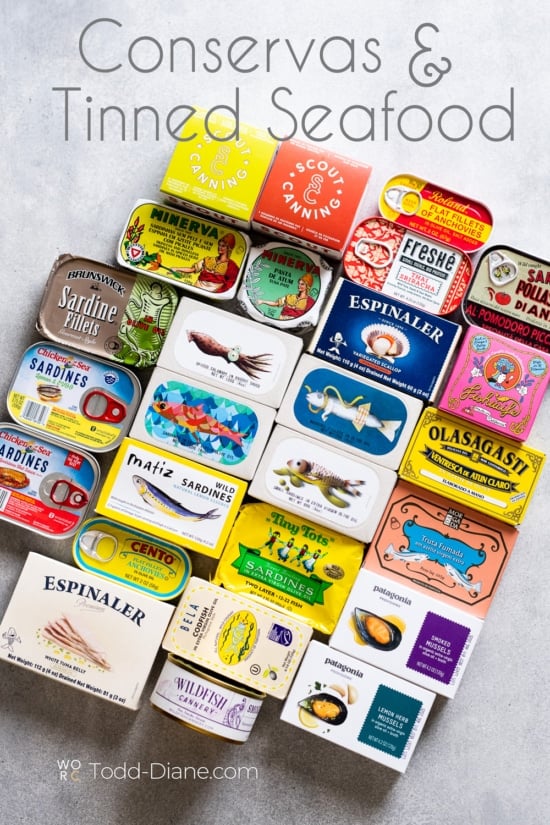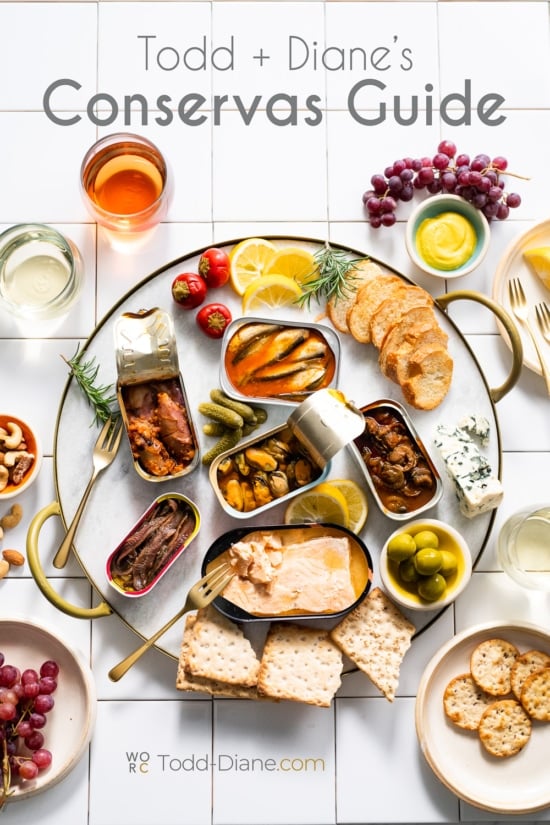 What are Conservas?
Conservas are tinned or canned fish and seafood from the Iberian peninsula that includes Spain and Portugal. They have a rich history of preserving cooked seafood in cans as soon as it's caught. This seafood is super fresh and quickly preserved in oil or different sauces. It's a pantry staple for us and for anytime of day and occasion. With so many different types of seafood in a big selection of oils and sauces, there's never a boring bite.
International Tinned Fish and Seafood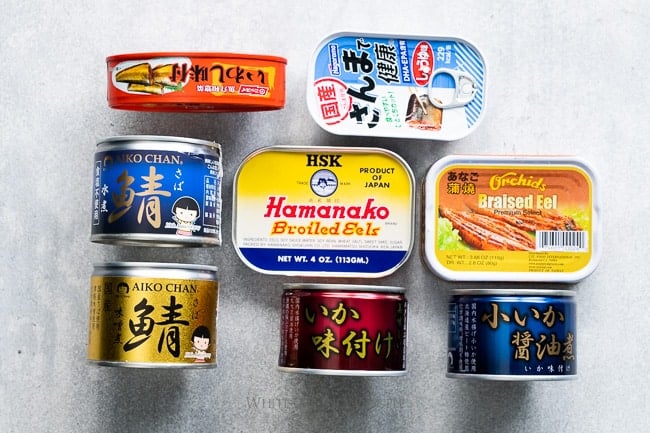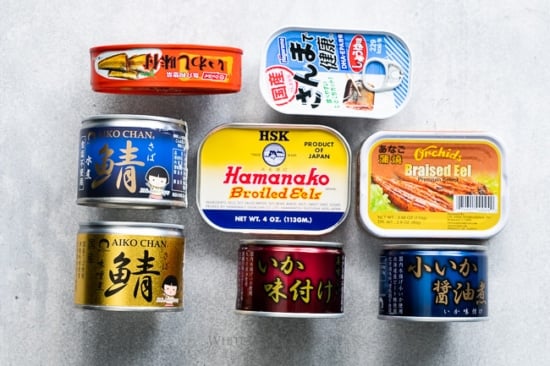 Beyond Spain and Portugal, countries all over the world have an amazing selection of specialty tinned seafood. From gourmet and premium brands to more affordable selections, there's something for everyone to enjoy. And when we are out adventuring, we'll often find great selections in gourmet markets we stumble upon. The best part about these International selections is that the sauces and marinades are very different from the Conservas from Spain or Portugal. We've been able to find some delicious canned seafood at our local Japanese markets & other ethnic markets. We love some Japanese brands because they have wonderful umami and rich flavors of soy and spices. If you're a fan of smoked herring from Europe there's lots of options out there to enjoy.
Different types of Conservas or International tinned seafood
Sardines
Tuna fillets
Mackerel chub or Atlantic mackerel
Anchovies
Mussels
Cockles and Clams
Salmon
Squid
Octopus
Scallops
Sea urchin
How to Eat Conservas?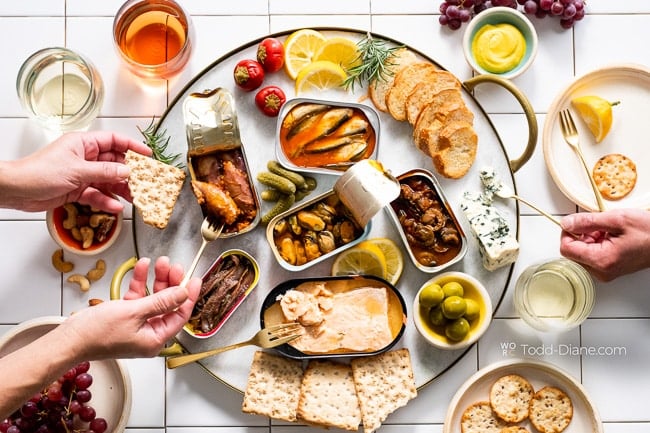 Easiest way is to enjoy quality conservas and showcase the quality of the seafood is by making it the hero of the meal. Serving the tinned seafood with a crusty loaf bread or your favorite crackers is simple yet delicious. Here's some other ways to serve conserva and enjoy their delicate texture and bold flavors:
On an appetizer platter as you would a cheese and charcuterie platter. Highlight the conserva and let it shine as the main protein alongside some dried fruit, fresh fruit, olives and crackers or bread.
Add as topping for crisp salads. The punch of flavor against cool refreshing lettuce greens and veggies is fantastic. Think of the classic Caesar salad with slivers of salty sardines and get creative with all the types of seafood you can top on salads.
Toss into a side of roasted vegetables or in sautéed vegetables. The bold pops of flavor will make veggies even more amazing.
Mixed-in with cooked Pasta for an intense seafood pasta
Scatter a few pieces on pizza or flatbread
These are perfect for camping, glamping, van-life or trailer-life foods.
Make our wonderful 15 minute smoked oyster dip recipe
Reserve the oil or sauce leftover in the can. Don't toss this out! Save the oil as a drizzle on another meal or dip bread into it to sop up all the amazing sauce. You could make a flavorful dressing out of it. Add some garlic, lemon, balsamic vinegar and a little more olive oil to the leftover oil for a simple and awesome dressing.
Don't forget to add a few slices of lemon and a side of hot sauce because seafood and a bit of spice is a great pairing.
What Wine to Pair with Conservas?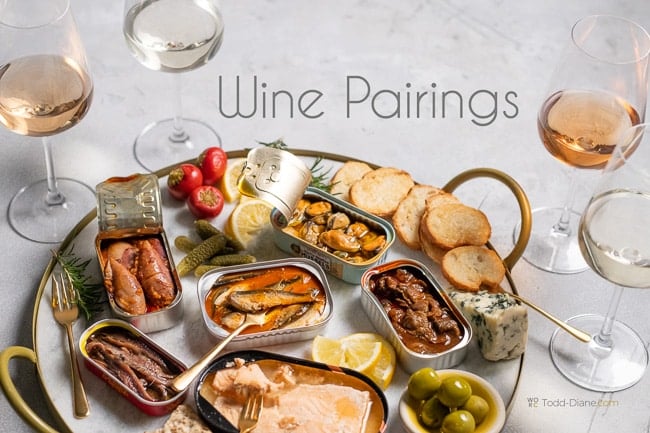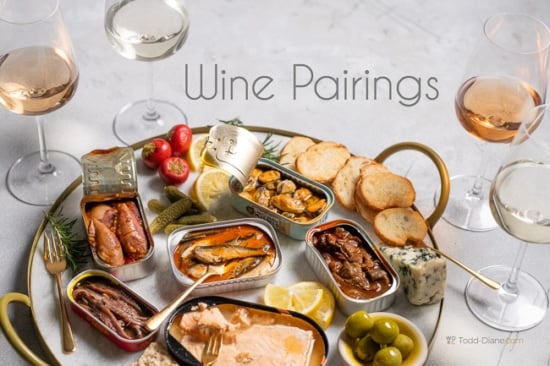 First of all, drink what you like is a basic rule of thumb. But if you're new to wine and want a simple pairing for canned seafood, we suggest crisp and dry white wines or light bodied reds. These types of wines are refreshing on the palate and highlights the seafood without fighting it.
Vinho verde: low alcohol, slightly effervescent, dry and crisp. This wine is one of our favorites. It's easy to polish off a bottle or two because they're easy drinking and low in alcohol. Here's our write up on vinho verde wine.
Sparkling whites such as Champagne, Cava, Prosecco, or sparkling whites from New World wine countries like the US & Australia. The bubbly nature is great with the seafood flavors.
Dry Roses and sparkling rose
Lambrusco – this refreshing and bubbly red is slightly fruity but still crisp and fantastic.
Sauvignon blanc, Chen in blanc, Pinot gris, Pinot Grigio and other crisp, dry white wines.
Albariño or reisling
Light lively reds like gamay noir. We love Pax gamay noir!
Instant dinner party
When you have some unexpected guests or in news of a quick appetizer, consider conservas as your best friend. Crack open a few cans, add some bread or small quantities of chopped veggies, cubes of cheese, toasted bread or crackers. Voila you have a fantastic spread to share and enjoy. And remember, don't forget the wine!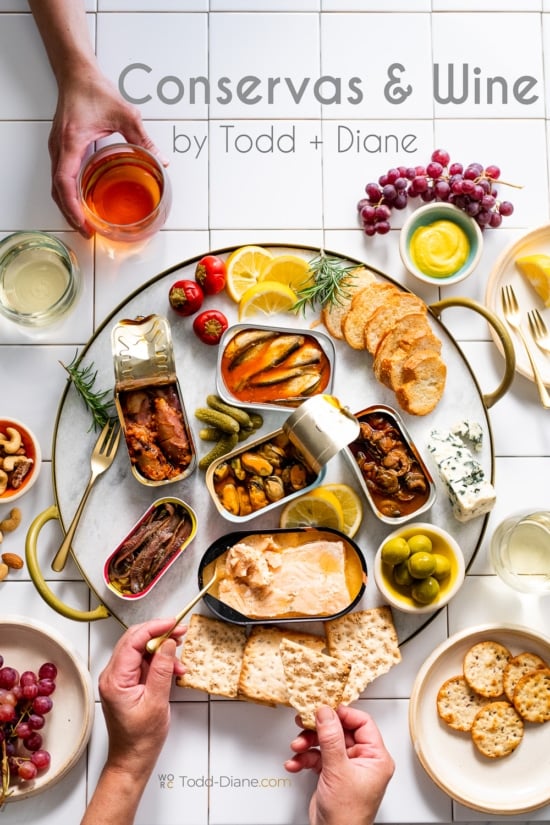 Some Favorite Conservas Tinned Seafood & Fish
With so many different brands out there it's like a fun scavenger hunt for us to discover new flavors. We've bought SO MANY different brands, it's crazy. Our pantry is stocked with a huge international selection of canned seafood and it doesn't seem to stop. Yes, it's an obsession. We're still working our way through this world of Conservas and International canned seafood but here's a short list of some favorites.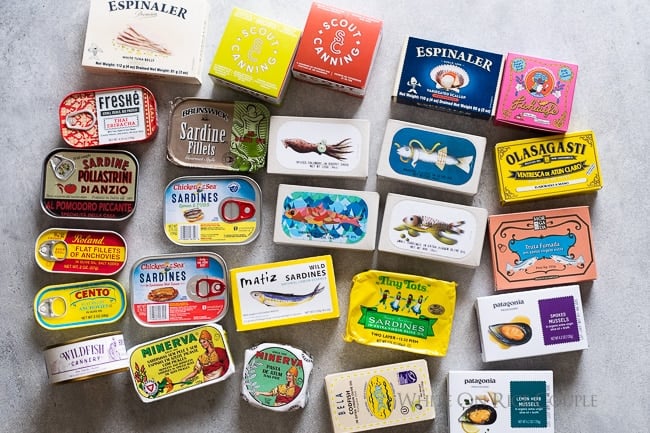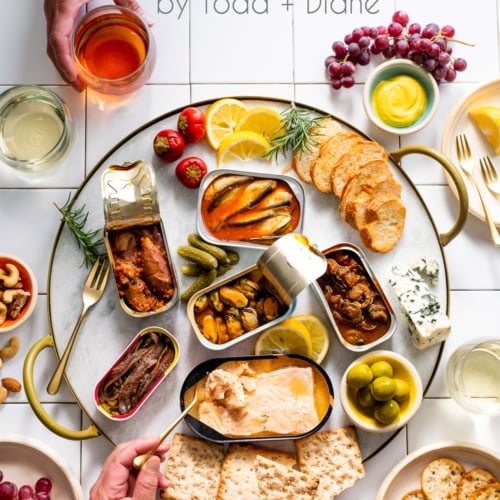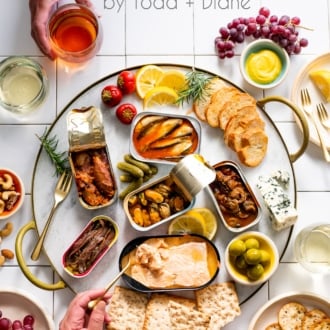 Conservas Appetizer Platter
The fun part about this platter is that you can customize all the ingredients to what you love to eat. This is a seafood focused platter but that doesn't mean you can't add some charcuterie!
Ingredients
2-3 cans Conservas seafood or other Tinned Seafood
1 loaf crusty bread
1 package crackers
1/2 cup olives
1/4 cup cornichorns or pickles
1/4 cup dried nuts
1/4 cup dried fruit
1 cup fresh fruit Cherries, grapes
1 bottle white wine , optional
Instructions
Nutrition Information
Calories: 247kcal, Carbohydrates: 32g, Protein: 15g, Fat: 7g, Saturated Fat: 2g, Polyunsaturated Fat: 2g, Monounsaturated Fat: 3g, Trans Fat: 0.1g, Cholesterol: 37mg, Sodium: 613mg, Potassium: 191mg, Fiber: 2g, Sugar: 13g, Vitamin A: 427IU, Vitamin C: 2mg, Calcium: 147mg, Iron: 3mg
More Easy Recipes to Enjoy:
We are a participant in the Amazon Services LLC Associates Program, an affiliate advertising program designed to provide a means for us to earn fees by linking to Amazon.com and affiliated sites.