For the Love of Celery: Sautéed Celery & Shrimp
Our celery shrimp stir fry recipe is simple, low carb and satisfying. When you're craving a little protein with veggies, this is a great recipe.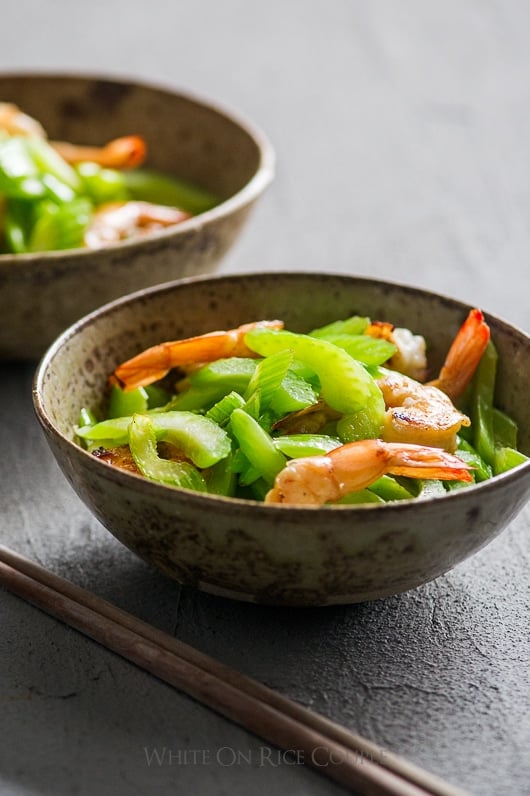 Celery Salad Recipe with Shrimp
Let's talk about celery, one of our most favorite veggies ever. Celery is often one of the forgotten vegetables whose value is most likely appreciated on a crudite platter, swiped with peanut butter, or as a garnish in a bloody mary. It's simple, easy to prep and easy to eat. But our appreciation for celery goes beyond the norm because we see the enormous possibilities of this under-appreciated stalk. Any time at the market a bunch of celery nearly always shows up in our basket. It's one of those staples that we buy, even if we have plenty but don't mind having a back-up of. Eggs, milk and celery. It's our trinity of items that we can never go without. And oh, we won't forget to pay homage to coffee beans too but that's another story.
The flavor and crunchy texture of celery is fabulous in so many dishes, it's mind boggling to think of this humble vegetable not being used in different recipes. Shaved celery salads are far more easy than people think and the flavors go beyond the everyday kale salad. One of our favorite and often under-used techniques of eating celery is in stir-frys. With just the two hero ingredients of celery and shrimp we can make a fabulous side dish that reminds us of how simple great cooking can be.
The crunchy, flavorful celery with hint of Asian fish sauce and plump, tender shrimp is a magical stir fry ready to be plopped on a bed of brown rice, quinoa or on top of a green salad. That's it. And honestly, that's all you need when you taste the combined flavors of these simple ingredients. It's the signature, bright and grassy flavor of celery that stand out and brings this crazy easy stir fry to life. There's so many more celery recipes we're obsessed with and celery was the one vegetable that we were going to write a whole magazine about. Yeah, that's crazy to think that the humble celery can inspire us so much to stay in the kitchen and get creative.
Hope you all appreciate celery as much as we do because there's more celery recipes coming your way.
hugs- diane and todd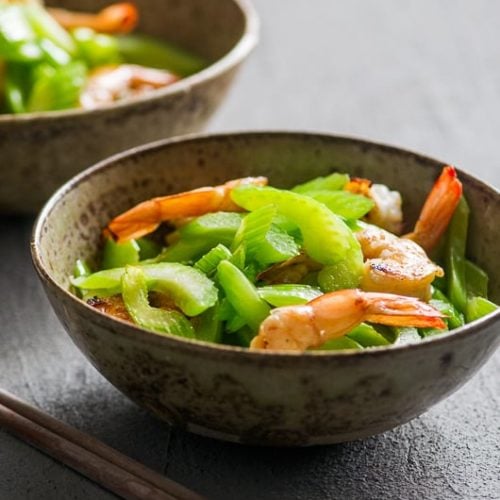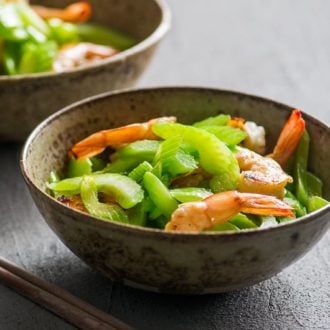 Sautéed Celery and Shrimp
We're always singing the praises of the humble celery stalk. As much as we enjoy snacking on it raw, this wonderful stalk proves to be equally exceptional sautéed. Two simple ingredients—celery and shrimp—make this a great side dish, or it can be added to rice, noodles, or salad. If you are able to grow celery, you are in for a treat; homegrown stalks are extra tender and flavorful compared to store-bought.
This is one of our favorite celery recipes and was one that we had to include in our cookbook, Bountiful.
Ingredients
1/2 pound (225 g) Shrimp , peeled and deveined
2 Tablespoons (30 ml) Vegetable oil , divided
2 teaspoons (10 ml) Fish Sauce
1 teaspoon (5 ml) Sugar
Black Pepper , fresh cracked if possible
8 stalks (8 stalks ) celery , sliced crosswise
Kosher Salt or Sea Salt
Instructions
In a large bowl, combine the shrimp, 1 tablespoon of the oil, fish sauce, sugar, and pepper to taste. Gently toss to coat the shrimp.

Heat a sauté pan over high heat. When the pan is very hot, swirl in the remaining 1 tablespoon oil. Add the celery and cook for 1 minute, stirring occasionally.

Add the shrimp and cook for 1 minute. Flip the shrimp and cook for 1 minute more, or until pink.

Season with salt to taste and serve warm.
Nutrition Information
Calories: 134kcal, Carbohydrates: 3g, Protein: 12g, Fat: 7g, Saturated Fat: 5g, Cholesterol: 142mg, Sodium: 740mg, Potassium: 253mg, Fiber: 1g, Sugar: 2g, Vitamin A: 360IU, Vitamin C: 4.8mg, Calcium: 114mg, Iron: 1.4mg
We are a participant in the Amazon Services LLC Associates Program, an affiliate advertising program designed to provide a means for us to earn fees by linking to Amazon.com and affiliated sites.