Pear Waldorf "Pear-Dorf" Salad
Our pear waldorf salad recipe is an inspired classic waldorf salad with pears instead of apples. The ripe flavors of pear is fantastic.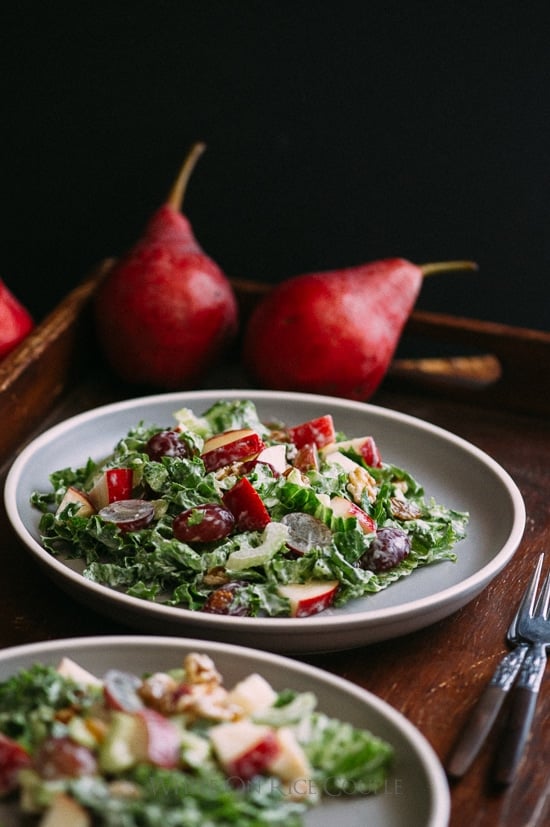 Pear Waldorf Salad Recipe
When pears are everywhere it's so easy to be inspired to buy every variety we see. Not only are they delicious, they're like natures works of art. Elegant, sexy, curvy and colorful, pears really are not just great to cook and eat, they're just stunning to look at. This time of year is always another super exciting fruit season because of all the fruit that explodes in October and November. We love the classic waldorf salad because the salad is a wonderful combination of fruity, crunchy, creamy and slightly sweet. The possibilities really are endless with waldorf salads because the apple varieties are limitless.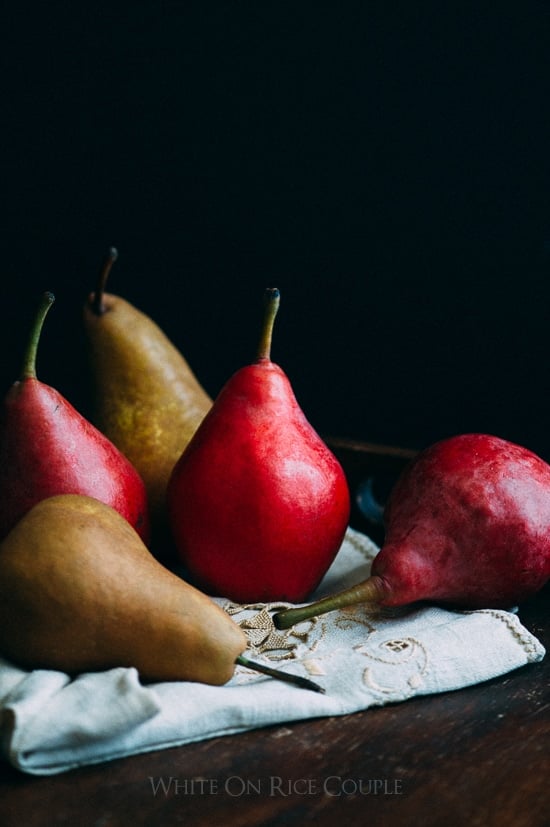 We wanted to take the waldorf salad up another notch and use pears in this wonderful salad while pears are everywhere. Sweet juicy pears aren't just great for desserts, but their value in salads are fabulous.
Pears are refreshing, crunchy and add the perfect texture to waldorf salads. As an ode to one of our favorite fruits, we personalized a version of the classic Waldorf salad by using sweet seasonal pears. With so many pear varieties to choose from, it's always such a treat to welcome the autumn season by having a pear-centric salad. For glorious color, use red Anjou or Seckel pears for their beautiful skins. The wonderful balance of crunchy celery, sweet grapes, chewy raisins, and crisp pears is harmony in a bowl. Asian pears are also a great addition to this salad because of their crisp, juicy flesh. You can personalize this salad further with your own favorite pear variety.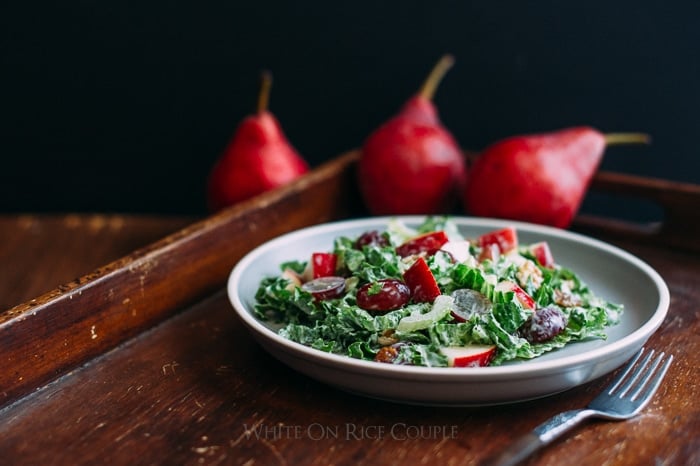 The weather keeps getting cooler and cooler here with our coastal weather and it's wonderful to sleep with a blanket at night now, with the windows open. The cold air, cuddled until a blanket feels a bit like camping. Well, it does feel like it to us because our cold weather season is short. Hope you all are having a wonderful October because it's flying by so fast! We're already planning our December schedules and trying to enjoy as much of 2016 as possible!
-Diane and Todd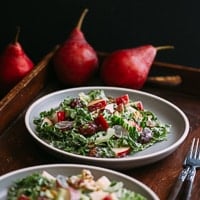 Pear-dorf Salad
This recipe is from our cookbook, Bountiful. A wonderful seasonal variation of the classic Waldorf salad, use any of the great pears you'll find at your local markets, from red Anjous to the crisp varieties of Asian pears.
Ingredients
For the Dressing
1/4 cup (60ml) mayonnaise
1/4 cup (60ml) yogurt
1/2 teaspoon fresh lemon juice
1/4 teaspoon kosher or sea salt
1/4 teaspoon freshly cracked black pepper
For the Salad
2 ripe pears , chopped
1/2 cup (50g) chopped celery
1/2 cup (75g) grapes , halved
3 Tablespoons golden raisins
1/3 cup (60g) chopped walnuts
2 cups (110g) chopped fresh lettuce
Instructions
Make the dressing: In a bowl, combine all the dressing ingredients. Mix well, and chill for about 20 minutes before serving.

Make the salad: In a large bowl, combine all the salad ingredients (pears, celery, grapes, raisins, walnuts, and lettuce).

Before serving, add the dressing to the salad and toss well. Serve cold.
Nutrition Information per Serving
Calories: 274kcal, Carbohydrates: 30g, Protein: 3g, Fat: 18g, Saturated Fat: 3g, Trans Fat: 1g, Cholesterol: 8mg, Sodium: 258mg, Potassium: 379mg, Fiber: 5g, Sugar: 20g, Vitamin A: 299IU, Vitamin C: 7mg, Calcium: 57mg, Iron: 1mg
We are a participant in the Amazon Services LLC Associates Program, an affiliate advertising program designed to provide a means for us to earn fees by linking to Amazon.com and affiliated sites.