Berry Buttermilk Breakfast/Brunch Cake with Crumb Topping
This blueberry buttermilk breakfast cake is perfect for the weekend. It's also the time of the week that's most leisurely for us with plenty of time to bake in the morning. Settling down with our cappuccino or espresso and some poached eggs is a fantastic breakfast.
Blueberry Buttermilk Berry breakfast cake
Sometimes we still crave something sweet with our coffee, but not too sweet. So we created this morning a blueberry buttermilk breakfast cake that fulfills our morning needs. After making this morning treat several times, it's hard to not think of it as the perfect brunch cake, especially for family gatherings. With Holiday brunch, family gatherings and celebration gatherings, berries are always a favorite. Now it is the perfect time to make this cake that is sweetened by the explosion of berry flavors and without all the sugar.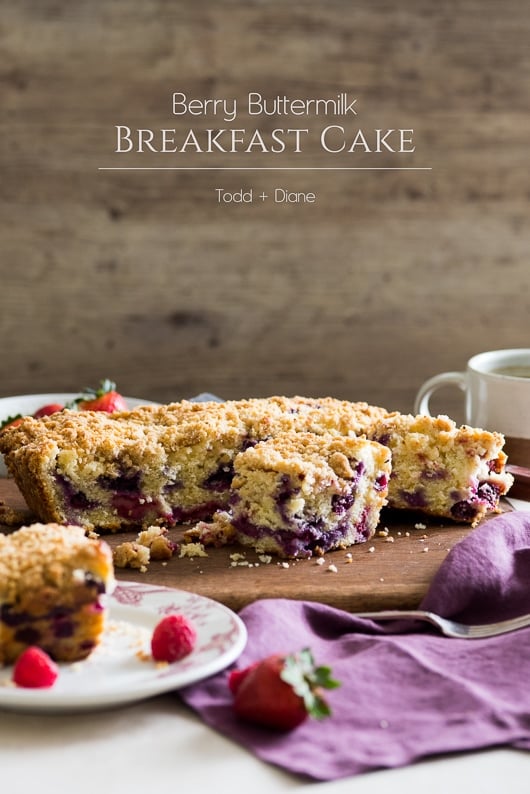 Watch the video making the Blueberry Buttermilk Breakfast Cake:
Can you make this cake ahead of time?
Yes, we definitely have made it the night before and it still taste great the next day. We we warm it up in the oven. When we made it in the morning and wanted it serve it right away, it took so long to cool down. By the time the cake cooled to cut, breakfast was over. So we started making it the night before and warming it before serving the next day.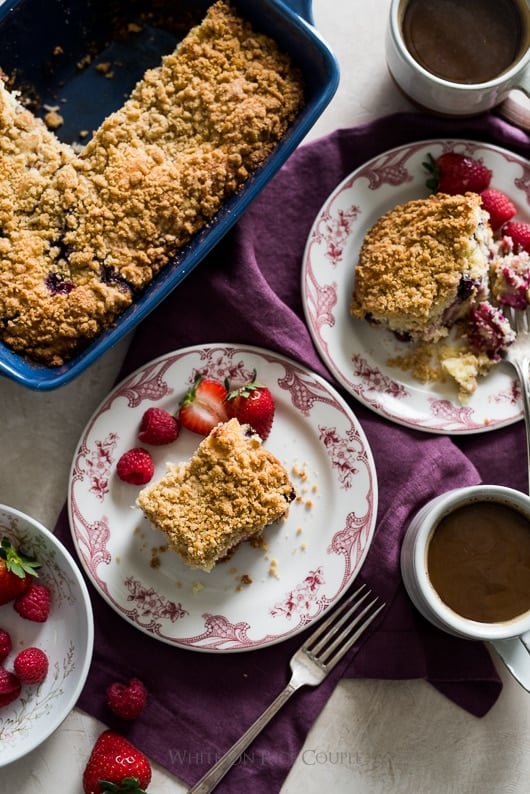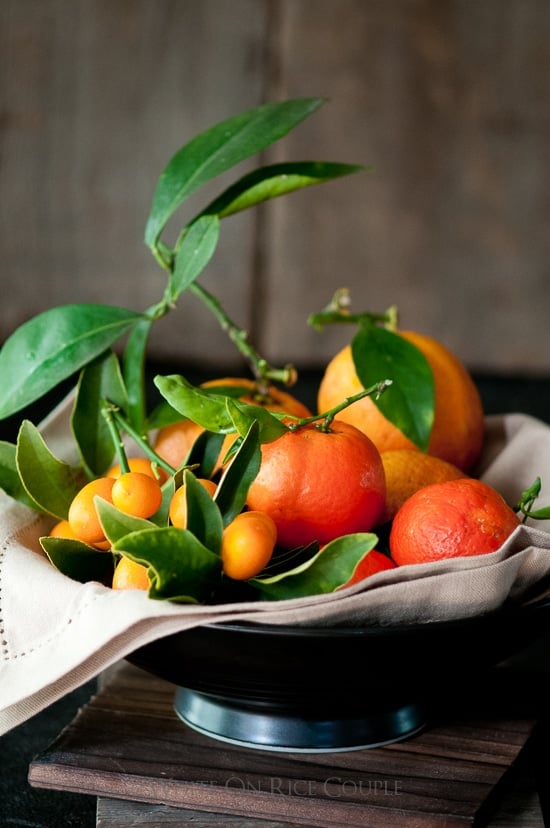 citrus and swiss chard galore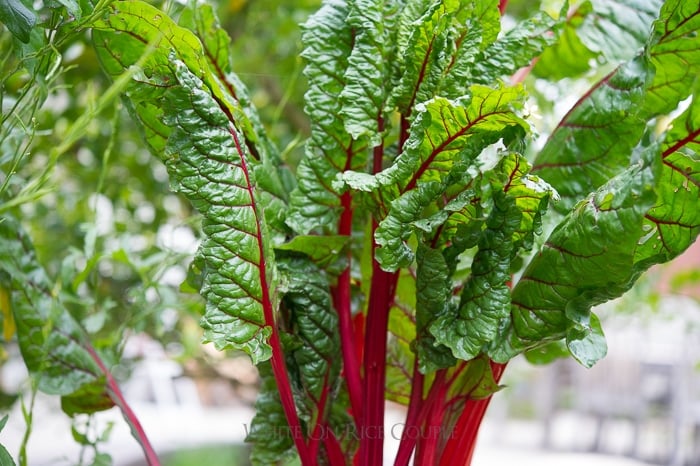 Everything in the garden has been going bonkers now and we're enjoying every minute of it. We have tons and tons of lemons and other citrus. It's crazy to think how two people and two dogs can consume all this fruit. Maybe it's time to start our lemonade stand we used to dream of building as kids. Hey, and maybe sell some of this awesome berry buttermilk breakfast cake? Maybe we'll do that when we grow up one day!
Enjoy!
Diane and Todd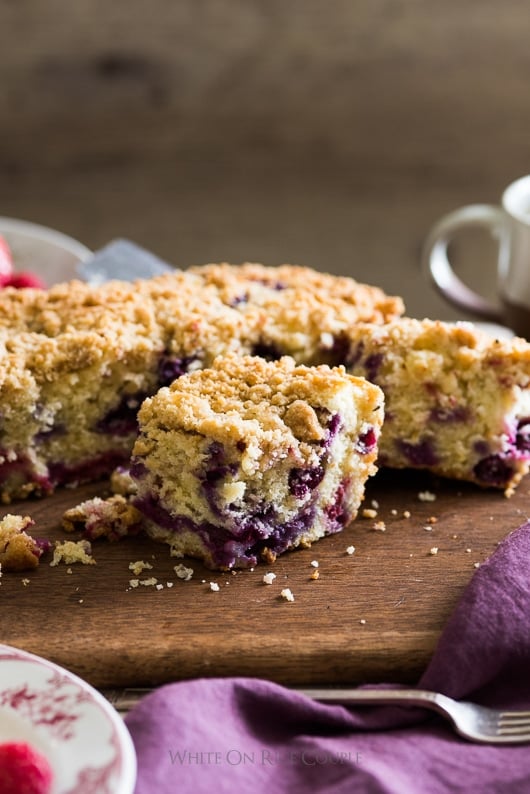 super moist and tender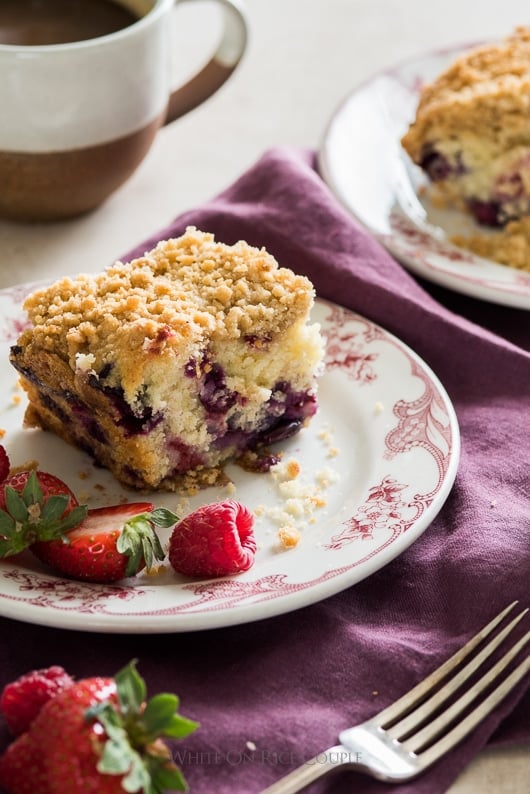 This recipe was originally published in 2017 and re-published in 2019 with updated video.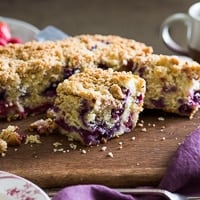 Buttermilk-Berry Breakfast Cake w/ Crumb Topping
This can also be made in an 8"x8" pan. It will be a higher breakfast cake and takes a bit longer to bake. For the 8"x8" size, bake for 40-50 minutes.The batter is fairly thick. If using softe berries like raspberries, it will break apart the berries when folding it. Super delicious but don't expect whole berries to be baked in unless you hand place them after putting the batter into the baking dish.
Ingredients
for the breakfast cake
½ cup (114 g) unsalted butter , (1 stick) at room temperature
Zest from 1 large lemon
1 Tablespoon (15 ml) lemon juice
3/4 cup (150 g) granulated sugar
1 large (1 large) egg
1 teaspoon (5 ml) vanilla extract
1 3/4 cup (225 g) flour
2 teaspoons (10 ml) baking powder
1 teaspoon (5 ml) kosher salt
1 1/2 cups (340 g) fresh blueberries (8 ounces) or combination of different berries (approximately - feel free to use more or less)
½ cup (120 g) buttermilk *see note below recipe
Powdered sugar for sprinkling, (optional)
Whipped topping or whipped cream (optional)
Extra berries for topping (optional)
for the crumb topping
1/2 cup (63 g) flour
1/4 cup (55 g) packed brown sugar
1/4 teaspoon (1.25 ml) kosher or sea salt , or to taste
1/4 cup (57 g) cold unsalted butter , cut into 1/2-inch (12-mm) pieces
Instructions
Preheat the oven to 375º F (190°c). Grease 9x9 inch (23cmx23cm) square baking pan or line with parchment and grease for extra ease in removing from pan when baked.

Make the crumb topping: Mix together the flour, brown sugar, and salt in a bowl. Pinch in the butter until the mixture resembles coarse sand. Set aside in the refrigerator to keep cold until ready to top cake.

Make the cake batter: In large bowl, cream butter, lemon zest, lemon juice and sugar until light and fluffy. Add the egg and vanilla, beat until combined.

In separate bowl whisk dry ingredients for the breakfast cake (flour, baking powder and salt).

Add the buttermilk and the dry flour mixture to the butter/egg batter. Carefully stir the batter until combined, but don't overmix (it will be a thick batter). Fold in the berries.

Spread batter into the prepared pan. Top the cake with the crumb topping.

Bake for 35 to 45 minutes, or until a toothpick inserted into the center of the cake comes out clean.

Allow the cake to cool completely. If desired, when ready to serve sprinkle with powdered sugar and dollop of whipped topping or more berries!
Notes
Note 1: To quickly make a homemade buttermilk, combine 1 cup of milk with 1 tablespoon of lemon juice (or in the case of this recipe - 1/2 cup milk-1/2 tablespoon lemon juice). Stir to combine and allow to sit at room temperature for 5-10 minutes. Use as directed for buttermilk in the recipe.
Nutrition Information per Serving
Calories: 374kcal, Carbohydrates: 52g, Protein: 4g, Fat: 16g, Saturated Fat: 10g, Cholesterol: 62mg, Sodium: 286mg, Potassium: 182mg, Fiber: 1g, Sugar: 26g, Vitamin A: 540IU, Vitamin C: 3.8mg, Calcium: 72mg, Iron: 1.8mg
We are a participant in the Amazon Services LLC Associates Program, an affiliate advertising program designed to provide a means for us to earn fees by linking to Amazon.com and affiliated sites.