Juicy Asian Oven-Roasted Pulled Pork
This popular Asian oven pulled pork recipe is a favorite for tacos, sliders and burritos. The juicy pulled pork is irresistible . It's been a favorite recipe since we first published it in 2014.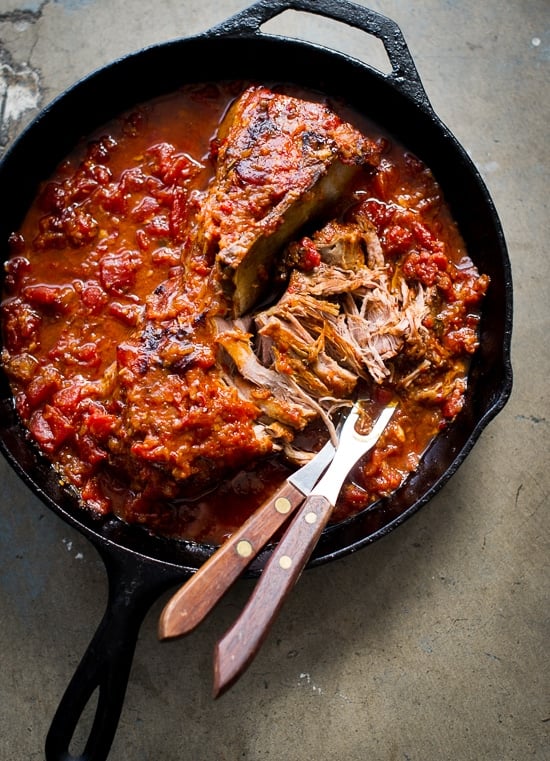 Favorite Pulled Pork Recipe
This is the unabashed, meat-lovers edition of pork. Apologies if the photo is an abrupt, in-your-face visual of juicy and saucy pork in its entirety. In fact, there's no scattering of pretty garnish nor greens nor linen-pretty. It's a delicious and amazing pulled pork dish and that's pretty much all we wanted to share with you. Sometimes it's more effective to just past all the words and give you a taste of the recipe as soon as possible.
The pulled pork is so amazing, we decided to get past all the fuss and get straight to the point. And here's the point: make this as soon as you can.
Watch the video making the Juicy Asian Oven Pulled Pork Recipe:

Flavorful Pulled Pork – Umami Blast
A few weeks ago we found some frozen pork shoulder in the freezer (surprise!) and needed to make something with it before it was forgotten again in the dark, abyss of the garage freezer. We went a little crazy with the spices, adding some big punches of flavor to the marinade and sauce. We're not apologizing for it, but rather, we're warning you because you'll be so addicted to the flavor combination of garlic, fish sauce, mustard and sugar that you just might want to use this on some other of your favorite meats.
How to Serve Our Juicy Asian Pulled Pork
This was the pulled pork recipe that kept on giving. For our first meal, we had pulled pork tacos. Next, indulged in pulled pork over rice. Later, it was pulled pork sliders. Last, with what was leftover, we made a fabulous pulled pork pizza.
It wasn't until we pigged out on all these juicy pulled pork dishes that we realized just how versatile and wonderful it was. And we're not tired of it yet, because with Super Bowl next week, we're already planning some stellar uses for our next batch. And how about you? If you make this and have some new ideas on how to eat it with, let us know. We're all ears.
Enjoy,
diane and todd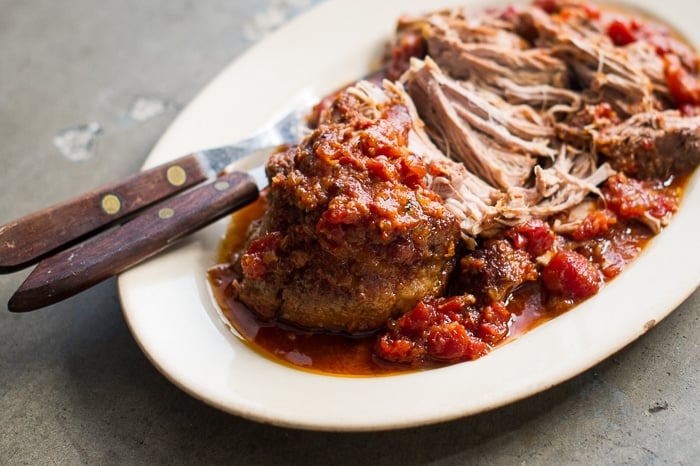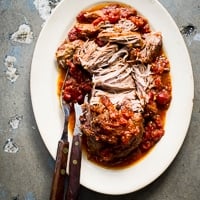 Asian Oven Roasted Pulled Pork Recipe
You can use this pulled pork for tacos, sliders and sandwiches. It's also great on pasta and rice because the juicy sauce is so flavorful. Feel free to cook the pulled pork for a little longer to make the pork more tender and melt-in-your-mouth. We prefer to use a bone-in pork shoulder, but it works great with a de-boned chunk of meat too. And, remember, don't waste the sauce!Update: This recipe was tested on a 4.5 pound pork butt. But if you're cooking with a smaller pork butt around 3.5 pounds and don't like too much sauce, then make half the sauce. If you're making the full batch of sauce on a 3.5 pork butt, you'll have plenty of sauce left over for your pasta, noodles or rice. Also, if you cook it a little longer, the sauce cooks down and caramelizes and becomes a sticky, sweet brown sauce.Slow cooker note: we have not tested this recipe in a slow cooker, but from reader comments below, they have had success!
Ingredients
4.5 pounds pork butt or pork shoulder (1820-2275g)
1 onion , diced
2 Tablespoons olive oil (30ml)
5-6 cloves garlic , minced
15 oz. diced or crushed tomatoes (425g)
2 Tablespoons finely grated or minced fresh ginger (30ml)
1/4 cup fish sauce (60ml) or soy sauce (but fish sauce tastes better! try it) For Gluten Free use Tamari
2 Tablespoons chili garlic sauce (30ml) or Gluten Free Hot Sauce
1 Tablespoon spicy brown mustard (15ml)
1/4 cup brown sugar , packed (60ml)
1 teaspoon fresh cracked black pepper (5ml)
Instructions
Pre-heat oven to 350° F.

Lightly coat the pork shoulder with oil and season all sides with salt and pepper. Heat large cast iron pan or deep oven proof skillet on medium-high heat.Sear each side of the pork shoulder on the hot pan until the pork is brown. About 3 minutes per side. Remove the pork from the skillet and set aside.

In the same skillet the pork was just removed from, heat over medium heat. Then add oil, onion and garlic. Cook onions and garlic until soft and fragrant.Add tomatoes, ginger, fish sauce, chili garlic sauce, mustard, brown sugar and black pepper. Stir together until well combined.

Add the seared pork back into the skillet with the sauce and ladle the tomato sauce mixture over the pork. Cover the pork with aluminum foil.

Bake the pork for about 4 hours, or until the pork is tender and easily shreds with a fork. We like to skim off any excess fat, then shred the pork in the sauce.

Allow the pork to rest for about 15 minutes before shredding the whole shoulder. Keep foil over the shredded pork to keep it warm before serving.
Nutrition Information per Serving
Calories: 430kcal, Carbohydrates: 14g, Protein: 49g, Fat: 18g, Saturated Fat: 6g, Trans Fat: 1g, Cholesterol: 153mg, Sodium: 1038mg, Potassium: 1092mg, Fiber: 2g, Sugar: 11g, Vitamin A: 118IU, Vitamin C: 7mg, Calcium: 72mg, Iron: 4mg
We are a participant in the Amazon Services LLC Associates Program, an affiliate advertising program designed to provide a means for us to earn fees by linking to Amazon.com and affiliated sites.