Grilled pork chops w/ Apple-Cranberry Maple Glaze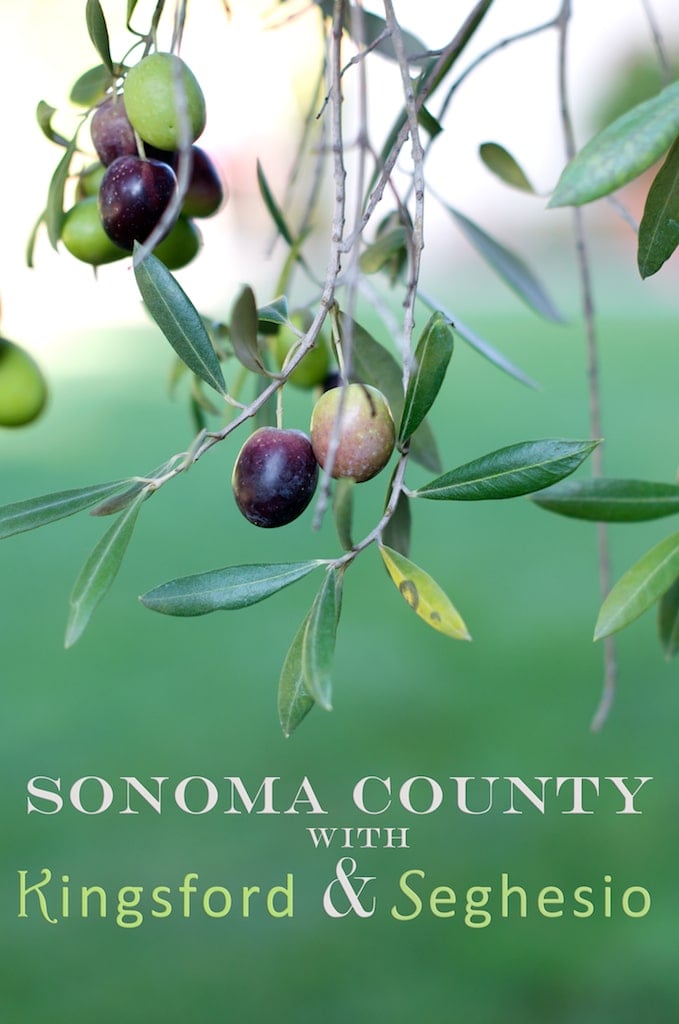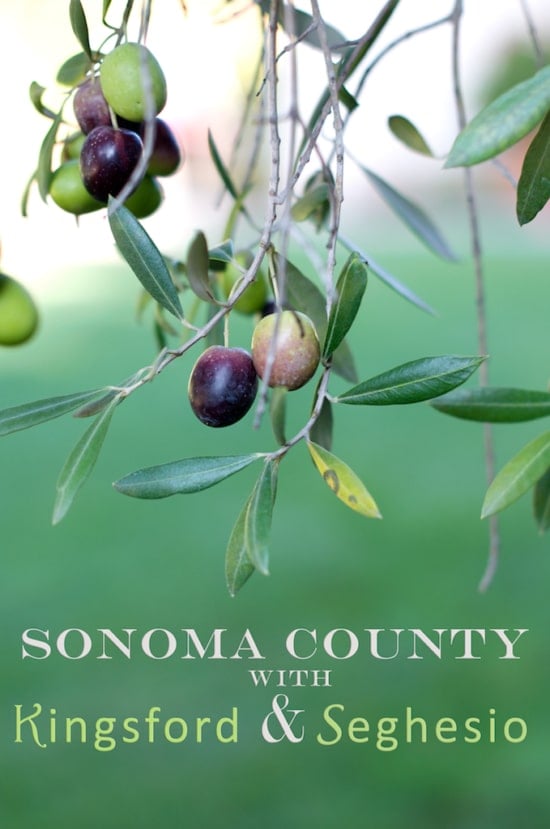 Maple Glazed Pork Chops Recipe
Having the opportunity to spend three days in Sonoma wine country is thrilling enough, but to go there and experience grilling classes under the direction of Kingsford University and wrapped up in the hospitality of Seghesio Family Vineyards left us pinching ourselves to check if we were dreaming or not.
We were amongst a fortunate group of bloggers, food writers, journalists and photographers, and were all treated to an all-expenses paid education not found at any normal University. If getting a degree was this fun, we'd all be forever students! Put us on any list to be a Ph.D candidate for grilling, smoking and wine blending!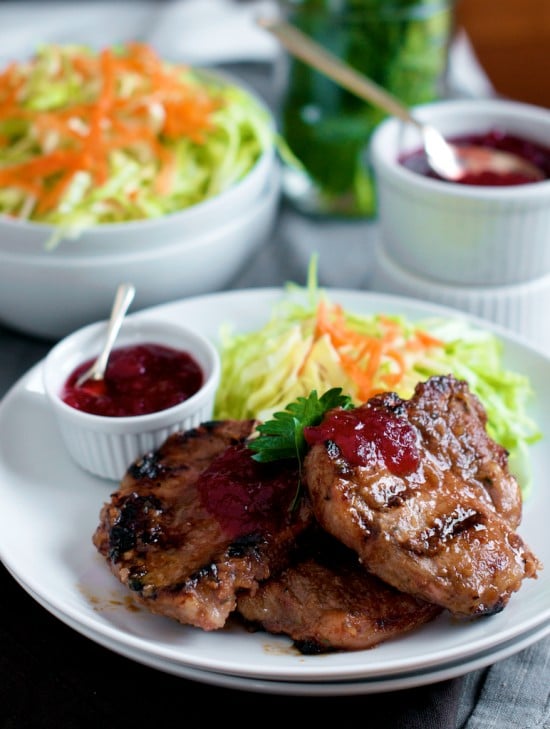 The itinerary was packed solid, chock full of information, taste testing (all day long), facility tours and food demonstrations.
Let's start with lots of scenes from the Kingsford University itinerary ! (lots of pictures)
Dinner at Pican in Oakland – The best buttermilk fried chicken and Southern inspired appetizers, ever!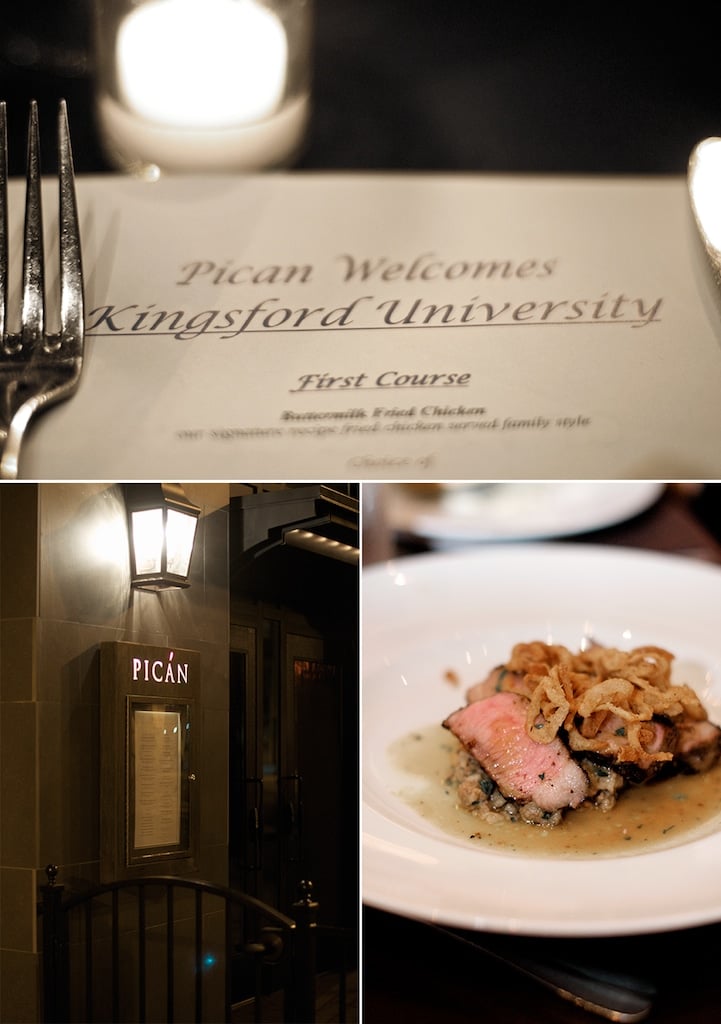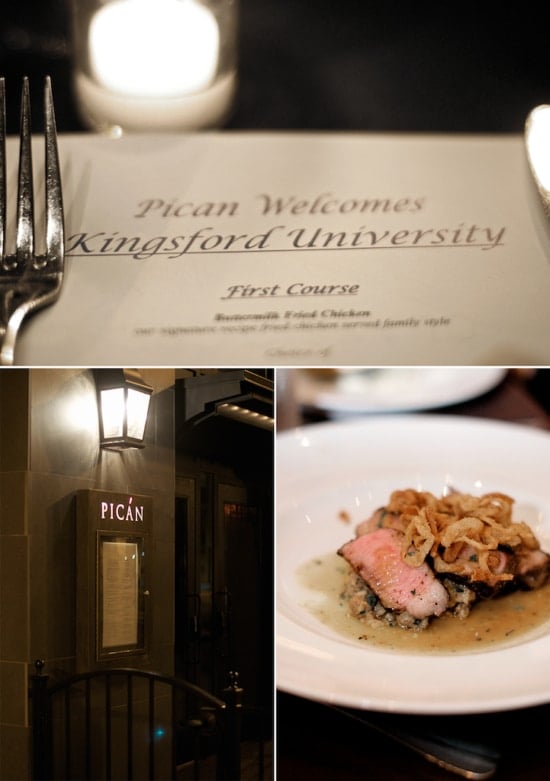 ********************************
Day One Classes in Sonoma County – Grilling lectures, demonstrations and tours by Kingsford. We saw first hand how charcoal briquettes were tested, researched and made, including in-depth discussion of their new product that will have more wood char and less coal and ash.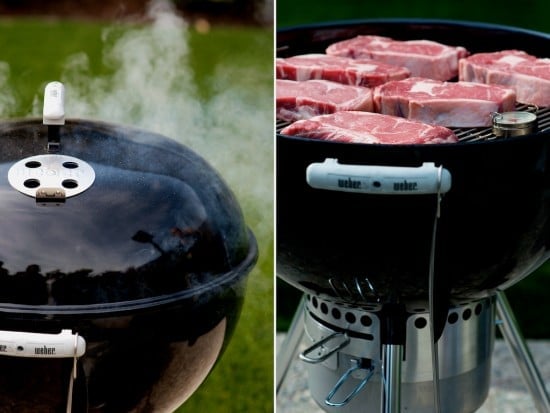 Kingsford new briquettes will be released in 2010.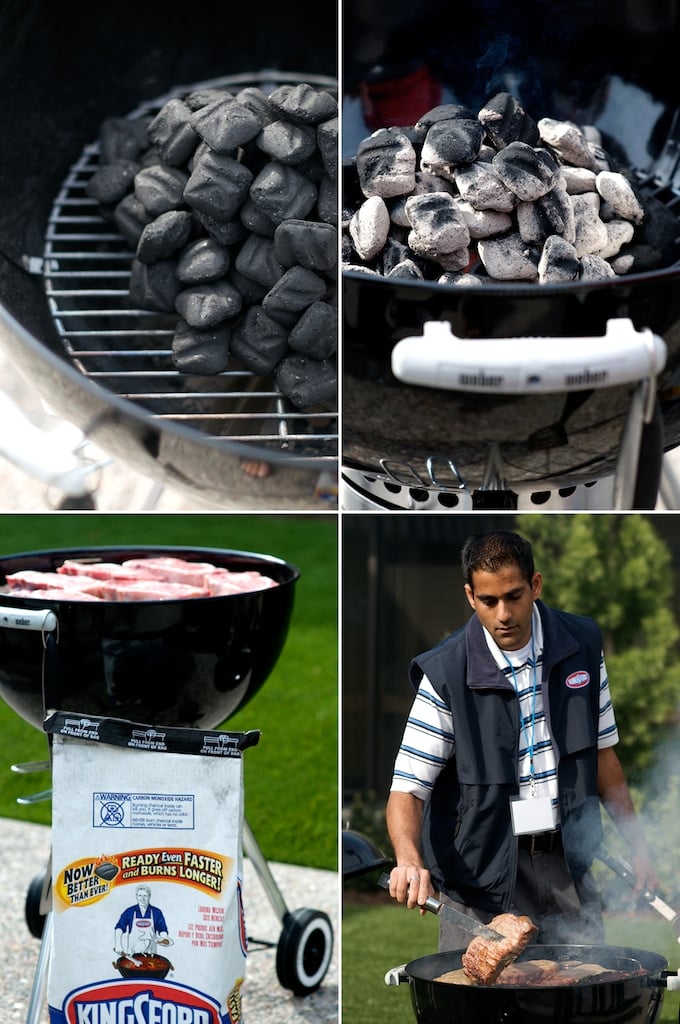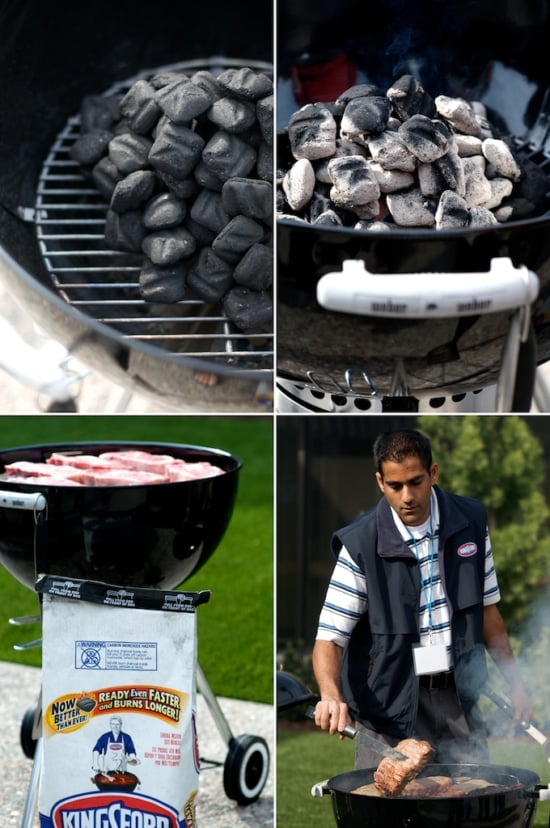 ********************************
After an informative tour of the Kingsford research facility we headed to the lovely town of Headlsburg in Sonoma county. This quaint town in beautiful Sonoma Wine Country was bursting with beautiful Fall colors and scenery.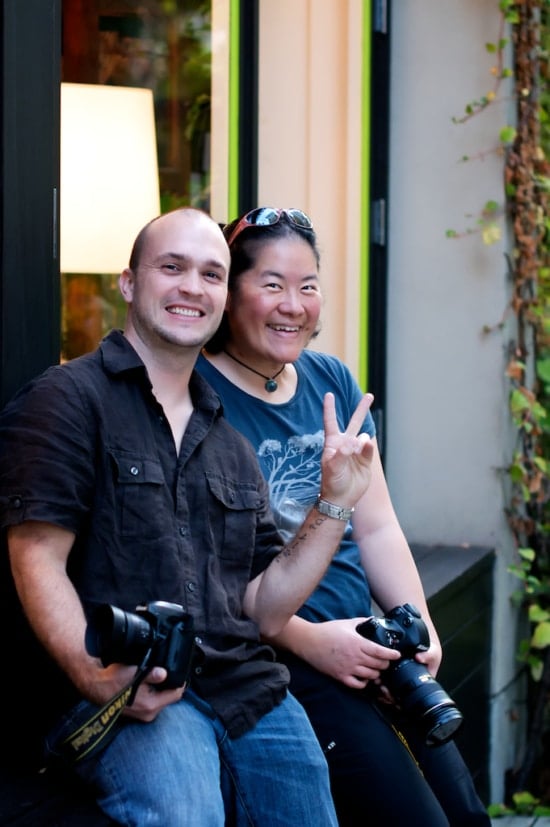 above: Todd & Jen, having fun photographing beautiful downtown Headlsburg.
********************************
With some extra hours to ourselves, we got a little camera crazy silly and took way too many pictures of each other! This is what happens with you get a bunch of crazy photographers together *up against the wall* !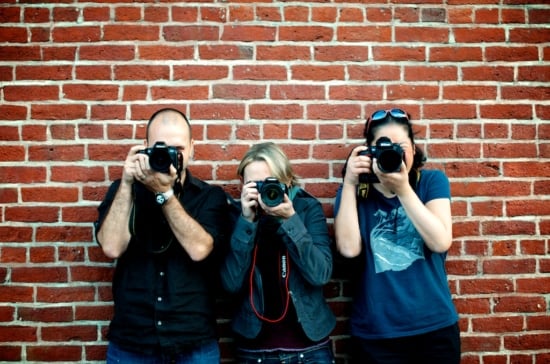 above- Todd, Brooke and Jen hiding behind their lenses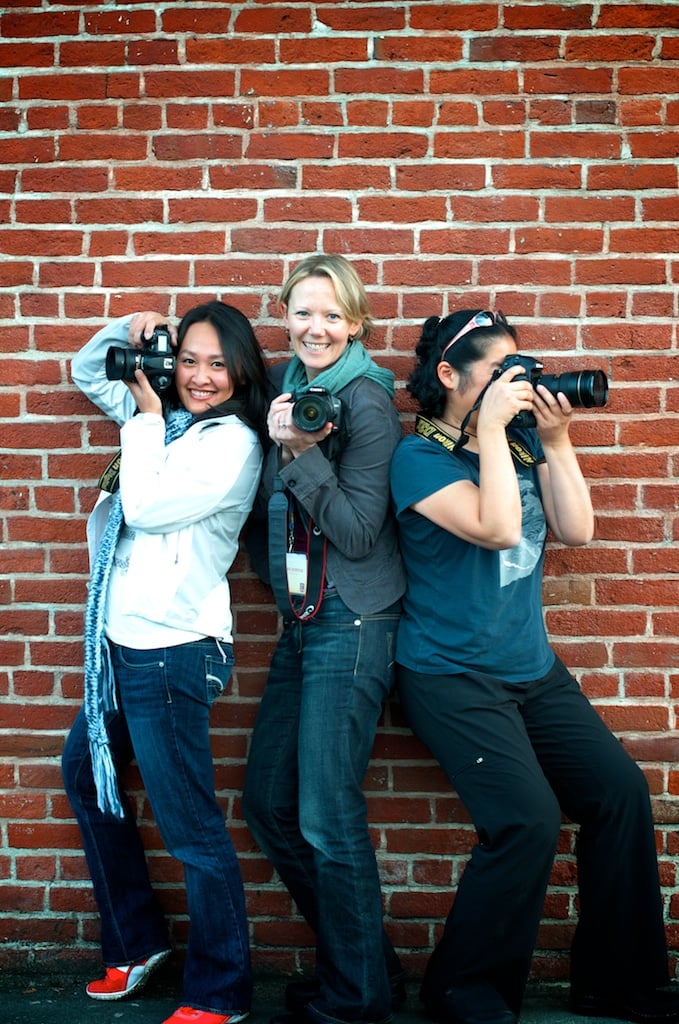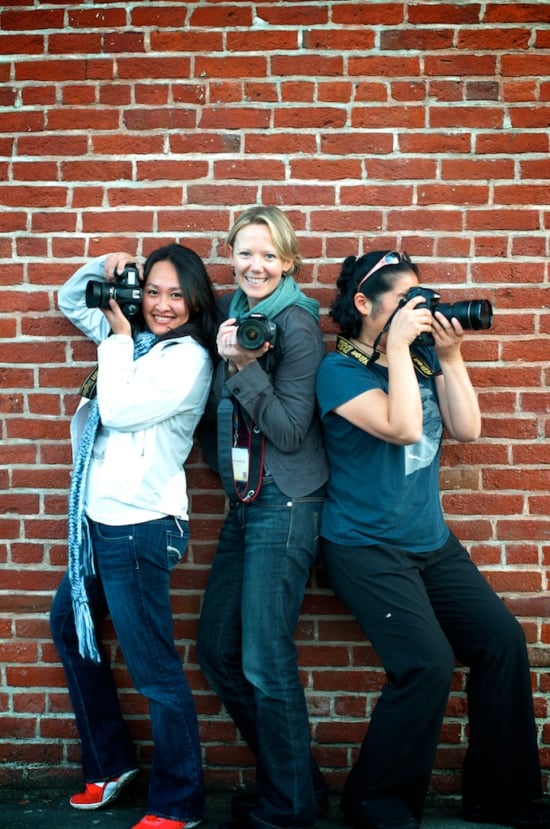 above- Diane, Brooke and Jen playing "Charlies Angels Photographers"
Above- Jen & Brooke playing papparazzi while Diane plays role of Ashlee Simpson donning black hair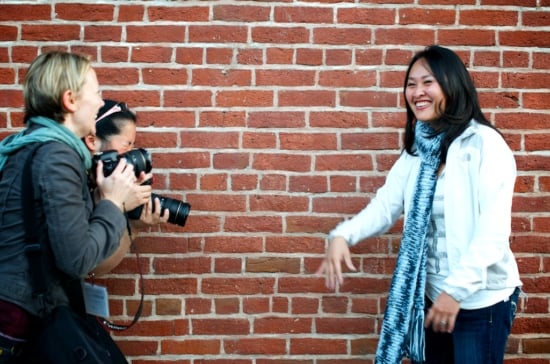 Diane – " Oh stop it you two! Ashlee Simpson doesn't come to Sonoma to learn about bbq! "
*******************************
Our accommodations were at Healdsburg Hotel — cozy, modern and just beautiful!
Lobby of Hotel Healdsburg
*******************************
In the evening, at Seghesio Vinyards, World Champion Pit Master Chris Lilly did a demonstration of his 12 hour injected pulled pork. A combination of water and apple cider was injected into pork shoulder, then allowed to smoke for at least 12 hours!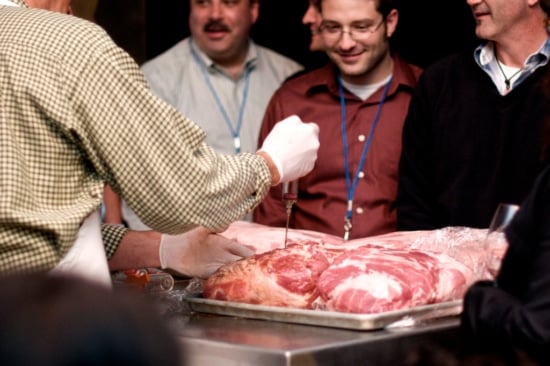 Big pork shoulder ready to be injected . Syringe needle is filled with a brine consisting of apple cider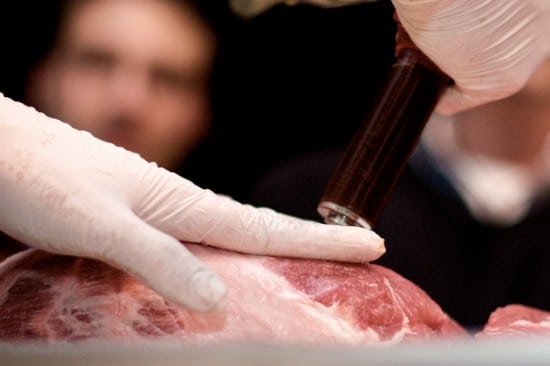 Chris injects brine into the pork shoulder. After brine injections, Chris lathers the pork shoulder with homemade bbq rub
The Next Day- Ambitious and *crazy* Chris Lilly woke up at 3 am to check on his pork. Obviously, no one woke up to join him! But the next day, what emerged from the bbq pit was what appeared to be a huge lump of charred pork. But after 12 hours in the pit, it was the BEST pulled pork ever! It was falling apart, melting at the slightest pressure of the hands! Nothing but juicy, tender meat all the way to the outer edges.
Chris Lilly still wide awake after a long night's bbq
below: after about 12 hours, Chris pulls the pork from the pit. The pork was melt-in-your-mouth and juicy, amazing! Cooking at low temperature created the juiciest and most flavorful pulled pork. That's why Chris is the Six-Time World Champion!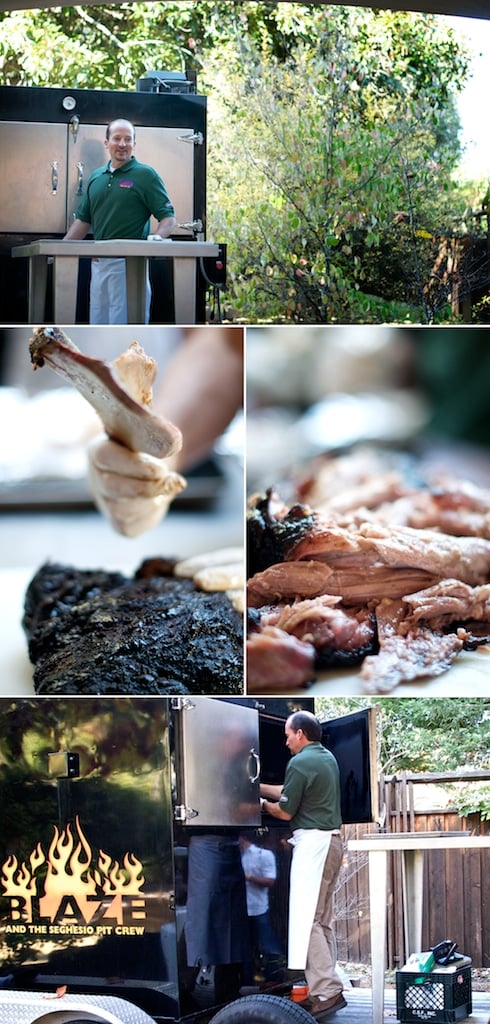 Everyone was fighting over Chris's amazing pulled pork, but luckily it was lunch time and the Seghesio family took wonderful care of us and had lunch ready in the beautiful courtyard of their family winery.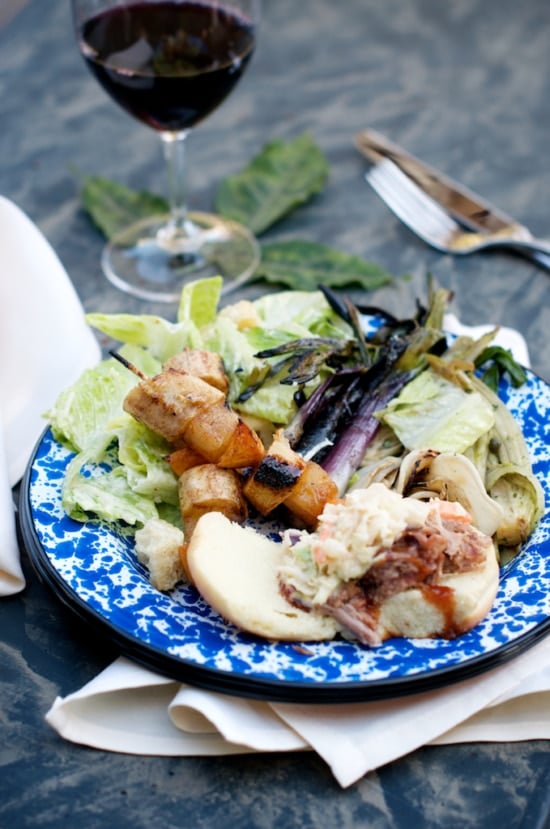 A show stopping lunch prepared by Seghesio Vinyards- highlighting Chris's pulled pork sliders and medley of seasonal vegetables paired with select Seghesio wines.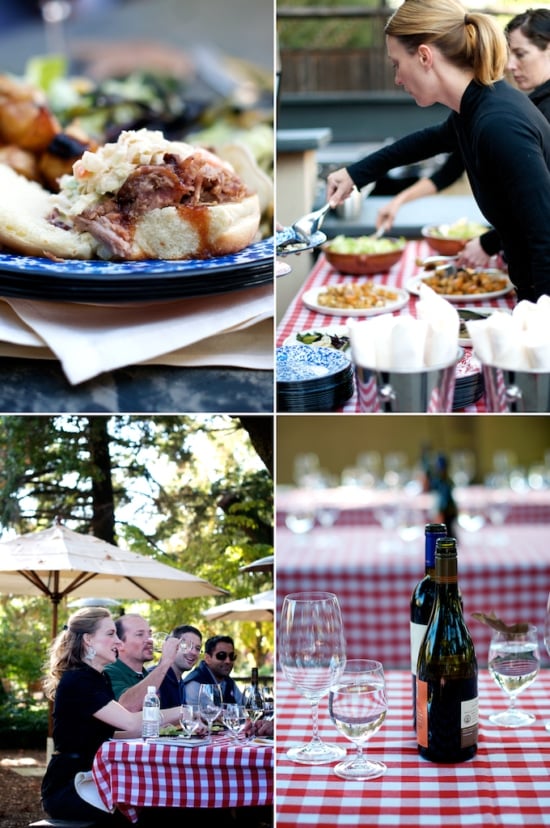 *****************************
Uncle Ed Seghesio, the Patriarch of Seghesio Family Vinyards, embraced all the guests into the family. His warm and touching stories of his families wine history had us laughing and even left some of us (Diane) in tears. Watch a great video about his beloved fig tree here.
Handsome Uncle Ed Seghesio
*****************************
The hospitality of the Seghesio family was unparalled. Enormous thanks to Pete, Kathy, Ted and Ed Seghesio for a fabulous family style dinners and hosting the rest of the Kingsford University demonstrations.
The Seghesio family hosted a wine blending class where everyone was able to blend their own personal bottle of wine!
Wine blending in the wine cellar. Above right – Cathy Seghesio and John of Food Wishes
Below – friendly staff who guided us through the wine blending.
******************************
BBQ Pizza demonstrations- Grilling classes aren't complete with out a lesson on pizza! Chris cooked up a wonderful Indonesian inspired pizza, complete with spicy toppings.
below: Chris Lilly demonstrated bbq pizza on an egg dome grill
********************************************
Finale! After Chris's pizza demonstration, the Seghesio family had another family style, finale feast in their wine cellar. They set up pizza grilling stations for the whole group to make custom pizzas. The smell of fabulous bbq pizza was in the air!
Plenty of great wine and bbq pizza making at Seghesio. If only school can always be this awesome!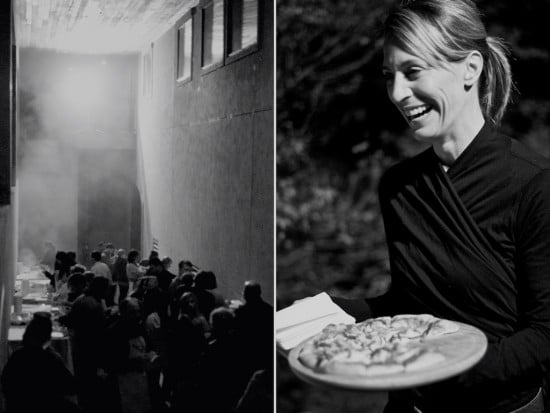 Making pizza at the winery. Everyone shared our different pizza creations with one another.
Final family style feast in the private cellar of Seghesio Winery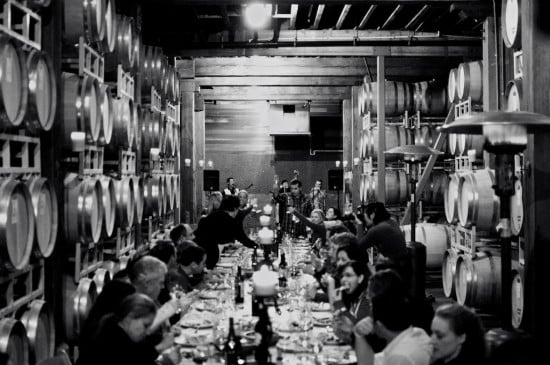 ********************************************
On this press trip, Kingsford brought us to their test facilities and shared what was going on behind the scenes at Kingsford. With arms folded (being a lump charcoal man) I listened with a skeptic's ear but an open mind. I have to say I was impressed. I haven't used briquettes since forever, but I must say that Kingsford has its act together.
Dedicated to creating the best product they can as well as reducing their carbon footprint, I wouldn't hesitate to reach for the blue bag anytime I'm out of my lump charcoal. I actually have tried out a couple bags since getting home and enjoyed using the Kingsford, especially when combined with some of our peach tree trimmings. Quick to light, giving off good heat with a nice, long burn time, and the briquettes gave a great flavor to our smoked turkey over Thanksgiving.
However I must confess that lump charcoal is still my first love. If I had to choose one fuel for my smoker & grill, I'd still stick with the lump charcoal I've been using over the past few years. It is what I'm used to, I love the heat it kicks off, I love the flavor, and I don't mind it's little quirks. Kingsford does have a lump charcoal, as well and their competition briquettes which I haven't tried out yet. Damn, more grilling. It's just pure torture.
Other than the one afternoon at the facilities, we didn't spend any time listening to pitches. They just wanted to put us in an environment where we would be inspired to light up and grill. And did they ever succeed. Especially by bringing in the BBQ pitmaster, Chris Lilly. Talk to Chris about barbecue and he gets that twinkle in his eyes and the passion starts flowing. That passion is incredibly infectious.
I make some bad ass pulled pork. Ask anyone who's been over to the house when we make it & they'll glisten over with joy describing how good it was. But after having the pulled pork that Chris made for/with us, I have to admit that I just had my ass kicked. His pulled pork was utterly phenomenal and this is a man I want to learn from.
From his early days at the iconic BBQ restaurant, Big Bob Gibson's, Chris would come in at 6:00 in the morning to work the pits even though he wasn't supposed to be there that early andit wasn't part of his duties. He loves bbq and is damn good at it. Always placing in the top at the barbecue competitions he entered, he too thought he had smoking nailed down. Until he tasted the master's victory pork who was beating him out of first place.
That taste inspired a revolution to his techniques which has since brought Chris up to the level of epic pitmaster. Even better than him being so good at barbecue, is the fact that he is happy and eager to share that knowledge and passion.
Here's a little taste of Chris' brilliance from his latest book, Big Bob Gibson's BBQ Book which we've adapted a bit to utilize our garden's herbs: grilled pork chops with an apple-cranberry maple glaze. It's perfectly sweet, a little sour, has nice tang from the inclusion of spicy brown mustard and also a bit of a back-shadowing of spice by the addition of a little cayenne. After chowing down on one (or three) of these chops I walk around licking the corners of my lips just like our dogs do after an extra especially tasty meal. Tastes so good you don't want the flavor to end.
The book, BTW, is easily the best BBQ book I've ever gone through. Chris' stories and tips, combined with the great recipes make this a must have for any BBQ affectionado. Seriously. It is frickin' brilliant.
Thank you to Kingsford University, the amazing hospitality of the whole Seghesio Family and everyone involved in making this trip so educational and mind-blowing delicious. Best of all, thank you to all the new friends that we've met and made over this trip! All opinions are our own.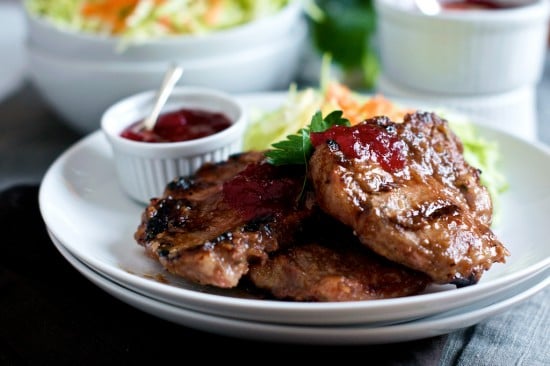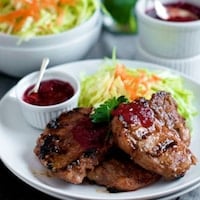 Grilled Pork Chops with Apple-Cranberry Maple Glaze Recipe
Adapted from Big Bob Gibsons BBQ Book by Chris Lilly.
The wonderful glaze alone is versatile and perfect on mashed potatoes! It's finger licking OMG good.
Ingredients
Brine
1 1/2 cups Apple Cider
1 1/2 cups Water
1/4 cup Sea Salt or Kosher Salt
1 Tablespoon Sugar
1 Tablespoon fresh cracked Black Pepper
1 Tablespoon fresh Thyme , minced
2 cloves Garlic , crushed
1 Bay Leaf
6 Bone-In Pork Chops or Boneless Loin Chops - (1" thick)
Glaze
1/2 cup Pure Maple Syrup
1/2 cup Cranberry Sauce
1/2 cup Applesauce
2 Tablespoons fresh Tangerine Juice (optional)
2 Tablespoons Spicy Brown Mustard
1/4 teaspoon Sea Salt or Kosher Salt
1/4 teaspoon fresh cracked Black Pepper
1/16 teaspoon Cayenne Pepper
Instructions
In a large bowl, combine all of the brine ingredients (apple cider, water, salt, sugar, pepper, thyme, garlic, and bay leaf) and stir until the sugar and salt are dissolved. Add in chops, settling them in so they are all covered, then cover bowl with plastic wrap, or combine brine and chops in a resealable plastic bag. Place in fridge for 12-24 hours tossing chops once or twice.

In a medium sauce pan, combine all glaze ingredients (maple syrup, cranberry sauce, applesauce, tangerine juice, mustard, salt, pepper, and cayenne pepper) and gently heat until medium warm. Remove from heat, and set aside 1/2 cup of the glaze for final serving.

Heat your grill for direct heat. Remove chops from brine, and grill about for about 8 minutes on each side, liberally basting glaze on both sides during the last 3 minutes of cooking. Add the reserved glaze on the finished chops or serve in a bowl for people to use individually.
Nutrition Information per Serving
Calories: 450kcal, Carbohydrates: 40g, Protein: 36g, Fat: 16g, Saturated Fat: 5g, Trans Fat: 1g, Cholesterol: 117mg, Sodium: 4978mg, Potassium: 765mg, Fiber: 1g, Sugar: 35g, Vitamin A: 114IU, Vitamin C: 5mg, Calcium: 88mg, Iron: 2mg
We are a participant in the Amazon Services LLC Associates Program, an affiliate advertising program designed to provide a means for us to earn fees by linking to Amazon.com and affiliated sites.