Harvest Pies: Hand-Cut Leaf Pie Designs & Pie Dough Recipe
Learn how to make hand-cut leaf pie designs inspired from Fall leaves. Our harvest pie crust designs are super fun. And delicious.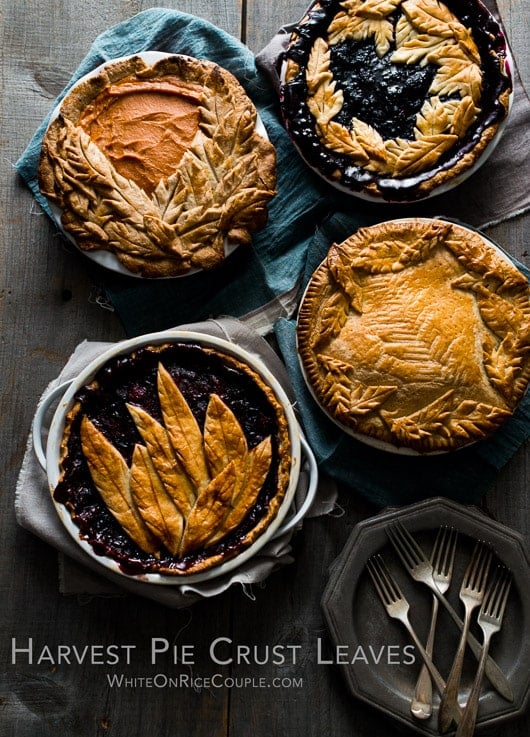 Pie season is a year round event, but there's something very special about fall and winter pies. The warm and comfort of making pies for all our holiday tables and gatherings inspires us to be creative. We've been wanting to share how we make these harvest pie designs with you all so you can see why we spend a little more time when crafting each Thanksgiving and holiday pie. Like we've mentioned before Autumn is one of our favorite times of year and our search for all the leaves changing color is a yearly event. We're taking our love of Autumn leaves to our obsession with pies. It's a great thing, this combo love of leaves and pie. Let's dive in.
Video: Holiday Hand-Cut Leaf Pie Design:
Learning how to make leaf pie designs is so easy and all it takes is a great pie dough recipe, a batch of your favorite filling and some creativity. The creativity part is carving out leaves in all shapes and sizes and laying them out that look beautiful to you. That's really it. Only thing to keep in mind is that as you pile on the pie dough leaves in layers, the more baking time you'll need to make sure the leaf crusts cook through.
The more leaves you add, the more pie crust you'll get. So you can decide how many leaves you want to eat!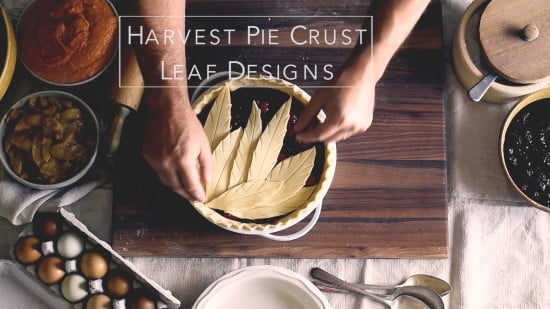 How To Make Hand-Cut Leaf Pie Designs Tutorial:
Our first pie was a large leaf pie design. If it's your first time, start with larger leaves. It's easier. Start by laying the base pie bottom dough, then crimp the sides.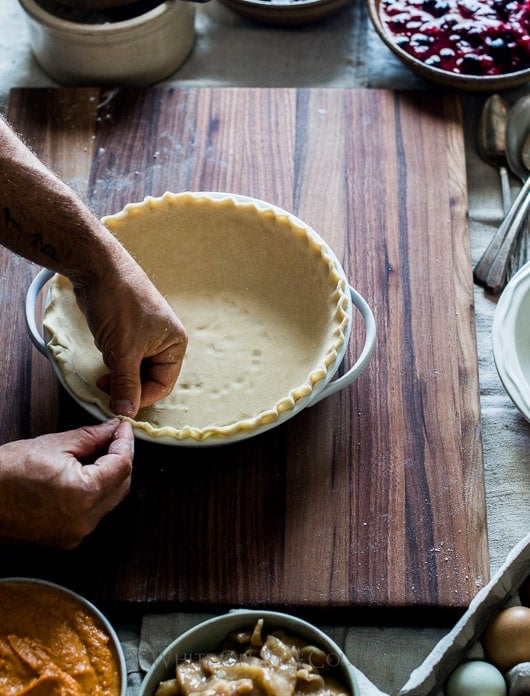 Using a small paring knife, start by carving out the shape of leaves. Maximize your pie dough by cutting out the leaves as close to each other as possible.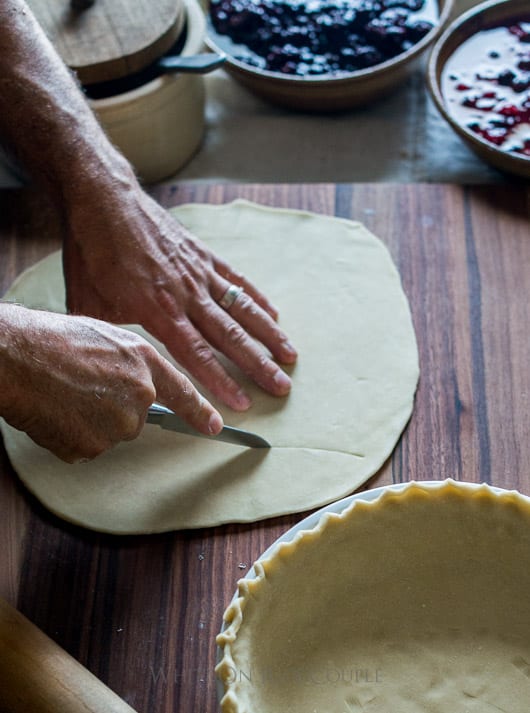 Gently peel away the excess dough. You can save the dough and roll out again to make more leaves.
score the center of the dough leaves to create the leaf center-stems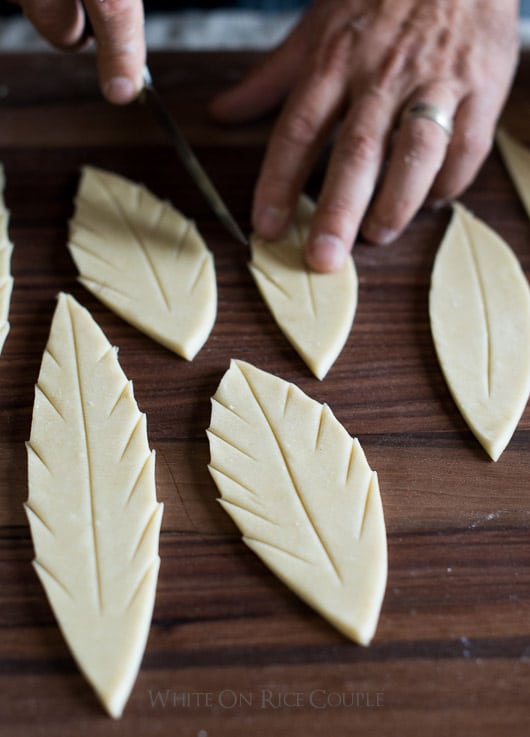 score the edges of the dough to create the leaf textures on the edges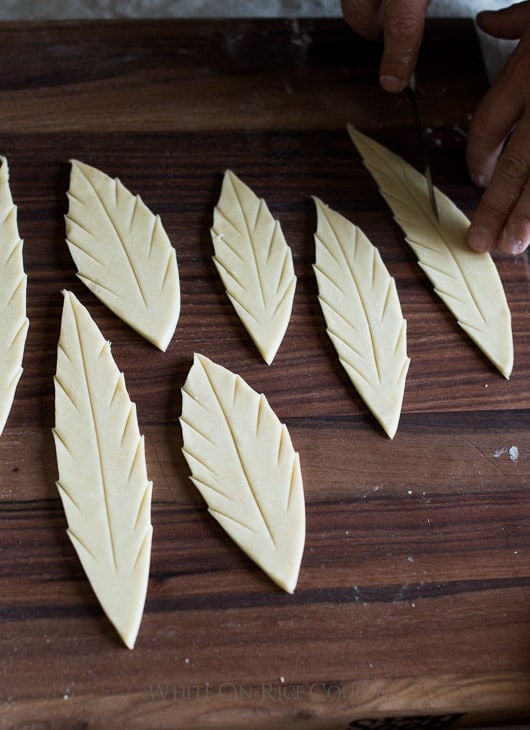 lay the leaves across the pie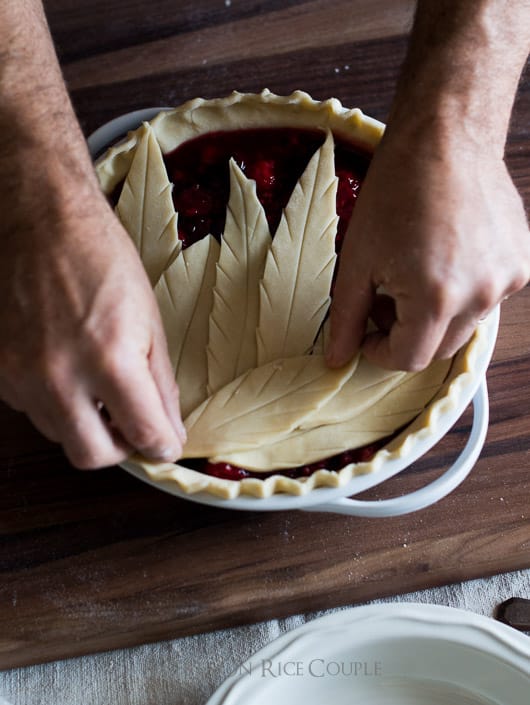 brush the dough with egg wash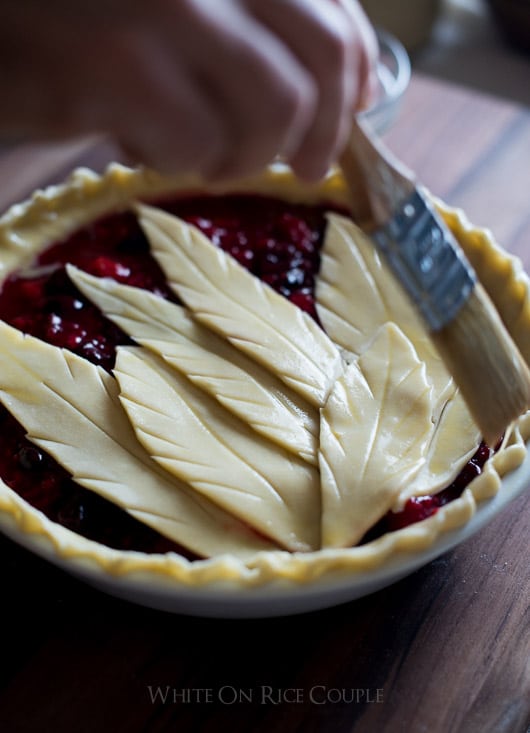 finished large leaf pie design and it's all hand-cut!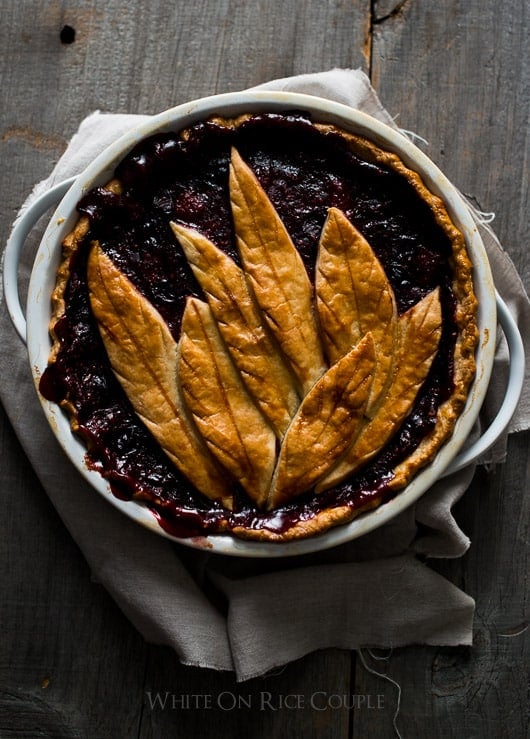 For our second pie, we made a double crust design apple pie. Lay the base dough layer then pinch off the excess edges.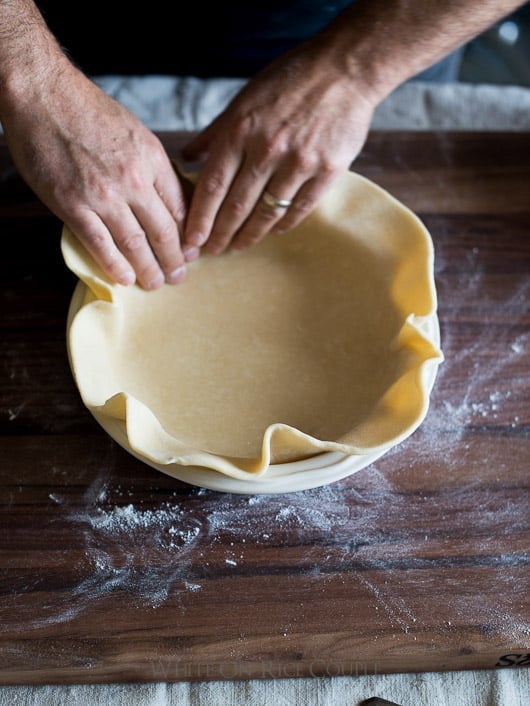 use the back of a fork to press into the dough and make a textured design
pierce air holes in the dough to help during baking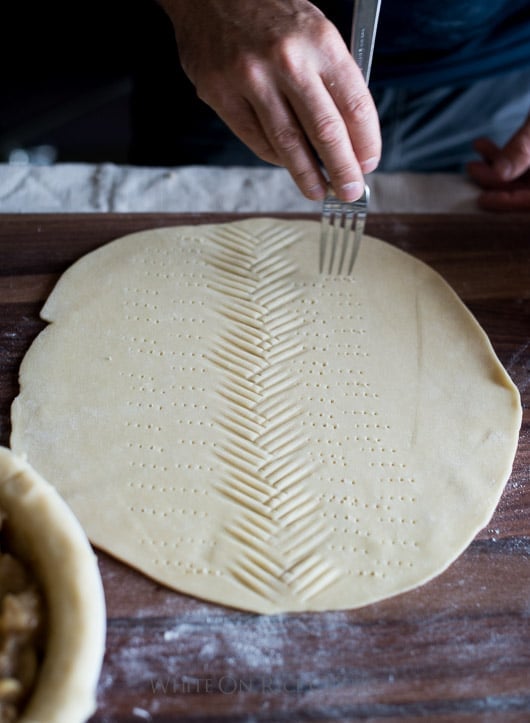 have fun and be creative with different designs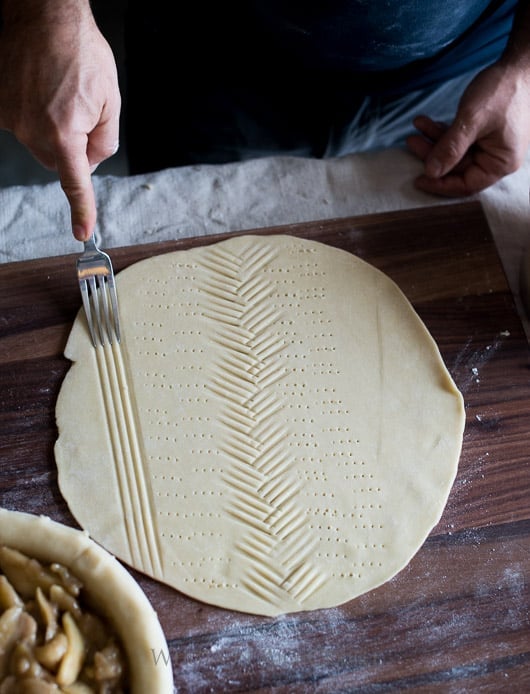 lay dough on pie, press on the edges of the pie and remove excess dough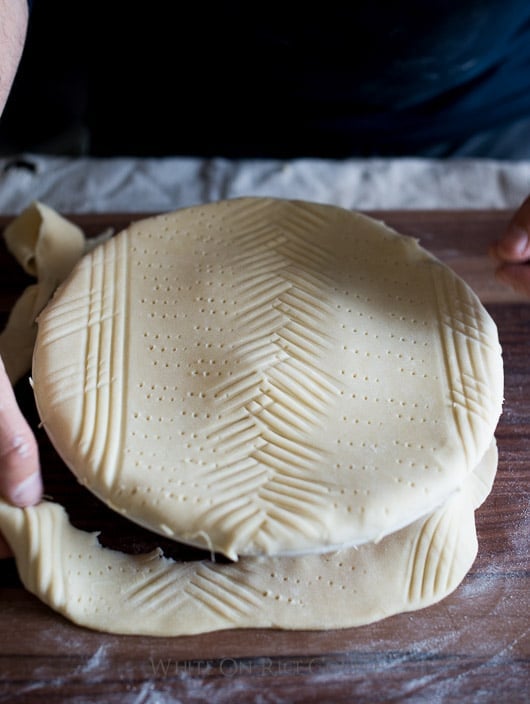 make smaller leaves and lay them around the edges of the pie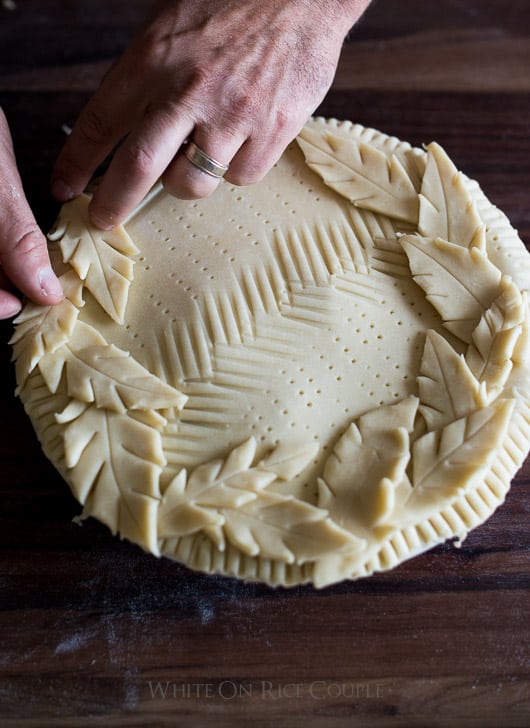 ready to share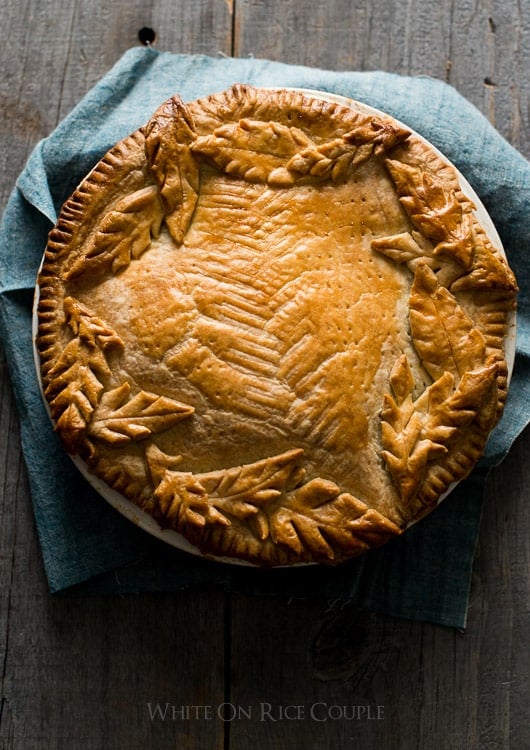 For the next pie we made different leaf shapes, maple leaves, & laid them around the edges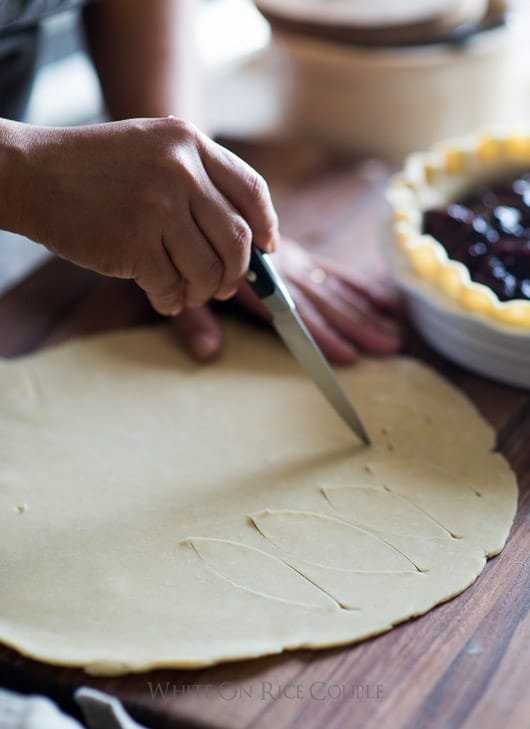 this pie was voted a favorite by friends and family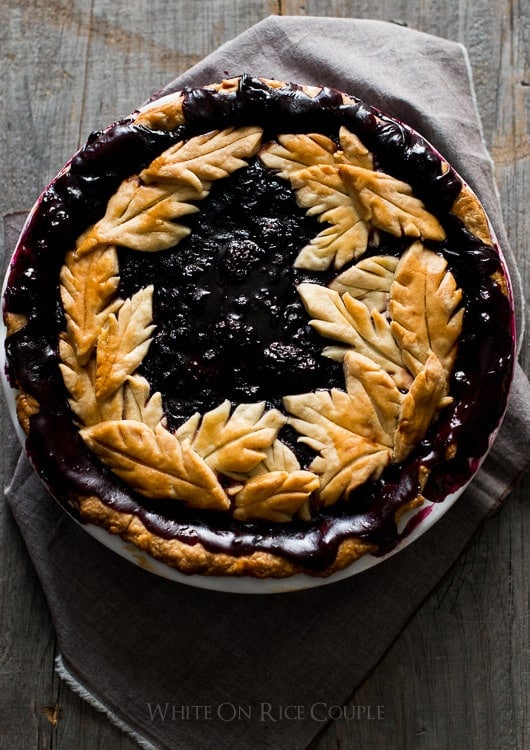 for the last pie, we made a whole wheat pumpkin pie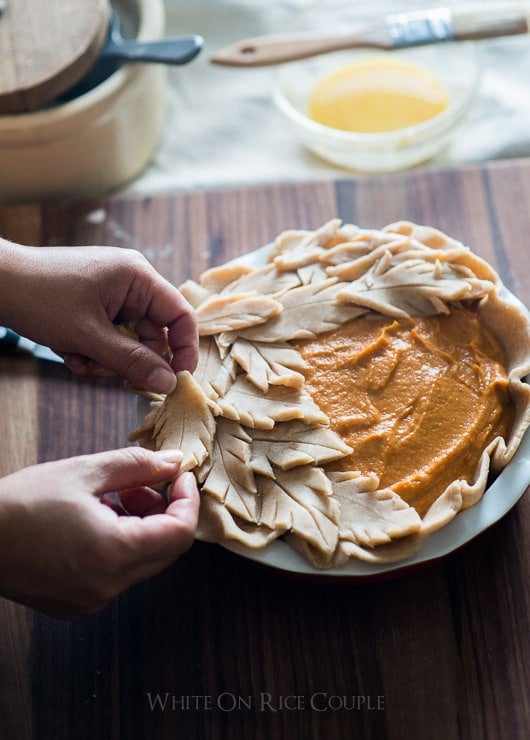 not your regular pumpkin pie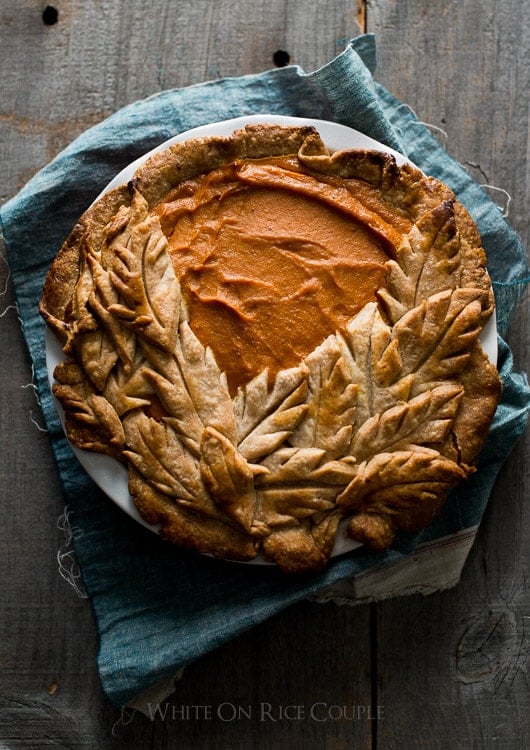 There you have it friends, some inspiration to making your next pie extra, super-duper special. Hope you enjoyed out tutorial on how to make leaf pie designs and go crazy in the kitchen this Holiday season!
Have fun and let us know how your pies turn out!
hugs,
diane and todd
Many of you on our social media community asked about using leaf cookie cutters instead of cutting them free-hand. Sure, leaf shaped cookie cutters can work great too. Here's some online products we found and if you purchase them through these amazon affiliate links, we'll receive a few cents of commission. Thanks!
Fox Run pie decorating kit has some cute cutters beyond the leaves including acorns, holiday trees and other cut-outs to take you outside the holiday design.
Love the little apple cut-outs. How about a special pie decorated with apple crusts for Teacher Day? Teachers would love it.
NY Cake Leaves set has 4 gorgeous leave designs. That should be plenty of options to create a plethora of creative pies.
These leaf cut-outs look very Fall and Autumn inspired as well, so they'll be perfect for Thanksgiving and the holiday season. The pink leaf cut-out looks universal enough to even look great outside of the holidays.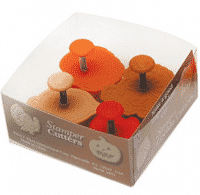 R & M International has the leaves, especially a beautiful oak leaf, that you're looking for. But they also have a cut pumpkin cut-out, which is perfect for Halloween.
Included in the collection are Turkey cut-outs, which could be a nice mix with your leaves for your Thanksgiving pies.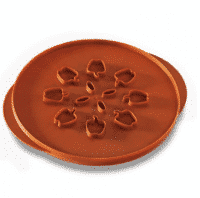 Nordic Ware has these easy-to-make reversible pie crusts. They look perfect for those who like to have more crust on their pie. Simple and elegant.
The apple and leaf designs are perfect for Autumn and Fall inspired pies.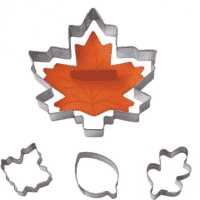 Wilton's simple yet useful cut-out have the basic but beautiful leaf set. The maple leaf is gorgeous and when spread across a pie can be stunning.
When using these, make sure to still use our technique of scoring the middle and edges of the leaf crusts to give texture and more shape. Love these ones!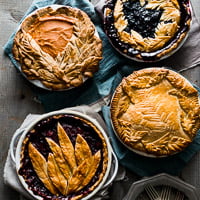 Basic Pie Dough Recipe
This is our go-to basic pie dough recipe. We'll use it in all different types of pies.This dough amount makes enough for two 9-inch pie doughs. Either for two bases or for one base and one top, either cut decorative pieces or for a double-crust top. If you want to add decorative cut pieces on top of a double-crust pie, you'll need to make extra dough. We'll usually make a double recipe worth of dough for those type of pie designs and save the extra dough for future use. Excess dough can also be kneaded together and rolled out for decorative cuts too. The dough will need to rest for about 15 minutes after kneading to relax and it will not be as tender, but if it just for decorative pieces, that usually isn't noticeable.Makes Two 9-inch Pie Doughs. Nutrional Values for One Dough.
Ingredients
2 1/2 cups (310g) all-purpose flour
1 cup (2 sticks or 227g) cold, unsalted butter , cut into 1/2-inch (12mm) pieces
2 teaspoons (10ml) sugar
1 teaspoon (5ml) kosher salt
1/2 cup (120ml) cold water (you may not end up using the full amount)
egg wash (1 egg beat with @ 2 tablespoons water), for brushing crust
Instructions
In a bowl, pinch together the flour, butter, sugar, and salt with your fingertips until most of the big chunks of butter are flattened or broken up and there is no remaining dry flour sections.

Incorporate the enough of the cold water into the flour until the mixture binds together and forms a rough ball. Knead the ball just until the dough begins to become roughly smoothish ball. Don't overwork the dough or else it will become tough.

Divide the dough ball in half and then roll each half into a ball, and then flatten into a disk. Wrap in plastic wrap and chill for at least 30 minutes (can be chilled overnight or frozen for future use).

Use as directed in your pie recipes. Brush with egg wash before baking.
Nutrition Information per Serving
Calories: 1398kcal, Carbohydrates: 123g, Protein: 17g, Fat: 94g, Saturated Fat: 59g, Trans Fat: 4g, Cholesterol: 244mg, Sodium: 1181mg, Potassium: 195mg, Fiber: 4g, Sugar: 4g, Vitamin A: 2836IU, Calcium: 53mg, Iron: 7mg
This recipe and tutorial was originally published in 2015 and re-published in 2019 with updated video.
We are a participant in the Amazon Services LLC Associates Program, an affiliate advertising program designed to provide a means for us to earn fees by linking to Amazon.com and affiliated sites.