Baked Stuffed Turkey Breast with Bacon, Mushroom, Kale/Spinach

Easy Baked Stuffed Turkey Breast
Stuffed turkey breast for dinner has been a favorite meal because it's so easy to prep ahead of time. Everything about a roast turkey breast roll is perfect because it's low carb, easy to make and oh so delicious. We'll cook the filling and stuff the turkey ahead of time. Our filling is a combination of savory parmesan cheese, bacon, mushrooms, kale and/or spinach. The flavors are fantastic together! When we get home from a long days work, we just bake off the stuffed breast and dinner is cooking while we un-pack our camera bags and wind down with a glass of wine. Often times we'll even have a green salad all ready to go so dinner is crazy easy to prepare.
Video: Baked Stuffed Turkey Breast Roll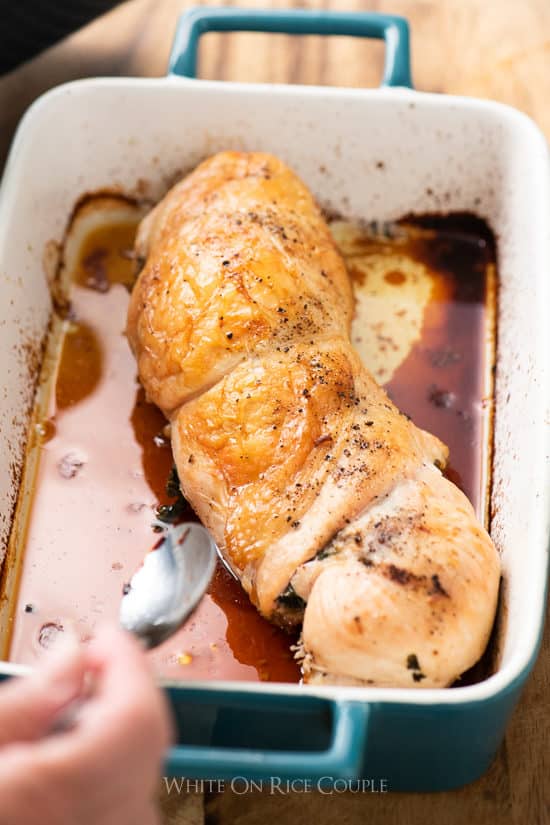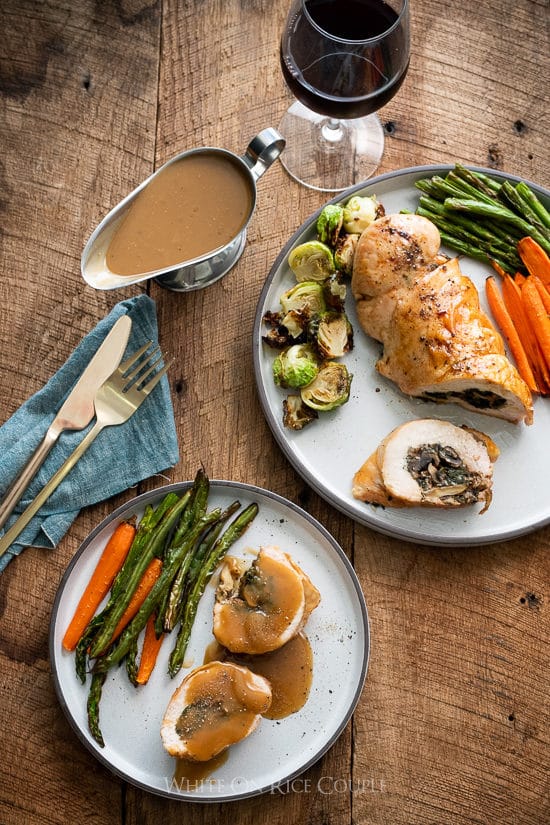 Better Than a Whole Turkey
The best part about cooking a small turkey breast is for smaller portions, especially when you're cooking for 2-3 people. Often times during the Holidays everyone gravitates towards the whole turkey. But if you're short on time or really only needing to cook for 2-3, then this turkey roll is absolutely perfect. With the delicious filling, it's a meal-all-in-one and all you need to to add a quick green salad. And of course, don't forget the glass of wine because turkey breast pairs perfectly with wine!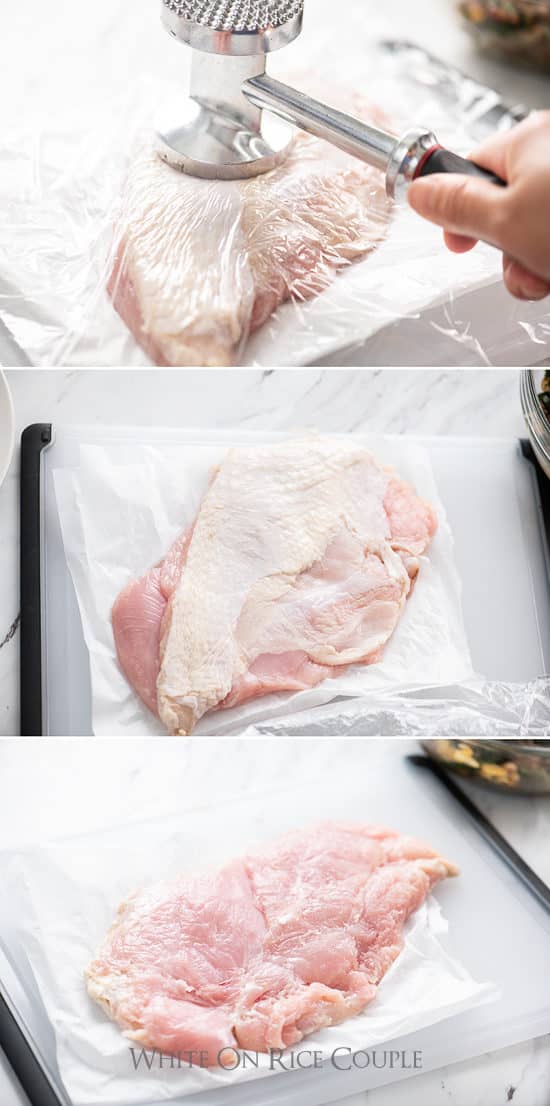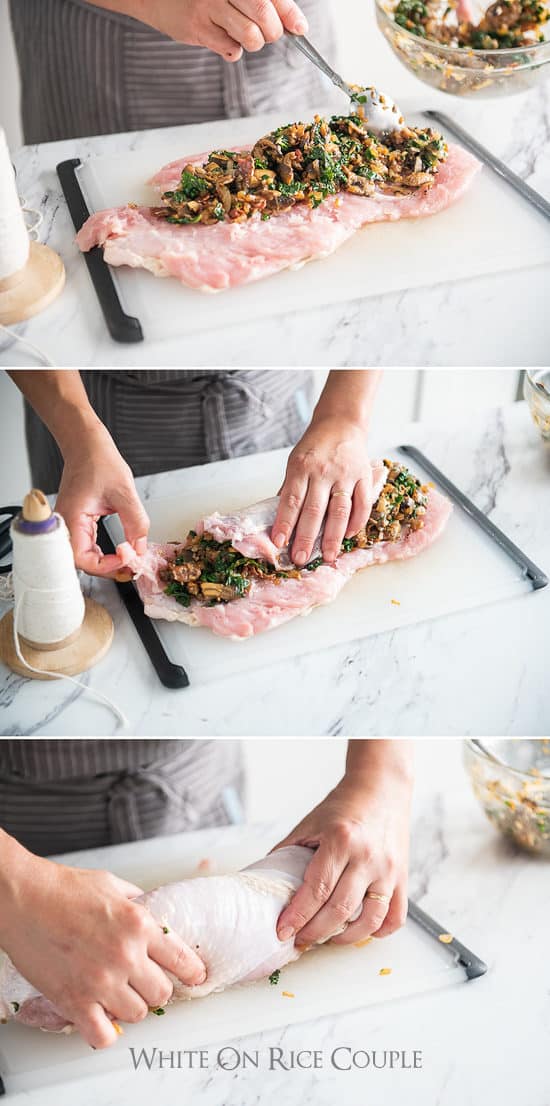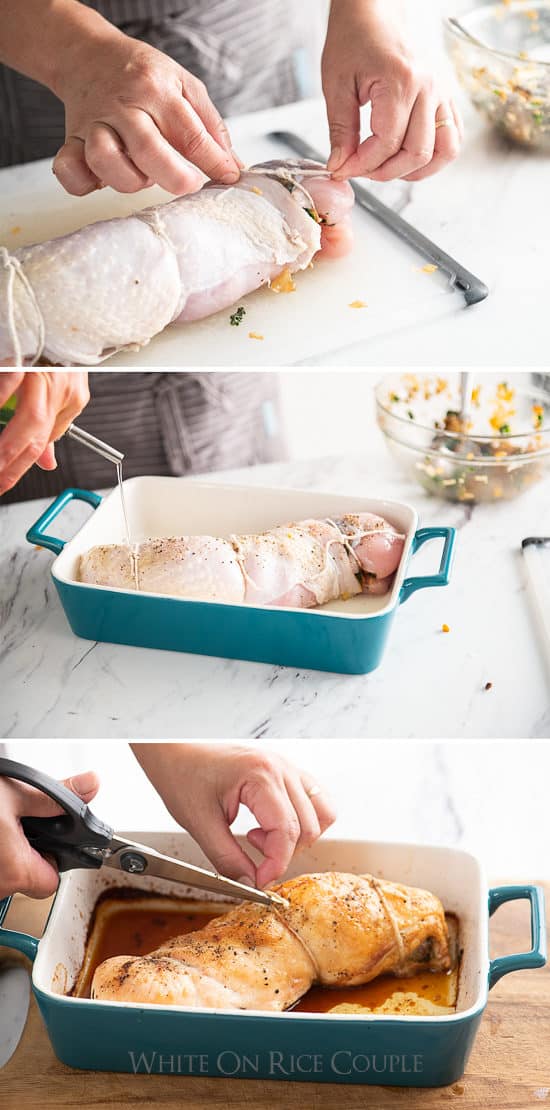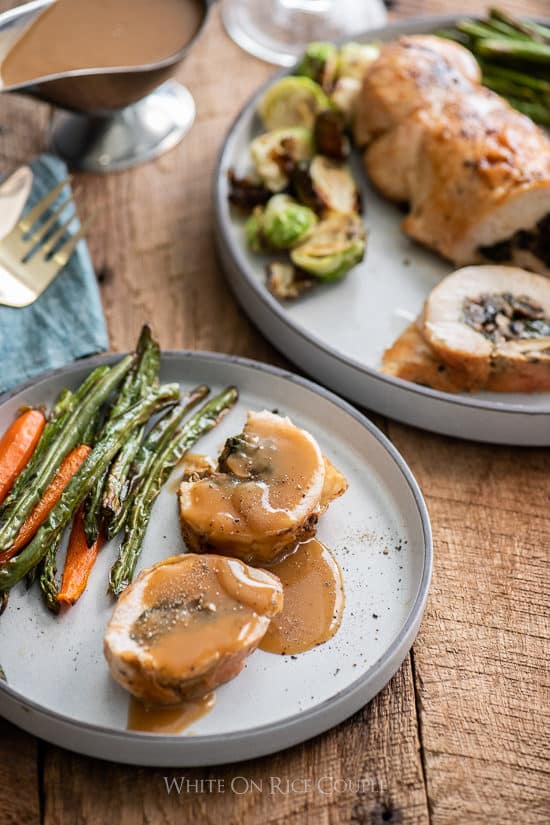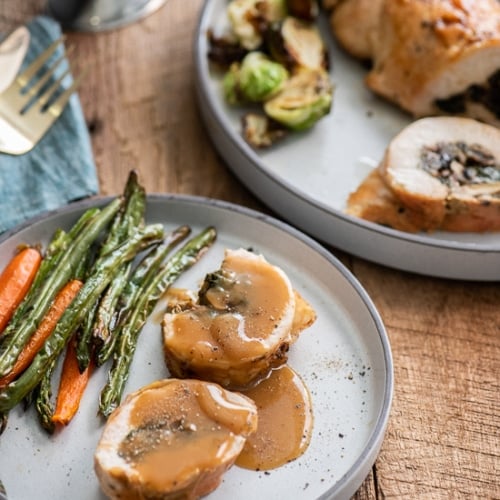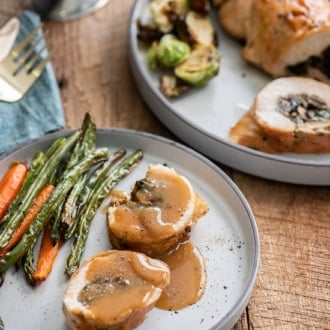 Baked Stuffed Turkey Breast w/ Bacon, Spinach or Kale & Parmesan
Based on two (1.5 pound) deboned turkey breasts. If not using bacon, replace with 2 Tablespoons oil or butter. If you can, use a skin-on turkey breast. It helps keeps the meat moist during cooking. A kitchen thermometer is super useful to check temperature to ensure the turkey is cooked. Please read our written write up for all the helpful step-by-step photos.
Ingredients
FILLING:
4 slices bacon , cut into bite sized pieces
4 oz. mushrooms , sliced
3 medium shallots , diced (or 1/2 small onion)
2 cloves garlic , minced
2 cups chopped fresh kale or spinach (if frozen use 1 cup, thawed, then squeeze out water)
1/2 Tablespoon fresh thyme, oregano or rosemary (or 1/2 teaspoon dried)
1/2 tablespoon fresh chopped sage , or 1/4 teaspoon dried ground sage
1/2 teaspoon kosher salt , or to taste
1/4 teaspoon black pepper , or to taste
1/4 cup grated parmesan cheese , or preferred cheese
TURKEY
Two 1.5 lb. (680g) deboned turkey breasts , preferably skin-on
Salt , to taste
Black pepper , to taste
Instructions
MAKE THE FILLING:
Heat pan over medium-high heat and then add bacon pieces. Cook until the bacon starts to become crispy & the fat releases, about 2-3 minutes. Stir in the shallots, garlic and mushrooms. Cook until mushrooms shrink and release moisture, about 2-3 minutes.

Add kale or spinach and sauté until soft or wilted, about 1 minute. Add the herbs (any combination of thyme, oregano, rosemary, sage). Season with salt and pepper and stir. Remove pan from heat.

Stir in parmesan and set filling aside.
PREPARE THE TURKEY:
Preheat oven to 375°F.

Place plastic wrap on top of each turkey breast and pound them thinner and into an even thickness, about 1/2-inch thick.

Place the pounded turkey breast skin side down. Lay the filling on top of turkey breast. Fold one edge of turkey breast over to create a roll. Tie with kitchen string to hold the shape.

Season the top of the rolled turkey breast with additional salt and pepper to taste. Place the turkey breast skin-side up in the baking pan.

Bake for about 1 hour 15 minutes, or until internal temperature of turkey reaches 165°F at the turkey meat's thickest part. Allow to rest for about 5-10 minutes, then slice and serve.
Nutrition Information per Serving
Calories: 251kcal, Carbohydrates: 4g, Protein: 41g, Fat: 8g, Saturated Fat: 3g, Cholesterol: 102mg, Sodium: 625mg, Potassium: 592mg, Fiber: 1g, Sugar: 1g, Vitamin A: 1755IU, Vitamin C: 22mg, Calcium: 93mg, Iron: 2mg
You'll love our Stuffed Roast Turkey Breast with Sausage Stuffing for Thanksgiving and Here's all our Turkey Recipes Here.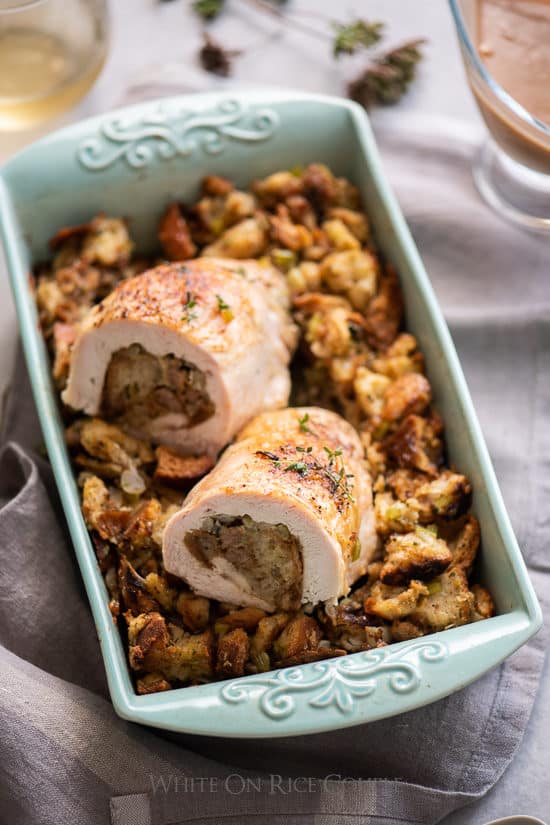 Here's an Air Fryer Stuffed Turkey Breast that we created for Best Recipe Box:
More low carb recipes here at Eat Better Recipes
We are a participant in the Amazon Services LLC Associates Program, an affiliate advertising program designed to provide a means for us to earn fees by linking to Amazon.com and affiliated sites.