Stuffed Roast Turkey Breast with Sausage Stuffing

Easy Stuffed Roast Turkey Breast
Stuffed roast turkey breast is the perfect dish for a weeknight dinner, Thanksgiving or anytime of year. The turkey roll is so juicy and satisfying, you'll want to make this more often for family supper. Filling the turkey breast with a classic sausage stuffing screams out as a super easy Thanksgiving meal. If you're cooking for two, this stuffed turkey breast roll fulfills and satisfies a simple Thanksgiving dinner. It's not fussy or complicated, but it is delicious. Prep the stuffing and stuff the turkey a day ahead and dinner is served the next day when you roast the turkey breast.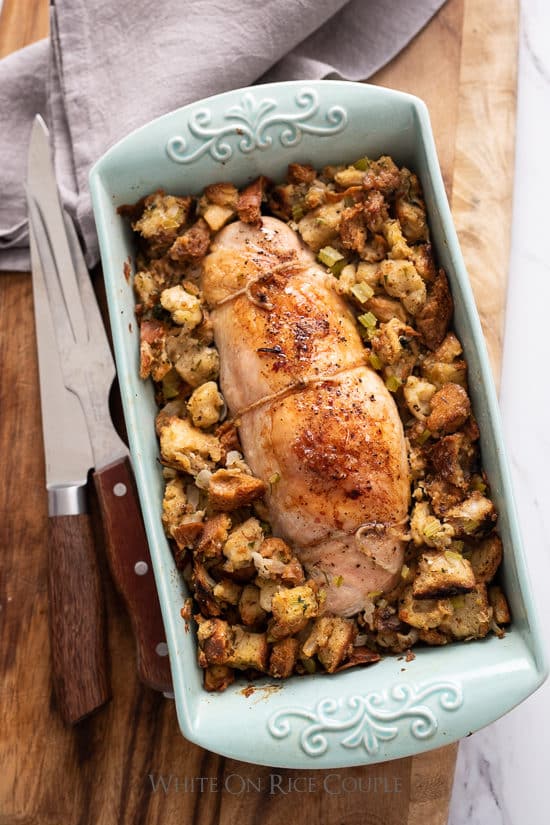 Video: Stuffed Roast Turkey Breast Recipe with Sausage Stuffing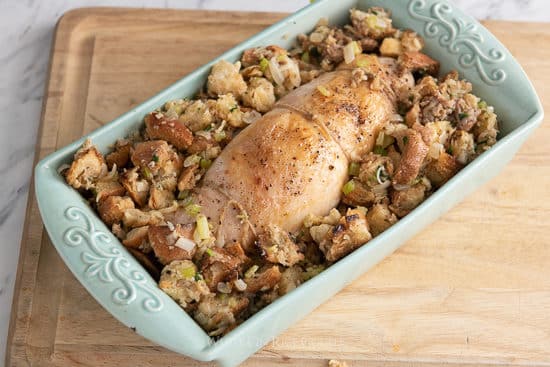 Better Than a Whole Turkey
The best part about cooking a stuffed turkey breast roll is when you're cooking for 2-3 people. It's also great when you want to serve smaller portions. Most of the time during the Holiday meals, everyone gravitates towards the whole turkey. But if you're short on time or really only needing to cook for 2-3, then this turkey roll is absolutely perfect. With the classic sausage stuffing filling, it's a meal-all-in-one. And of course, don't forget the gravy because it's always better with more gravy!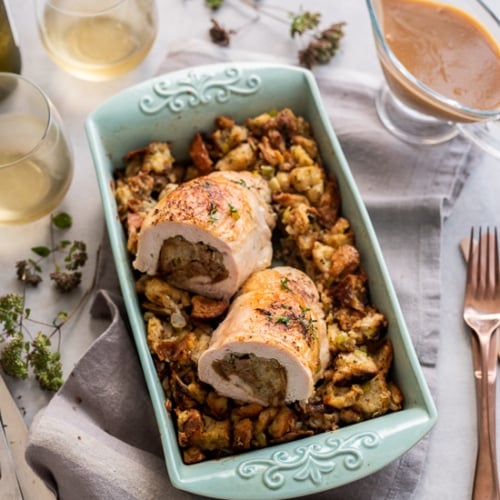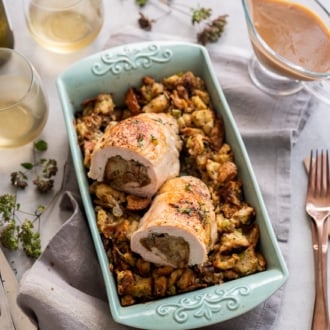 Roasted Stuffed Turkey Breast with Bread Stuffing
The stuffing is enough to stuff two (3 pound) turkey breasts with maybe a little leftover to cook on the side. If you're only cooking one turkey breast, then you'll have plenty of stuffing leftover to cook as a small side dish.
Ingredients
Stuffing Filling:
2 tablespoons (30 ml) olive oil or butter
2 stalks celery , diced
1/2 medium onion , diced
3 cloves garlic , minced or crushed
8 ounces (227 g) uncooked Italian sausage (about 2 links), casings removed
1 Tablespoon (15 ml) fresh chopped thyme, oregano or rosemary (or 1 teaspoon ground & dried herbs)
1 Tablespoon (15 ml) chopped fresh sage , or 1 teaspoon dried ground sage
1/4 cup (60 ml) fresh chopped parsley
1.5 cups (360 ml) chicken broth , or turkey broth
8 cups (1.9 l) croutons or dried stuffing cubes cut into 1/2-inch pieces
1 large egg , beaten
1/2 teaspoon (2.5 ml) kosher salt , or to taste
1/2 teaspoon (2.5 ml) black pepper , or to taste
Turkey:
3 pound (1.36 kg) turkey breast , de-boned and skin-on
salt , to taste
black pepper , to taste
Instructions
Make Stuffing: Heat pan over medium heat, and then add the olive oil, celery, onion, and garlic. Cook until onions and garlic are softened, about 1 minute. Add the sausage, breaking up the sausage with your spatula and cook until sausage is browned.

Add herbs (thyme, oregano, or rosemary), sage, parsley, salt and pepper. Cook for another minute until the spices are combined. Add the broth and then remove from heat.

Mix in the croutons or stuffing cubes and egg into the sausage mixture until everything is combined well. Set aside.

Roll & Bake Turkey: Preheat oven to 375°F.

Place plastic wrap on top of each turkey breast and pound thinner into an even thickness, about 1/2-inch thick.

Place the pounded turkey breast skin side down. Lay the stuffing on top of turkey breast. Fold one edge of turkey breast over to create a roll. Tie the turkey breast to hold the shape.

Season top of turkey breast roll with additional salt and pepper. Place the turkey breast roll in a baking dish skin-side up. (make sure the baking dish is large enough to fit the remaining stuffing - you won't add it yet, but will after the turkey breast roll bakes for a bit).

Roast the turkey breast roll for 45 minutes. Remove from oven. If there's any extra juice, base the top of the turkey with the juices. Place the remaining stuffing around the turkey. Return to the oven and continue roasting for another 30 minutes, or until internal temperature of turkey reaches 165°F at turkey meat thickest part. Allow to rest for about 5-10 minutes, then slice and serve.
Nutrition Information
Calories: 444kcal, Carbohydrates: 24g, Protein: 46g, Fat: 18g, Saturated Fat: 5g, Cholesterol: 140mg, Sodium: 1093mg, Potassium: 622mg, Fiber: 2g, Sugar: 1g, Vitamin A: 317IU, Vitamin C: 9mg, Calcium: 77mg, Iron: 3mg
You'll love our Low Carb Stuffed Turkey Breast with Bacon, Mushroom, Kale/Spinach for Thanksgiving and Here's all our Turkey Recipes Here.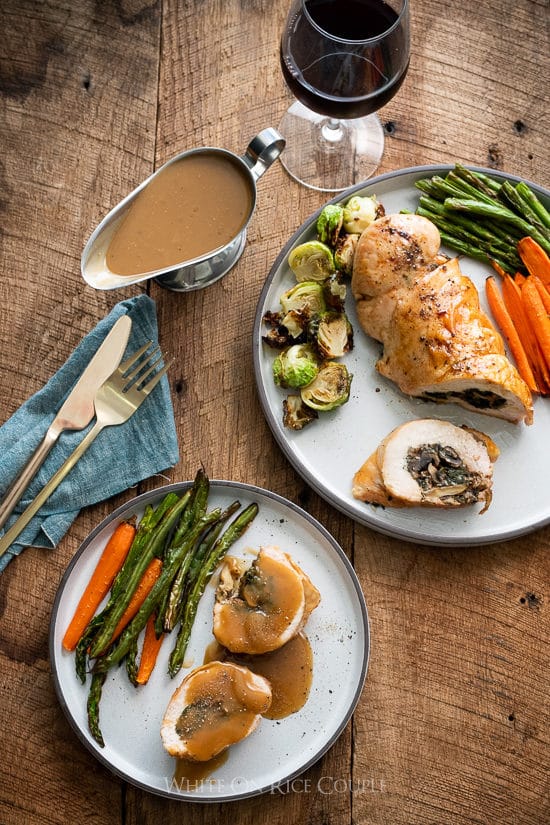 Try our turkey burgers recipe with rosemary. It's out of this world delicious because we use a secret ingredient. And check out these other Air fryer versions of the stuffed turkey. This recipe was originally published in 2019 and re-published in 2020 with updated photos.
We are a participant in the Amazon Services LLC Associates Program, an affiliate advertising program designed to provide a means for us to earn fees by linking to Amazon.com and affiliated sites.