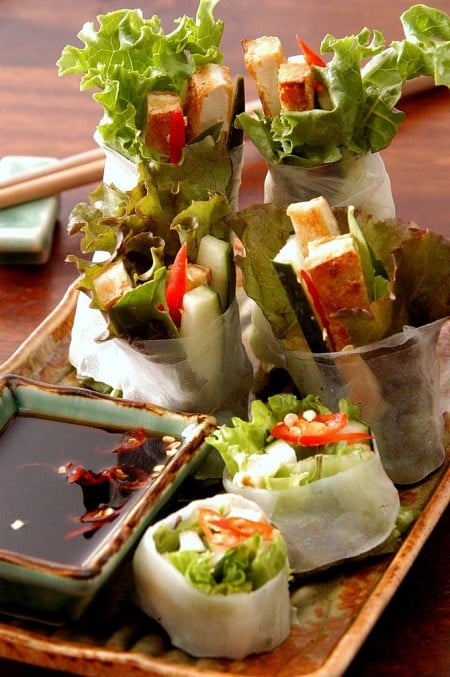 It's time to finally finish our Spring cleaning, even if we're a few months behind. Spring cleaning our pantry, fridge, freezer and emergency earthquake stash in Summer is called procrastination. But it's never too late, we suppose, to finish what we started in April. So it's been really gratifying and good for out pocket books (less grocery shopping runs) to use up what has be hiding and forgotten about behind our cabinets and refridgerator shelves. Before every meal, we've been trying to use up all our excess ingredients and left overs before we hastily run to the market. It's always so much fun to head out to the farmers market once or even twice a weeks to find out what's fresh from the farms, but after reading an informative article about food waste in the New York Times and Johnathan Bloom on, wastedfood.com, it's time to make some serious changes.
Crispy, curry crusted tofu. How can you not love tofu?
Both the NY Times article and Jonathan's blog remind us of just how much food is wasted in America. Without being political, we ask that you visit these sites because it's always empowering to be informed. Their insight helps raise awareness to our shameful food habits, but do offer helpful resources to how we can all start becoming more responsible and green. Here we are, trying our best to not contribute to those staggering statistics and become better consumers. With our garden veggies, lots of extra left overs food stashed away, we're eating up what we have till it's all finished and the pantry is empty of excess. To be honest, we've often been guilty of wasted food, sometimes buying and cooking more than we can eat. But we've been well aware of these occasions and that's why we've experimenting with dishes using leftovers more often.
plenty of garden thai basil for the rolls
If you've been reading our blog for a while, you'll know that these fresh Vietnamese Spring Rolls pop up at every one of our parties and our daily meals. Tonight's meal of fresh Vietnamese Spring Rolls are not only a ritual in our household, but the perfect way to use up left overs. Here's the inventory of some leftovers we were able to gather from the kitchen:
Exactly 2.5 pieces of firm tofu left over from Saturdays dinner. It's surprising that the tofu was still edible!
About 1/2 cucumber from….who knows were!
Two types of lettuce from Friday's bun rieu noodle soup ( that Mom made)
Opened package of rice paper wrappers that desperately needed to be eaten before they crumble with age
Garden full of Thai basil.
Voila! A Vietnamese Spring Roll dinner was served with in 30 minutes. Everything was already in the fridge from a previous meal or already growing in the garden and we didn't have to make a grocery run! We decided to quickly baste the tofu in a curry inspired marinade. This was something a little different than what we normally marinade with tofu and it was so delicious! Even delicious enough to get many of you tofu haters to cross to the Joy of Soy side! Yes, the tofu was awesome and it was lightly fried on the outside to a crisp texture and sliced thin for the rolls. Our garden basil was going crazy too to we plucked a couple of sprigs of Thai Basil and added them to the rolls along with mom's left over lettuce and refreshing cucumbers for crunch. If you're calorie counting, this is the perfect dish. All the ingredients are low in calories and literally, almost fat free. The only fattening indulgence in the Vietnamese Spring Rolls is the wee, itty, bitty amount of oil needed to crisp up the tofu. There you have it, a dish made from left overs that is healthy, fresh and delicious. The simple garlic/soy dip is an every day dip for us too and it's just mild enough to not overpower the curry flavored tofu and the freshness of the basil. Vietnamese Spring Rolls are the perfect vegetarian meal!
springrolling 101
More appetizers that you might enjoy
Curry Tofu and Basil springroll Recipe
Yield: Serves 2-4
Total Time: 1 hour 30 Minutes
Ingredients:
Ingredients for Springrolls:
1 pkg of firm tofu
1/2 cup peanut or vegetable oil
1 Tablespoon curry powder
1 teaspoon cumin
2 cloves garlic
5 table spoons soy sauce
2 teaspoons salt
2 teaspoons fresh ground black pepper
1 teaspoon sesame oil
lettuce
fresh thai basil
cucumbers
rice paper
Garlic Soy Dip Ingredients
1-2 crushed garlic cloves (or finely minced), but crushed garlic really brings out the flavor.
1 crushed thai chili
1/2 squeezed lime (or about 2 Tablespoons)
1 Tablespoon sugar
1 teaspoon rice vinegar (optional)
1/4 cup soy sauce
2 Tablespoons water
Directions:
Directions for Springrolls:
Drain Tofu and blot dry with paper towels to remove excess moisture. Slice into about 1/4 " pieces.
Wash basil, lettuce and cucumbers. Slice cucumbers into matchstick sizes.
In large plastic freezer bag, combine crushed/minced garlic, vegetable oil, curry powder, cumin & soy sauce, salt, pepper and sesame oil. Mix the marinade well, then add slices of tofu in bag. Lay tofu slices in gently on top of each other so that they don't break. Make sure all marinate coats each slice of tofu.
Let marinade for at least 1 hour or until all tofu slices soak up the marinade.
Heat up frying pan. Do not add oil to the pan because the tofu is well oiled. Fry slices of tofu until both sides are golden brown with a nice firm crust.
Allow tofu to cool, then slice into 1/4 " strips.
In large bowl, fill with warm water. Quickly dip each rice paper in warm water for about 2-3 seconds.
Place wet rice paper on work station and follow rolling instructions here, atSpringrolling 101. Make sure rice paper is completely hydrated and softened before rolling.
Garlic Soy Dip Directions
Mix all ingredients together well, making sure sugar dissoloves. Add slices of chili on top for garnish and extra spice joy!
Serve with springrolls.
Hello! All images & content are copyright protected. Please do not use our images without prior permission and do not re-publish this recipe. Simply link back to this post for the recipe. Thank you.
Recipe Note for Salt: All recipes containing salt are based on kosher or sea salt amounts, not table salt. If using table salt, reduce the amount used to taste.