A new blogging event has just launched and this time, it's a fun, free for all celebration of Summer's bounty! Started last Summer by Margaret Roach of Away to Garden and Deb Puchalla, which was called Food Fest, lovers of everything fresh, delicious, and/or from the garden shared ideas and recipes from across the globe. Last summer's event was a cross-blog event where they would announce a food or "crop" in advance and they would then swap recipes, growing tips, lore and whatever else came up. Their readers did the same, and everyone linked to each other liberally, so everyone benefited.
Now forSummer Fest 2009, Margaret has continued this cross-blog event every Tuesday for the next four weeks, which will be acelebration of fresh-from-the-garden food: recipes, growing tips, even tricks for storing and preserving summer's best. For this years Summer party, Margaret has collaborated with co-creators  Matt of Matt Bites (who also created the gorgeous plump tomato logo), Jaden Hair of Steamy Kitchen,  us of White on Rice Couple, and will have guest appearances from Shauna and Daniel Ahern of Gluten-Free Girl, Simmer Till Done's Marilyn Pollack Naron, and Paige Smith Orloff of The Sister Project.
Read more about how Summer Fest 2009 works on Margaret's site at Away to Garden.
Herb Week! This week is about Herbs and we're talking about our huge garden full of Vietnamese herbs! There's Vietnamese herbs bursting at every corner of the garden. All of last years herb seedlings have sprouted like weeds, but quite delicious weeds that we don't yank out too fast.
Vietnamese cuisine is usually most noted for it's abundant and frequent use of unique & exotic herbs. The flavors, textures, scents and overall freshness that these herbs contribute to everyday Vietnamese dishes is what makes the cuisine so fresh, aromatic and healthy. Eaten generously along side almost every meal, the fresh leaves & stems create a unique & delicious layer of flavor to the already dynamic tastes of Vietnamese cuisine.  Raw herbs are torn,  tossed, rolled and/or wrapped into dishes ranging from, but hardly limited to,  soups, rice & noodle dishes, sandwiches and spring rolls.  A few other herbs are also used more in the cooking of soups, braises, and grilled dishes.
The bright, aromatic, citrusy, spicy, sweet, musky and often floral notes of Vietnamese herbs are the dynamic sensations that make each bite unique.
Growing Vietnamese herbs are quite easy as well, from both seed and clippings. Often times, a healthy stem of a Vietnamese herb can quickly produce roots if placed in a glass of water for about one week. From there, the starter stem can be planted into soil and a healthy plant will explode, warm weather permitting. The most important requirement for successfully growing herbs is abundance of warm weather. In colder regions where temperatures can dip below 70 degrees Fahrenheit, Vietnamese herbs often struggle to produce a strong enough root structure for the leafy, edible foliage. Although colder regions have shorter growing seasons, you must take advantage of every warm weather week to enjoy your Vietnamese herbs that love any kind of heat.
Here is a basic guide to common Vietnamese herbs: (More in-depth guide is available at VietHerbs.com)
Vietnamese Balm (Kinh Giới)- Lemon-citrus scented flavor with a suggestion of mint.  Reminiscent of lemongrass flavor, but with the texture of mint.
Spearmint (Húng Lũi) – Tastes like mint! Not to be confused with peppermint which has the stronger and brighter flavor associated with mint ice cream.
Basil (Húng Quế) – typically Thai/Asian Basil – Typical basil tastes with a sweet/spicy, anise/licorice scented leaves.
Vietnamese Perilla (Tiá Tô)- Purple colored leaves, particularly underneath the leaves. Earthy, bold, and musky flavored. Also in the mint family.
Vietnamese Coriander (Rau Răm) – Spicy, peppery, musky, and slightly lemony & bitter.
Culantro ( Ngò Gai) -aka Sawtooth Herb – Strong cilantro flavor, verging on bitter-soapy taste
Herbaceous Feast! Fresh Rice Paper Rolls (Fresh Spring rolls, Summer rolls, what ever you want to call them) are a staple in our household. When the garden is exploding with Vietnamese herbs, we eat fresh these fresh rolls almost every day.  Oh yes we do and we are always loving it!
These fresh rice paper rolls can be filled with almost anything you want, including the kitchen sink. From left over meats to vegetables and even raw fresh vegetables, these rolls are easy to please. But what makes these spring rolls distinctly Vietnamese is the inclusion of fresh herbs. So if you don't have a plethora of Vietnamese herbs to choose from, even common mint and basil will definitely do the delicious trick.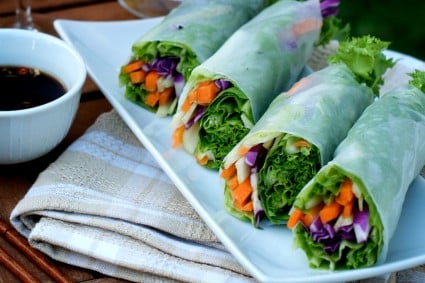 Fresh Rice Paper (Spring/Summer) Rolls w/ Herbs & Vegetables in garlic soy dip
Yield: Serves 2-3.
Total Time: 20 min
Ingredients:
About 6-8 sheets of Rice paper (4" rounds or larger)
10 leaves fresh lettuce or leafy greens
Handful of fresh Vietnamese herbs
Plateful of fresh vegetables of any kind, julienne  (bell peppers, carrots, celery, zucchini, cucumbers). You can keep these vegetable raw, like we did for the photographs, or cook them how ever you wish!
warm water.
Directions:
1. In large bowl, fill with warm water. Quickly dip each rice paper in warm water for about 2-3 seconds.
2. Place wet rice paper on work station and follow rolling instructions here, at Springrolling 101. Make sure rice paper is completely hydrated and softened before rolling.
3. Once vegetables are all laid out on rice paper and then rolled, serve immediately or within 2 hours. These rolls can be covered with plastic wrap and kept in the refrigerator, but the rice paper will begin to lose moisture and harden.
4. Rolls can be served as whole rolls, cut in half or even cut in bite size pieces, like cut sushi.
5. Serve with Garlic Soy dipping sauce.
Garlic Soy Dipping Sauce Recipe
1-2 crushed garlic cloves (or finely minced), but crushed garlic really brings out the flavor.
1 crushed thai chili
1/2 squeezed lime (or about 2 Tablespoons)
1 Tablespoon of sugar
1 teaspoon of rice vinegar (optional)
1/4 cup soy sauce
1/8 cup water
1. Mix all ingredients together well, making sure sugar dissolves. Add slices of chili on top for garnish and extra spice joy!
2. Serve with springrolls.
3. This recipe will make about 1/2 cup dip. But it's also a fantastic marinade as well!
Hello! All images & content are copyright protected. Please do not use our images without prior permission and do not re-publish this recipe. Simply link back to this post for the recipe. Thank you.
Recipe Note for Salt: All recipes containing salt are based on kosher or sea salt amounts, not table salt. If using table salt, reduce the amount used to taste.