Summer Fest is a season long, bi-weekly event where Food Network editors team up with blogs to share tips and recipes about seasonal produce. During Summer Fest, we celebrate the the seasons explosion of fresh produce and inspired recipes.  This week's theme are peaches and to participate, just share your peach recipe link in our blog on the comments below, as well as the blogs of all our participating friends!
Throughout the Summer we're always staring at baskets full of heirloom tomatoes  and fresh fruit from the garden. This is definitely a good thing.  Not only do we get to be spoiled by the warm season's bounty, but the garden possums, squirrels, and mockingbirds get to eat the fruit in full glory. Sharing is a good thing.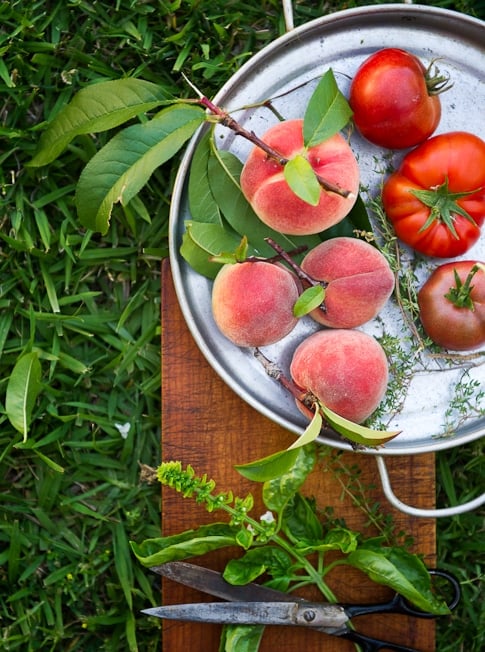 But when it comes to our white peaches,  it's always a battle to keep up with the fruit. Peaches are one of those fruits that always choose to ripen all at exactly the right time. The struggle is to eat them fast enough before gravity and possums take their toll on the fruit.
The frustrating part about Summer peaches is that they always decide to have a community ripening fest and they somehow are able to coordinate their "drops" all within a few day.
We're hustling to catch them before they fall and it's such a sad waste to see them rot to the ground. So to keep up with eating different peach recipes back to back, we started pairing them in salads with heirloom tomatoes.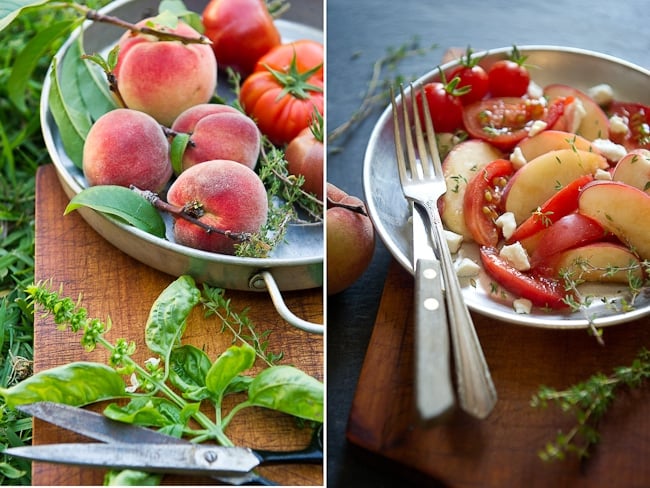 Seriously, this combination of juicy sweet peaches and tomatoes is lethal. It's Summer fruit salad that can often be overlooked because tomatoes are fruits too! We can't forget that tomatoes are a fruit and it's wonderful to treat them as fruit in recipes.
Added with some fresh thyme, a savory vinaigrette and bite full of rich cheese, you have the best of Summer on a plate. We used goat cheese, but burata cheese would be our first choice if we wanted to make this again. Trust us, this is a salad that we'll be having multiple times because it's so simple, yet satisfyingly Summer.
As always, there are a bunch of fantastic sites sharing the in SummerFest fun.
CIA Dropout: Peachy Keen Panna Cotta
What's Gaby Cooking: Peach and Blueberry Cobbler
In Jennie's Kitchen: Easy Peach Preserves
I Am Mommy: Peach Bread
Daily Dishin: Fresh Peaches and Cream No-Bake Pie
Cooking with Books: Peaches and Cream Cheesecake
Cooking With My Kid: Peach & Friends Cobbler Pie
White on Rice Couple: Peach Heirloom Tomato Salad
Cooking With Elise: Bruschetta with Grilled Peach Chutney
Taste With The Eyes: Warm White Peach and Blackberry Cobbler
Recipe Girl: Fresh Peach Pie
A Way to Garden: Farm Fresh Peaches Frozen to Perfection
Napa Farmhouse 1885: Fresh Peach Cookies
Sassy Radish: Peach, Apricot and Blueberry Cobbler with a Cornmeal Crust
Sweet Life: Sweet Peach Ancho Chile Salsa
Indian Simmer: Indian Peach Gujiya
Dixie Chik Cooks: Peach Cobbler
Food2: 5 Killer Peach Flavored Cocktails
Healthy Eats: 8 Ways You Didn't Know You Could Eat Peaches
Cooking Channel: Peaches on the Grill
Add a Pinch: My Grandmother's Peach Cobbler
And Love It Too: Pan Seared Salmon with Fresh Peach Salsa
From My Corner of Saratoga: Double Caramel Peaches
She Wears Many Hats: Peach Wontons
Peach and Heirloom Tomato Salad Recipe
Ingredients:
2 ripe peaches, pitted, sliced
2 medium heirloom tomatoes
4 Tablespoons of Olive or grapeseed oil
1/2 teaspoon salt
2 tablespoons of lemon juice
3 teaspoons balsamic vinegar
1/2 teaspoon fresh or dried thyme
goat cheese
Directions:
In jar or medium bowl, combine vinaigrette ingredients well: oil, salt, lemon juice, balsamic vinegar and thyme.
On plate, assemble sliced peaches, tomatoes, crumbled goat cheese. Drizzle with vinaigrette on top. Serves 2 people.
Hello! All images & content are copyright protected. Please do not use our images without prior permission and do not re-publish this recipe. Simply link back to this post for the recipe. Thank you.
Recipe Note for Salt: All recipes containing salt are based on kosher or sea salt amounts, not table salt. If using table salt, reduce the amount used to taste.