Boozy Peach Coolers – Refreshingly Summer
This peach cooler cocktail recipe post was one of our first recipe posts back in 2009. It's fun to see how our photography and travel stories have changed over the years!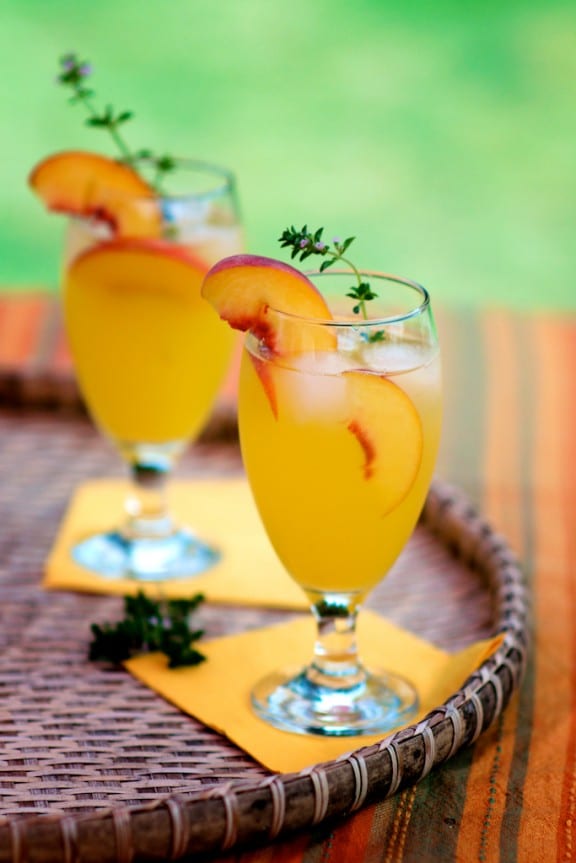 Peach Cooler Cocktail
When we started our first garden over 13 years ago, we knew exactly what we wanted to plant. We didn't wait and dived head first into fruit trees. The two most important categories that topped our list were citrus trees and stone fruit trees. We wanted the garden to burst with citrus glory in winter. And in the Summer, a sweet, nectary bounty with all the stone fruits. We have a current collection of stone fruit trees. Ranging from white peaches, yellow peaches, Dapple Dandy pluots, two weeping Santa Rosa plums, and the Spice-Zee nectaplum, we're wanting to plant more. Summer just isn't complete without stone fruits. When they're ripe and ready at the market or dropping like baseballs off your backyard trees, stone fruits signify the years most bountiful season. If you live in the right climate zone and have room in your balcony/backyard/land/or ranch, you must plant a stone fruit tree. There's nothing more satisfying than picking a tree ripened peach, nectarine or what ever stone fruit off your own tree. Bite into it and the soft flesh will explode with sweet juice and the flesh will melt in your mouth.
Fresh Garden White Peaches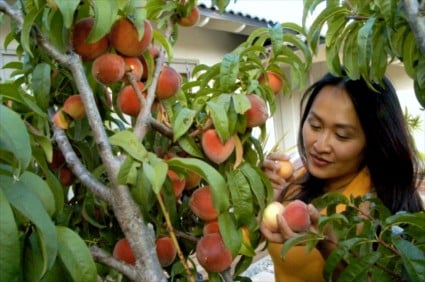 What to do with all the garden fruit? The only minor problem to having a healthy, fruiting trees is that all the fruit will ripen at once! When that happens, be prepared for the onslaught of fresh fruit. They're all for eating, cooking, canning, grilling and giving away to neighbors and the mailman. Maybe even your boss will appreciate a basket of peaches and give you that raise that you've always wanted! Last two years we had so much fruit, we couldn't keep our dogs off the tree!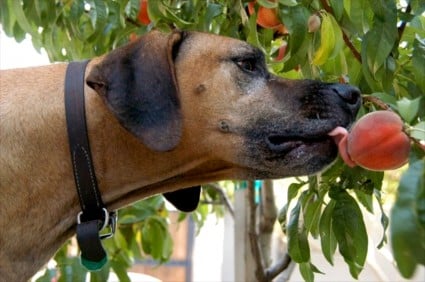 The sweet smells from the sweet fruit had our dogs camping out underneath the tree, waiting for them to fall from the sky for dinner. They would even go as far as nudge them, lick them and leave bite marks on the fruit while still on the tree!
Drinking the stone fruits is one of our favorite ways to help deplete our huge bounty of fruit. Bellini's are one of our favorites but a more kiddie friendly version are peach coolers. Even without the booze, these refreshing peach coolers are equally wonderful, satisfying for the whole family to enjoy. Everyone under 21 can celebrate summer's peach drinking fest! But we're never without options and have included an option for adding Gin or Vodka for all the adults!
Having a batch of fresh peach puree is so versatile and it's the perfect summer staple for all your outdoor parties. The puree can be added to your iced tea for a naturally sweet boost, or mixed with soda water and a little bit of sugar for that quenching beverage on a sweltering hot day. The possibilities are endless and it just doesn't end with peaches, but plums, pluots and apricots make a fine and delicious puree as well.
Happy Summer fruit eating to you all! Hope you enjoy our boozy peach cooler cocktail!
-diane and todd
Check out our Cocktail Recipes Here and our Complete Whiskey Guide.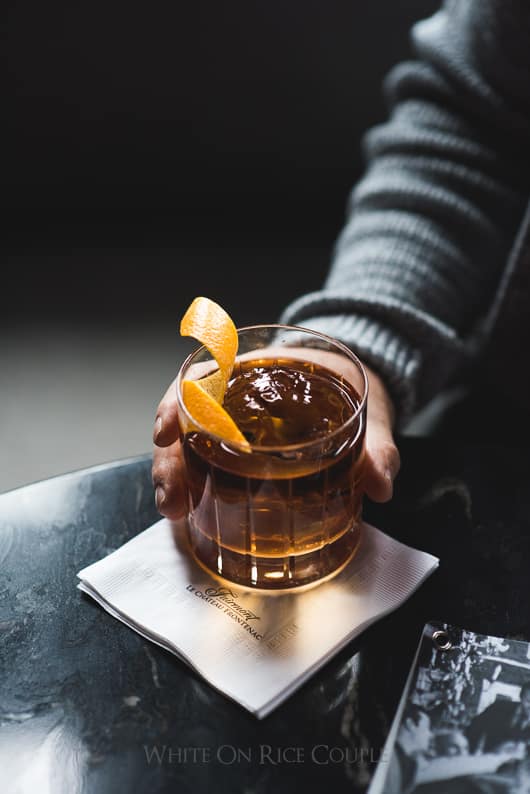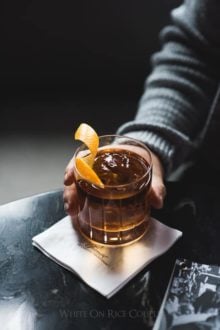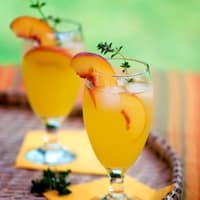 Boozy or Virgin Peach Cooler Recipe
If you have some raspberry puree, it is a killer addition to this peach cooler.For a virgin version just omit the gin or vodka.
Ingredients
1 medium ripe Peach
1/4 cup (60ml) fresh Orange Juice
1 Tablespoon (15ml) Sugar , or to taste
2 Tablespoons (1 ounce or 30ml) Gin or Vodka , optional
optional - dash of peach bitters
ice
1/2 cup (120ml) Club Soda
Instructions
Peel, pit, and core out the peach's rough pit flesh (if needed).

Place in blender or food processor with orange juice, and sugar. For the boozy version, add the gin or vodka and add the peach bitters if desired. Puree until smooth. (If your peach isn't super ripe and juicy & won't puree very easily, add a touch more orange juice to thin it out.)

Put ice in a glass and pour in peach mixture. Slowly pour the in the club soda, then gently stir everything to combine. Garnish with a slice of peach and a sprig of thyme if you want to get fancy.
Nutrition Information per Serving
Calories: 202kcal, Carbohydrates: 33g, Protein: 2g, Fat: 1g, Saturated Fat: 1g, Sodium: 26mg, Potassium: 412mg, Fiber: 2g, Sugar: 30g, Vitamin A: 613IU, Vitamin C: 41mg, Calcium: 22mg, Iron: 1mg
We are a participant in the Amazon Services LLC Associates Program, an affiliate advertising program designed to provide a means for us to earn fees by linking to Amazon.com and affiliated sites.