Peach and Heirloom Tomato Salad
This peach heirloom tomato salad is a wonderful way to taste and celebrate Summer. It's fresh and always perfect as a potluck party dish.

Peach Heirloom Tomato Salad
Throughout the Summer we're always staring at baskets full of heirloom tomatoes. If it's a good year, we'll have more than enough to share. If it's a bad year or the squirrels are extra hungry, we'll have just enough for us to eat. That's the joy and hardships of growing sweet and juicy garden tomatoes! The squirrels have good taste. Not only do we get to be spoiled by the warm season's bounty, but the garden possums and mockingbirds also get to eat the fruit in full glory. Sharing is a good thing.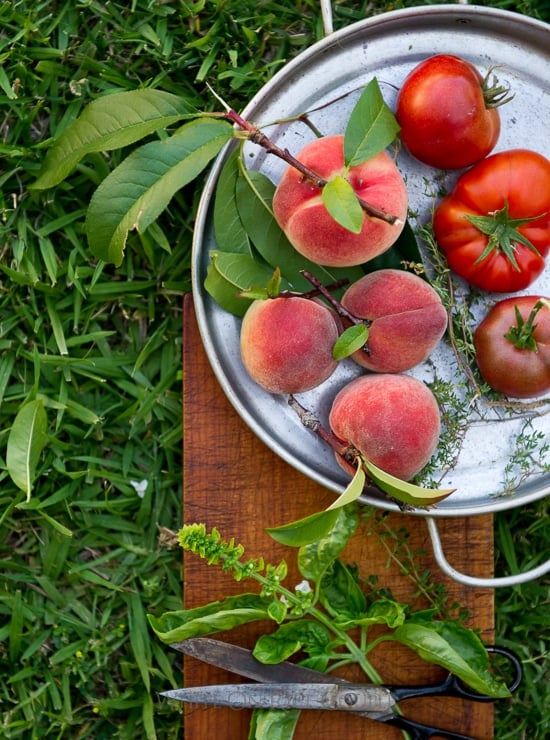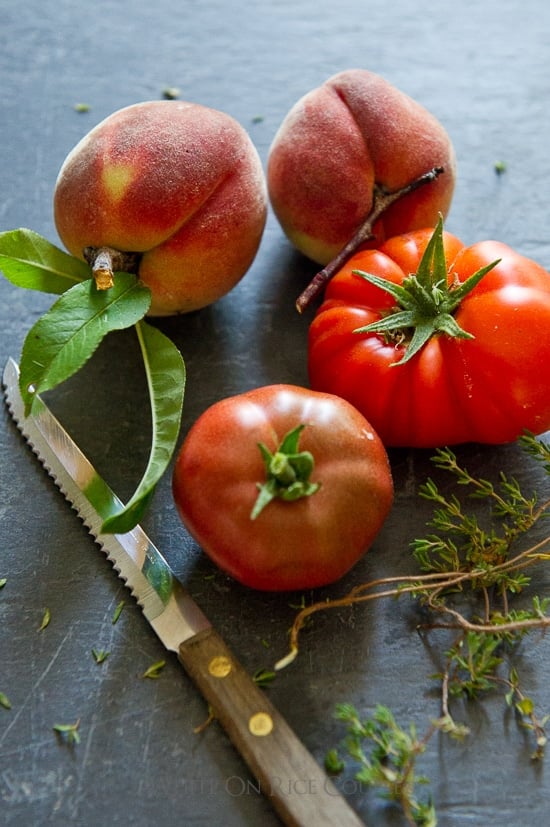 But when it comes to our white peaches, it's always a battle to keep up with the fruit. Peaches are one of those fruits that always choose to ripen all at exactly the right time. The struggle is to eat them fast enough before gravity and possums take their toll on the fruit. The frustrating part about Summer peaches is that they always decide to have a community ripening fest and they somehow are able to coordinate their "drops" all within a few day. We're hustling to catch them before they fall and it's such a sad waste to see them rot to the ground. So to keep up with eating different peach recipes back to back, we started pairing them in salads with heirloom tomatoes.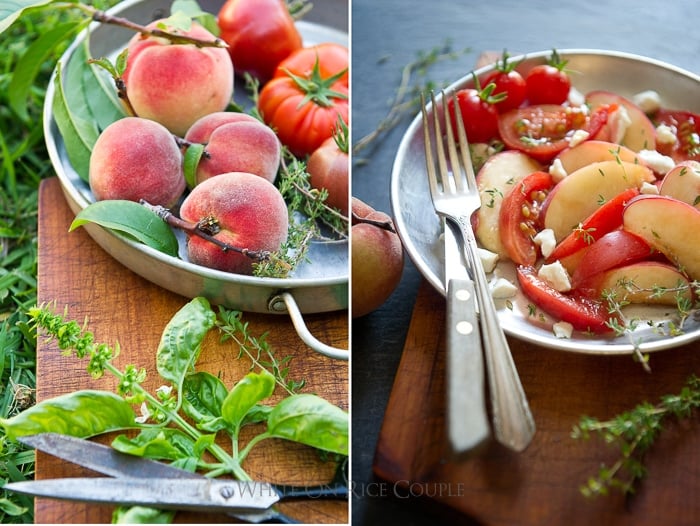 Seriously, this combination of juicy sweet peaches and tomatoes is lethal. It's Summer fruit salad that can often be overlooked because tomatoes are fruits too! We can't forget that tomatoes are a fruit and it's wonderful to treat them as fruit in recipes. Added with some fresh thyme, a savory vinaigrette and bite full of rich cheese, you have the best of Summer on a plate. We used goat cheese, but burata cheese would be our first choice if we wanted to make this again. Trust us, this is a salad that we'll be having multiple times because it's so simple, yet satisfyingly Summer.
Enjoy and Happy Summer Friends. Thanks for reading!
diane and todd
Here's a collection of our best peach recipes.
Peach and Heirloom Tomato Salad Recipe
This is an amazing and simple summertime salad. When the peaches and tomatoes are at their sweet prime, this is a great way to appreciate their glory.
Ingredients
3 ripe Peaches , pitted & sliced
2 medium heirloom Tomatoes
2 Tablespoons (30ml) Olive Oil or Grape Seed Oil
2 Tablespoons (30ml) fresh Lemon Juice
1 Tablespoon (15ml) Balsamic Vinegar
1/2 teaspoon fresh or dried thyme
Kosher or Sea Salt , to taste
4 ounces (56g) crumbled Goat Cheese , or feta cheese
optional - fresh thyme sprigs , for garnish
Instructions
In jar or medium bowl, combine vinaigrette ingredients well (oil, lemon juice, balsamic vinegar, thyme and salt).

Taste the dressing. If you want to add additional seasonings do this now to finish the vinaigrette. Store in fridge until you're ready to dress the salad, right before serving.

On plate, assemble sliced peaches, tomatoes, and crumbled goat cheese. Drizzle vinaigrette on top right before serving. If desired, garnish with fresh thyme sprigs.
Nutrition Information
Calories: 160kcal, Carbohydrates: 14g, Protein: 4g, Fat: 10g, Saturated Fat: 3g, Cholesterol: 7mg, Sodium: 56mg, Potassium: 379mg, Fiber: 3g, Sugar: 12g, Vitamin A: 1055IU, Vitamin C: 20mg, Calcium: 37mg, Iron: 1mg
This recipe was originally published in 2011 and re-published in 2021 with updated recipe. And we don't have our white peach tree anymore.
We are a participant in the Amazon Services LLC Associates Program, an affiliate advertising program designed to provide a means for us to earn fees by linking to Amazon.com and affiliated sites.