Air Fryer Garlic Shrimp with Lemon in 15 minutes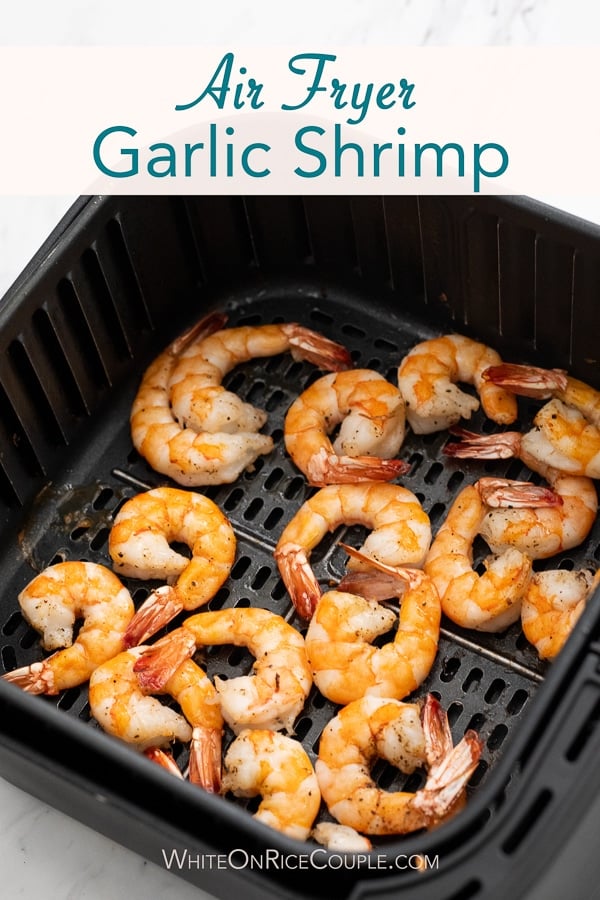 Easy Air Fried Shrimp Recipe
If you love shrimp as much as we do and you have an air fryer, this is the next recipe you should try. Air fried shrimp with garlic and lemon is an outstanding way to easily cook shrimp. The shrimp texture is amazing, healthy, flavorful and delicious. It's a fantastic quick and easy dinner or anytime you're craving perfect shrimp. We've been obsessed with this shrimp and it's hard to pass up a meal with healthy shrimp salad, shrimp taco or shrimp for pasta.
Video: 15 minute Healthy Shrimp
How to Cook Air fryer Shrimp Recipe or with Cocktail Sauce
We love cooking shrimp so much in the air fryer and it's so versatile. One of our favorite ways is to use the shrimp in a shrimp cocktail. We have an easy homemade cocktail sauce that's way better than any store bought jars. Here's the recipe for the Shrimp cocktail in the air fryer. This has become one of our go-to appetizers for any party or gathering. It's crazy quick and easy there's no reason to buy frozen shrimp. The flavor of the shrimp is fantastic when it's cooked in the air fryer. It's hard to convince you until you've tried it!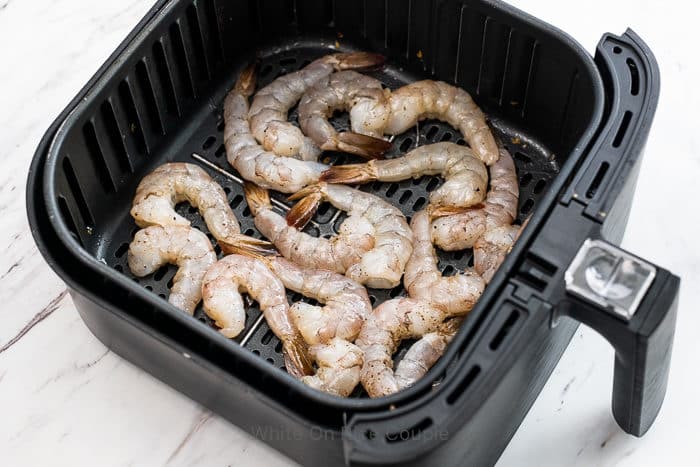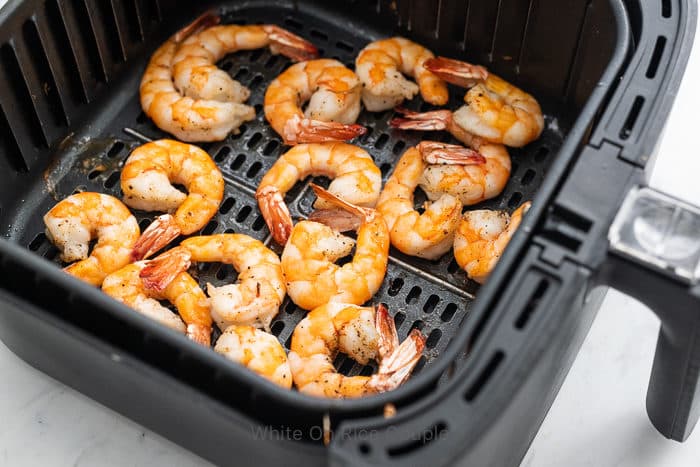 Here's more great recipes:
This recipe was originally published in 2019 and re-published in 2020 with updated video.
Air Fryer Garlic Shrimp with Lemon
Cooking times will vary depending on size of shrimp and on different air fryer brands and styles. Timing is based off of thawed shrimp. If you need to quickly the shrimp, place them in a bowl of water until softened.
Ingredients
1 pound raw shrimp , peeled de-veined,
Vegetable oil or spray , to coat shrimp
1/4 teaspoon garlic powder
Salt , to taste
Black pepper , to taste
lemon wedges
minced parsley and/or chili flakes (optional)
Directions
In a bowl, toss the shrimp with the oil or spray to coat. Add garlic powder, salt and pepper and toss to evenly coat the shrimp.

Add shrimp to air fryer basket in a single layer.

Air Fry at 400°F for about 8-14 minutes, gently shaking and flipping the shrimp over halfway through cooking. Cooking times will vary depending on size of shrimp and on different air fryer brands and styles.

Transfer shrimp to bowl, squeeze lemon juice on top. Sprinkle parsley and/or chili flakes and serve hot.
Did you make this recipe?
Let us know what you think!
Leave a Comment or share a photo on Instagram with the hashtag #whiteonricecouple.
We are a participant in the Amazon Services LLC Associates Program, an affiliate advertising program designed to provide a means for us to earn fees by linking to Amazon.com and affiliated sites.