Roasted Radish and Greens with Balsamic
Our roasted radishes recipe is an oldie but goodie. It's great this time of year when radishes are at their peak.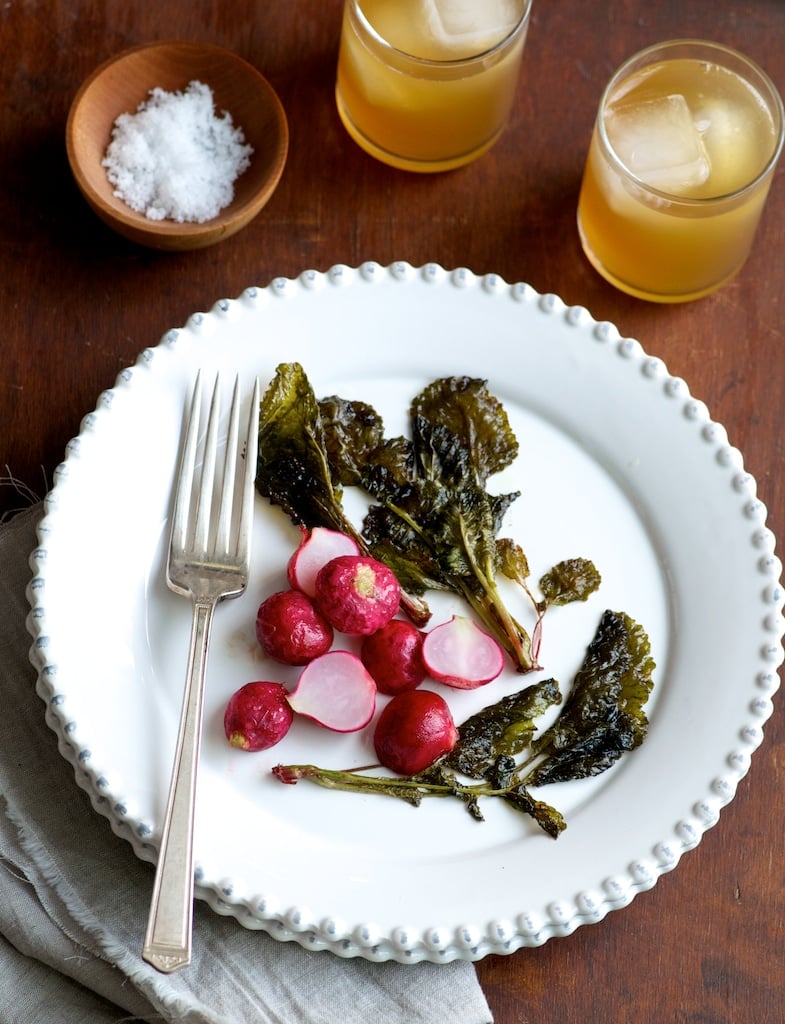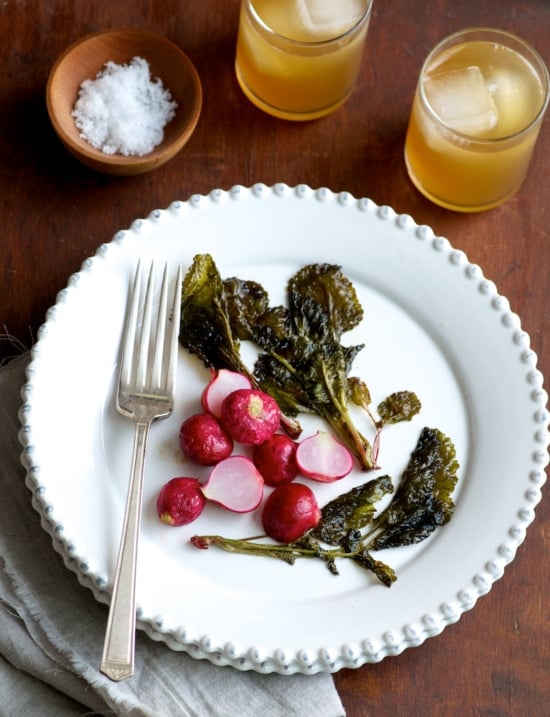 Roasted Radishes Recipe
We were talking to a friend about radishes and she swore up and down that the only way to eat radishes was raw, crunchy and fresh. There was no other option to eating radishes, raw was it, she declared. She's a great gardener, cook and mom. Her dedication to family, food and a healthy lifestyle is admirable. We wish we could be like her when we grow up. But she's wrong.
We don't often argue about food, knowing that everyone has their own tastes and preferences, however we had to disagree with her about radishes. Yes, she's very wrong in making such an absolute statement and we can't wait to show her why.
First of all, she's right about eating enjoying radishes when they're fresh. It's hard to beat a freshly picked radish fresh, especially when it's from the garden. Raw radishes in this state are so crisp and full of fresh, peppery flavor. In fact, almost every produce has it's glory when eaten raw. We've got radishes growing everywhere in the garden and we often can't keep up with how fast they grow, so we're enjoying radishes straight from the soil and they're wonderful.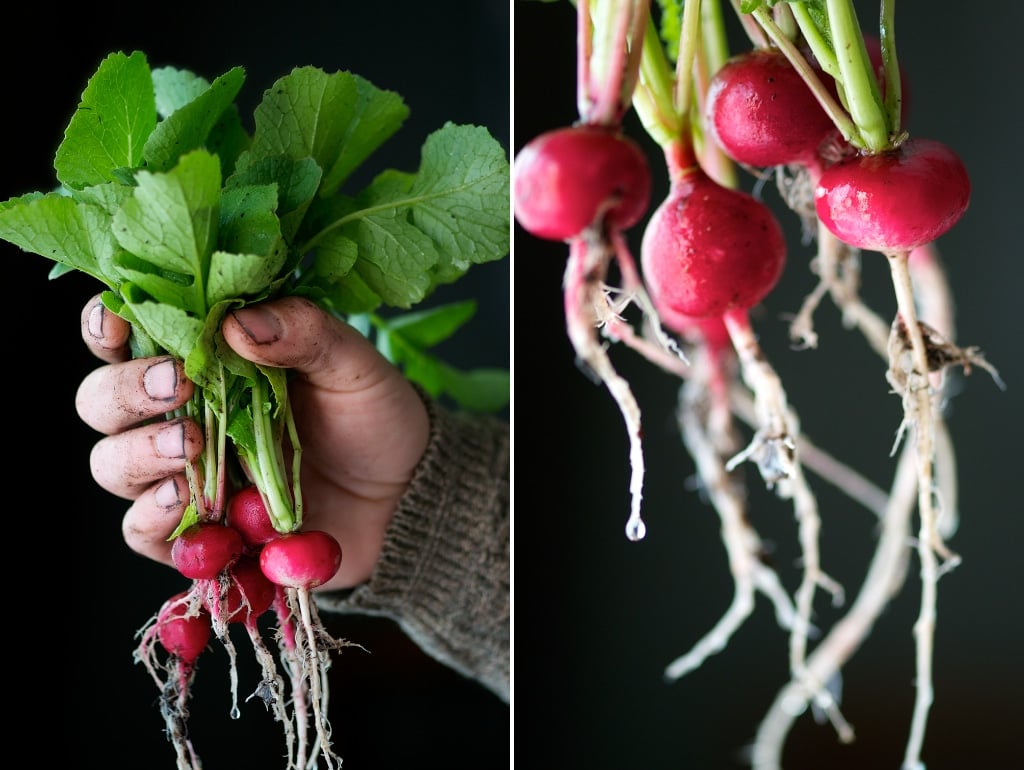 Now that we got that agreement out of the way (she reads our blog), we think there's another option for a great radish recipe.
How to Roast Radishes
Roasting the radishes in the oven, along with the tender greens and a little bit of olive oil is a fabulous alternative. We would normally never think of roasting the radishes either, but when our garden is exploding with baskets of radishes, we have to come up with some different options for radish recipes.
These roasted radishes and their greens come out of the oven wilted, gorgeous and delicious. Granted, roasting radishes loses their crunchy texture and peppery bite, but they're still fabulous along side their savory roasted greens and round flavors of balsamic vinegar. What you have after a few quick minutes of roasted love is a satisfying bowl of roasted veggies that taste almost like roasted turnips.
An added bonus is the delightful, delicate crispness of the radish greens when roasted. That was one factor which surprised us on how delicious it turned out. They have just enough thickness that they can crisp up without disintegrating, becoming a beautiful fan carrying the balsamic vinegar's delicate sweetness into your mouth. You'll love this Roasted Radishes Recipe.
Dear Michelle, so there you have it, our argument for roasted radishes and greens. Thanks for engaging us in this friendly food fight. I think we all win on this one!
hugs,
Diane and Todd
More Radish Recipes you might enjoy: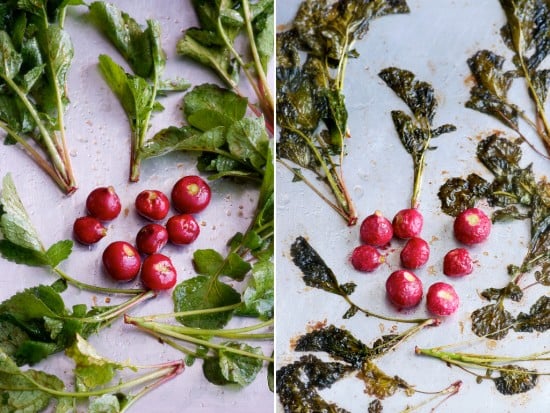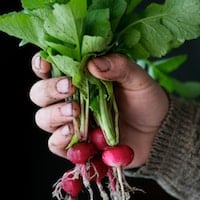 Roasted Radishes with Balsamic Vinegar
Roasted radishes will be similar to a roasted turnip, but with their own unique flavor. Perfect for a warm dinner side vegetable.
Ingredients
1 bunch radishes with tops (about 10 radishes)
2 Tablespoons (30 ml) olive oil
2 teaspoons (10 ml) balsamic vinegar
1/2 teaspoon sea salt or kosher salt
black pepper to taste
Instructions
Preheat oven to 350°F.

Wash radishes, removes roots and remove stems. Blot dry with paper towel. If radishes are big, cut them in half.

In large bowl, combine olive oil, balsamic vinegar and salt. Whisk ingredients together. Toss in radishes and greens until everything is coated evenly with oil.Spread out radishes and greens on roasting pan or baking dish.

Bake for about 10 minutes or until the greens are crispy. Remove the greens (set greens aside for final serving) and continue roasting the radishes for about another 5-8 minutes or until tender.Serve the roasted radishes warm with their greens.
Nutrition Information per Serving
Calories: 132kcal, Carbohydrates: 2g, Protein: 1g, Fat: 14g, Saturated Fat: 2g, Sodium: 593mg, Potassium: 64mg, Fiber: 1g, Sugar: 1g, Vitamin A: 2IU, Vitamin C: 4mg, Calcium: 8mg, Iron: 1mg
This recipe was originally published in 2010 and re-published in 2021 with updated info.
We are a participant in the Amazon Services LLC Associates Program, an affiliate advertising program designed to provide a means for us to earn fees by linking to Amazon.com and affiliated sites.