Vietnamese Braised Pork & eggs in caramel – Thit Heo Kho Trung Flashbacks from Mom's kitchen
If I could name one of the many comfort foods in Vietnamese cuisine that brings back warm, delicious memories to all my Viet friends and family, it would be this dish: Thit heo kho trung, braised pork belly (or shoulder/butt) with boiled eggs.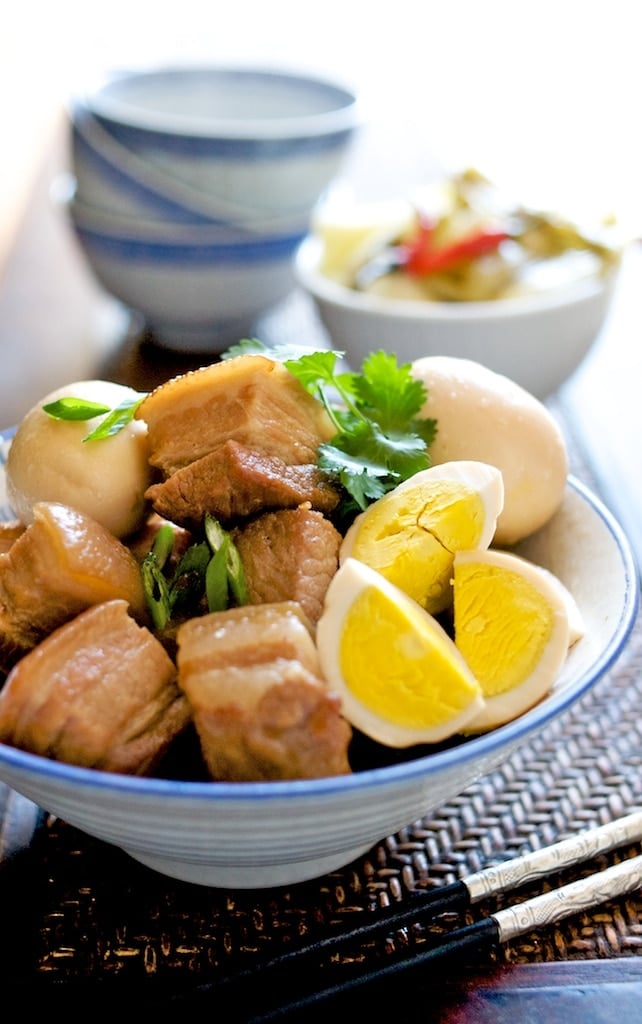 Vietnamese Caramel Pork & Eggs
Thit heo kho trung is one of the many classic examples of Vietnamese home-cooking at it's best. This humble Vietnamese braised caramel pork dish speaks volumes to me about who I am and the simple dishes in life that I need to keep me satisfied, sane and happy.
Every morning, at 6 am, Mom would be busy at the stove, starting her morning routine of cooking for her household of hungry kids and my foodie father. We'd wake up to this warm pot of slow, simmering goodness and it was a wake up call that that filled the house with braised love. My always multi-tasking Mom would get the little twins ready for school with her left hand, while feeding the rest of us with her right hand.
She's an ambidextrous, culinary fool. You would have to watch her genius to believe everything that I say.
With a shoe in one hand and a soup ladle in the other, Mom dished out bowls of hot rice, topped with her braised, melt in your mouth pork. We'd shovel the rice, and braised pork in our mouths, then take a bite of the caramelized boiled eggs and pickled mustard greens. It was a breakfast of champions that fueled us out the door for another day of school.
Homecooked Meals
As children, we didn't always treasure all the hours of home cooked goodness for three meals a day. Eating thit heo kho trung all the time as a kid became mundane and sometimes us kids just wanted our big mac and fries, ya know? Growing up with homemade chow at home, but with the tempting sights of pizza, hamburgers and fried chicken all around us was challenging. Those processed fast food delicacies always made us yearn for the exotic American foods that existed outside my mother's kitchen.
Eventually, home cooked meals that my mom slaved over every morning became dull. I know that sounds sacrilegious to the culinary world, but I suppose when you're growing up as a low income, ethnic kid like myself, fast food was considered "gourmet".
Craving Fast Food
As kids we wanted American bacon, sausage and pancakes that Ronald McDonald served at his restaurant. Even if he was just a clown, he made me happy with his big red lips, jolly face and fabulous cheeseburgers.
As we grew up, moved out and went away to experience the independence and debt that came with adulthood, the days of longing for pizza and burgers slowly disappeared. The freedom of not having parents around meant that home cooked meals by Mom became a scarcity. There's always that trade-off. It was the thoughts of those mornings with hot rice and Mom's braised pork belly that we yearned for when we walked back through her door.
She would snicker with her motherly pride and always know that it was because of her hot rice dishes that we couldn't be far from home for too long.
Mom always says that no matter where we go or what we eat, nothing brings us back to the comforts of home like a meal of hot rice, a little meat/fish and some greens. Vietnamese braised pork and eggs is a perfect example of those childhood memories that I eventually fall back on. This is the power of humble, home cooking.
-Diane
Hope you enjoy these Vietnamese Caramel Pork & Eggs. Here's Other Related Recipes
Vietnamese Braised Pork & Eggs in Caramel - Thit Heo Kho Trung
Vietnamese pickled mustard greens is usually added as an accompaniment to balance the rich, braised pork and eggs. If you don't have the traditional pickled mustard greens, eating some sliced raw cucumbers or tomatoes will add the same delicious effect. Many of my aunties eat fresh slices of cucumbers to add freshness to the pork. Please read recipe notes below about different pork cuts.
Ingredients
Pork Ingredients
2 pounds (907 g) pork shoulder and/or pork belly (cut in 1-inch cubes)
1 Tablespoon (15 ml) oil
3 large (3 large) shallots (or 1 small onion) minced - @ 1/4 cup
2 cloves (2 cloves) garlic , crushed
2 Tablespoons (30 ml) fish sauce
lots of (of) fresh ground black pepper to taste
1 - 1.5 cups (240-360 ml) water (approximately)
5-6 medium (5-6 medium) hard boiled eggs , peeled
1/2 cup sliced green onions and/or cilantro (optional)
sliced fresh chilies or hot sauce (optional)
Caramel Ingredients (nuoc mau):
1/3 cup (67 g) sugar
2 Tablespoons (30 ml) water
Instructions
Heat a large saucepan on medium/high heat. Heat oil, then add shallots and garlic. Cook for about 2 minutes, or until they become soft and fragrant. Add pork belly and stir into the shallots and garlic. Increase heat to high and cook for about 10 minutes or until all the edges are seared and browned.

Add fish sauce, pepper and about 1 cup of water. If needed, add more water until the pork is nearly covered. Reduce heat to a low simmer and cook for about another 10 minutes. Stirring occasionally.

While pork is simmering, make the caramel sauce: Combine sugar and water to sauce pan. Heat pan on medium heat and let sugar melt. As sugar begins to caramelize, the mixture will begin to turn to a golden brown. Using silicone spatula (less sticking), stir the mixture slowly as the caramel browns. Do not leave the caramel sauce unattended!

Once the sugar begins to caramelize, it will turn color very quickly. The caramel should have have consistency and color like light maple syrup. As soon as the mixture turns to a medium golden brown, immediately remove pan from heat. Carefully add caramel sauce to the pot of pork. Scrape all the caramel sauce into the pork because it's delicious!

Gently stir the caramel into the pork and continue braising the pork on low heat for about another 45 minutes (stirring occasionally). Add the boiled eggs and cook for another 10 minutes. Be careful when stirring eggs to the pork to avoid breaking the eggs. The eggs should have a brown caramel color on them. If using, add the sliced green onions and/or cilantro.

Serve with the optional sliced chilies/hot sauce and over some warm rice or noodles. Don't forget to pour the delicious sauce over everything, it's the best part! Don't waste the yummy sauce. Also try mashing or cutting the egg in smaller piece on top of the rice and add more sauce on top. YUM.
Notes
Traditionally we made this with pork belly and the flavor from the fat is fantastic. Expect a thick layer of oily delicious fat when pork belly cools. But over time, we realize we can't indulge in fatty pork belly too often, so w've made this with 1/3 pork belly and 2/3 pork shoulder, butt. It's still a fantastic and flavorful combination. For a less fatty version, use all pork butt/shoulder and cooking times aren't too much longer than cooking with full pork belly. Mom has switched to using only pork butt now because she doesn't think that the family needs to eat all this fat anymore. She's right. For the leanest option, you can use cubed pork chops or pork loin, but you'll have to add more water and cook it longer to break down the meat. This version will have less flavor because it doesn't have all the fat, but it's definitely healthier!
Nutrition Information
Calories: 277kcal, Carbohydrates: 14g, Protein: 24g, Fat: 13g, Saturated Fat: 4g, Cholesterol: 217mg, Sodium: 600mg, Potassium: 426mg, Fiber: 1g, Sugar: 13g, Vitamin A: 217IU, Vitamin C: 2mg, Calcium: 46mg, Iron: 2mg
We are a participant in the Amazon Services LLC Associates Program, an affiliate advertising program designed to provide a means for us to earn fees by linking to Amazon.com and affiliated sites.