Vietnamese Caramel Braised Pork Banh Mi – Nail Shop Eats #4
This Vietnamese pork banh mi recipe and story was originally published in 2010. It was re-shared in 2021 with new photos and a Vietnamese caramel pork video. My mother has retired from her the nail shop and is now cooking full time to her hearts desire.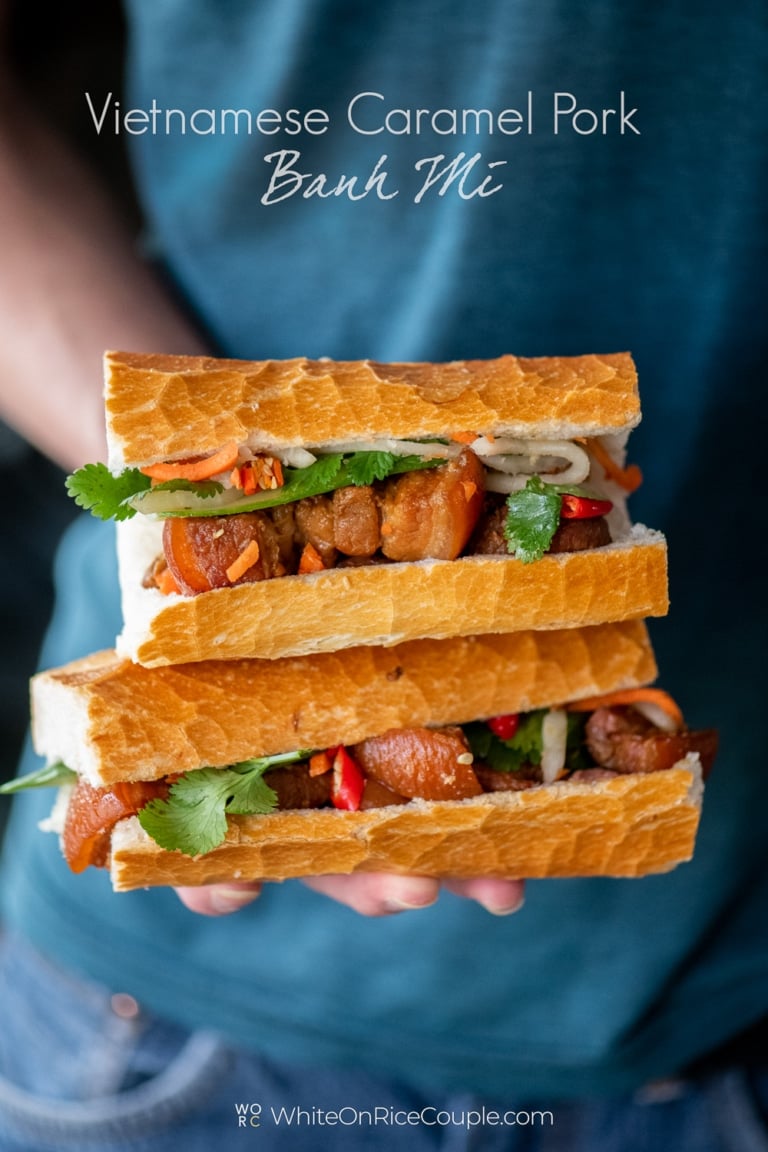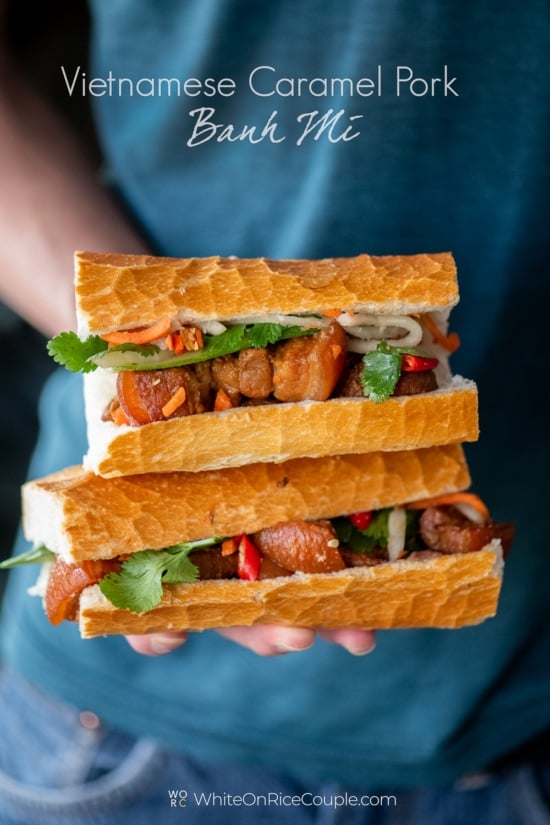 Mom's Food Story
I'm not a comedian, nor was I trying to be one when I spoke frankly about my mother's Nail shop cooking escapades. Like I've always said, my mother is a culinary magician. She's an obsessed woman who lives to feed her family of 6 kids and our extended family of neighborhood friends. She's been known to get even more carried away with her cooking. Mom loves to feed her nail shop clients homemade noodles and fish sauce while they're getting their pedicures.
My mother's nail shop has launched her notoriety as the local nail salon that leaves you twinkling with pretty red nails while sometimes smelling fish sauce. Or in our case, smelling so umami-delicious!
Her salon is a combination Viet food joint slash Tuesday-after-5pm-pedicure-special nail salon. And it tickles me #32 bottle-pink to see the buzzing jive of food and eyebrow waxes that are happening.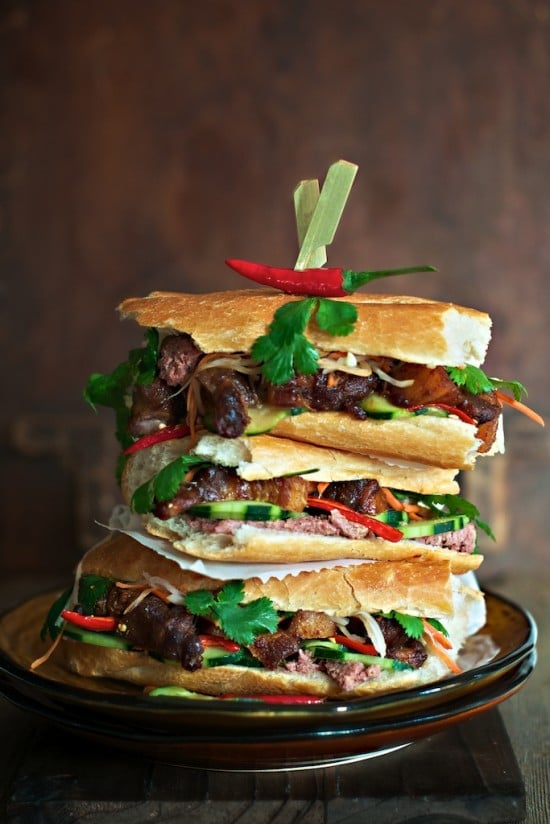 The leaning tower of Vietnamese pork banh mi: not for the light hearted
Video: Vietnamese Caramel Pork Banh Mi
I make an effort to be a good daughter and relieve her for a few hours from the bonds of the nail salon so that she can visit her vendors and suppliers. I enjoy the time that I'm in the salon because I get to visit all the ladies that work there and participate in their daily chat, gossip and most importantly, food talk. When you get 12 Vietnamese women talking passionately about food, recipes and family food stories, it's a Ph.D lesson in Vietnamese culture and cuisine. Everytime I walk out of there, I feel so much smarter and unfortunately, 10 pounds heavier from all the food talk.
Mom's Braised Pork Belly
On one lucky occasion, my mother had a huge tupperware of her beloved braised pork belly waiting at the salon. Before I arrived, she rang me on my phone and screamed (she always thinks we're deaf on the other side of the cell phone) "Con ghé vaò tiệm bánh mì mua cho mẹ 8 ổ bánh mì baguette!!!" When Mother calls me to pick up 8 loaves of fresh, crusty vietnamese baguettes, I know of only one salivating vision—Mom's braised pork belly banh mi sandwiches.
I hooked a quick u-turn and headed to one of our local Vietnamese bakeries for the 8 loaves of baguettes that she requested. It must still be warm and super fresh, pretty please.
When I arrived at the salon, it was like a scene from the "stone soup" story. Mom brought the braised pork belly, Chi Yen had a bag of fresh cilantro, Vicky (real name is Phuong) donated the tub of pate and the others completed the community meal with their donations of pickled carrots/daikon, fresh chiles and soy sauce. My arrival of the baguettes was met with roaring applause and the always anti-climatic critique, "What took you so long? We're hungry!"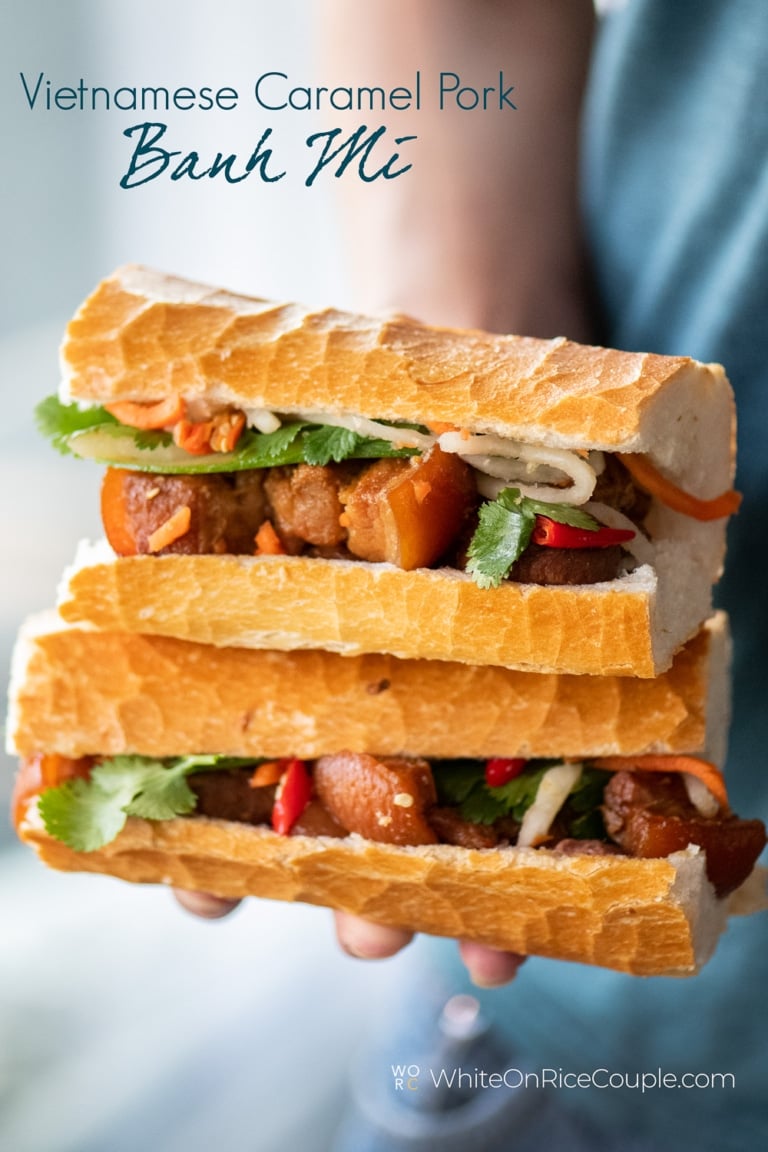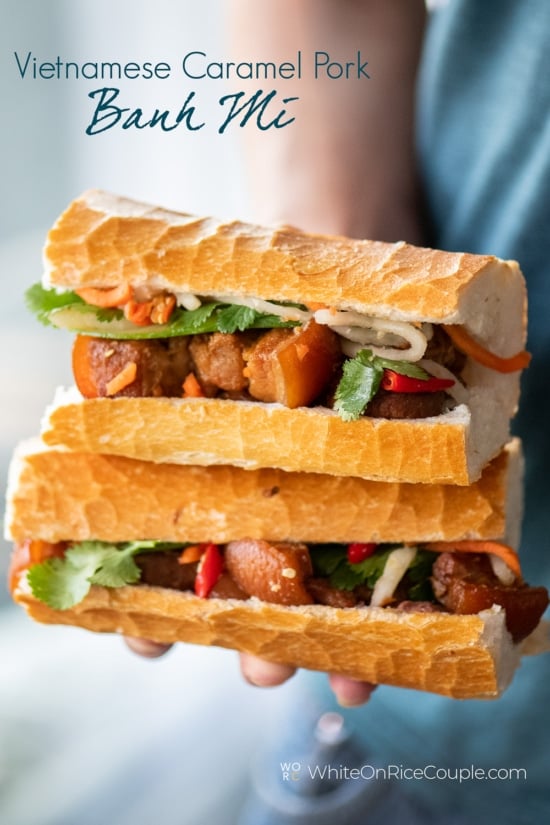 Vietnamese Pork Banh Mi Recipe
I dived head first in to the best banh mi of the day. Juicy, fatty, melt-in-your-mouth pork belly sandwiched between cool and tangy banh mi pickles is just pure Viet food genius. Add a light and crusty Vietnamese baguette to hold all the flavors and textures in. What you have is one of the best friggin' sandwiches on the face of the earth. That's right, Vietnamese banh mi is one of the worlds best sandwiches. Anyone who wants to argue with me will have my mother and her staff to contend with!
So there you have it. A Vietnamese braised pork belly banh mi that will leave you overwhelmed, satisfied and in awe on the power of a good mom-wich. Also, don't forget drizzle some of the braised sauce/liquid in the sandwich. That makes it super amazing.
Thank you Mom,
diane
Photo Tips: How To Make Vietnamese Caramel Pork Banh Mi
How to Make Vietnamese Caramel Pork Banh mi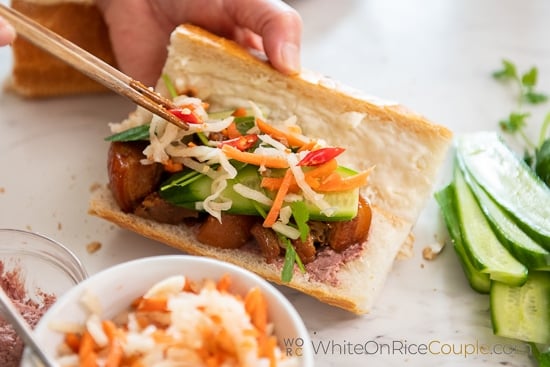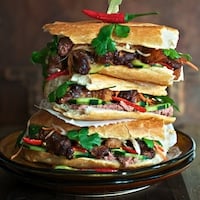 Vietnamese Braised Caramel Pork Belly Banh Mi Sandwich
See more step-by-step photos and watch the video in the recipe story. Traditionally we make this with pork belly and the flavor from the fat is fantastic. Expect a thick layer of oily delicious fat when pork belly cools. But over time, we realize we can't indulge in fatty pork belly too often, so we'll make this with 1/3 pork belly and 2/3 pork shoulder/butt. It's still a fantastic and balanced combination with more pork than fat. For a less fatty version, use all pork butt/shoulder and cooking times aren't too much longer than cooking with full pork belly. Mom has switched to using only pork butt now because she doesn't think that the family needs to eat all this fat anymore. She's right.For the leanest option, you can use cubed pork chops or pork loin, but you'll have to add more water and cook it longer to break down the meat. This version will have less flavor and not as tender because it doesn't have all the fat, but it's definitely healthier!
Ingredients
Pork Ingredients
2 pounds (907 g) pork shoulder and/or pork belly (cut into 1-inch cubes)
1 Tablespoon (15 ml) oil
3 large shallots (or 1 small onion), minced (about 3-4 tablespoons)
3-4 cloves garlic , minced or crushed
1 teaspoon kosher salt
1/2 teaspoon (2.5 ml) black pepper (preferably fresh ground)
1.5 cups (360 ml) water or Coconut water (not coconut milk or coconut juice)
2 Tablespoons (30 ml) fish sauce
Caramel Ingredients
1/3 cup (67 g) sugar
2 Tablespoons (30 ml) water
Banh Mi Assembly (not all required, choose your preferences):
1 french baguette
fresh cilantro
pork liver pate
mayonnaise
thin slices of chili pepper
thin slices of cucumber
Instructions
Marinate the Pork:
For the Banh Mi assembly:
Nutrition Information per Serving
Calories: 322kcal, Carbohydrates: 40g, Protein: 19g, Fat: 8g, Saturated Fat: 2g, Cholesterol: 46mg, Sodium: 934mg, Potassium: 317mg, Fiber: 1g, Sugar: 9g, Vitamin C: 0.8mg, Calcium: 62mg, Iron: 2.7mg
More easy recipes:
We are a participant in the Amazon Services LLC Associates Program, an affiliate advertising program designed to provide a means for us to earn fees by linking to Amazon.com and affiliated sites.