Braised Pork Chops in Milk and Dijon Mustard Sauce
Sometimes too much of a good thing isn't all that bad and these milk braised pork chops are the perfect example of many good things in one bite. It's been a month of indulgence over here and we've yet to have time for a breather.
Milk-Braised Pork Chops Recipe with Mustard Sauce
Even the pups missed us, especially when we don't get to work from home during the week. You know when you have spoiled pups when they're expecting you to work from home every-single-day. That's totally not possible. We tell them that, but their eager and yearning faces won't accept anything other than getting attention, attention and more attention. We raised spoiled monsters, we tell ya. But we love them so much, we can't help it!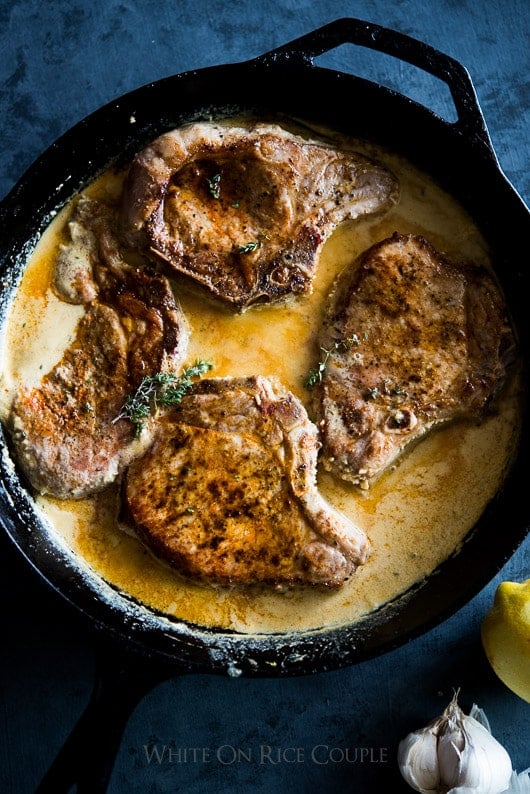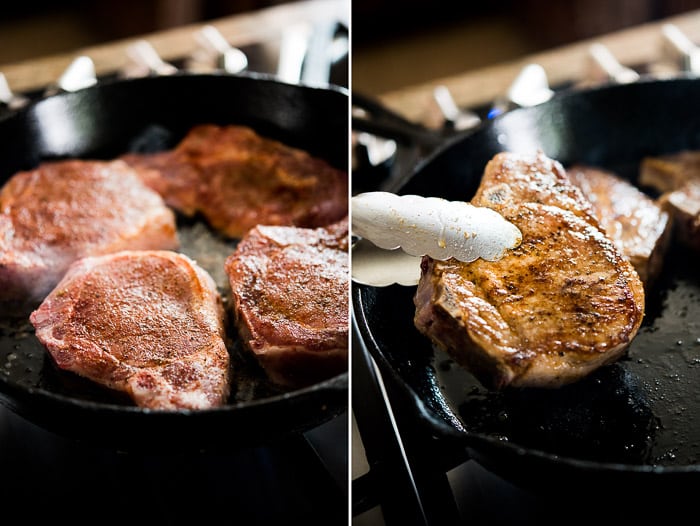 Video: Braised pork chops in milk and mustard sauce
After back-to-back studio shoots filled with wonderful produce, breads and other goodies we were always craving simple foods. Comfort foods, simply made is what we often turn-to after a long day of shooting. Our chicken baked in milk recipe is always an inspiration but after a while, we're looking for something other than chicken. Then one day we decided to cook up pork chops because we love them and don't ever eat enough of them! Pork chops are always our forgotten love. When we're at the market, we're always turning to our stand-by chicken and sometimes it takes a big light bulb (duh!) to think beyond chicken.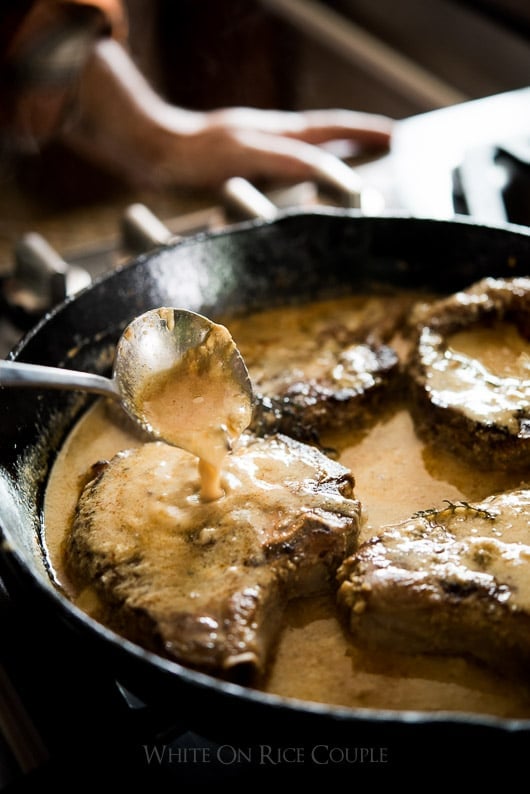 Flavorful Pork Chops Recipe
Well, the change was worth the effort because we adapted our milk chicken thighs recipe to the pork chops and it was incredible! It's a popular concept, dijon mustard sauce with pork, but we took it a few steps further and added garlic and more spices. Every depth and level of flavor is prominent which makes for a juicy chop, all smothered in a creamy yummy yellow sauce.
Guys, this is a winner if you're craving pork chops and looking for something quick yet satisfying. It doesn't take long, nor is it complicated. All it takes are a few simple ingredients and you'll wish there was an extra chop leftover for the next day.
Enjoy!
-diane and todd
This was originally published in 2016 and was re-published in 2020 with an updates and new video.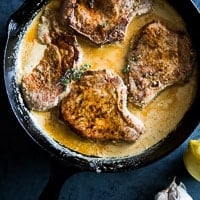 Braised Pork Chops in Milk and Dijon Mustard Sauce
Inspired from our
Baked Milk Chicken Thighs Recipe
, we applied the same idea to pork chops. This time, with the popular addition of dijon mustard, these pork chops are super tender and delicious. You can use bone-in or boneless pork loin chops or pound them down to make them thinner. What ever you decide to do, make sure to adjust cooking times based on the thickness of your pork chops. We didn't pound ours down and just baked them for longer. We like the thicker cut and they came out just as tender when cooked in the milk. Enjoy!
Ingredients
2 pounds (907 g) pork loin chops (bone-in or boneless)
1 teaspoon (5 ml) ground cumin
1 teaspoon (5 ml) paprika
kosher salt or sea salt, to taste
fresh ground black pepper , to taste
2 Tablespoons (30 g) butter , divided
3 cloves (3 cloves) garlic , minced
1 (1) bay leaf
1 1/2 cups (380 ml) milk
1 teaspoon (5 ml) dried thyme leaves (or fresh thyme)
1/4 cup (60 ml) dijon mustard (this might sound like a lot, but it's not. The flavors are great)
zest of 1 lemon
additional fresh cracked black pepper and salt , to taste
Optional - to thicken final sauce
1-2 Tablespoons (15-30 ml) butter , to thicken sauce
1-2 Tablespoons (15-30 ml) flour , to thicken sauce
Instructions
Preheat oven to 400° F (205°C).

Wash and pat dry pork chops. Season both sides of pork chops with ground cumin, paprika, salt and pepper.

In a large oven proof skillet, melt 1 tablespoon of butter on medium high heat. Sear both sides of the pork chops until golden brown, about 2-3 minutes per side. Remove pork chops from pan and set aside.

In the same skillet over medium heat, melt the remaining 1 tablespoon of butter, add garlic and cook until fragrant, about 1 minute. Add bay leaf, milk, thyme, dijon mustard, and lemon zest. Stir to combine all ingredients. Bring liquid to a low simmer. Taste the sauce and season to taste with salt and pepper.

Place pork chops back into the skillet and cover with a lid or aluminum foil. Transfer the skillet to the oven. Bake the pork chops for about 15-30 minutes or until fully cooked and to your desired tenderness. (Cooking times will vary depending on the thickness of your pork chops).

After pork chops are cooked, serve with the milk-mustard sauce. Garnish with extra thyme to make it pretty.

(Optional) If you want to make a delicious and thicker gravy out of the sauce, then remove the pork from the pan. Heat up the pan of milk sauce again to a low simmer. Whisk in a tablespoon or two butter and flour until all flour clumps are removed. Sauce will get thicker as it cooks. Once gravy is thick and creamy, remove from heat and serve immediately.
Nutrition Information per Serving
Calories: 475kcal, Carbohydrates: 6g, Protein: 52g, Fat: 25g, Saturated Fat: 10g, Cholesterol: 176mg, Sodium: 376mg, Potassium: 1017mg, Sugar: 4g, Vitamin A: 570IU, Vitamin C: 0.9mg, Calcium: 142mg, Iron: 2.1mg
Here's super delicious recipes:
If you missed our Baked Milk Chicken Thighs recipe, give it a try. You'll be pleased.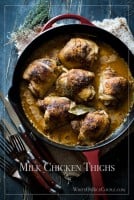 We are a participant in the Amazon Services LLC Associates Program, an affiliate advertising program designed to provide a means for us to earn fees by linking to Amazon.com and affiliated sites.