Vietnamese Caramel Braised Pork Belly Banh Mi – Nail Shop Eats #4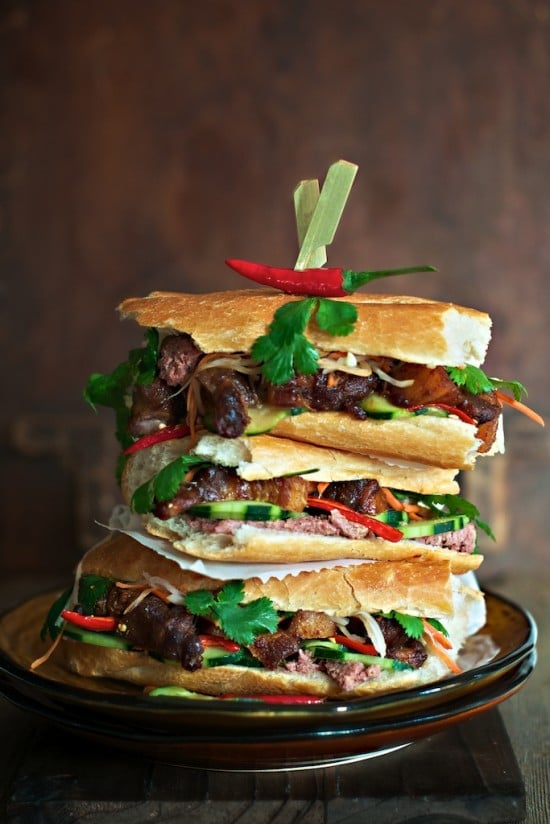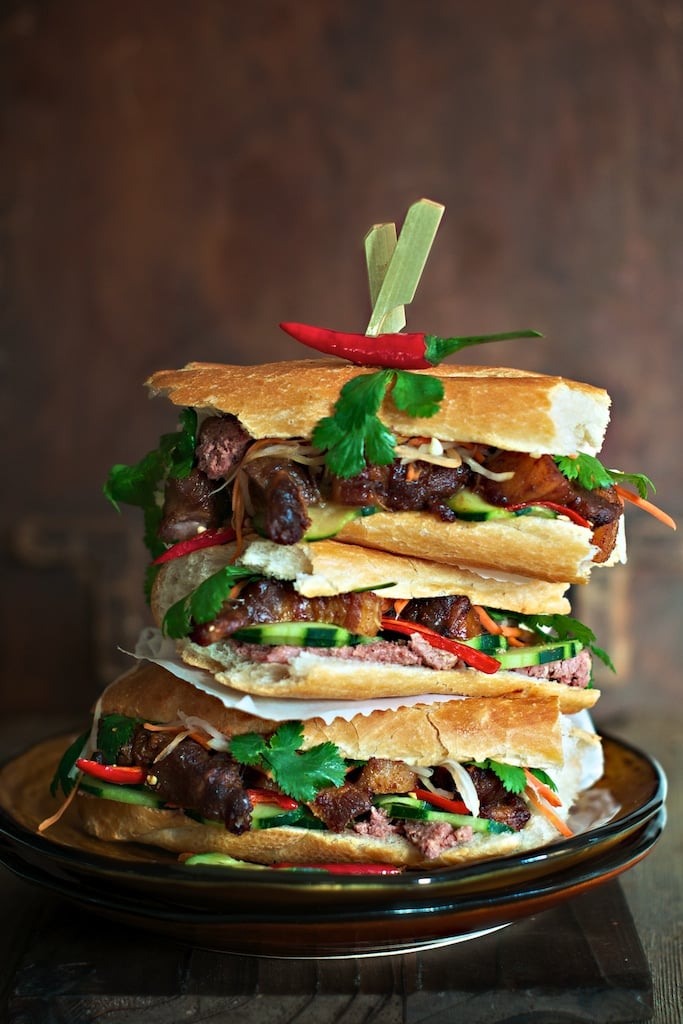 The leaning tower of Vietnamese pork banh mi: not for the light hearted
This story was originally published in 2010. My mother has retired from the nail shop industry and is now cooking full time to her hearts desire
I'm not a comedian, nor was I trying to be one when I spoke frankly about my mother's Nail shop cooking escapades. Like I've always said, my mother is a culinary fool, a manic of a woman who lives to feed her family of 6 kids and our extended family of neighborhood friends. She's been known to get even more carried away and feed her nail shop clients homemade noodles and fish sauce while they're getting their pedicures.
My mother's nail shop has launched her notoriety as the local nail salon that leaves you twinkling with pretty red nails and stinking of fish sauce. Or in our case, smelling so umami-delicious!
Her salon is a combination Viet food joint slash Tuesday-after-5pm-pedicure-special nail salon. And it tickles me #32 bottle-pink to see the buzzing jive of food and eyebrow "wacks" that are going on. The ladies are still trying to pronounce "wax" correctly. Good luck.
I make an effort to be a good daughter and relieve her for a few hours from the bonds of the nail salon so that she can visit her vendors and suppliers. I enjoy the time that I'm in the salon because I get to visit all the ladies that work there and participate in their daily chat, gossip and most importantly, food talk. When you get 12 Vietnamese women talking passionately about food, recipes and family food stories, it's a Ph.D lesson in Vietnamese culture and cuisine. Everytime I walk out of there, I feel so much smarter and unfortunately, 10 pounds heavier from all the food talk.
On one lucky occasion, my mother had a huge tupperware of her beloved braised pork belly waiting at the salon. Before I arrived, she rang me on my phone and screamed (she always thinks we're deaf on the other side of the cell phone) "Con ghé vaò tiệm bánh mì mua cho mẹ 8 ổ bánh mì baguette!!!" When Mother calls me to pick up 8 loaves of fresh, crusty vietnamese baguettes, I know of only one salivating vision—Mom's braised pork belly banh mi sandwiches.
I hooked a quick u-turn and headed to one of our local Vietnamese bakeries for the 8 loaves of baguettes that she requested. It must still be warm and super fresh, pretty please.
When I arrived at the salon, it was like a scene from the "stone soup" story. Mom brought the braised pork belly, Chi Yen had a bag of fresh cilantro, Vicky (real name is Phuong) donated the tub of pate and the others completed the community meal with their donations of pickled carrots/daikon, fresh chiles and soy sauce. My arrival of the baguettes was met with roaring applause and the always anti-climatic critique, "What took you so long? We're hungry!"
Vietnamese Pork Banh Mi Recipe
I dived head first in to the best banh mi of the day. Juicy, fatty, melt-in-your-mouth pork belly sandwiched between cool and tangy textures of the banh mi pickles is just pure Viet food genius. Add a light and heavenly crusty Vietnamese baguette to hold all the flavors and textures in, and what you have is one of the best friggin' sandwiches on the face of the earth. That's right, Vietnamese banh mi is one of the worlds best sandwiches and anyone who wants to argue with me will have my mother and her staff to contend with!
So there you have it. A Vietnamese braised pork belly banh mi that will leave you overwhelmed, satisfied and in awe on the power of a good mom-wich.
Thank you Mom,
diane
Other Related Recipes
Step-by-Step photographs for Braised Caramel Pork Belly
above: cook shallots & garlic until fragrant and light brown
above: add pork belly, cook until seared on all edges, add fish sauce
add water, black pepper and braise.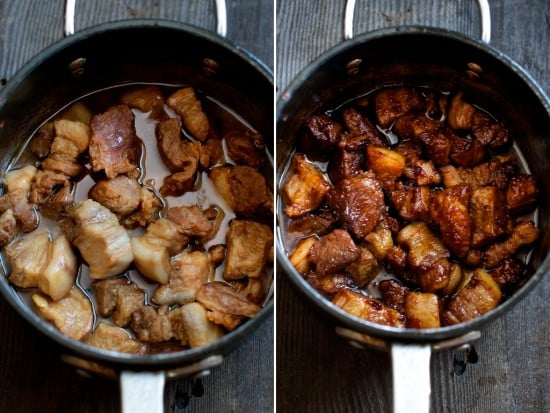 top left: after caramel is added. Above right: after about 45 minutes of braising, pork belly becomes soft & caramel crusted. 
Step-by-Step Photographs for Vietnamese Caramel
above: the heated sugar/water will slowly melt and become light brown caramel
above: continue heating until caramel becomes golden brown. Immediately remove from heat. If needed, add additional water (very carefully! slowly!) to the caramel, then stir quickly to thin the caramel. Pour the caramel mixture into pork for braising.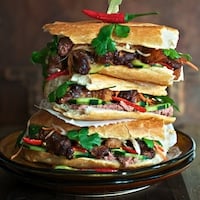 Print Recipe
Braised Caramel Pork Belly Banh Mi Sandwich
Making good banh mi at home is quite easy, but can involve a bit of preparation so you can make it as simple or as detailed as you want. The carrot and daikon pickles can be made ahead of time and be stored in the fridge for about 3 weeks. Please read recipe notes below about different cuts of pork.
Servings: 8 Sandwiches
Calories: 322kcal
Ingredients
Pork Ingredients
2 pounds (907 g) pork shoulder and/or pork belly (cut into 1-inch cubes)
3 large (3 large) shallots (or 1 small onion), minced (about 3-4 tablespoons)
1 Tablespoon (15 ml) oil
2 cloves (2 cloves) garlic , minced
2 Tablespoons (30 ml) fish sauce
1/2 teaspoon (2.5 ml) black pepper (preferably fresh ground)
1 - 1.5 cups (240-360 ml) water (approximately)
Caramel Ingredients
1/3 cup (67 g) sugar
2 Tablespoons (30 ml) water
Banh Mi Assembly (not all required, choose your preferences):
1 (1 ) french baguette
fresh cilantro
pork liver pate
mayonnaise
thin slices of chili pepper
thin slices of cucumber
Instructions
For the Pork:
Heat a large saucepan on medium/high heat. Heat oil, then add shallots and garlic. Cook for about 2 minutes, or until they become soft and fragrant. Add pork belly and stir into the shallots and garlic. Increase heat to high and cook for about 10 minutes or until all the edges are seared and browned.

Add fish sauce, pepper and about 1 cup of water. If needed, add more water until the pork is nearly covered. Reduce heat to a low simmer and cook for about another 10 minutes. Stirring occasionally.
While Pork is Simmering - Make the caramel sauce
Combine sugar and water to sauce pan. Bring to a boil over medium-high heat. After several minutes of boiling, the mixture will begin to turn to a golden brown. Using silicone spatula (less sticking), stir the mixture slowly as the caramel browns. Do not leave the caramel sauce unattended!

Once the sugar begins to caramelize, it will turn color very quickly. The caramel should have have consistency and color like light maple syrup. As soon as the mixture turns to a medium golden brown, immediately remove pan from heat. Slowly & Carefully add caramel sauce to the pot of pork (if poured too fast the caramel may overreact when hitting the liquid, splattering very hot caramel). Scrape all the caramel sauce into the pork because it's delicious!

Gently stir the caramel into the pork and continue braising the pork on low heat for about another 45 minutes to 1 hour, or until pork is tender. Make sure to stir occasionally while cooking. After 45 minutes, taste the pork. If it's to your desired texture, remove from heat.
For the Banh Mi assembly:
Slice baguettes lengthwise. Spread some some mayo, pate, and/or soy sauce if using on the interior of the baguette.

Add some pork on the bread. Drizzle some of the yummy caramel sauce over the pork. Add the rest of the ingredients that you want (or like) to the banh mi. Enjoy!
Notes
Traditionally we make this with pork belly and the flavor from the fat is fantastic. Expect a thick layer of oily delicious fat when pork belly cools. But over time, we realize we can't indulge in fatty pork belly too often, so we'll make this with 1/3 pork belly and 2/3 pork shoulder/butt. It's still a fantastic and flavorful combination. For a less fatty version, use all pork butt/shoulder and cooking times aren't too much longer than cooking with full pork belly.  Mom has switched to using only pork butt now because she doesn't think that the family needs to eat all this fat anymore. She's right. For the leanest option, you can use cubed pork chops or pork loin, but you'll have to add more water and cook it longer to break down the meat. This version will have less flavor and not as tender because it doesn't have all the fat, but it's definitely healthier!
Nutrition
Calories: 322kcal | Carbohydrates: 40g | Protein: 19g | Fat: 8g | Saturated Fat: 2g | Cholesterol: 46mg | Sodium: 934mg | Potassium: 317mg | Fiber: 1g | Sugar: 9g | Vitamin C: 0.8mg | Calcium: 62mg | Iron: 2.7mg
We are a participant in the Amazon Services LLC Associates Program, an affiliate advertising program designed to provide a means for us to earn fees by linking to Amazon.com and affiliated sites.