Lettuce Wraps with Almond-Basil Chicken
Enjoy these super easy and flavorful chicken lettuce wraps for a quick and easy weeknight dinner.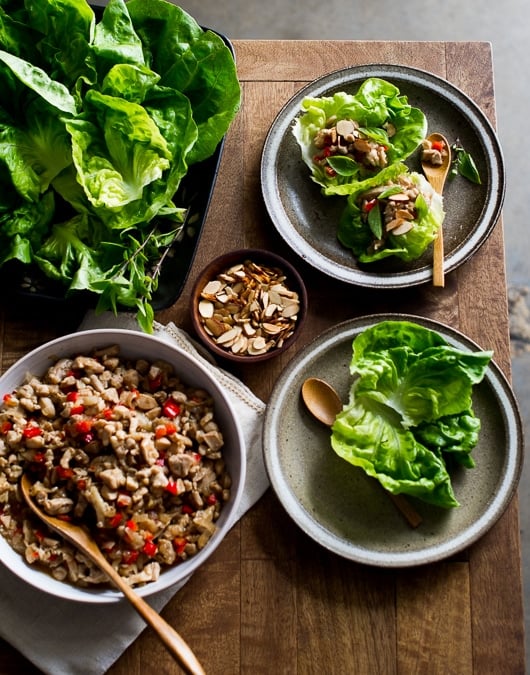 Healthy Chicken Lettuce Wraps Recipe
How have you all been bearing in this Summer heat? Granted, we're pretty spoiled here in Southern California and our humidity level isn't intense like it is for most of our East coast friends. But still, it's hot hot hot for us when it reaches the 89 degree F level. It's not just hot for us, but our poor little tomato plants are dropping their flowers and not producing fruit because they're sensitive to the heat too. Fingers crossed we'll recover and swing back to our *perfect* weather again and start seeing some baby tomatoes. Please! Other than that, we've been enjoying some sweet summer tomatoes and tons of fresh basil.
Summer tomatoes and basil explosion in the garden
In this warm weather, we're hydrating with refreshing drinks, but when it comes to food we try to keep it light and healthy. It's no fun to have to digest a heavy lunch or dinner in sweltering heat. We had a long studio day today in the heat and for team lunch, it was our favorite spring roll feast! Anything with tons of lettuce, light proteins and lots of herbs is the perfect meal for days like these.
One of our favorite healthy Summer meals are also lettuce wraps, or lettuce cups. They're light, flavorful and it's one big salad feast. Rarely are we without a head of lettuce in the fridge or a there's usually a new batch of lettuce seedlings in the garden. Lettuce is the starter base for many of our light and low carb meals. Grab a nice, cool and crisp lettuce leaf then fill it with some flavorful almond-basil chicken and it's a wrap that will keep you craving more.
Often times when we make this for friends, we always have some sides of different types of hot-sauces. The heat from hot sauces will take this dish to the next flavor level. It's hard to not make a double batch because everything is super fresh and flavorful. You might want to add a bottle of your favorite wine or a few bottles of beer because this is one of those dishes that pairs perfectly with some booze. And want to mix it up for different variations? Try some tofu, minced mushrooms, ground pork, baby shrimp or even ground beef. There's an adaptation for everyone!
Enjoy,
diane and todd
If you're an ambitious gardener and want to grow your own lettuce here's a great list of lettuce varieties.
Chicken Lettuce Cups with Almond Basil Chicken
This recipe is from our cookbook, Bountiful. In this versatile recipe, you can substitute shrimp, beef, pork, tofu, or chopped vegetables for the chicken.
Ingredients
2 Tablespoons grapeseed oil (30m) or other cooking oil
1 small onion , diced
2 cloves garlic , minced
1 pound chicken breast or thigh meat (455g) , diced small
1 small red bell pepper , halved, seeded, and diced
1 teaspoon honey (5ml)
2 teaspoons fish sauce (10ml) or soy sauce
2 Tablespoons hoisin sauce (30ml)
1/2 teaspoon rice vinegar (3ml)
1 head fresh lettuce leaves , (butter leaf, iceberg, or other similar lettuce, for wrapping)
1/2 cup chopped fresh basil (20g)
1/4 cup toasted sliced almonds (23g)
Instructions
In a large sauté pan, heat the oil over medium heat. Add the onion and garlic and cook until soft.

Add the chicken and cook until browned, about 5 minutes.

Stir in the bell peppers, honey, fish sauce, hoisin sauce, and rice vinegar. Continue cooking until the chicken is fully cooked, 10 to 15 minutes.

Serve the chicken in a shallow dish alongside a plate of the lettuce leaves. Fill the leaves with the chicken mixture, and top with a sprinkling of basil and almonds.
Nutrition Information
Calories: 316kcal, Carbohydrates: 12g, Protein: 28g, Fat: 18g, Saturated Fat: 2g, Trans Fat: 1g, Cholesterol: 73mg, Sodium: 498mg, Potassium: 623mg, Fiber: 3g, Sugar: 6g, Vitamin A: 791IU, Vitamin C: 27mg, Calcium: 62mg, Iron: 1mg
We are a participant in the Amazon Services LLC Associates Program, an affiliate advertising program designed to provide a means for us to earn fees by linking to Amazon.com and affiliated sites.