What are lemon cucumbers and Lemon Cucumber, Pesto Recipe
Looking for a new cucumber to grow or devour? Try lemon cucumbers! They're adorable and refreshing little yellow orbs for Summer.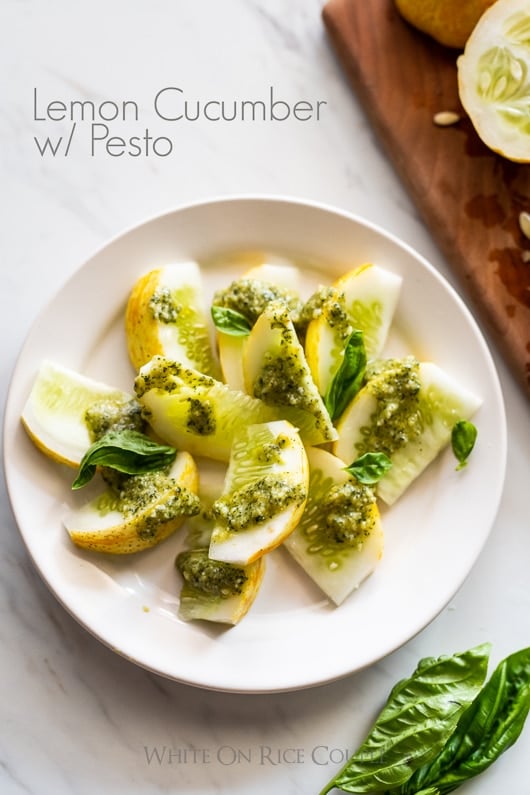 What is a lemon cucumber?
Lemon cucumbers are a fun and refreshing addition to your garden and Summer kitchen recipes.
Like little balls of sunshine, these round, striped vegetables are, oddly enough, cucumbers. Thinking that these are un-edible gourds is more believable than being told that they're actually edible! They look like lemon colored gourds with cucumber features in the center. These round cucumbers are too unique and interesting to pass up.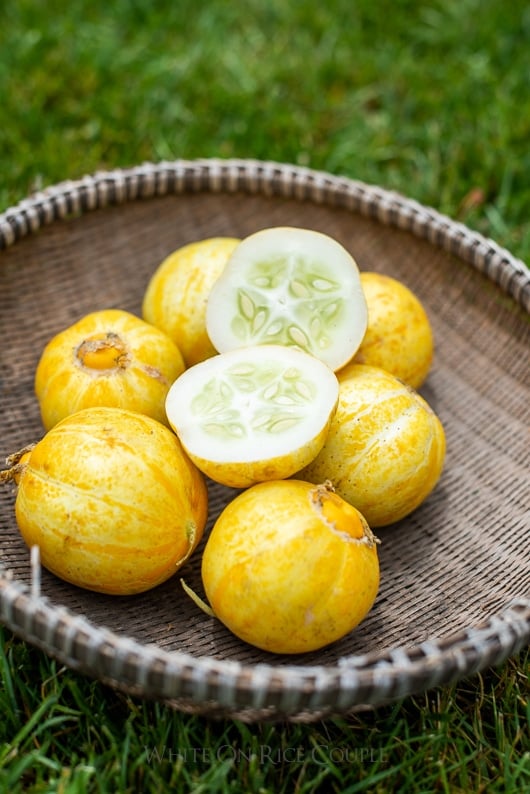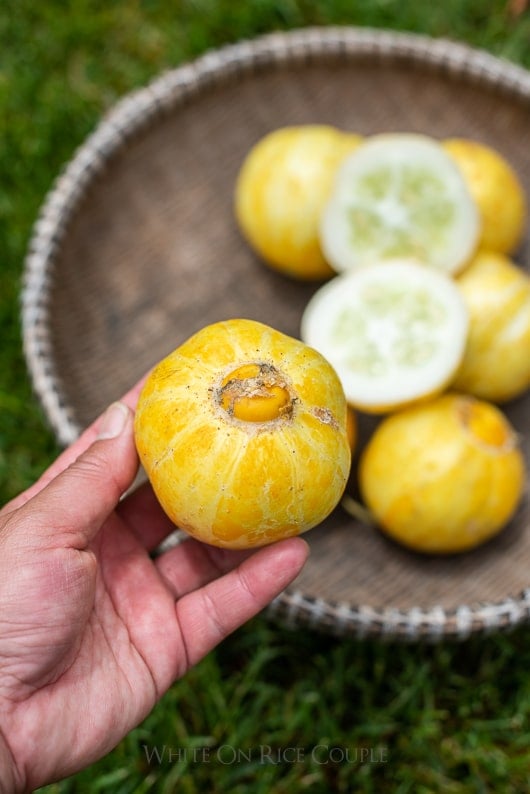 What do Lemon Cucumbers Taste Like?
Though they have no lemon flavor, the overall size and color is what gives these lemon cucumbers their recognizable name. They have the same distinctive cucumber flavor and texture that we're familiar with. Only exception is that the skin is slightly thicker. Also, the center is more seedy as the fruit stays on the vine longer. Eat them when they're more younger with a lighter yellow color so that' they're more crisp and tender.
Watch Video Cucumber with Pesto Recipe: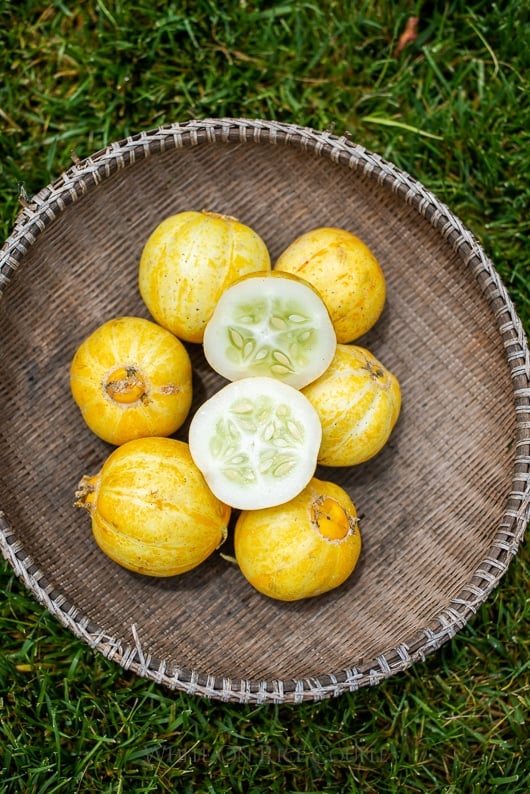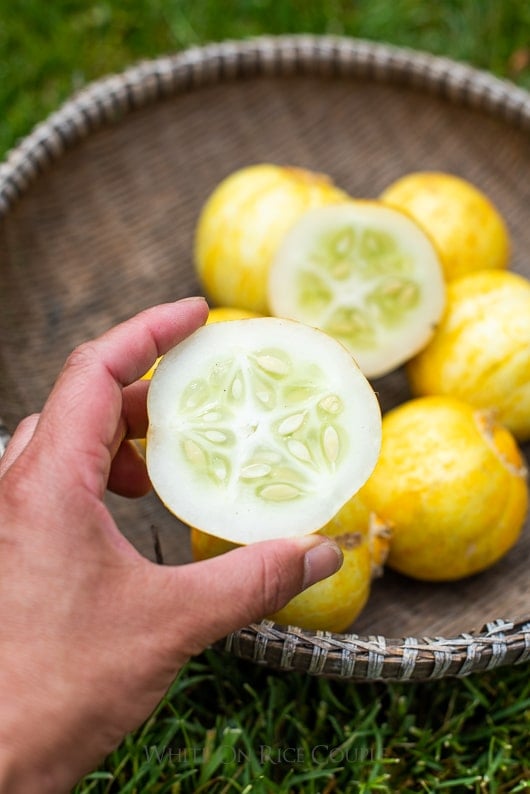 We had never seen them at the markets before when we were first researching them in 2008. We were fascinated and since seeing is believing, we decided to grow these for ourselves. After a visit to the nursery and two lemon cucumber plants later in our whiskey barrels, their crazy, twining, serpent vines were stretching beyond the barrels and tangling on to anything that crossed it's path! If you are growing them here's a warning: Lemon cucumbers vines grow and crawl like serpents! Start with just one plant and give it plenty of room!
Pesto with Cucumbers
With some good draining soil, frequent watering and a good stretch of warm weather, these vines are proliferating with yellow balls of beautiful round cucumbers! They are so easy to grow and before we knew it, we've got enough lemon cucumbers to last us the whole summer. All you cucumber loving gardeners will just love adding this to your vegetable patch. Lemon cucumbers are super crunchy and sweeter than their regular long green counterparts. Perfect for salads or just munching on, these cute little cukes are a great conversation piece too! They really do look like yellow gourds and round meyer lemons but when you bite past the yellow peel, you'll see that they're all cucumber on the inside: juicy, crisp and sweet.
We made a pesto from our garden basil to top off these refreshing basket of cucumbers, but didn't have an more of the required pine nuts. Our pantry was empty on the nuts, something we need to re-stock on ASAP. Our simple garden pesto was made from basil leaves crushed in the mortar pestle, olive oil, lemon juice, salt, pepper, Parmesan and a little garlic. It was still a delicious topping to this Summery lemon cucumber pesto dish!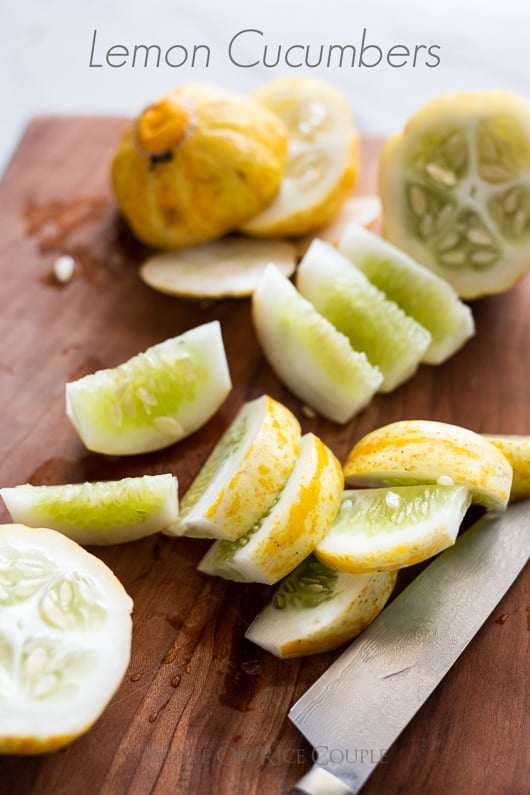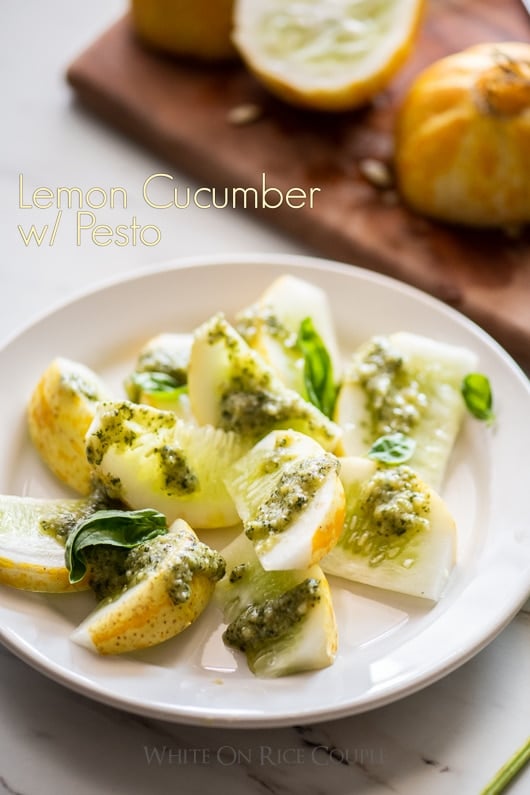 Check out more of our Summer heirloom tomato recipes.
This "What is a lemon cucumber" post and recipe was originally published in 2008 and updated in 2019 with new photos and recipe.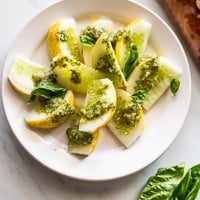 Lemon Cucumber & Pesto Recipe
Lemon cucumbers have no lemon flavor and their skin is slightly thicker and the center is more seedy as the fruit stays on the vine longer. Eat them when they're more younger with a lighter yellow color so that they're more crisp and tender.For the pesto, adjust the amount of parmesan cheese according to your preference. The more parmesan you use, the rich the pesto will be, however it will also become lighter in color. Adjust the amount of oil depending on your personal preference for how thick you like your pesto.
Ingredients
3-4 medium (3-4 medium) lemon cucumbers
2 cups (72 g) fresh Italian basil leaves
1/2 - 1 cup (50-100 g) grated parmesan cheese (see head note)
1/4 cup (60 ml) toasted nuts (pine nuts, walnuts, cashews, pistachios, peanuts)
1 tablespoon (10 ml) lemon juice , optional
2 cloves (2 cloves) garlic , or more to taste
1 teaspoon (5 ml) kosher salt or sea salt, to taste
fresh ground black pepper , to taste
1/2 cup (120 ml) olive oil (approximately)
pinch (pinch) red chili flakes (optional).
Instructions
Slice or chop cucumbers. If the skin is too tough, peel the skin and if the seeds are too hard, remove the seeds.

In food processor: combine basil leaves, parmesan, nuts, garlic, optional lemon juice, salt, and black pepper. While blending, gradually add the olive oil until the pesto reaches your desired consistency. Taste and adjust seasoning to personal preference and blend again if needed.

If using traditional mortar and pestle: add basil leaves a few at a time with the garlic. Crush and grind the all the leaves and garlic until well combined. Add the nuts and cheese and continue combining into the basil mixture until a paste forms. Add the optional lemon juice, olive oil, salt and pepper. Stir and slightly grind until the everything is incorporated into the pesto.

Taste the pesto and add additional salt/pepper to taste. If you want some spice, add a pinch of red chili flakes.

Dress the pesto over cucumbers.

Leftover pesto can be stored sealed and refrigerated overnight.
Nutrition Information per Serving
Calories: 248kcal, Carbohydrates: 3g, Protein: 4g, Fat: 24g, Saturated Fat: 4g, Cholesterol: 7mg, Sodium: 517mg, Potassium: 204mg, Fiber: 1g, Sugar: 1g, Vitamin A: 565IU, Vitamin C: 5.6mg, Calcium: 122mg, Iron: 1mg
We are a participant in the Amazon Services LLC Associates Program, an affiliate advertising program designed to provide a means for us to earn fees by linking to Amazon.com and affiliated sites.