Refreshing and Light Sesame Cucumber Carrot Salad
This refreshing cucumber carrot salad recipe is a great way to enjoy crispy cucumbers. Make these ahead of time for a fantastic lunch or side dish.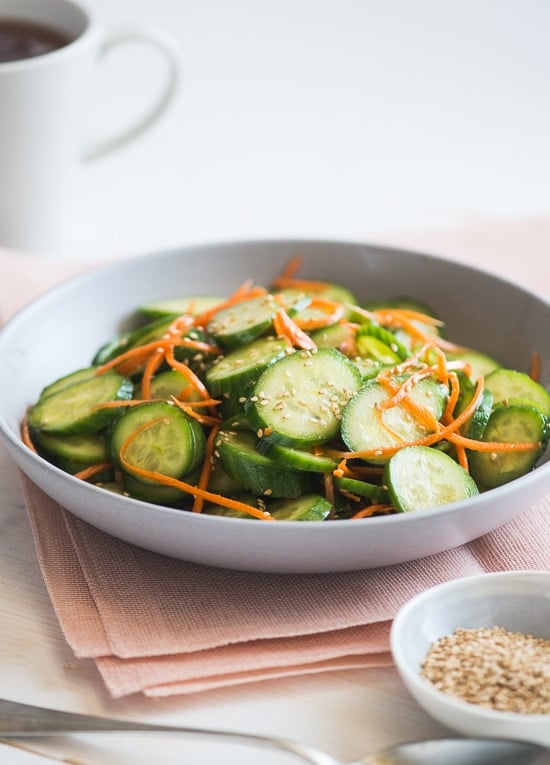 Cucumber Carrot Salad
It's this time of year that everyone around us seems to be sharing lists of resolutions and aspirations of what their vision of 2014 could be. For us? We'll just say that instead of listing-out resolutions, we started off New Years Day with a big batch of yummy fried chicken and some extra sips of proseco. That's how we roll, as of late, by enjoying things that make us happy, even if it includes delicious moments of crispy chicken skin and a drink. Or Two.
But that's not to say that we've totally jumped off the wrong end of 2014. Though we'll have our moments of splurge, there's still that joy of cooking fresh vegetables while their at their peak. Regardless of how decadent our meals are, there's always a fresh green salad, some raw snacking veggies or a platter of fresh herbs to accompany our meal. It's these bites of fresh greens that really highlight our meals.
Simple and Refreshing
Yes, the fried chicken was great, but so was this refreshing cucumber salad. This is one of our go-to salads. It's one of those salads that we threw together one day and has now become a favorite. Doesn't that often happen to you too? when you're just whipping something together real-quick in the kitchen and suddenly it's quickly becomes one of your favorites. Well, this 15 minute cucumber salad is just-it and it's the perfect accompaniment to any entree or even on it's own as a light snack.
So aside from the fried chicken, we really did start off the new year on a fresh"er" and healthy-"er" dish. And best of all? this salad is light, crisp, refreshing and satisfying that you don't even have to think about calorie-counting.
And how was your New Year? Hope it was grand and safe. Hope you're all rested, refreshed and ready for the big '14. Enjoy this year as much as you can, because before you know it, it'll be 2015!
Happy New Year everyone!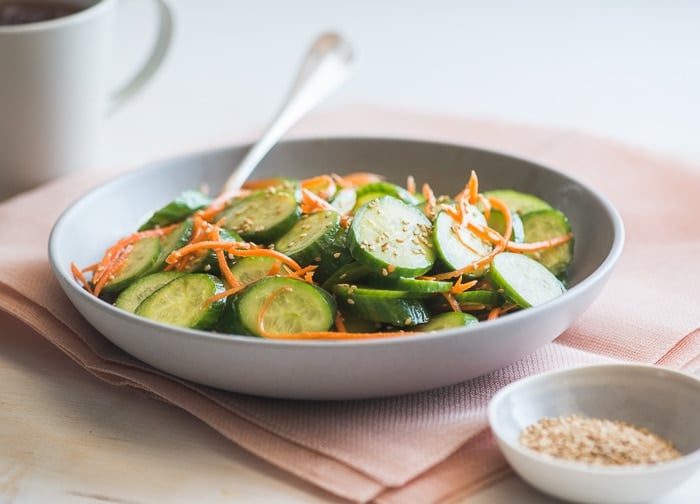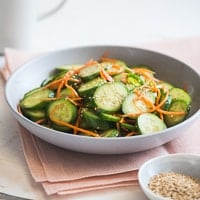 Asian Style Cucumber and Carrot Salad
Our favorite cucumbers are the crisp, seedless kind like persian or japanese cucumbers. These cucumbers have such a tender outside skin and crispy texture that they just make the perfect snacking cucumber. And when it comes to salads, these cucumbers can't be beat.
Ingredients
1 pound (454 g) cucumbers , sliced thin
1 large carrot , julienned
1 Tablespoon (15 ml) grape seed oil (or other clean tasting oil)
2 Tablespoons (30 ml) rice vinegar (use distilled white vinegar for gluten free)
1 teaspoon (5 ml) sesame seed oil
2 teaspoons (10 ml) sugar or honey
2 teaspoons (10 ml) soy sauce (use Tamari soy sauce for gluten free)
1 Tablespoon (15 ml) toasted sesame seeds
salt and pepper, to taste
Instructions
Combine the cucumbers and carrots in a bowl. Set aside.

In another bowl, whisk together the grape seed oil, rice vinegar, sesame seed oil, sugar, and soy sauce. Taste for seasoning like salt and pepper and adjust to individual preference.

Toss the cucumbers and carrots with the dressing. Fold in the sesame seeds. Chill for 20 minutes or up to overnight and then serve.
Nutrition Information per Serving
Calories: 72kcal, Carbohydrates: 6g, Protein: 1g, Fat: 5g, Saturated Fat: 1g, Sodium: 182mg, Potassium: 218mg, Fiber: 1g, Sugar: 4g, Vitamin A: 3089IU, Vitamin C: 5mg, Calcium: 23mg, Iron: 1mg
More easy recipes:
We are a participant in the Amazon Services LLC Associates Program, an affiliate advertising program designed to provide a means for us to earn fees by linking to Amazon.com and affiliated sites.