Roasted Delicata Squash with Rosemary
Roasted Delicata squash is such a treat for Fall. The skin is tender when cooked, that's why its one of our favorite squashes to eat.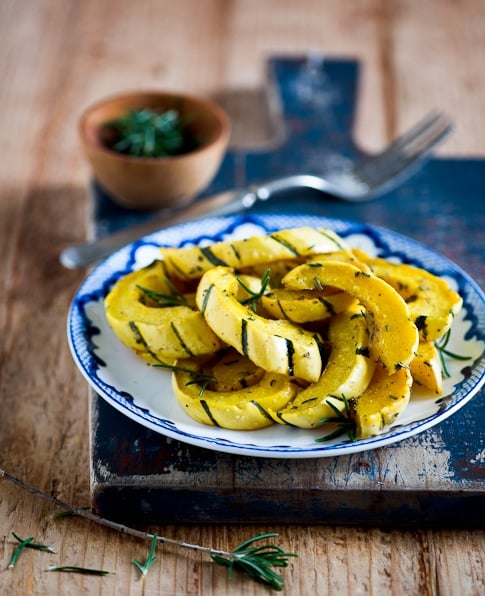 Delicious and Easy Roasted Delicata Squash
Re-Awakened. That's how I would describe the aftermath of traveling. Even as aware as we try to be at home, it is easy to fall into our routines. We tend to focus on the familiar and filter out the rest. There is comfort and warmth in the familiar. However sometimes something exceptional is right under our noses and we never notice.
Yet when we travel, our senses are alive. Everything seems fresh and new. We seek out the different and exceptional. The heart and eyes are open at nearly every moment, ready for discovery. And after we get home from our travels, for a time, this sense of openly seeking stays with us, like the perfume of a beautiful woman just after she has left the room.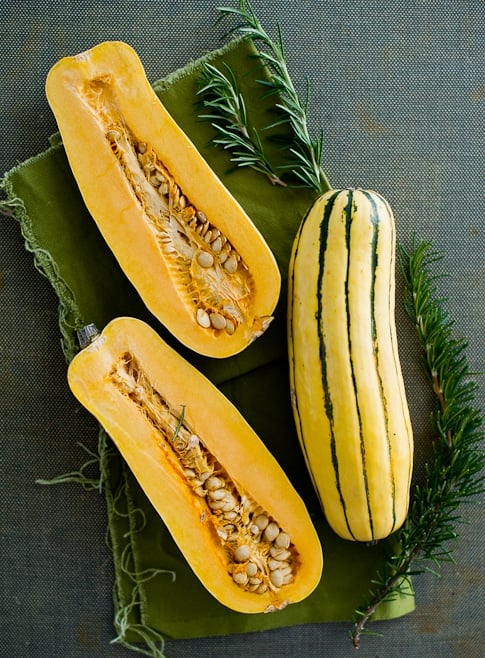 For us, in the culinary realm, this re-awakening has led us to discover roasted Delicata Squash. I'm sure we've passed over them hundreds of times, never paying any attention to this cute little gourd. But let's face it, squash isn't something most of us go nuts over. We may really enjoy a butternut squash soup or maybe a spaghetti squash dish, but squash usually doesn't get the same reaction as summertime fruit.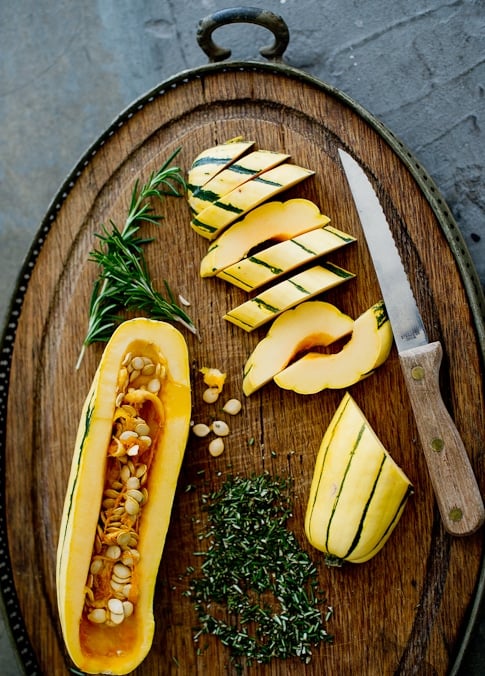 "Oh my God! That peach was amazing!" Yeah, we've all said it. But how often will, "Can you believe this buttercup squash?!" escape our lips with the same eye rolling enthusiasm.
But life shouldn't be all moaning and groaning. Sometimes a heartfelt, "Mmmmm…" is a nice change of pace. Plus, it helps give the moans a little more meaning. A bit of perspective.
How to Cook Roasted Delicata Squash
Delicata squash is one of those, "Mmmmms". After roasting, the flesh is tender and sweet. They have a wonderfully thin skin which needs no peeling or removing. The thin skin makes preparation easier than most winter squash, and after roasting it can be eaten with the flesh, providing another texture to contrast against the center.
You can use Delicata squash as a substitute for just about any other squash in your recipes, but to discover and appreciate it's flavor and textures, we like a simple preparation. Slice and roast with a touch of rosemary, good olive oil, sea salt, and fresh cracked pepper.
It's funny how one of the greatest rewards of traveling is gifted when you get back home.
-Todd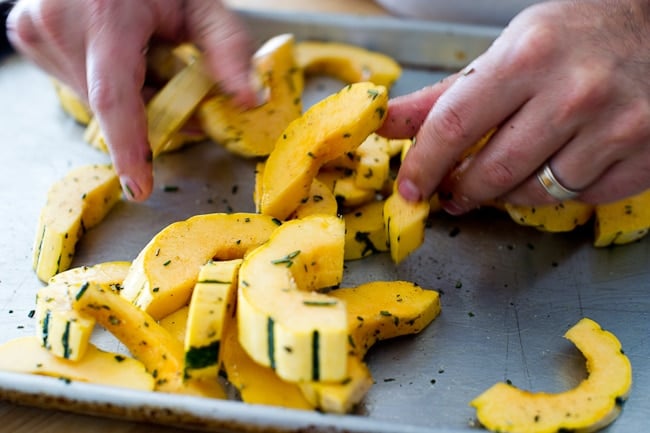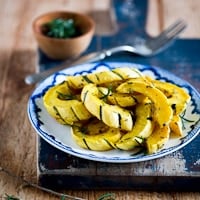 Roasted Delicata Squash w/ Rosemary
Delicata squash has a wonderfully tender skin which can been eaten after roasting.
Ingredients
1 Delicata Squash (@ 1 lb.), sliced in 1/2" slices
1 Tablespoon finely chopped fresh Rosemary
2 cloves Garlic , minced or crushed
2 Tablespoons Olive Oil
1 teaspoon Kosher Salt , or to taste
1/2 teaspoon fresh cracked Black Pepper , or to taste
Instructions
Preheat oven to 400°F.

In bowl, toss all ingredients together to evenly coat the squash slices (squash, rosemary, garlic, olive oil, salt, & pepper). Lay the squash in a single on a sheet pan. Spread the squash to be in a single layer.

Bake for 25-35 minutes or until soft and slightly golden. Cooking times will vary depending on the thickness of your squah. So check on the squash after about the first 20 minutes. Serve warm.
Nutrition Information per Serving
Calories: 104kcal, Carbohydrates: 10g, Protein: 1g, Fat: 7g, Saturated Fat: 1g, Sodium: 586mg, Potassium: 410mg, Fiber: 2g, Sugar: 3g, Vitamin A: 1566IU, Vitamin C: 15mg, Calcium: 38mg, Iron: 1mg
We are a participant in the Amazon Services LLC Associates Program, an affiliate advertising program designed to provide a means for us to earn fees by linking to Amazon.com and affiliated sites.