Creamy Meyer Lemon Vinaigrette Salad + Victory Gardening
The garden is producing joy aplenty and so it's time of to make salads and other delicious dishes. This recipe incorporates the wonder greens we are harvesting as well as the zest and juice of our Meyer lemons to make a creamy Meyer lemon vinaigrette salad.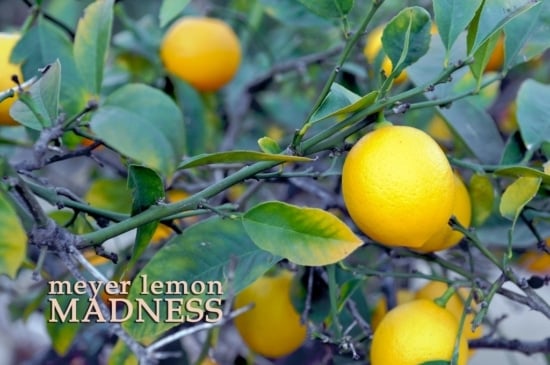 Creamy Meyer Lemon Vinaigrette Recipe
We know, we know. Many of you are still freezing while we're basking in Southern California's warm embrace. It's a catch-22 situation with this post because we get e-mails requesting more updates on the garden, but if we do, we certainly don't wan't to be rubbing today's 78°F sunshine in anyone's blog face. But we will talk about this yummy Meyer lemon vinaigrette recipe.
As we mentioned, folks are asking us to write about our garden updates more, what we're currently growing and how the pesky possums's are treating us (you, smart asses!). We've been cautious to gloat about our freakishly warm "Winter", but since we've made weather peace with all of you, here's the update: The garden is going friggin crazy and so it's time to make this meyer lemon vinaigrette recipe.
Victory gardening = lettuce + lemons = dinner!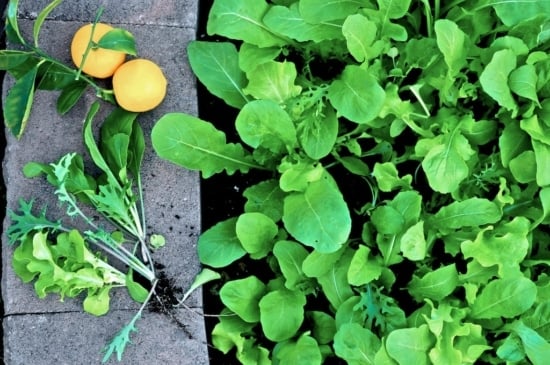 Our Victory Garden
To find out more about Victory Gardens, visit Revive the Victory Garden, Red White & Grew, San Francisco's Victory Garden, or google "Victory Gardens" to find a plethora of information at your fingertips.
So, what is in our Victory Garden this month? Our four varieties of radishes are popping up like weeds and they've become such uncontrollable green critters that we'll have to eat the radish tops in a salad soon before they fight each other for space. The beets, onions, spinach, tatsoi, mustard greens, soybeans, kohlrabi, broccoli and cauliflower seedlings were all sunbathing in the warm sun today. The leeks have barely poked out to say "hello", but in a few weeks, they'll be screaming out for more attention.
Mixed Garden Greens
The biggest attention stealers today were all the baby, mixed green lettuce and meyer lemons. This is the time of year that we drown in tender lettuce and beautiful citrus. With 13 citrus trees in the garden, this is the time of year that we, literally, Zest To Death! Although not all the citrus trees are bearing fruit now, what we do have on the trees is enough to eat and perfume our house with. It was only appropriate to have our first big garden salad of mixed greens, tossed in a creamy meyer lemon vinaigrette. The simple blend of fresh meyer lemon juice, some olive oil and touch of other seasons just can't be beat. The bright, aromatic flavors of fresh lemon juice on soft lettuce leaves, crispy stems and some added crunch from nuts was what we call, a Victory dinner.
What a well deserved dinner this was, especially for Todd. He spent 4 hours trimming half of our 32 ficus hedges, to be saved for mulch throughout the year. A round of applause for the mulch man, Todd! He's my pruning hero.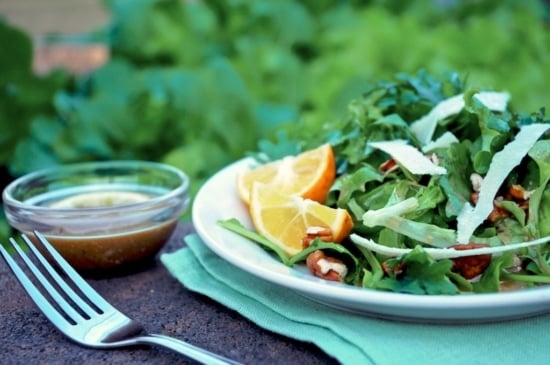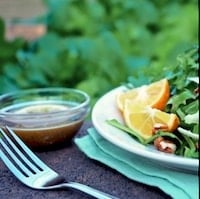 Salad with Creamy Meyer Lemon Vinaigrette
Use whatever greens you love for this salad. Green leaf, romaine, arugula, iceburg, etc.
Ingredients
1 head lettuce
walnuts, almonds or pecans (optional)
Dressing Ingredients
Zest of 1 large meyer lemon
2 Tablespoons Meyer lemon juice from about 1 large meyer lemon
3 Tablespoons olive oil
1 clove garlic , crushed or minced
1/4 teaspoon salt , or to personal taste
1/4 teaspoon fresh cracked black pepper
1 teaspoon balsamic vinegar
1 teaspoon mayonnaise
1/2 teaspoon sugar or honey , optional
Instructions
Combine all dressing ingredients in a bowl (meyer lemon juice, olive oil, salt, balsamic vinegar, mayonnaise, sugar, and garlic). Whisk together until mayo blends into vinaigrette, leaving no lumps.

Toss over fresh lettuce and nuts.
Nutrition Information per Serving
Calories: 187kcal, Carbohydrates: 11g, Protein: 3g, Fat: 16g, Saturated Fat: 2g, Cholesterol: 1mg, Sodium: 332mg, Potassium: 380mg, Fiber: 3g, Sugar: 7g, Vitamin A: 1353IU, Vitamin C: 14mg, Calcium: 49mg, Iron: 1mg
We are a participant in the Amazon Services LLC Associates Program, an affiliate advertising program designed to provide a means for us to earn fees by linking to Amazon.com and affiliated sites.