Pistachio Olive Oil Mini Tea Cakes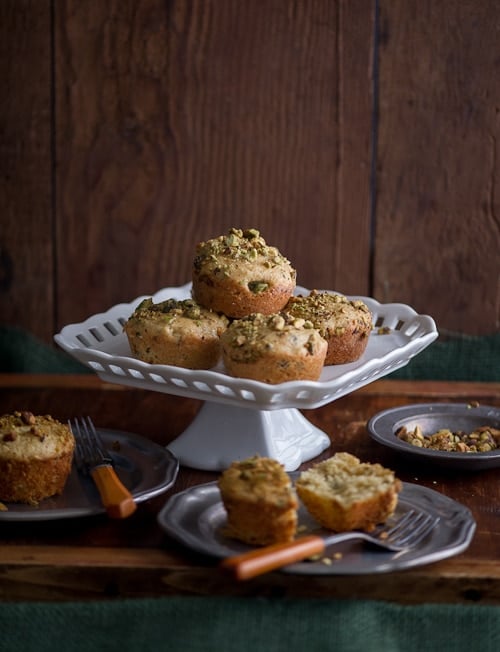 Ever buy yourself a little treat, something that sounded perfect and tasty, but after biting into it disappointment ensued. Maybe the bakery wasn't as skilled as you hoped, or perhaps the pastry had been waiting a little too long for someone to come by and savor its original deliciousness. Whatever the case, you were left with the "wha waa" feeling.
It happens occasionally. Sometimes even from a good bakery. Like so much in life, these moments can be cause for a little bitch and moan session, or they can be inspiration.
I'm not all sugar and spice and everything nice, but there are times when I suck a little less than at other moments. Theses little pistachio olive oil cakes are the result of such inspiration. After being disappointed in a pistachio cake we had recently to accompany an afternoon espresso, I was determined to make them myself to the level of deliciousness I had hoped the afternoon's treat would originally be.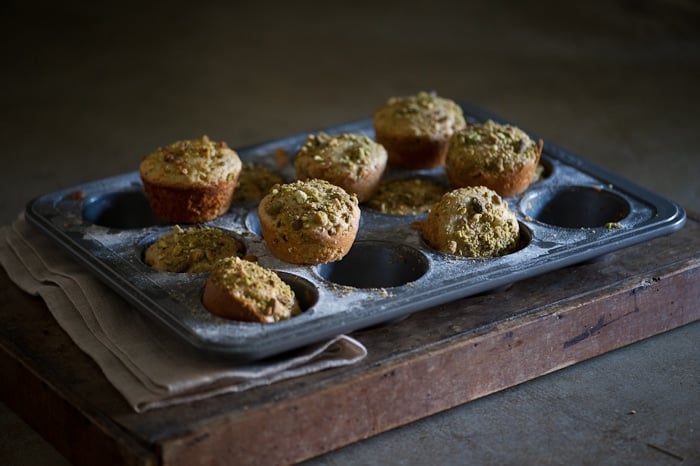 After a little modern day research (aka google) I stumbled upon Farm to Table Geek's Pistachio Cakes. First drawn in by the great photos, by the perfect looking crumb, and the cool aesthetic use of graphics with the images. But what really spoke to me was the mortar and pestle used to crush the pistachios.
The mortar and pestle is an underrated bad boy of the kitchen. Once you are down with the pound, you never go the other way round. And if this guy is taking to the pistachios with a mortar & pestle, yet still has the delicate touch to fold together the ingredients, then this is my type of cook.
After a bit of tweaking to personal taste and adjusting for ingredients we had on hand, I worked out just the treat I was hoping for. The slightly sweet nature of the tea cake, the flavor and crunch of the pistachios playing off of the flavor from the olive oil and the softness of the cake. Pull me an espresso and call me happy.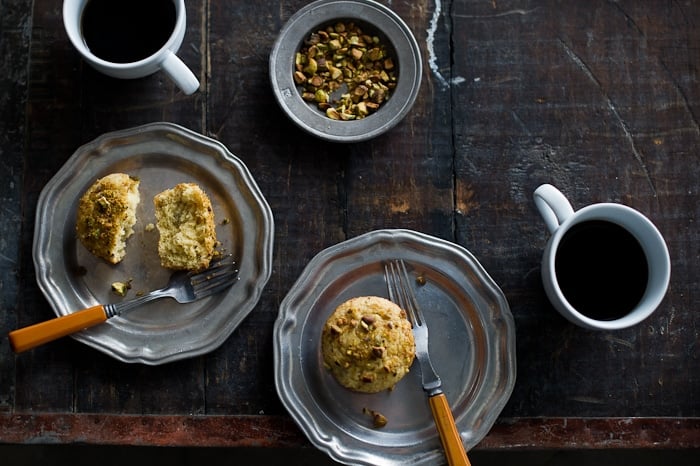 One quick note on the olive oil, in remaking the recipe to double check that all was well and ready to share with the world, I testing using an average olive vs our house favorite to see if there would be a noticeable difference. End result, there was quite a flavor difference. After first shooting for Lucina Italia almost a couple years ago, we fell in love with their oils and vinegars, and in this recipe the exceptional flavor of their olive oil helped make the taste magical.
If you were to make them with nice oil vs an exceptional one, would I be able to tell? To paraphrase the original Mostly Martha movie, "It's not that I can tell which one you did use, but I could tell which one you didn't." A movie which, btw, is still one of my all time favorite food movies. I'm dying to discover another great food movie, so if anyone has any suggestions, spit 'em out! 😉 . So far my top 10 (in no particular order) are: Mostly Martha, Big Night, Dinner Rush, Eat Drink Man Woman, Tampopo, A Chef in Love, Soul Food, Chocolat, Babette's Feast, and Bottle Shock.
Cheers to not sucking and good pastries! And afternoon espressos!
Todd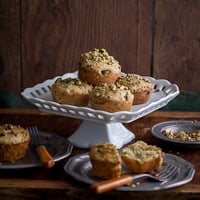 Pistachio Olive Oil Mini Tea Cakes
Adapted from Farm to Table Geek's Pistachio Cake. One could easily make this as a loaf or a larger tea cake, however the mini cakes are fun and easy when using a muffin pan.
Your choice in olive oil will be reflected in the flavor of the cakes. Choose wisely. We love Lucini olive oil. It's a little higher price point, but oh so tasty. If you don't have creme fraiche on hand, sour cream makes an acceptable substitute.
Ingredients
2 lrg. Eggs
1 cup (220g) Brown Sugar
1/4 teaspoon fresh cracked Black Pepper
1/2 teaspoon Kosher Salt
1/2 cup (120ml) good Olive Oil
1/2 cup (125g) Sour Cream or Creme Fraiche
1 teaspoon (5ml) Vanilla Extract
1/2 teaspoon Orange Bitters , optional
1 cup (120g) roasted Pistachio Nuts (or nuts of choice), lightly crushed or chopped
1 1/4 cups (150g) Flour
1 1/2 teaspoons Baking Powder
Directions
Preheat oven to 350°F. Lightly oil a 12-cup muffin pan or line with baking cups.

Whisk together eggs, brown sugar, black pepper, salt, olive oil, sour cream (or creme fraiche), vanilla extract, and optional orange bitters until well combined. Stir in pistachios. Set wet batter aside.

In another bowl, whisk or sift together flour and baking powder until evenly combined.

Stir flour mix into the wet batter until just combined (don't over mix it will start to toughen the cakes).

Divide batter between the 12 muffin cups (should fill each about 2/3's full). Bake for 18-25 minutes or until slightly golden and a toothpick comes out clean.
Did you make this recipe?
Let us know what you think!
Leave a Comment or share a photo on Instagram with the hashtag #whiteonricecouple.
We are a participant in the Amazon Services LLC Associates Program, an affiliate advertising program designed to provide a means for us to earn fees by linking to Amazon.com and affiliated sites.