Todd and Diane's Hot Chicken – Spicy GOOD

Todd & Diane's Original Spicy Hot Chicken Recipe
If you love hot chicken that's crispy fried and loaded with flavorful spice, then you're going to love our recipe. We've made so many different batches of hot chicken after being inspired from this Nashville hot chicken story. But to make reflect our own personal tastes and cravings for umami-laden fish sauce and a bright lime refreshing zing, we've created our own. Voila… Todd and Diane's version is born. The sauce is so good, we're obsessed with it on almost anything. The fried chicken started from Diane's original Vietnamese family recipe.
Video: Todd and Diane's Hot & Spicy Fried Chicken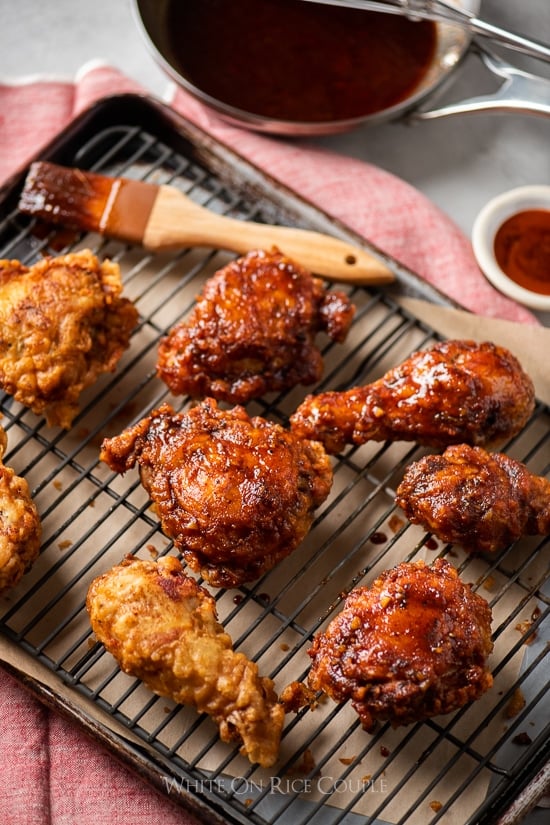 Our fried chicken batter started with a family method that has been popular for years. Now our latest addition of our spicy Todd & Diane Hot Sauce takes it over-the-top for spicy chicken lovers. We don't want to talk too much more because we want you to make this sauce and discover for yourself all the delicious layers of flavors. We didn't want to create a mediocre hot sauce with no layers of flavor. Make this sauce and you'll understand why we love it so much. Enjoy!
How to Make Todd & Diane's Spicy Hot Chicken
Make the hot sauce by melting butter and oil.
Add the spices, fish sauce and lime zest.
Stir and set aside.
Marinate the chicken in our Vietnamese family recipe.
Make the batter, dip the chicken and fry!
All recipe details are in the recipe box below. Or scroll to the top of this write up and click "Jump to Recipe"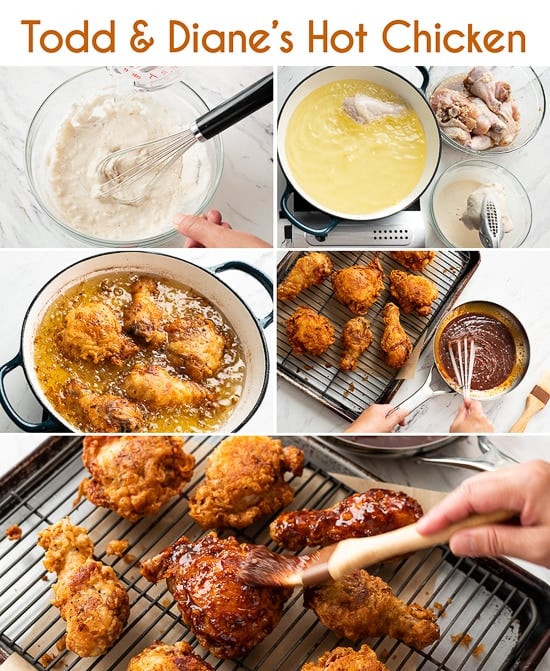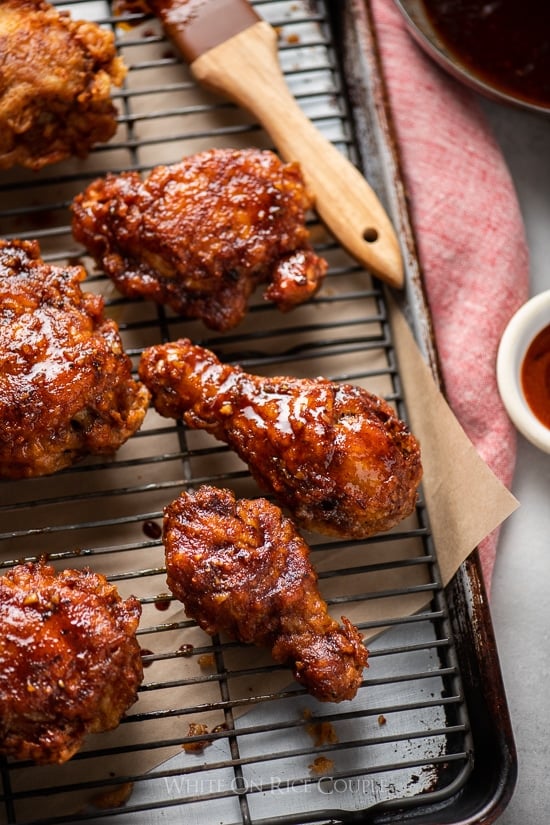 Todd and Diane's Hot Fried Chicken
The fried chicken is Diane's original Vietnamese fried chicken recipe. The great flavor from this marinade comes from the fish sauce. If you're still new to fish sauce, don't be afraid of it. Use less if you want to, but don't replace it. The magical flavor is what makes this chicken so great. And the wet flour mixture gives a nice and fluffy outside crunch.

For our hot sauce, we start with 2 Tablespoons of ground cayenne, which is spicy but not dangerous for us. If you're a dragon, then add an extra Tablespoon of ground cayenne. Make sure to liberally coat the fried chicken with the sauce if you love spicy.
Ingredients
Chicken Marinade:
3 pounds chicken drumsticks or thighs , skin-on and bone-in (1.36kg)
1/4 cup vegetable oil (60ml)
1/4 cup fish sauce (60ml)
1 Tablespoon Brown Sugar (15g)
1 Tablespoon rice vinegar (15ml)
4-5 large cloves garlic , finely minced or crushed
1/2 teaspoon fresh ground black pepper
Fried Chicken Batter:
1 1/4 cups all-purpose flour (170g)
1 teaspoon baking powder (5ml)
1.5 cups cold water , (360ml) about
Oil for frying
Todd & Diane's Hot Sauce
1/4 cup butter (60g)
1/4 cup oil (60ml)
2 cloves garlic , minced or crushed
1/4 cup tomato sauce (60ml)
2 Tablespoons ground cayenne pepper , (30ml) or to desired spice level - see head note
2 Tablespoons brown sugar (30ml)
1 teaspoon smoked paprika (5ml)
1 teaspoon black pepper (5ml)
1-2 Tablespoons fish sauce or soy sauce (15-30ml)
zest from 1 lime
1 tablespoon fresh lime juice (15ml)
Instructions
Make the Chicken Marinade: In large bowl, combine the vegetable oil, fish sauce, brown sugar, rice vinegar, garlic and black pepper. Add the chicken to the marinade and gently toss the chicken in to get it coated evenly. Marinate the chicken for at least 1 hour (2-3 hours preferred) so the chicken can soak up all the flavor. Gently stir up the chicken in the marinade at least twice during the 1-3 hours so that all the pieces of chicken get an even soak in the marinade.

Make the Hot Sauce: Melt the butter with the oil in a saucepan. Add the garlic and cook until softened and lightly golden. Remove from heat.

Whisk in the remaining sauce ingredients (tomato sauce, cayenne pepper, brown sugar, smoked paprika, black pepper, fish sauce, lime zest and juice.)

When the sauce is cooler, it doesn't separate as easily so we like to brush sauce on the chicken when the sauce is room temperature. If you want your sauce warmer, then keep stirring or whisking the sauce as you brush the chicken so that you have as little separation of sauce/oil as possible. The warmer the sauce is, the more the spices will want to separate from the liquids.

Make the Fried Chicken Coating: In a large bowl, combine the flour and baking powder. Slowly add the cold water and whisk to combine. Start with about 1.5 cups and add more if needed. Break up any clumps of flour so that the mixture is smooth. What you want to get is a slightly thick and wet flour mixture that will cling to the chicken. Please see reference photo on the post.

Fry The Chicken: Heat a large frying pan or Dutch oven over medium-high heat. Fill with oil about 1-inch deep. Heat the oil to 350-375°.

Remove the chicken from the marinade and let the excess marinade drip off. Dip the chicken in to the wet flour mixture. Allow excess batter to drip off and place the chicken in the heated oil.

Cooking in small batches, fry the chicken on both sides until crispy and cooked through, about 10-15 minutes. Don't crowd the chicken. Drain the chicken on paper towels or a cooling rack.

Sauce and serve: Whisk the hot sauce again if the oil has separated from the spices. Generously brush the fried chicken with the sauce.
Nutrition Information
Calories: 589kcal, Carbohydrates: 26g, Protein: 30g, Fat: 41g, Saturated Fat: 17g, Cholesterol: 160mg, Sodium: 1281mg, Potassium: 548mg, Fiber: 1g, Sugar: 7g, Vitamin A: 1208IU, Vitamin C: 4mg, Calcium: 67mg, Iron: 2mg
We are a participant in the Amazon Services LLC Associates Program, an affiliate advertising program designed to provide a means for us to earn fees by linking to Amazon.com and affiliated sites.