Gingerbread Cupcakes with Maple Butter/Cream Cheese Frosting
Our very-ginger gingerbread recipe is spiked with extra healthy does of fresh ginger that the only way to call these true to their gingerbread name is to name them the Very-Ginger Gingerbread Cupcakes.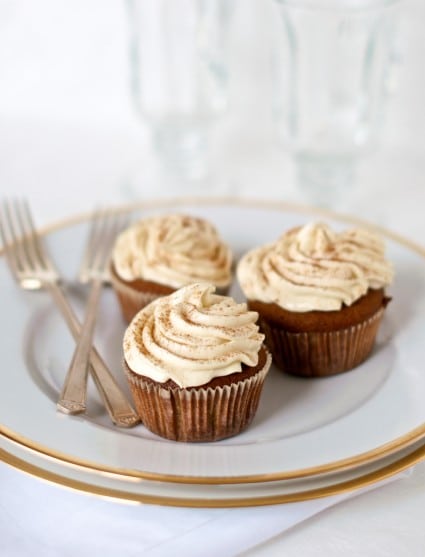 Gingerbread Cupcake Recipe
There are great gingerbread cupcake recipes out there and then there's our personal take on the gingerbread cupcake. A signature aroma in the house during the holidays is definitely the warm smell of gingerbread bread spices. Infused combinations of cinnamon, cloves and ginger are lovely reminders that Christmas is around the corner. To keep a happy staff during the holidays, a lovely batch of cupcakes keeps everyone on their toes. Instead of cookies, sharing a few holiday inspired cupcakes is a great way to celebrate.
Fresh Ginger Flavors
We're all about the ginger and love using fresh grated ginger for that extra flavor. For those who like subtle ginger flavors, you can omit the fresh ginger or use ground ginger powder and this recipe is still fabulous. But for those who like their batter amped-up with ginger, this is the recipe for you!
For an extra special treat we like to brush the tops of the cupcakes after they've cooled with a little boozy bourbon, rum or brandy. It doesn't hurt to add a bit of booze on top. Besides, we've been spending alot of time in the garden, getting all the winter vegetables seeded and all the Fall weeds pulled. We need that extra treat. It's nice to spike our cupcakes with a bit of rum or brandy. Go for it!
Happy Holidays!,
Todd & Diane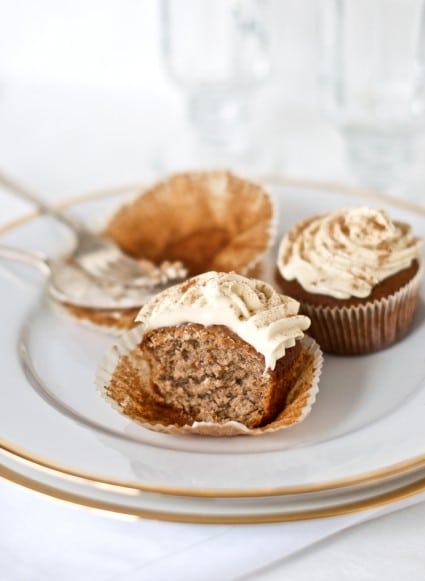 Learn more about the interesting history of gingerbread here. Check out more of our dessert recipes here. If you made this recipe, share in the comments below. Or share your photo with us on social media, we'd love to see your creations!
Gingerbread Cupcake Recipe with Maple Cream Cheese Frosting
Change the spices to your liking. We love the fresh grated ginger in the cupcakes, but if you don't have any, ground ginger will still work nicely.
Ingredients
Cupcakes
3/4 cup Butter , softened at room temp.
1 cup Brown Sugar
3 Eggs
2/3 cup Half & Half
1 3/4 cup Flour
1 Tablespoon Baking Powder
1/2 teaspoon Baking Soda
1 Tablespoon ground Cinnamon
1/2 teaspoon ground Clove
1/2 teaspoon Kosher Salt
1 Tablespoon freshly grated Ginger (finely grated) or 1 teaspoon (5ml) ground Ginger Powder
Frosting
8 oz Cream Cheese , room temp.
1/2 cup Butter , room temp.
1/4 cup pure Maple Syrup
1 cup Powdered Sugar or to personal taste
sprinkle of ground cinnamon , for topping cupcakes
Instructions
Line muffin tins with baking cups. Preheat oven to 375º F.

In a large bowl, cream together the butter and brown sugar until light and fluffy (about 2-3 minutes. Beat in the egg, one at a time until just mixed. Beat in the half & half (the mix will look cottage cheese like in texture).

Sift or whisk together the flour, baking powder, baking soda, cinnamon, clove and salt (and ginger powder if not using fresh grated ginger). Mix in the fresh ginger if using.

Bake for 20-25 minutes or until a toothpick comes out clean when inserted. Set aside to cool.
Make frosting:
Combine cream cheese and butter together in a mixing bowl. Beat until smooth. Add maple syrup and powdered sugar and beat until light and fluffy.
Finishing
When cupcakes are fully cool, frost them your favorite way. Pipe it, spread & spoon it, combinations of both, however you like.Sprinkle a touch of cinnamon to finish. (We love these duster wands.)
Nutrition Information per Serving
Calories: 465kcal, Carbohydrates: 50g, Protein: 5g, Fat: 28g, Saturated Fat: 17g, Cholesterol: 118mg, Sodium: 401mg, Potassium: 228mg, Fiber: 1g, Sugar: 32g, Vitamin A: 952IU, Vitamin C: 1mg, Calcium: 126mg, Iron: 1mg
We are a participant in the Amazon Services LLC Associates Program, an affiliate advertising program designed to provide a means for us to earn fees by linking to Amazon.com and affiliated sites.