Rustic Brandied Pear Galette with Caramel Sauce
Perfect for Fall, this pear galette recipe is filled with ripe pear and caramel. Add a cup of coffee and it's a perfect pairing.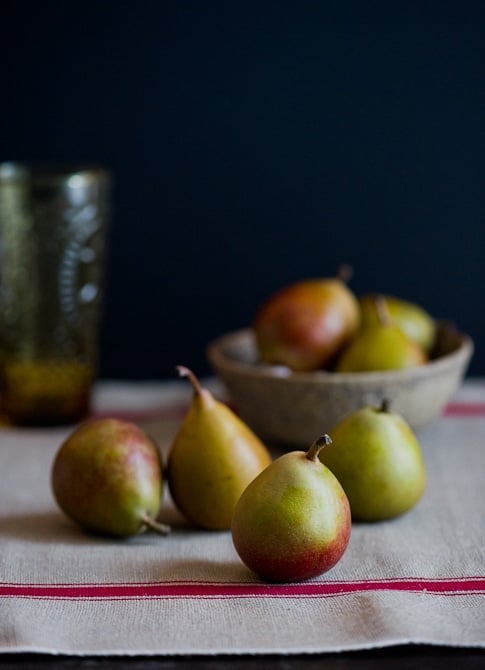 Pear Galette Recipe
Although our local So Cal weather may not know whether it wants to be fall or summer, cool and rainy one week – spiking into the hundreds the next, the markets' seasonal rhythms are a true indicator that autumn has officially settled in. The late summer fruiting glory of pluots are starting to look a little "meh", melons are being replaced by winter squash and pumpkins as the rotund market table dominators, and the apple and pear varieties have exponentially grown.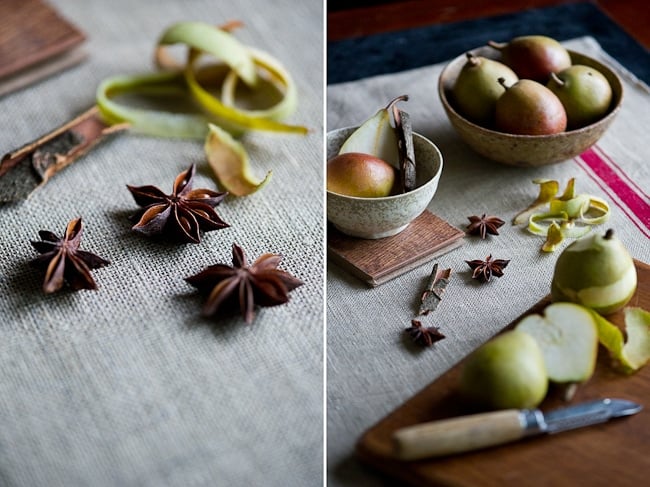 The last couple days the weather has turned exceptionally fall-esque, with deep, gray clouds settling in overhead and a damp chill (for Southern California) has caused our poor pups to need a covering of fleece to keep from shivering all night. We keep telling them that there are dogs out there which have to sleep outside, but they just look up with their eyes in disbelief and with pleads of more blankets.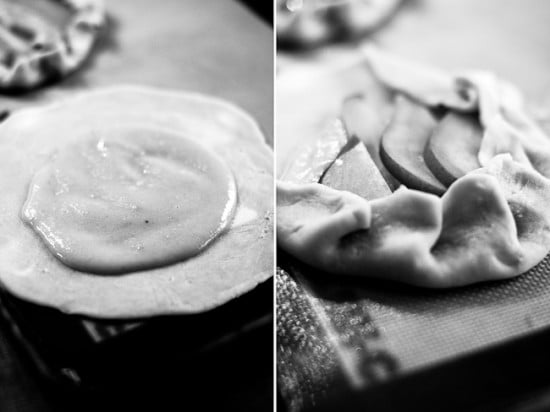 add pastry cream, poached pear slices, then fold in edges
This morning's rain and rare thunder had both pups in a state of un-ease. Dante, the big principessa refuses to subject himself to rain. He'll hold his bladder all day in order to avoid dampening his delicate coat. The little white one, Sierra, is slightly more uncouth and will get wet and dirty at any opportunity, but the thunder makes her nervous and she attaches herself as a white shadow to the nearest big person.
But the weather sets the perfect mood for baking pears. Nothing is more comforting than to have the oven warm the house while the scents of clove, cinnamon, vanilla mingle with the roasted pears.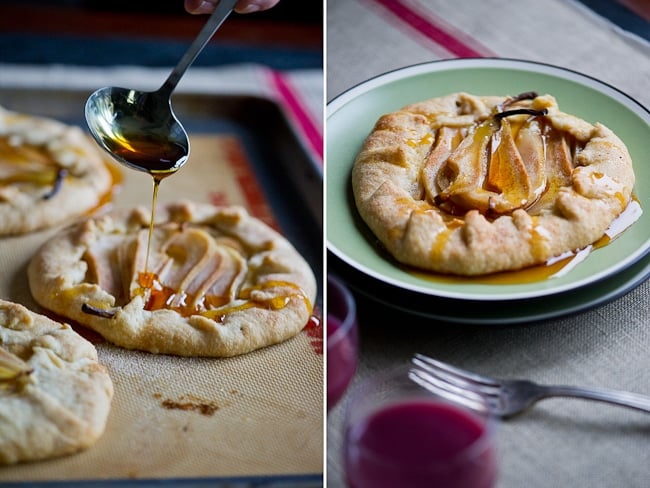 Make Head of Time
This recipe is a bit involved, but it combines several of my favorite dessert elements, so I never mind the extra effort. The smell of butter and flour mixing together in making the crust is one of my favorite smells. When made well, it is absolutely divine. Plus the pear galettes are stunningly delicious, incase the enjoyment of the process isn't enough for you ;).
You can make several of the components ahead of time, even form the galettes earlier in the day, keep them in the fridge for several hours, then bake them fresh for dessert. The crust actually benefits from the extra chilling.
-Todd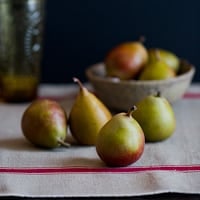 Brandied Pear Galette
The pears are macerated for a bit in brandy after being poached. For those abstaining, you can skip this step. If you want more brandy, when making the caramel sauce, substitute brandy for 1/2 of the water for the caramel sauce. If using canned pears, you can skip poaching the pears. The caramel sauce keeps very well, so we make larger batches and always have on hand. Flaky crusts like cold temperatures, so keep your ingredients cold even in between steps to help make your crust happy. Makes one 9-inch galette
Ingredients
Galette dough ingredients
1 1/4 cups (155g) all-purpose Flour
1/2 cup cold unsalted Butter (1 stick or 113g), cut into 1/2-inch (12mm) pieces
1 teaspoon Sugar
1/2 teaspoon kosher salt or sea Salt
1/4 cup (60ml) cold Water (you may not end up using the full amount)
Egg wash (one egg mixed with 2 tablespoons of water) or Heavy Cream, for brushing the crust
Filling Ingredients
3 medium Pears , ripe but still firm, peeled, sliced in 1/4's & cored
1/4 cup Brandy (optional)
1 Egg White
2 Tablespoons (25g) Almond Paste
1/4 cup (50g) Sugar
2 Tablespoons Cinnamon Sugar (1:3 Cinnamon:Sugar ratio), for topping galette
Spiced Poaching liquid
3 cups (720ml) Water
2 cups (400g) Sugar
1/2 Lemon , cut into wedges
1 teaspoon (5ml) Vanilla Extract
6 whole Cloves
2 whole Star Anise
1 Cinnamon Stick
Cinnamon Caramel Sauce (optional)
1 cup (200g) Sugar
1/2 teaspoon fresh Lemon Juice
2/3 cup Water
2 Cinnamon Sticks
Instructions
Make the crust dough: In a bowl, pinch together the flour, butter, sugar, and salt with your fingertips until most of the big chunks of butter are flattened or broken up and there is no remaining dry flour sections.

Incorporate enough of the cold water into the flour until the mixture binds together and forms a rough ball. Knead the ball just until the dough begins to become smooth. Don't overwork the dough or else it will become tough.

Roll the dough into a ball, and then flatten into a disk. Wrap in plastic wrap and chill for at least 30 minutes (can be chilled overnight or frozen for future use).

Poach the Pears: Combine Spiced Poaching Liquid ingredients (water, sugar, lemon, vanilla extract, cloves, anise stars, and cinnamon stick) in a saucepan. Bring to a boil, then poach pears just until soft (@ 5-10 minutes depending on how ripe your pears are). Remove the pears from the poaching liquid. Allow to cool until easy enough to handle and then cut into 1/8" slices. Optional - Set pears aside in a bowl or ziplock bag, and macerate with the brandy.

Make Almond Paste Mix: With a stand mixer or hand mixer, whisk the egg white until light and frothy. Crumble the almond paste and then add the paste and sugar to the egg white. Whisk until well combined, stopping occasionally and using a spatula to help smear & break up the almond paste to help it incorporate.

Optional - Make Cinnamon Caramel Sauce: (Be very careful. Nothing is worse than a caramel burn!) Put sugar and lemon juice in a small, heavy bottom saucepan. Allow sugar to melt and caramelize, stirring just occasionally. After sugar reaches a nice deep golden brown, carefully add water (it will bubble viciously for a bit). Allow to bubble for a bit then while still on the heat, stir well to incorporate the liquid with the caramel. Continue heating until you are able to dissolve all of the caramel into the liquid. Add cinnamon sticks and set aside to cool.

Preheat the oven to 375°F (190°C). Line a baking sheet pan with parchment paper.

Form Galettes: On a floured surface, roll the disk out to a circle about 12 inches (30-cm) in diameter. Gently transfer the dough onto the prepared sheet pan.

Pour the almond paste mix into the center of the galette circle. Layer on pears, then fold the edges of the dough around the pears. Sprinkle cinnamon sugar on top of galettes.

Bake for 50 to 60 minutes, or until the crust is golden. Serve warm or at room temperature. Before serving drizzle cinnamon caramel sauce over pears. Best served warm.
Nutrition Information per Serving
Calories: 584kcal, Carbohydrates: 114g, Protein: 3g, Fat: 13g, Saturated Fat: 7g, Trans Fat: 1g, Cholesterol: 31mg, Sodium: 158mg, Potassium: 143mg, Fiber: 4g, Sugar: 93g, Vitamin A: 378IU, Vitamin C: 7mg, Calcium: 39mg, Iron: 1mg
We are a participant in the Amazon Services LLC Associates Program, an affiliate advertising program designed to provide a means for us to earn fees by linking to Amazon.com and affiliated sites.