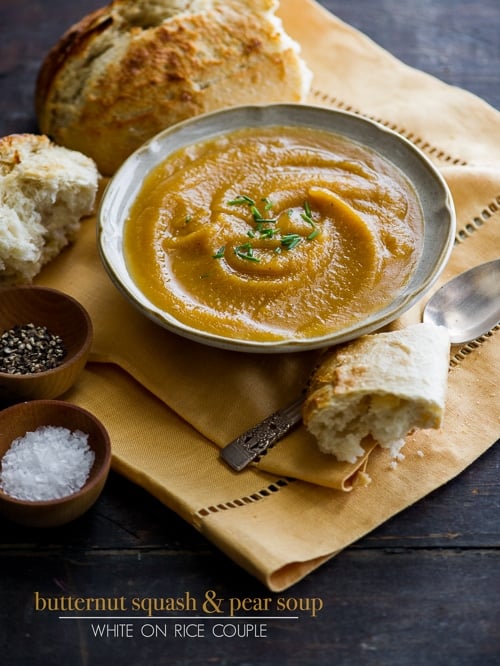 I know, many of you probably have a butternut squash soup recipe in your trusted cooking index. Your recipe is possibly the only one you'll ever need because it's simple, comforting and amazing. Am I right? We also have a stand-by recipe that we've stood by for years. It's hearty and flavorful to the very last lick, so why add another recipe to the mix? I felt that way too, until I had a bowl of this new recipe.
This butternut squash soup is perfectly dairy free for our lactose intolerant friends (oh boy) and ripe pear adds a fantastic sweetness to the soup. Ever since we photographed this recipe for our La Brea Bakery shoot, I've been hooked. And not only because it's perfectly satisfying for this cooler season, but also because it's healthy. When this cold weather kicks in, my metabolism starts to slow down but my cravings for hearty soups escalate. First instinct is to eat scoop-fulls of rich, cream based soups. It's not a bad thing. I do love to indulge in that way, but to have a healthier option is spiritually uplifting, not to mention lighter on the belly.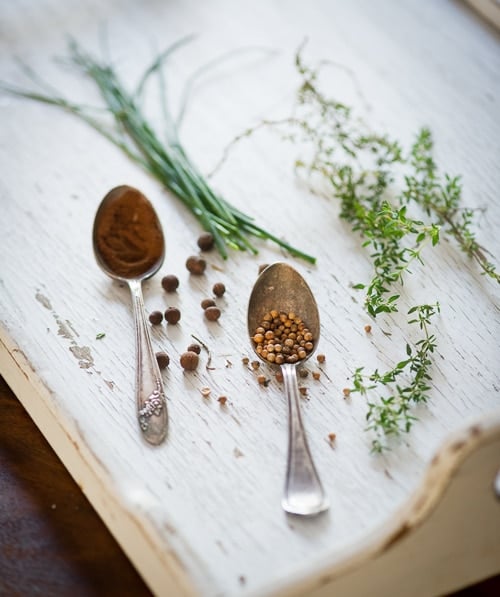 In every butternut squash soup I've ever had, there was some element of milk, cream or dairy. But this one didn't and though I was a bit skeptical about it's flavor potential, I was in for a pleasant surprise at how yummy it was. And I didn't miss the dairy, which my belly thanked me for.
An added bonus to this recipe is that you can intensify the flavor by using different spices and herbs. If a fresh herb is within reach, we'll add it to our cooking. So don't be shy about throwing in a bunch of fresh thyme, oregano or sprinkles of fresh chives. Consider mixing up the dried spices with other seasonal favorites.
In garden news….yes, we do have news. One of the benefits to living in congested, smog breathing Southern California is our incredible growing season. Right when we're about ready to pull out the decaying Summer vegetable plots and change over to cool weather crops, we find a batch of vine ripened tomatoes.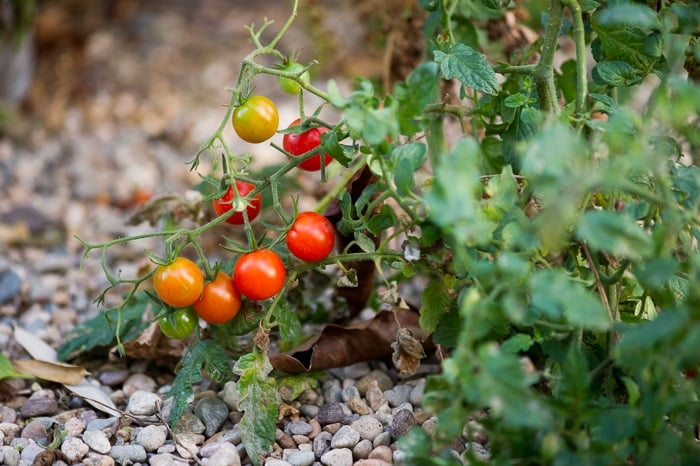 Do you believe it? Tomatoes in November in coastal Southern California? It's always a sweet surprise to find a handful of sweet cherry tomatoes to brag about. Granted, the skin is a little tougher on these tomatoes, but their flavor is still bursting with flavor. Enjoying a longer growing season is one of those compromises to life in freeway traffic and smog!
hugs,
diane
Dairy Free Butternut Squash Soup
Adapted with permission from La Brea Bakery
This wonderful soup can be made as thick as you'd like. When dipping into warm crusty bread, we enjoy keeping it a little thicker by adding a little less stock. Or refrigerating the soup till the next day will result in a thick soup.
Ingredients:
6 cups of butternut squash, peeled & diced into 1/2" pieces (about 2 medium squash, 3 pounds total)
2 tablespoons olive oil
6 cloves garlic, peeled & minced
2 medium onions, minced
2 ripe pears, peeled, cored & diced
5 cups of chicken or vegetable stock
1.5 teaspoons of ground coriander
1/2 teaspoon of ground allspice
few fresh thyme or oregano sprigs (optional)
1 teaspoon sea salt
1/4 teaspoons fresh ground black pepper
fresh chives for garnish
Directions:
Heat large heavy bottom pot to medium heat. Add olive oil, then add onion and minced garlic. Cook for about 3 minutes or until onions and garlic become translucent and fragrant.
Add pear, coriander, allspice, fresh herbs (optional), salt and pepper. Cook for about 5 minutes, stirring occasionally
Add the squash and cook for about 15 minutes or until squash becomes golden in color. Stir occasionally.
Add stock and stir to combine all ingredients well. Bring to a boil then immediately reduce heat to low. Continue to cook for about 15-20 minutes or until the squash is tender.
Allow soup to completely cool. Add soup to blender and blend the soup until it becomes smooth. If you added any woody thyme or oregano sprigs that are still tough, remove these stems before blending the soup.
Add additional salt and pepper to taste.
Pour back into pot and re-heat before serving. Serve the soup warm, top with fresh chives or herbs and eat with your favorite crusty bread or gluten free bread.
Hello! All images & content are copyright protected. Please do not use our images without prior permission and do not re-publish this recipe. Simply link back to this post for the recipe. Thank you.
Recipe Note for Salt: All recipes containing salt are based on kosher or sea salt amounts, not table salt. If using table salt, reduce the amount used to taste.
[ad]