Butternut Squash Soup with (or without) Truffle Oil
This popular butternut squash soup recipe is simple, silky and can easily be made vegetarian by using vegetable broth or stock.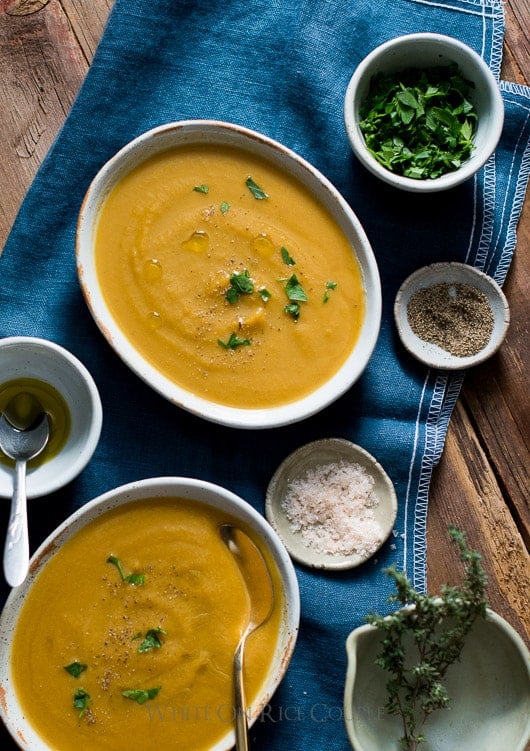 Easy Butternut Squash Soup Recipe
There isn't a squash I love more than the beautiful butternut squash. Like most winter squashes, it shares similar flavors with it's brethren the pumpkin, yet it seems to marry even better than most with the earthy flavors of mushrooms. Butternut has that perfect silky texture after being cooked. Its flesh is a gorgeous shade of orange, and it has one of the sexiest shapes of the squashes. It's like the Raquel Welch of squashes.
Even with our latest heat wave hitting us this fall, we are still craving fall dishes. Despite the hot daytime temperatures, the air still has that dry crispness of fall and the nights cool down nicely. Maybe it is the air or maybe it is just that we haven't had some of our ole favorites in a while, but every time we see the piles of butternut at the stores and markets our hands have nearly subconsciously started to reach out for them. It is pretty hard to mess up a butternut squash. We've been making tacos out of them. Making variations of the Butternut Squash Crumble we have in our cookbook, Bountiful. And of course making the classic butternut squash soup.
Watch video of this silky Butternut Squash Soup (made with a hand blender):
Satisfying and Simple Butternut Squash Soup
We love our butternut squash soups to have a bit of earthiness to them. Mushroom is nearly always a must for our versions. Combined with some nice aromatics, (onion, herbs, etc…) a good chicken or vegetable stock, pureed up and seasoned to taste. To give the soup a little bit more of an earthy punch we'll often add a touch of truffled olive oil to the soup. Since truffle oil can be a bit overwhelming for some people, if we are serving it to a group of people, we'll lightly truffle oil the soup, and then add a drizzle of oil to the individual portions to taste.
Happy Autumn, everyone. Can't wait to eat our way through this season!
Todd & Diane
This recipe was originally published in 2014 and re-published in 2016 with new video & recipe updates.
Helpful tools to prep the butternut squash:
Have a great peeler on hand. Our favorite is the OXO peeler.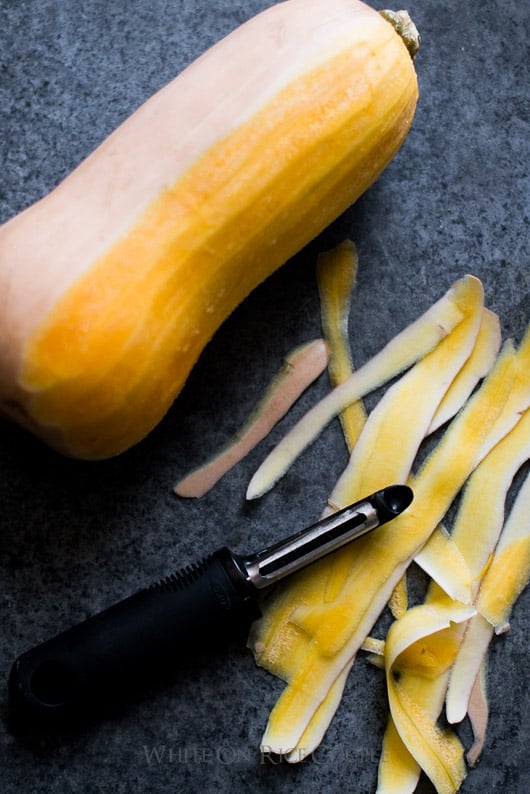 A great chefs knife is invaluable for slicing the squash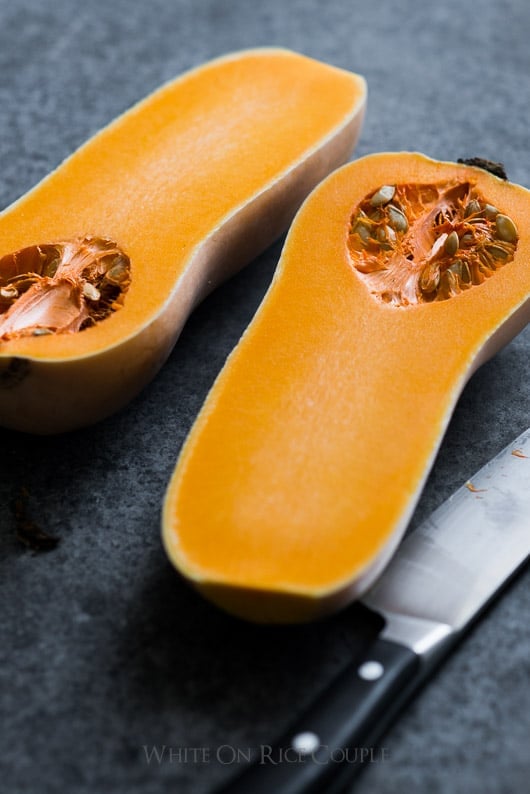 This soup is so creamy and delicious. Enjoy!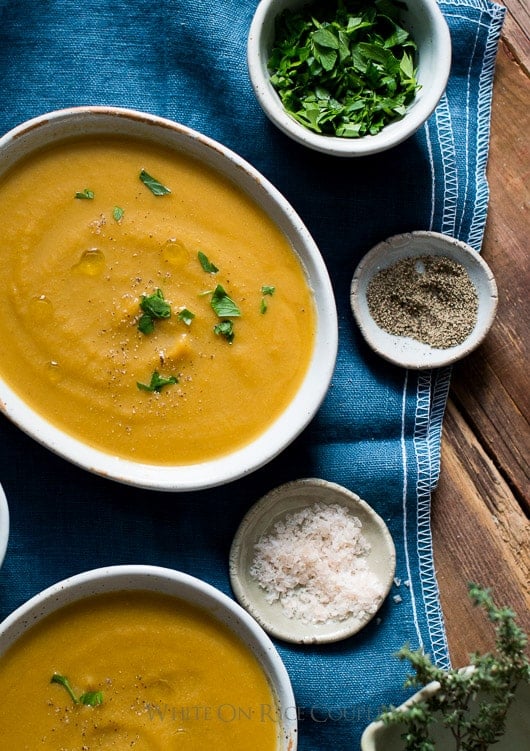 Check out our Intense Winter Squash and Pumpkin Guide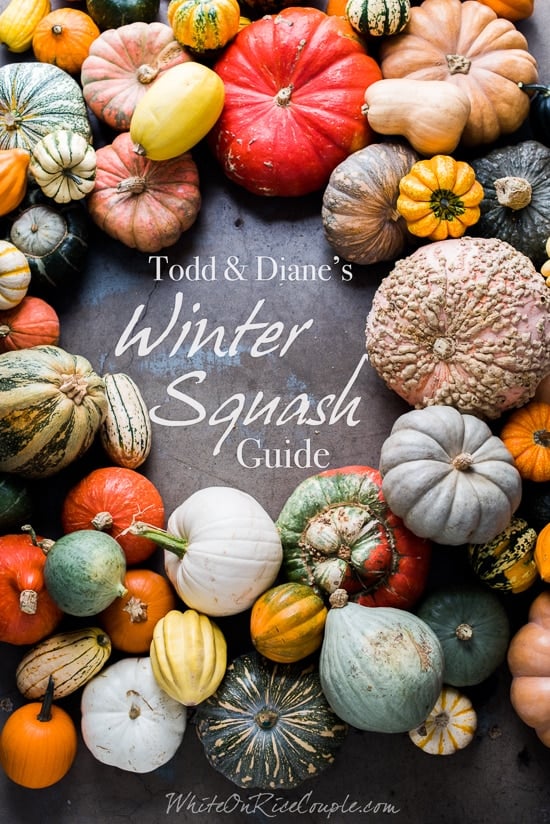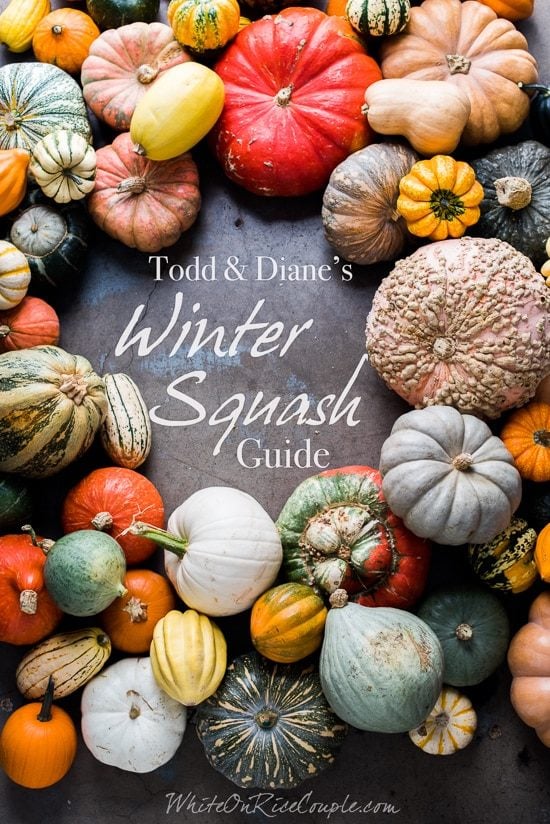 This recipe was originally published in 2014 and re-published in 2019 with an updated video.
Here's more great and easy dinner recipes :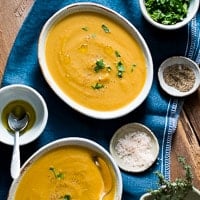 Butternut Squash Soup with (or without) Truffle Oil
See post for additional recipe details. Truffle oil is optional, so add as much or as little as you like. For a vegetarian soup, make sure to use vegetable stock. If using brown mushrooms in the recipe (our personal favorite for this soup), it will color of the soup will be darker and less orange, but delicious. To have a brighter orange soup, use white mushrooms.
Ingredients
2 tablespoons (30ml) olive oil
1/2 medium onion , diced
8 ounces (225g) sliced mushrooms
1 medium butternut squash (@ 1.25 lbs or 570g), peeled, seeded and cubed into 1-inch sized pieces
about 10 sprigs Italian parsley
2 bay leaves
4 cups vegetable or chicken stock
kosher salt , to taste
1/2 cup (120ml) heavy cream, optional
1-2 teaspoons (5-10ml) truffled olive oil, (optional) or to taste (plus more for drizzling)
fresh cracked black pepper , to taste
chopped Italian parsley leaves , for garnish
sour cream or crème fraîche , for garnish - optional
Instructions
Heat a large stockpot over medium heat. Add the oil and then add the onion and mushrooms. Cook until the onions are golden brown, 2-3 minutes. Stir in the butternut squash pieces. Stirring occasionally, cook until the squash begins to soften, about 10 minutes.

Tie the parsley sprigs and bay leaves together with kitchen string. Add the parsley/bay bundle and vegetable (or chicken) stock to the butternut squash. Bring up to a gentle rolling boil and then continue cooking for 15-25 minutes, or until the butternut squash is tender.

Remove the parsley/bay bundle from the soup and allow the soup to cool enough to safely handle. Puree the soup until smooth (be very careful with the hot soup or allow it to cool to a comfortable temperature before pureeing). Return the soup to a stockpot. Season with salt, optional cream, optional truffled olive oil, and fresh cracked pepper to taste.

Serve warm garnished with chopped parsley and optional choices of a few light drizzles of truffled olive oil, and/or optional sour cream.
Nutrition Information per Serving
Calories: 117kcal, Carbohydrates: 19g, Protein: 3g, Fat: 5g, Saturated Fat: 1g, Sodium: 634mg, Potassium: 574mg, Fiber: 3g, Sugar: 5g, Vitamin A: 13621IU, Vitamin C: 28mg, Calcium: 62mg, Iron: 1mg
We are a participant in the Amazon Services LLC Associates Program, an affiliate advertising program designed to provide a means for us to earn fees by linking to Amazon.com and affiliated sites.