Blood Orange Chocolate Muffins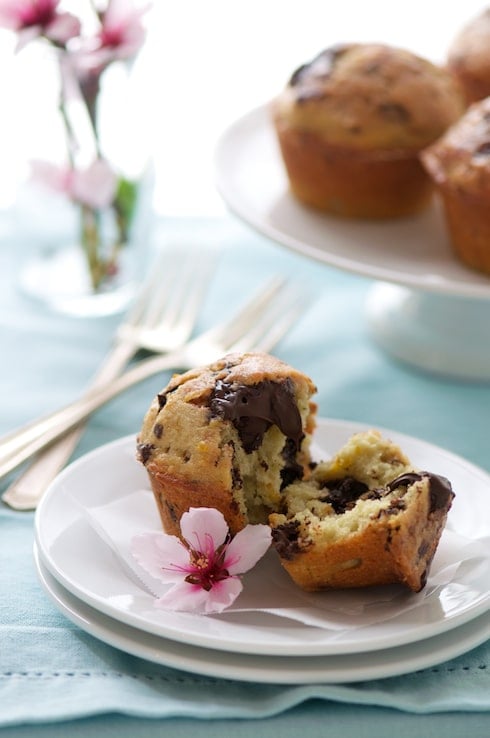 "I want a pastry!" "I want a muffin!"
A monster has been created by spoiling her too much.  The latest Strawberry Crossover may have been just a little too good and now the demands for fresh breakfast delights are increasing.  Good thing muffins are quick and easy to make.
Not that I mind the demands.  Nothing makes me happier than cooking or baking for the ones I love, especially when I am lucky enough to have someone as special as Diane who can cook like a badass too, so I know the favor will be returned. Even pre-cappuccino hour demands are looked upon with pleasure.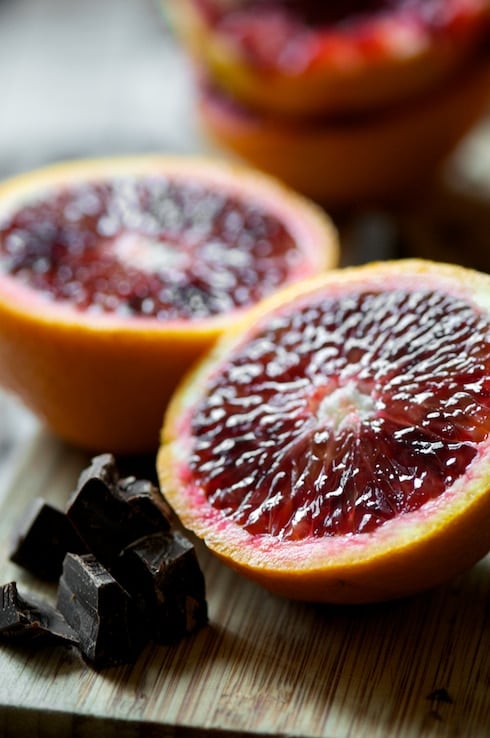 A muffin she wants, a muffin it is. Lately any muffin requests have been met by freshly baked lemon muffins, but it was time to mix it up a bit.  Blood oranges are still filling our coffers, so with a little twist a blood orange muffin recipe was born.
Just as I'm about to spoon the batter into the muffin pan, the beautiful little monster declares, "I want chocolate!"
Well, that isn't entirely true.  She is beautiful, and she did want chocolate, but she isn't really a monster.  Yet. With a few chops of the knife I broke up a dark chocolate bar into chunks, gently mixed them into the batter and sent everything off to the oven for baking.
Soon the kitchen air was warm and sweet, I had my morning cappuccino, we shared the chocolate oozing muffins and everyone was happy. Not a bad way to start the morning.
-Todd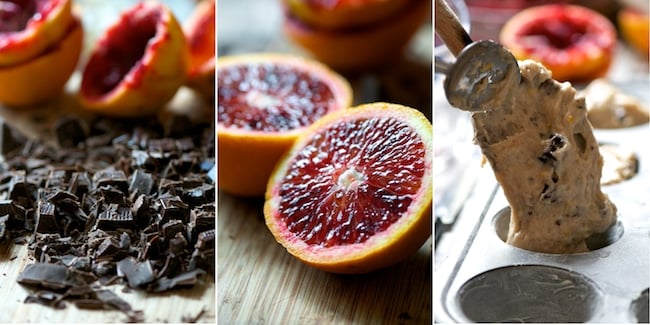 Chocolate and blood orange is a deadly combination!
Click Here for more More Blood Orange Recipes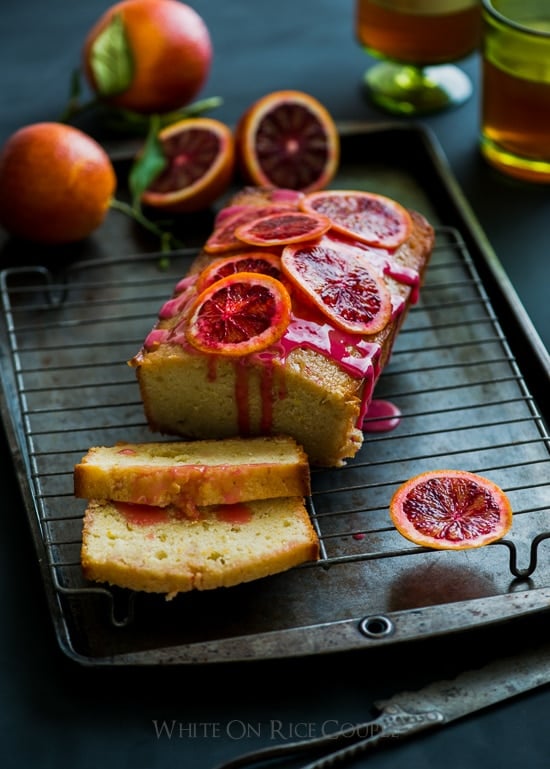 Other Blood Orange Ideas:
There were tons of additional blood orange recipe ideas in the comments of our latest Blood Orange Giveaway (deadline has passed)
Print Recipe
Blood Orange Chocolate Chips Muffins
Adapted from Beth Hensperger's Bread "Fresh Lemon Muffins" recipe. If you want to highlight the blood oranges more, omit the chocolate chunks. You'll need about 4 blood oranges to make this recipe. Regular oranges or lemons make good substitutes.
Servings: 10 -12 Muffins
Ingredients
Muffin Ingredients
1 3/4 cups (275g) unbleached, all-purpose Flour
1 cup (200g) Sugar
1 1/2 teaspoons (6g) Baking Powder
1/2 teaspoon (2g) Baking Soda
1/2 teaspoon Kosher Salt
grated Zest of 3 Blood Oranges
6 ounces (170g)  Dark Chocolate Chips or Chunks
1/2 cup (115g or 1 stick) Butter, melted
1/2 cup (120ml) fresh Blood Orange Juice
1 teaspoons (5ml)Vanilla Extract
2 Eggs
Blood Orange Glaze
1 Tablespoons (15ml) fresh Blood Orange Juice
1/2 cup (60g) powdered sugar
Instructions
Pre-heat oven to 400°F. Grease & flour muffin pan or line with baking cups.

In a large bowl whisk together flour, sugar, baking powder, baking soda, and salt until well mixed.

Combine melted butter, blood orange zest, blood orange juice, vanilla extract and eggs. Mix until well combined. Fold into the dry mixture until just combined

(important- do not overmix)

. Fold in the chocolate chips or chunks. Spoon into muffin pan cups, mounding full

(a large cookie scoop works great for this step).

Bake for 20-25 minutes, or until lightly brown. Test with a tooth pick to double check center doneness (should come out clean unless it hits chocolate.)

Make the glaze: Whisk together the blood orange juice and powdered sugar until smooth. Poke muffins in a few places with a toothpick and pour over the glaze. Allow to cool.
We are a participant in the Amazon Services LLC Associates Program, an affiliate advertising program designed to provide a means for us to earn fees by linking to Amazon.com and affiliated sites.