New Blog Stuff and Meyer Lemon Cranberry Scones Recipe
Garden meyer lemons that smell sooooo wonderful
Scone Recipe with Meyer Lemon
Before we get to these magnificent meyer lemon cranberry scones recipe, there's some new blog updates that we want to share.
If you haven't noticed already, we've added some new features to our blog! We've always written about recipes, our garden, photography and our travels. But lately, we've been wanting to write more about each topic and more often.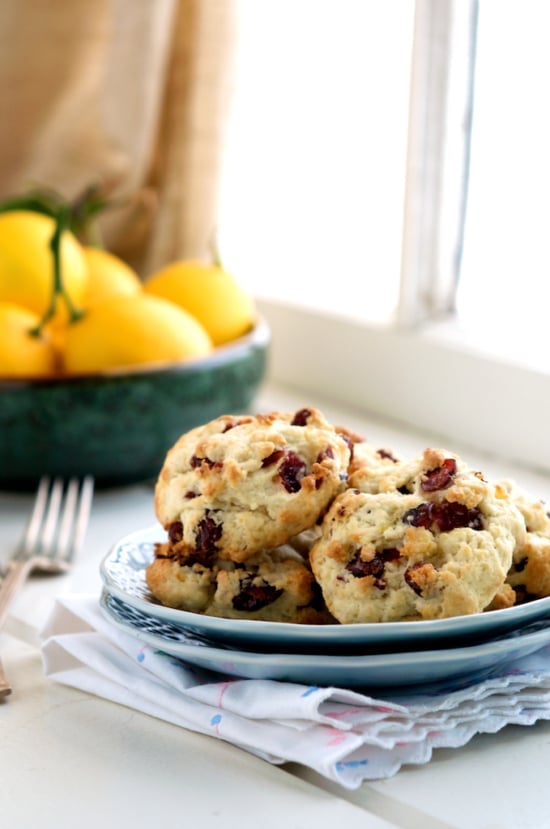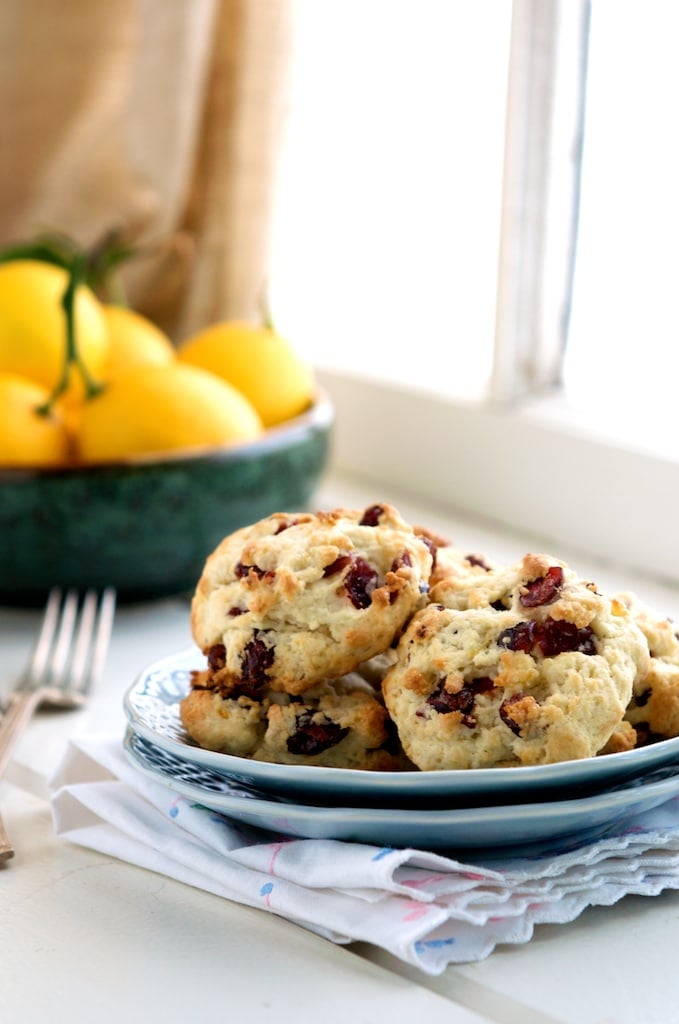 From so many reader requests and email questions pertaining to different topics, we thought it was time to finally have separate sections to the blog so that we can focus on each particular topic in more depth. The best way to write more often about each topic and not bore anyone when we write too much about each topic is to separate our content. Each of the three sections will have their own RSS feed, so that everyone can subscribe just to the topic they are interested in. The three different feeds are the following:
You asked for it, so we're giving it to you by adding a photography and gardening section!
Photography / Travel Section: We can now write more often about our photography tips and tutorials for our readers who really want to focus on learning more about photography. It's not only about food photography that we'll be writing about, but rather, all aspects of photography, lighting and other gear. We specialize in portrait, restaurant and special event photography and there are many of you who want to learn more about our field of work and how we achieve those particular "money shots". We'll be answering all your photography email questions with tutorial posts so that everyone can benefit from the information. Plus, anytime we take off on another adventure all of our photography and stories from these travels will be shared here too.
Gardening/ Conservation Section: We can now write more often about our garden, gardening, irrigation, pests and anything related to growing vegetables without boring everyone else to comes to us for recipes or photography!
More great information from experts in their fields:
With these separate photography and gardening sections, we'll be inviting many experienced photography and garden experts to help answer all the questions that we can't possibly help you all with. Introducing a different perspective from experienced friends is another important way for us to help share and teach on White on Rice Couple.
These experts will be guest posting, as well and provide some very valuable insight, suggestions, and tutorials from their fields of expertise in photography or gardening.
We're really super duper exited to have these amazing folks share their knowledge with us all!
Now we'll be building a larger community of avid cooks, photographers and gardeners and look forward to learning more from all of you and from our guest writers. We feel that the best way to learn is to be inspired by others and hopefully we'll be able to bring to you some of the same individuals that have inspired us in our everyday work and lives.
We've been wanting to expand on our photography and gardening section of our blog for quite some time now, but the technical aspects to setting it all up took a while. And when we're doing it all ourselves, (well we did have to ask for help on a couple super-technical things) it takes lots of extra cocktails to soothe the nerves when we're attempting to work with code! Finally, it all in working order and we can start sharing more of our daily lives with you all. So we hope you'll join us on what we have always been so passionate about.
Meyer Lemon and Cranberry Scones
Back to the scones recipe ! The citrus trees in our backyard have been exploding and it's certainly been a wonderful year for us. The meyer lemons are starting to be perfect for picking and their fragrance is so bright and inviting. This morning we made a batch of scones from the garden meyer lemons and this is a treat that everyone should experience in the morning. Scones are actually really easy to make in the morning. To make things even quicker in the morning, you can premix the dry ingredients together in a bowl and then finish everything else in the morning. Fresh, hot scones can't be beat and after making this batch, you'll probably never head out to your morning coffee stop for scones again.
Tips for killer, flakey scones:
For this scones recipe, use cold ingredients. Your butter has to be cold, but it helps if everything else is too.
Work quick and don't over mix. The dough will be kind dry and rough when mixed. If you lolli-gag in the process the butter will start to get to warm, and you'll lose some of the flakiness.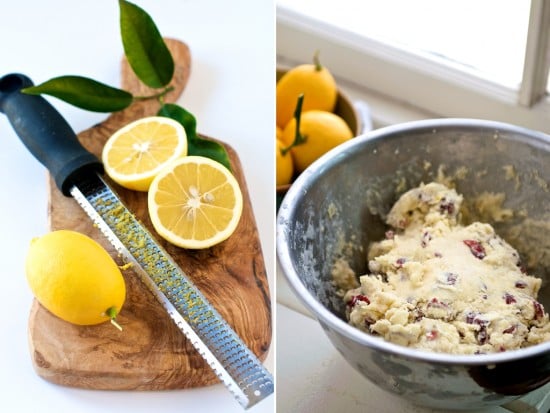 Freshly grated meyer lemon zest and tangy cranberries are perfect in scones
gently mixing in the last of the flour by hand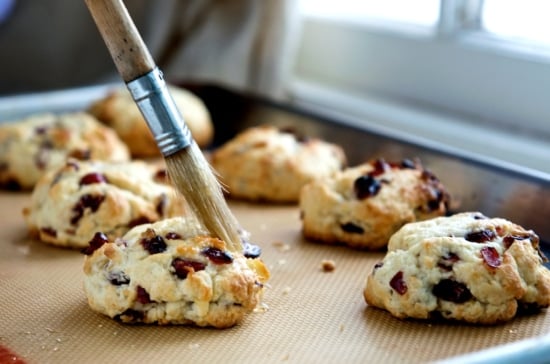 brush on the fragrant and tangy/sweet meyer lemon glaze
If you want to be popular at work, try baking a fresh batch of these in the morning and taking them to work. Trust us, you will be loved and your popularity ranking will shoot sky high! Who knows? you just might get that raise that you deserve and all it took was a batch of freshly baked meyer lemon cranberry scones!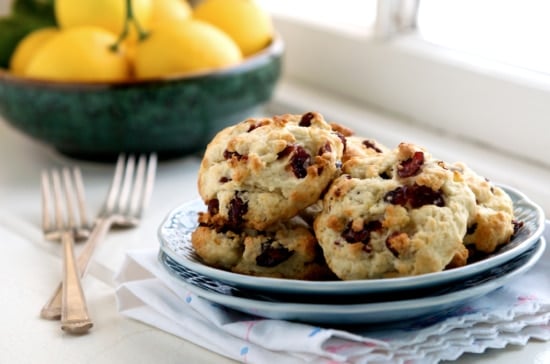 Print Recipe
Meyer Lemon Cranberry Scones Recipe
Servings: 20 2 1/2" Scones
Calories: 189kcal
Ingredients
grated Zest from 2 Meyer Lemons
2 1/2 cups (370g) All-purpose Flour
1/2 cup (100g) Sugar
1 Tablespoon (15g) Baking Powder
1/2 teaspoon (3g) Kosher Salt
6 Tablespoons (90g) unsalted Butter , cold
1 1/4 cups Dried Cranberries (we used a dried orange-cranberry - delicious)
1 large Egg
1 Egg Yolk
1 cups (240 ml) Heavy Cream (if your cream is extra thick you may need a touch more)
lemon glaze
juice from 2 Meyer Lemons (@ 1/4 cup-60ml)
1/4 cup (50g) Sugar
Instructions
Preheat oven to 375° F. Line a sheet pan with parchment paper.

Combine zest, flour, sugar (100g), baking powder, and salt in a bowl.Cut butter into pea sized chunks. Add to dry ingredients and pinch the butter with the dry ingredients until everything is combined into a crumbly mixture.

Beat the egg and egg yolk in a small bowl. Add cream and mix to combine.Add cream mix to flour mixture just until it all comes together. To mix the last of the flour, place the dough on work surface, and the the palm of your hand, push small egg sized chunks down and away from you (see picture above recipe). Do this just until flour is incorporated. Add the dried cranberries. Dough should still be fairly rough.

Roughly form dough into 2 1/2" x 1" discs. Place on the sheet pan and bake in the middle of the oven for about 20 minutes or until pale golden.

While scones bake, make lemon glaze. Combine lemon juice and 1/4 cup of sugar in a small sauce pan. Heat until sugar is dissolved. Set aside to cool.

After scones are done baking, remove from oven and brush with lemon glaze. Serve warm or at room temperature.
Nutrition
Calories: 189kcal | Carbohydrates: 27g | Protein: 2g | Fat: 9g | Saturated Fat: 5g | Trans Fat: 1g | Cholesterol: 44mg | Sodium: 131mg | Potassium: 41mg | Fiber: 1g | Sugar: 13g | Vitamin A: 307IU | Vitamin C: 2mg | Calcium: 50mg | Iron: 1mg
We are a participant in the Amazon Services LLC Associates Program, an affiliate advertising program designed to provide a means for us to earn fees by linking to Amazon.com and affiliated sites.