How Lexi Stays Warm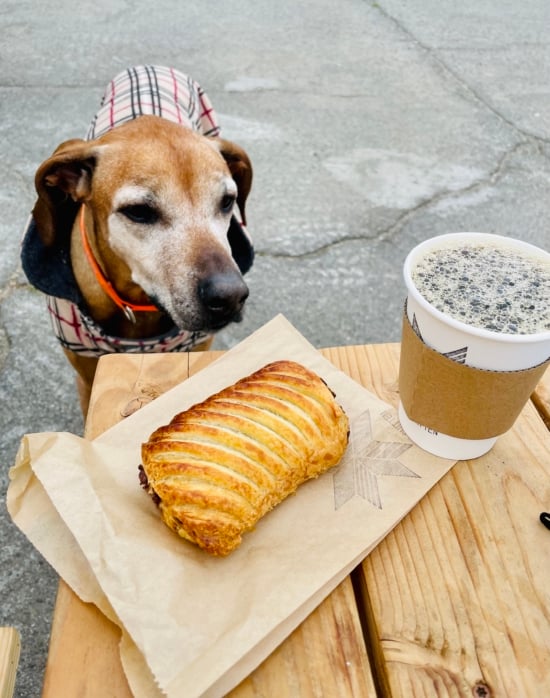 It's been quite a cold winter at the cabin and the chilly outdoors isn't exactly Lexi's favorite place to be. We've been on hikes in the snow and though she loves romping in fresh snow, she's FREEZING. But we've figure out how to keep her warm 24/7. Lexi is staying warm with her favorite jacket! Actually, we call it a blanket. Lexi is always cold (ridgies don't have an undercoat like many doggies) and after seeing her shivering even inside the house, this is her Winter jacket that she doesn't mind wearing all day long.
She's long and thin so all the large sizes fit her chest, but they're still too short. So we had to buy the extra large jacket, which is too long but keeps her warmer. Aside from the frigid Winter in Northern California, we've been having some really nice sunny weather here in Southern California. Not to rub it in, but it's one of those luxuries of living in Southern California. And best of all, our garden is doing pretty crazy healthy. And what about the croissant? No, she didn't get any chocolate croissant, but she sure was mesmerized by it.
Stay warm Friends!
Diane and Todd
Lexi's Winter Favorites
We are a participant in the Amazon Services LLC Associates Program, an affiliate advertising program designed to provide a means for us to earn fees by linking to Amazon.com and affiliated sites.