Blood Orange Chocolate Muffins with Blood Orange Glaze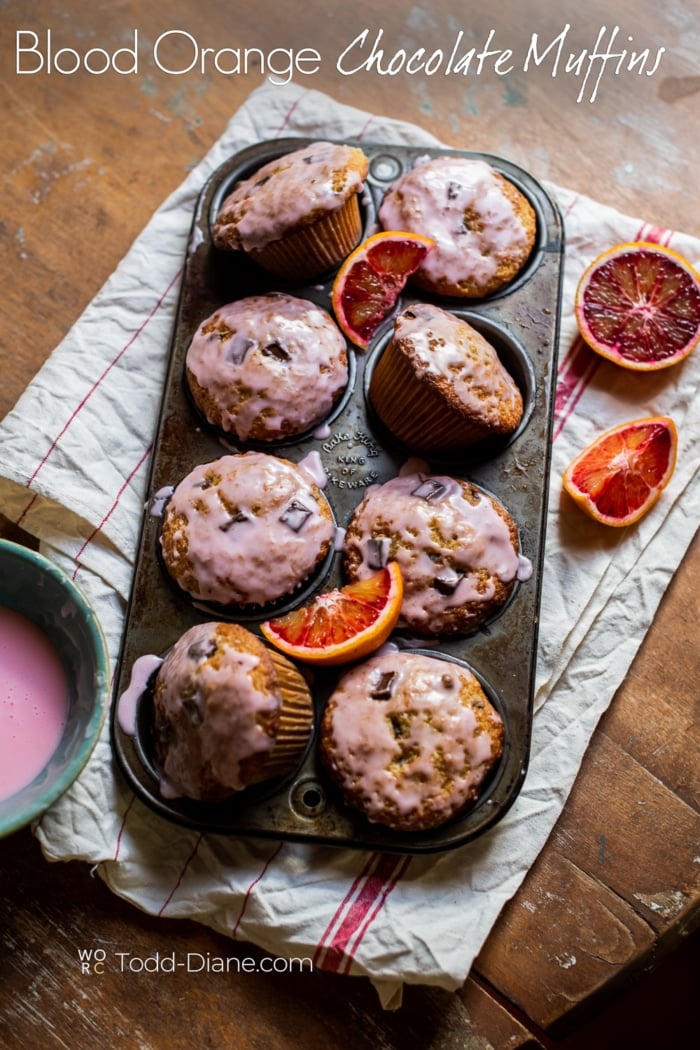 Blood Orange Chocolate Muffins
There are few morning treats better than a pastry fresh out of the oven. Nothing makes me happier than cooking or baking for the ones I love, especially when I am lucky enough to have someone as special as Diane who can cook like a badass too, so I know the favor will be returned. Even pre-cappuccino hour baking is looked upon with pleasure. Our occasional treat of a Strawberry Crossover is a delight to make, but it takes a bit of time. Muffins on the other hand are quick and easy.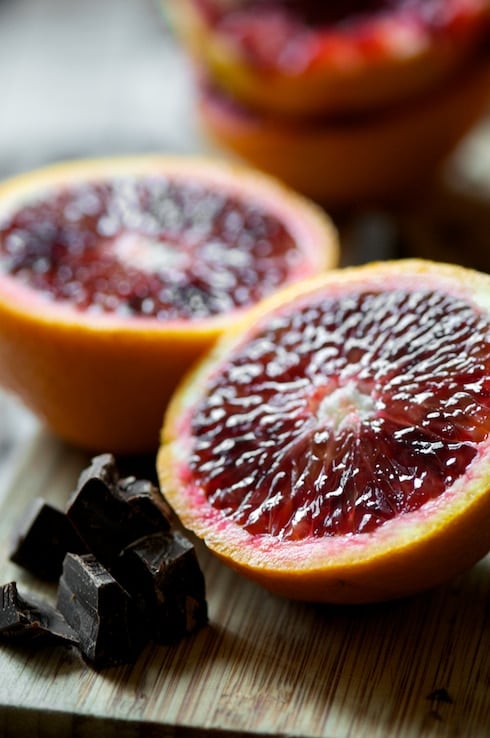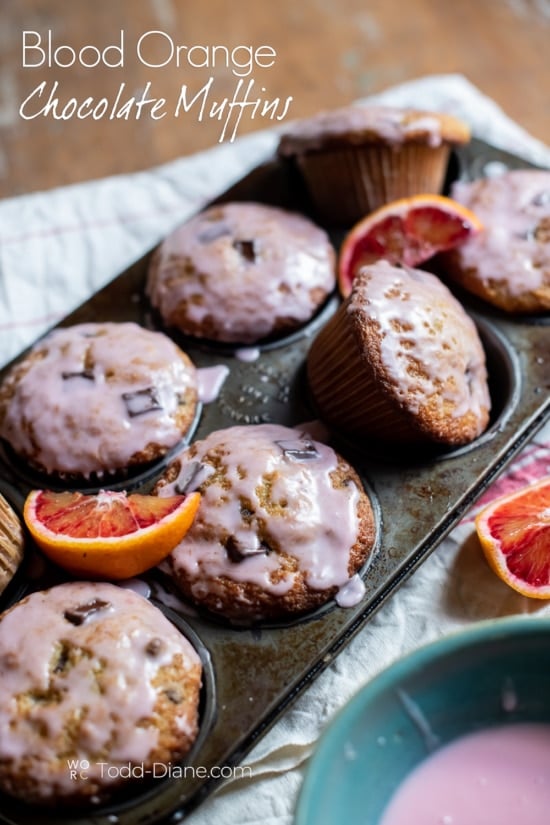 Video: Making the Blood Orange Chocolate Muffins with a Blood Orange Glaze
Most of the year we'll have lemons at the ready from the garden and they make a delightful muffin. But right now blood oranges are ripening by the pounds, so with a little twist a blood orange muffin recipe was born.
And who doesn't love chocolate? Either with a nice dark chocolate chip or with a few chops of the knife to break up a dark chocolate bar into chunks, it is a perfect addition. Gently mix them into the batter and send to the oven for baking.
Soon the kitchen air will be warm and sweet, have a beautiful coffee or cappuccino, and share the chocolate oozing muffins with everyone the house. Not a bad way to start the morning.
-Todd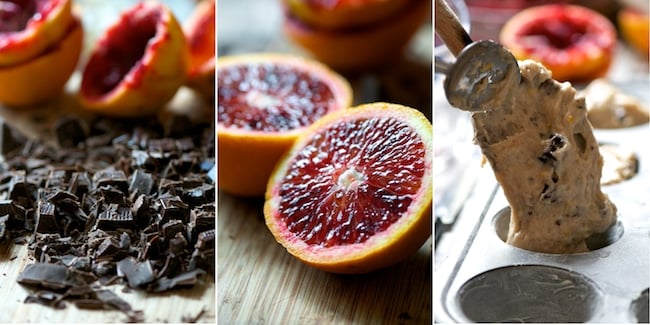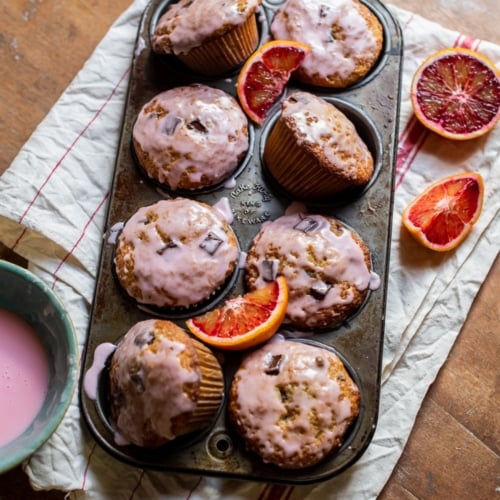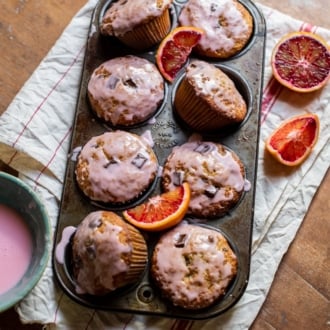 Blood Orange Chocolate Muffins with Blood Orange Glaze
Depending on the rich color of your blood orange juice, you might have blue-ish looking muffins. Still delicous! You'll need about 2-3 blood oranges to make this recipe. Regular oranges or lemons make good substitutes.
Ingredients
Muffin Ingredients
1 3/4 cups (275g) all-purpose Flour
1 cup (200g) Sugar
1 1/2 teaspoons (6g) Baking Powder
1/2 teaspoon (2g) Baking Soda
1/2 teaspoon Kosher Salt
grated Zest of 2-3 Blood Oranges
1/3 cup (80ml) Vegetable Oil or 1/2 cup (115g or 1 stick) melted Butter
1/2 cup (120ml) fresh Blood Orange Juice
2 teaspoons (10ml) Vanilla Extract
2 Eggs
6 ounces (170g) Dark Chocolate Chips or Chunks
Blood Orange Glaze
1-2 Tablespoons (15-30ml) fresh Blood Orange Juice
3/4 cup (90g) powdered sugar
Nutrition Information per Serving
Calories: 307kcal, Carbohydrates: 48g, Protein: 4g, Fat: 11g, Saturated Fat: 9g, Trans Fat: 1g, Cholesterol: 27mg, Sodium: 222mg, Potassium: 144mg, Fiber: 1g, Sugar: 30g, Vitamin A: 65IU, Vitamin C: 6mg, Calcium: 81mg, Iron: 1mg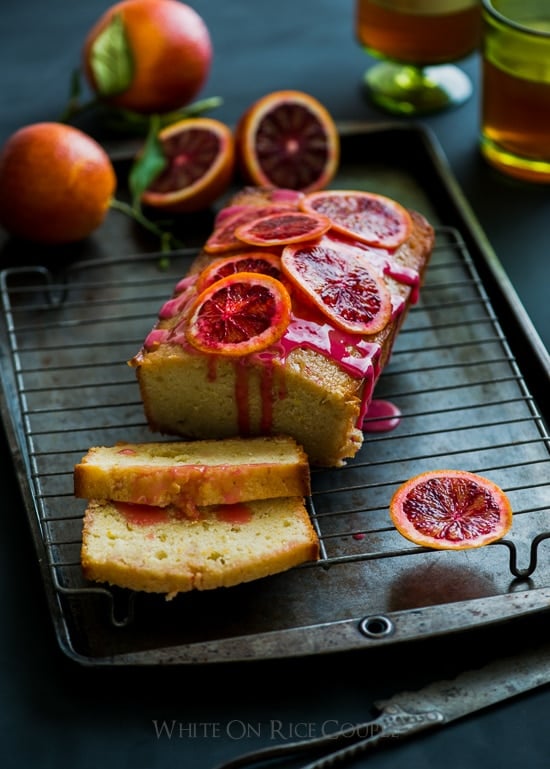 Click Here for more More Blood Orange Recipes
More Blood Orange Ideas:
This recipe was originally published in 2010 and re-published in 2021 with updated photos and new video.
We are a participant in the Amazon Services LLC Associates Program, an affiliate advertising program designed to provide a means for us to earn fees by linking to Amazon.com and affiliated sites.