Roasted Broccoli Salad
Roasted Broccoli Salad
Our roasted broccoli salad recipe is a little different than the classic raw broccoli salad. At almost any gathering or party, someone brings the quintessential raw broccoli version.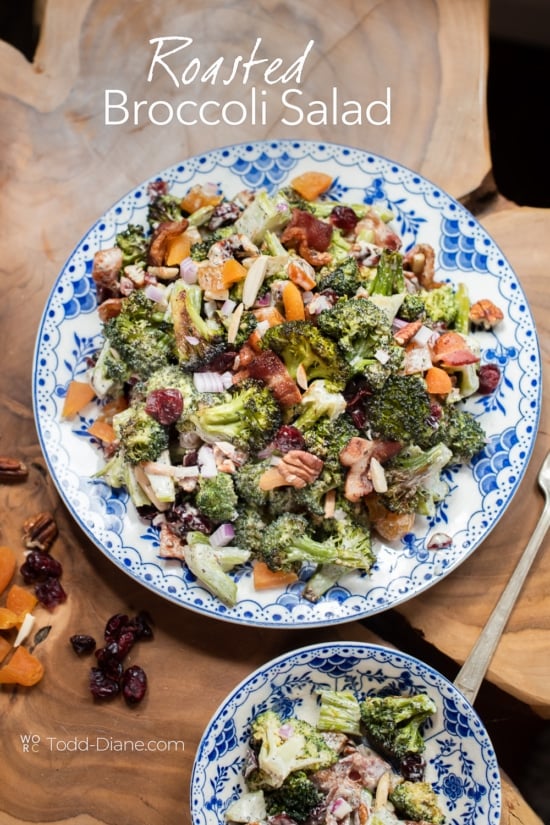 Roasted broccoli salad is a popular side dish and everyone seems to gravitate to this tasty dish. We're fans too and find ourselves getting second helpings. But realized after eating different versions, we might prefer it even more if the broccoli was roasted to bring out the flavors more. And after several taste tests, everyone seems to love this version too.
Video: Roasted Broccoli Salad Recipe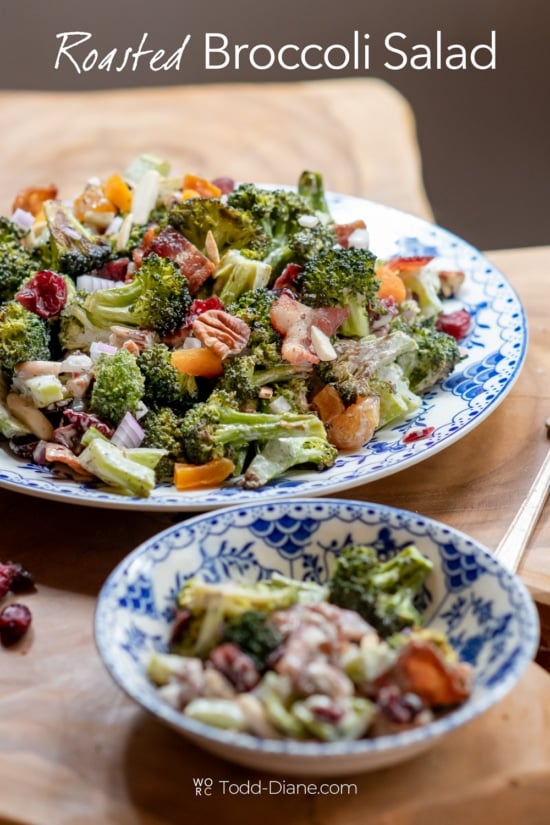 Why Roast The Broccoli?
It's all about flavor, delicious roasted flavor of broccoli. Allow it to cool and it's still a great base for a cold salad. Now add the instead of chunks of raw broccoli and this classic salad transforms into a flavor bomb. The only issue we have with raw broccoli is if it's cut too big, it kinda gets in the way. You lose all the delicious texture within the salad: bacon, chopped nuts, dried fruit and what ever else you feel like adding. But if the broccoli is roasted, it's flavor and texture pairs well with all the extra crunchies and textures.
Or Keep It Raw
If you're still wanting to make this roasted broccoli salad out of raw broccoli, then eat your heart out. Our recipe below still works great for the raw broccoli fans. We'll still mix it up and use raw broccoli sometimes. But when we do, we'll cut the broccoli into manageable bite sized pieces. The smaller the raw broccoli, the easier it is to eat and the salad will have a nicer "crunch".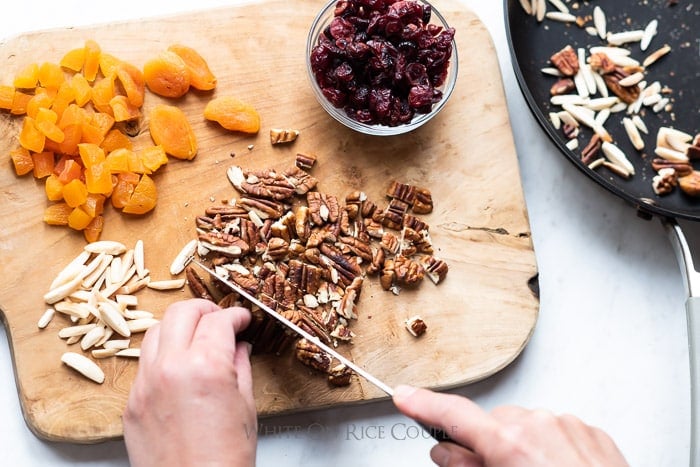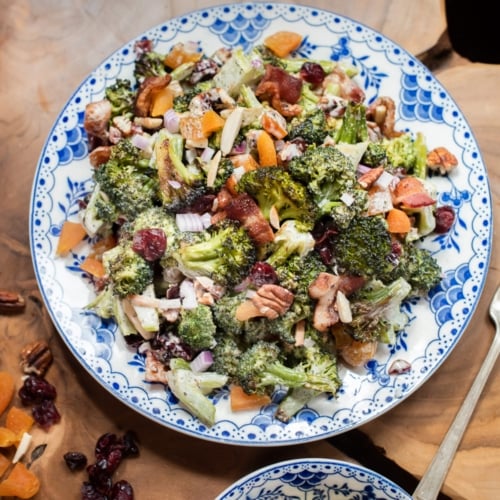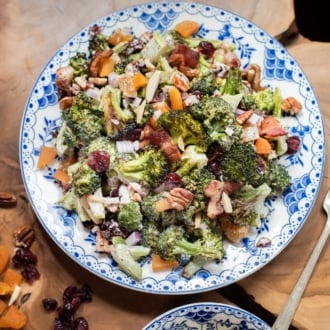 Roasted Broccoli Salad
Timing to roast the broccoli will depending on the size you cut your broccoli. We give a time range for roasting. So you can cook the broccoli to your preferred texture.
Ingredients
For The Salad:
1 pound (454 g) broccoli florets , cut into bite sized pieces
3 Tablespoons (45 ml) olive oil , for coating
1/2 teaspoon (2.5 ml) kosher salt , or to taste
Fresh cracked black pepper , to taste
3-4 slices thick cut bacon , cooked & cut into bite sized pieces (omit to make this salad vegetarian)
1/4 cup (60 ml) minced red onion
1/2 cup (120 ml) dried fruit of choice (dried cranberries, apricots, raisins, etc. – cut larger fruit into 1/2-inch pieces)
1/4 cup (60 ml) roasted nuts of choice (pecans, almonds, cashews, etc. – chop larger nuts if desired)
For The Dressing:
1/3 cup (80 ml) mayonnaise
2 Tablespoons (30 ml) apple cider vinegar
1 teaspoon (5 ml) brown sugar
1 teaspoon (5 ml) Worcestershire sauce
1 teaspoon (5 ml) dijon mustard
1 teaspoon (5 ml) optional dried herbs (thyme, basil, dill, etc.)
1/2 teaspoon (2.5 ml) kosher salt , or to taste
fresh cracked black pepper , to taste
Nutrition Information per Serving
Calories: 448kcal, Carbohydrates: 15g, Protein: 10g, Fat: 40g, Saturated Fat: 8g, Trans Fat: 1g, Cholesterol: 26mg, Sodium: 986mg, Potassium: 558mg, Fiber: 5g, Sugar: 6g, Vitamin A: 741IU, Vitamin C: 102mg, Calcium: 85mg, Iron: 2mg
We are a participant in the Amazon Services LLC Associates Program, an affiliate advertising program designed to provide a means for us to earn fees by linking to Amazon.com and affiliated sites.